Categories super nutrition academy health class

Episode #28
A Look At How Antibiotic Resistance Happens and The Threats It Poses
Click here to subscribe in iTunes (and download)
Hey, welcome to another episode of the Super Nutrition Academy. Yuri Elkaim back with you and today we're gonna be talking about antibiotic resistance. I actually just got back from the vet; I had to take my little dog there. She had some anal gland issues, which I thought were the main problem. Apparently, she has a little bit of, perhaps a back issue. She's a miniature dachshund, so they're more prone to low-back issues.
Actually, our other dog Jax, we had to have surgery on him. About six months ago he had three herniated discs; it was brutal but now he's back to normal. It's not a cheap surgery, so I'm hoping that Layla doesn't have the same issue, so we're keeping her in her crate. The reason I'm bringing that up is because it has nothing to do with our topic. I just thought I'd tell you what's new in my day.
But we're gonna be talking about antibiotics because I think having been to a veterinary clinic just now, it reminded me of the fact that it's very, very easy for doctors and, even in some cases, vets to over prescribe medication. I recently came across some news that ties in with this. Just kind of a reminder of the over prescription of antibiotics. I wanna read you some stuff here that was published on MedlinePlus, which is a new source of the National Institutes of Health.
Antibiotic Resistance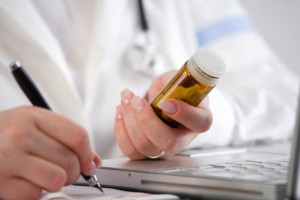 I'm just gonna read this to you verbatim, more or less. "We've all heard about antibiotic resistance, where strains of bacteria become resistant to the drugs we use to fight them off. One major cause is overuse of antibiotics. In fact, experts now estimate that 50% of antibiotic prescriptions may be unnecessary." Five-zero; that's a large number.
"As a major public health concern, researchers wanted to know where the most prescriptions are being written. Using information from a large national database, the team tracked oral antibiotic use throughout the U.S. in 2010. Overall, a whopping 258 million"—million—"antibiotic prescriptions were written that year. That's an average of 833 prescriptions per 1000 Americans." Stated otherwise, 83 percent of the people who went to their doctor were given antibiotics.
"Rates were highest in the Southeast and lowest in the West." This is really alarming. I mean, it's very, very alarming. Out West, I guess California, 639 prescriptions per 1000 people. In the Southeast was 936 prescriptions per 1000 people. Very, very scary stats.
And when we talked about, we talked about genetically modified foods and why using heavy amounts of pesticides and herbicides has led to resistant crops or resistant weeds and bugs in those crops, we're seeing the same thing with antibiotic over prescription. I'm avidly against the use of antibiotics because it's really unnecessary in most cases.
I would assume that doctors don't get kickbacks by prescribing certain medications—I'm sure that's long been abolished, but when you look at, if you go in to see your doctor with the flu, if they're prescribing antibiotics to you, you really have to question their knowledge because the flu is a viral infection. It has nothing to do with bacteria; antibiotics only fight bacteria.
I think the other problem is that we go to hospitals and it's excessively clean. Not in just hospitals; we live in a world where, today, everything is about, "Oh my God, don't forget to wash your hands with the antibiotic gel that's at the front door." Not even wash your hands with soap, which would be the normal way to do it; use antibacterial gel, which is kind of like an antibiotic for your hands.
We're overusing all of these antibiotics, whether they be in pill form or these cleaners, and it's excessive. There've been a lot of studies done, and I talk about this specifically in Module 5 or 6—I can't remember—in Super Nutrition Academy, where we looked at the development of allergies and immune problems in cities versus the country and the huge discrepancies, and part of the reason for that is because the cities are excessively clean and were no longer exposed to Earth's natural microorganisms that help to populate our gut flora and that's a big problem. This whole antibiotic thing is a real big concern. I thought I'd just bring you up to speed on what some of the latest research is showing out of the U.S.
I'm hoping that these stats start to decrease as more and more doctors become aware of the fact that they are directly responsible for contributing to this antibiotic-resistance problem. The only way we're gonna get around this is by stopping to over prescribe these antibiotics.
There was a researcher in England who said that it's gotten so problematic now with this over prescription of antibiotics that by the year, I think he said within two decades, so 20 years, we will no longer be able to fight off…there will be diseases that are gonna come back, like tuberculosis, that we will have no idea how to fight against.
Antibiotics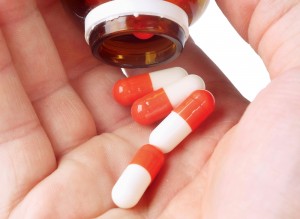 We really have to consider—and just as a general person, if you're not a doctor, it's also your role to be informed about how to stay healthy so you don't need to rely on antibiotics. I shared that story with you about Luca and how the doctor, when he was real young, told us he'd have to be on antibiotics for two years, and we said, "You're absolutely out of your mind," and we didn't do that. We've decided that we are no longer gonna give our kids antibiotics…period, unless it's a life-or-death situation.
Again, for common colds, the flu, earaches. Oscar had an ear infection, otitis media, which is very common in young children. This happened when he was about a year and a half. Again, take him to the doctor, "No problem. We'll just get him on some antibiotics." First response out of her mouth.
We gave him antibiotics for one day. We gave him one dose, and he started having crazy nightmares. He was waking up during his naps screaming, and we said, "You know what? Forget this."
We upped his probiotics, we just went the natural route and did stuff with garlic and onion and some really cool kind of natural home remedies and did some further research on otitis media. It basically turns out that the use of antibiotics for otitis media is no more effective than doing nothing. It's crazy.
And just as an example, otitis media is one of the, in the Netherlands, Holland, they use the fewest antibiotics of any developed country in the world, and they have the fewest occurrences of ear infections. Interesting, isn't it? In the U.S., obviously, we are over prescribing antibiotics in almost every single case of otitis media, and we're seeing more and more and more of it. Why do you think that is?
Again, we have to really reconsider why we're using antibiotics. If your doctor's prescribing them, I'd really get you to question your doctor, but unless you have a fundamental understanding of how this stuff works, then you really don't know what to do. Again, it's not your fault; you just need to know this stuff, and you need to be properly informed about how your immune system works, how you can keep your body healthy, the difference between viral and bacterial infections, and you can learn all of that in great detail inside Super Nutrition Academy.
So, that's all for me today. Again, I'm gonna direct you over to the site, Super Nutrition Academy.com. You can always come to the blog, sift around all these great episodes, and don't forget to download your free report, the "Big Fat Food Lies" report, where you're gonna learn seven nutrition secrets that are keeping you sick, fat, and frustrated and how you can overcome them once and for all.
Thanks for joining me again. I'm Yuri Elkaim. I'll see you in the next episode.
Related Posts:
---
Tags: antibiotic resistance, antibiotic resistant bacteria, antibiotics

About Super Nutrition Academy

Super Nutrition Academy is the ONLY nutrition course that makes it easy for everyday people to understand the complex relationship between nutrition and health. If you're tired of all the conflicting health information out there and want a clear-cut, evidence-based understanding of the nutrition and health topics that matter you, then get started today.

---