Categories super nutrition academy health class

Episode #18
Are babies being fed solid food too early? Let's find out
Click here to subscribe in iTunes (and download)

Welcome to another edition of the Super Nutrition Academy Health Class. I'm Yuri Elkaim, and if you've got kids-little kids or are expecting or wanting kids in the future, this episode is going to make a lot of sense to you. I think you'll really enjoy it.
First Baby Foods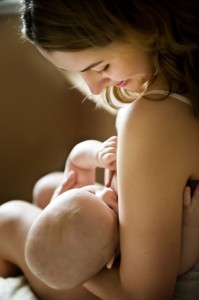 We're going to be talking today about the early introduction of foods into a baby's life. Now there's a lot of controversy about this as to when we should start introducing solid foods into our babies and how long we should hold off until we do so and whether we should breast feed or formula feed or whatnot. I want to give you my perspectives first, and then I want to bring up some recent research which we'll discuss as well.
Basically, I understand there are some women who don't want to breastfeed for whatever reason or they can't breastfeed, and that's another story, but understand this: the best thing you can do for your child if you're a woman is to breastfeed for more than one year. I don't know how many scientific studies we need to tell us that nature's way of doing things is the best way to do it.
If you're formula-feeding your kids because you simply don't want to breastfeed, you're doing a big disservice to them, and you're pumping their bodies full of manufactured garbage, which is really not going to help them out in the long run, so I really urge you to reconsider breastfeeding, and if you can't breastfeed, I understand that as well, and that's a bit of a different situation; but if it's by choice that you're formula-feeding, you're doing a huge disservice to your kids.
The idea is that we want to breastfeed up until at least one year old, and preferably up to two if you can. The reason for that is because human breast milk has the exact formula for what the human baby needs. It has the exact ratio of carbs, proteins, fats that you need to grow. It contains vital immunoglobulins to support the immune system.
Remember the baby does not have an immune system for the first 6 weeks or so of its life. It depends on the antibodies and immunoglobulins that are provided by the mother's breast milk. It's very, very important to get those into your baby from day one. If that's not happening there's a huge disservice, and you're compromising the health of your kids as far as I'm concerned.
When Can A Baby Eat Solid Food?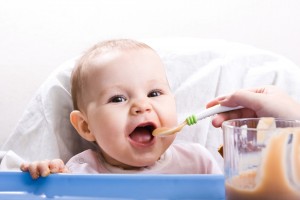 With that said, so at what point do you start introducing solid foods into your baby's diet? Well, this has been up for debate, and the historical thinking was that if you introduce things too early, then we're going to have problems. We're going to have greater development of allergies like peanuts and so forth, so everyone in the past was recommending don't introduce anything until they're two years old otherwise it's going to be catastrophic. The recent…the new recommendation is that early introduction is better. But how early is too early?
There was a study done from the US CDC (Center for Disease Control) prevention, and they looked at what were the feeding patterns of just over 1300 new moms, and they basically asked them to fill out these questionnaires, and they wanted to see what their babies had eaten over the past week, and these surveys were done between 2005 and 2007. This was at a time when the American Academy of pediatrics was recommending starting to add solid foods no earlier than 4 months of age.
The general recommendation now is at about six months of age. That's kind of the ideal for introducing solid foods into your baby's diet. However, anywhere from about 4-6 months seems okay as well as long as the baby is ready and shows some kind of interest in solid foods. So we have a 4½ month old. Amy just tried to give him some sweet potato, I believe, the other night. He didn't want it. That's okay. We're not going to force it; we're going to give it to him whenever he's ready.
Anyways, back to the study…check this out. Over 40% of the parents reported that their babies were eating solids such as cereals, purees, and other things before that point. Before 4 months, they were already feeding cereals and purees to their babies. The parents thought that the babies were old enough to eat the solid foods or that their infants seemed hungry, because they were crying a lot, and a lot of these women were also not breastfeeding. There tended to be a greater amount of babies that were fed earlier than 4 months if they were not breastfed, so if they were formula fed.
The other thing is that there was…I'm just trying to find the numbers here. Where'd that go? Well, there we are…90% of early introducers gave their baby solid food before one month. So 40% of these parents were giving their babies food before 4 months; 90% of these people were giving their baby solid food before one month.
Now I don't know if the science is there yet to show if there's a benefit to doing that. What I do know from the research that I've done is that the early introduction, excessive early introduction of solid foods, again within 1 month of being born, increases the likelihood of the child becoming obese as they age. That's simply what the research shows.
Additionally, the early introduction of foods, again in this 1-2 month period, tends to increase the likelihood of eczema, allergies, asthma, as well as some respiratory diseases. That's the negative side of too early introduction of foods. However, the recommendation is anywhere from about 4-6 months, seems to be the golden area, again it depends on when your child is ready to eat solid food.
Now with respect to what you're going to feed your baby at that point in time, it's so funny, because when we had Oscar, who's our oldest, just over 2 yrs old…it's funny because she'd asked us, "Are you giving him cow's milk, are you giving him dairy, are you giving him his cheese and his calcium, and are you giving him cereal? Get him on some cereal.." And we're thinking, "Are you crazy? We're going to feed our kids cereal as his first foods?"
Absolutely just an abomination of information coming from our medical doctor. That's why as far as I'm concerned you may as well ask a mechanic for nutrition advice instead of your doctor, because I'm of the opinion that they have no clue at all really. It's really disgusting what these medical doctors are preaching with respect to food, which they have no training in.
Anyways, what we started feeding Oscar was we started just getting him…and we actually took a different approach to feeding which is called baby-led weaning, which basically means that the baby or the child is feeding himself. He's responsible or she's responsible for choosing and eating their own foods. We did not spoon feed him. We didn't "feed him from the proverbial spoon."
He learned how to eat from a spoon and with his own hands from the get-go, and there's a number of reasons for that. Obviously there's a lot of developmental studies that show the benefit of that versus sitting the kid down and basically plopping food in his mouth, so we decided that was the best for us. That's what we wanted to do for our kids, and it's worked really well.
From about 6 months, Oscar's age when we started feeding him solid foods, we started him off with simple purees like applesauce, and again, all this stuff was freshly made. It wasn't store bought, packaged, canned garbage. Gerber, I don't care if you've got a little cute kid on your label, you're not going to be in our house.
Anyways, so we made homemade applesauce-very simple, just make some applesauce. We had a combination of raw purees, so sometimes we would just blend the apples, or we would slightly cook the apples to soften them and then puree them, then we'd give it to him. Another one of his favourites was sweet potatoes…very, very simple to get sweet potato to a kid. It's because the texture and the flavour are amazing. There's a natural sweetness to them, and they're very, very high in vitamin A and a lot of other nutrients that are really great for everyone, not just kids.
Pureed sweet potatoes or yams-amazing. You can do the same thing with carrots. You can do anything. You can just make soups. It's very simple to make soups. You can just make the soups a little bit more thick so that there's not as much liquid to go all over the place, so if you'd make them a little bit thicker, you can throw in whatever kind of vegetables you want. You can throw everything in there.
Baby Solid Foods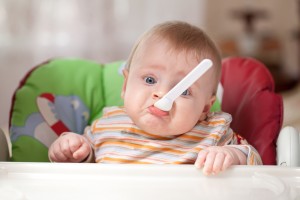 The idea, though, is when you're introducing foods, you don't necessarily want to throw 10 foods in and puree them all at once. You want to do one at a time. Introduce one food, like mono-meals. You'd introduce sweet potato by itself in one meal by itself.
Then the next meal might be pureed carrots by itself. You wouldn't necessarily want to mix and match everything together until several months later, till you see how your son or your daughter reacts to those foods. And again, making stuff from scratch from real food is always, always, always going to be better than buying stuff from the store. Really, don't use time as an excuse. Your kids are more important than whatever else. Take the time. Prepare ahead of time to make them some really, really healthy stuff.
The thing with cereals…I don't know, I think, because they've got some kind of B vitamins or they're fortified with whatever other stuff, doctors think that those are acceptable, but again, we're talking about grains. We're talking about wheats. We're talking about gluten, and at that age, let alone an adult, we can't assimilate and digest wheat and gluten. It's a danger to the human digestive tract.
Please do not introduce wheat and glutinous grains at an early age or at all for your kids. I guarantee that it'll be a lot better off if you don't introduce those foods to them. They will become accustomed to what you feed them, so if they never have bread, then they're not going to want to have bread; but if you introduce bread very early on, then they're going to want more of it.
That's just the way it is. Introducing things like quinoa, buckwheat flour…you can make porridge's out of quinoa, out of buckwheats; you can oatmeal, although oatmeal has obviously some contamination from gluten. You want to look at alternatives to these other types of the stuff you see on commercially available or the stuff on TV that really has no benefit to our kids.
They're just being pushed out as products. Remember, there's a big distinction between a product and a food. You will very rarely hear these companies talk about their products as foods, because they are not.
Again, the idea here is that I personally believe that based on the research that I've done-excessively early introduction of foods is not the way to go, and by excessively early, I mean before 4 months of age. Wait. Breastfeed your kids for at least 6 months.
By the 6 month mark, introduce solid foods if you like, in pureed form ideally, because they can't really chew at that point, and the other benefit shows that the early introduction of foods, and when I talk about early, I mean 6 months here, actually delays or prevents a lot of allergies and asthmas and stuff developing.
I talk about how excessively early introduction, so if you introduce stuff before 4 months, there seems to be an increased likelihood allergies, obesity, and stuff like that. If you introduce the foods in a very intelligent, sequential manner, at about 6 months, there tends to be a benefit in terms of the immune response, so the immune system learns how to adapt to those, for instance, peanuts.
The peanut allergy is gone crazy because of how prevalent it is in our food supply, but the other thing is that back in the day, parents were told not to feed their kids peanuts until they were two years old. Their immune system did not have time to adapt to those proteins in the peanut. Had kids been exposed to peanuts earlier on at about 6 months, in small doses they probably would've been a lot better off.
Again, the rule of thumb is to breastfeed for at least six months minimum, ideally up to a year or a little bit longer, and start introducing solid foods if you want at about 6 months of age. That seems to be kind of the sweet spot for the stuff. Really stick to homemade real foods. Don't depend on packaged, bottled nonsense. You'll be doing your kid a very, very big service if you can breastfeed them and introduce them to real foods in healthy, solid form-pureed form at about 6 months of age, and there we go.
According to this latest research out of the CDC a lot of parents are introducing solid foods at a very, very young age-1 month old, simply because they're not breastfeeding, and they don't know what to do in a lot of cases, because their baby is hungry or whatever, so they just pop them full of cereals, and they're just getting advice from their doctors with respect to what they feed their kids, and I think that's wrong.
You need to be better informed about this kind of stuff, and unfortunately, your doctor's not going to give you the nutrition advice that is going to lead to better health. Obviously you're doctor is there for some of the more important things, but nutrition-wise, you need to educate yourself, and that's why I put together this podcast. That's why I put together the Super Nutrition Academy. If you really want to do yourself and your family a service, you would really join Super Nutrition Academy so that you can develop a much greater understanding of nutrition and health than your doctor has.
Imagine walking into your doctor's office and be able to rebuttal whatever recommendations they're making or have an intelligent conversation with them about how to raise your kids nutritionally health wise, or even for yourself. Imagine being able to go to your doctor and have an intelligent conversation about blood sugar or cholesterol levels.
Most people don't know how to do this stuff, because they don't have the information, and they don't have an understanding of how their body works. Isn't it funny that we spend more time in school learning about history, that is never going to serve us ever again in the future of our lives than we do learning about our own body. I think it's a disgrace.
That's one of my goals of Super Nutrition Academy is to get out to the masses so that every single person has a solid understanding of how their body works. For instance, where's their liver located, an example-just a simple thing. What does it do? Why is it important? And how to improve it's health?
Simple things like that, 99% of the population has no idea about, and if you're in that 99%, I really, really encourage you to check out Super Nutrition Academy, and if you've been listening to these podcasts so far, I guarantee you probably learn more than most people will in a lifetime of schooling.
That's all for me today. Join me on the blog at SuperNutritionAcademy.com/blog. And here's a simple way to test your knowledge nutrition-wise. We have a quiz-a 12 question quiz at the Academy. It's at Super Nutrition. If you're on the blog, and you can find one of the footer links that says "Test Your Knowledge." Essentially the url is SuperNutritionAcademy.com/SNA-quiz.
If you want to take that quiz, there'll be 12 questions, and I think it'll be really, really informative for you. You're going to learn. They're 12 very important questions with respect to nutrition and health, and depending on how you answer it, you'll get some really good feedback as to where you are and to what you should do next. Take the quiz.
Test your knowledge, and see how it goes, because you'll learn a lot, just from taking the quiz. That's all from me today. Thanks for tuning in. I hope you got some great insights and actions steps out of this episode, and I look forward to seeing you in episode 19.
Related Posts:
---
Tags: baby solid foods, first baby foods, when can a baby eat solid food

About Super Nutrition Academy

Super Nutrition Academy is the ONLY nutrition course that makes it easy for everyday people to understand the complex relationship between nutrition and health. If you're tired of all the conflicting health information out there and want a clear-cut, evidence-based understanding of the nutrition and health topics that matter you, then get started today.

---