Categories super nutrition academy health class

Episode #14
Are celebrity endorsed kids foods changing the eating patterns in children?
Click here to subscribe in iTunes (and download)
Welcome to Super Nutrition Academy's health class with your host and registered holistic nutritionist Yuri Elkaim. Tune in each week for up to date insights on breaking health news and best practices on how to eat for awesome health! It's time to get smarter, healthier, and regain your sanity in a world of information overload. And don't forget to join Yuri at SuperNutritionAcademy.com so you, too, can master your nutrition and health.
Hey, welcome to episode 14. Yuri Elkaim, here, with another edition of the Super Nutrition Academy Health Class. Today we're going to be talking about something pretty interesting, which I think a lot of us know intuitively, but now there's some interesting research that shows that it actually exists, and that's all about celebrity-endorsed products-and we'll be talking about specifically celebrity-endorsed food products in regards to some recent research that was done with children.
Before we start with getting into the news and that specific study, I want to bring up a fundamental lesson which I think makes a lot of sense. Again, intuitively to most of us-is that association is powerful. If you think back to basic psychology or that Pavlov's dog-I always confuse if it's Pavlov's dog or another example of operative conditioning.
Celebrity Endorsements Kids Food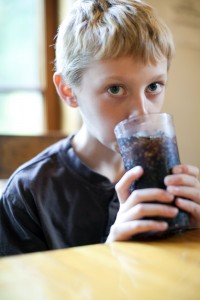 Anyway, I think it was Pavlov's dog where they would press a lever or they would hear a bell, food would be served, so they'd start to make that association between the bell and the food being served, and then they would start to salivate when the bell was rung irrespective of the food being present or not. They had basically created an association to the bell which would represent the potential of food being served.
It's amazing how our brains work, and how we associate certain things to other things, and there's some really, really interesting stuff. I want to actually share with you…I'm reading a new book called Subliminal, and I can't remember the author's name, and I don't have the book in front of me, so I'm not going to bother going to get it for you; but reading in the first chapter I believe, he was talking about how all these psychology things and why we do what we do and all that.
Anyways, he was talking about how that when typically people do a Coke or Pepsi test, most people if it's a blind test (so they don't know which brand it is), statistics show that most people choose Pepsi. They just enjoy the taste of Pepsi better than Coke. However, when the blinds are off and people taste between Coke and Pepsi, more often than not Coke is favoured, so what's going on here?
What they did is actually found…they did some really interesting research. They found that there's a specific area just behind our prefrontal cortex that responds and is stimulated by brands-yeah, it's crazy, so brands excite that area of our brains and we are more likely to associate pleasurable feelings with certain brands.
With this Coke study what they did was they had…they found a group of people who had brain damage to that specific area of the brain that responds to brands, and they had a blind test, so more often than not they chose Pepsi over Coke; and then they took out the blinds and did another test where they showed them: ok, you can have Coke; you can have Pepsi; and which one do you like? Again, the exact same statistics show that whether it was blinded or not, they chose Pepsi statistically more than the Coke.
It was very interesting because for every other person on the planet as an average who's done this type of test, as soon as they know they're drinking Coke, they increase their likeliness of wanting to say that Coke is better-except for this group of individuals with that specific area within the brain that was damaged. They did not make that association. That was just one example of how powerful brands are with respect to how we perceive things.
As another example…it's kind of unrelated, talking about another study with wines, and they had college students choose. The thing with wines is that most people perceive that expensive wine is better-better quality than cheaper wine, so they had a bunch of university kids…I shouldn't say kids, young adults. They had them choose between a $10 wine and a $90 bottle of wine.
They had 2 different glasses, and the students got to drink each one. Overwhelmingly those students chose the $90 bottle of wine, because they knew straight up: ok, this one's $90-it said right in front of it, and this one's $10. That perception dramatically influenced which one they chose. The funny part is that the wine was the exact same.
The researchers used the same wine in both bottles, but they just changed the price tag on each one so that the students perceived that one was $90 and the other was $10 and that they were, in fact, different wines; but as the results showed that the wine was the same. That's the whole thing that the researchers has done. The students had no idea, but they thought because it was more expensive it was better quality, better tasting. This all goes back to how we perceive things.
Coming back to this celebrity endorsement thing, especially for myself and having a business, I understand how much of reputation, credibility, trustworthiness-all that stuff is important in helping people make decisions. Perhaps if you're still wavering on the fence, if you're not too sure you want to Super Nutrition Academy for a testament, maybe there are some things you need answered, maybe if I was Dr. Oz, it may be a little bit different-just because Dr. Oz has that celebrity appeal.
These are things that I'm very conscious of because it directly impacts my business, but I want to show you how this is impacting kids, but not only kids, but we can extrapolate this information to most people.
Let's have a look at the study. It was a new study done probably around the beginning of March. It was done in the UK, and they looked at 181 children, and they found that kids ate more potato chips after seeing ads featuring a popular UK sports figure, and after seeing him as a host of a TV show which those kids watched fairly regularly, and they found that these kids ate more potato chips, again, seeing an ad with this individual, this sports figure, versus kids who watched commercials for toys and nuts. This makes sense.
It reminds me of the Pringles…sorry, I think it was the Lays potato chip commercial where Martin Messier was the celebrity there. He was talking with this kid, and they had done a number of commercials with Martin Messier, and I can only imagine the results within the teenage and even the younger audience, with respect to their Lays potato chips consumption.
Actually that sports figure was a famous soccer player named Gary Lineker in this case. Gary Linker for me, growing up this guy was one of the top players in England, and he was one of the top strikers for England in the world cup and everything. I'm not even British, so you can imagine in Britain.
This is some superstar, and you're like: oh my God, I can't believe Gary Lineker is eating these potato chips. I'm going to eat the potato chips, because maybe I will play for England. Maybe that's the association that's happening. It's unfortunate that a lot of these celebrities are endorsing products. Again, I'm not going to call them foods, because they're not foods, they're products. It's unfortunate that these celebrities endorse products that really have no nutritional value or health benefit to the people they're destined to reach.
Anyways, past research has also shown that kids are more likely to pick foods endorsed by celebrities, even when it's fruit. Check this out. A 2012 study found that kids who were offered both cookies and apples were more likely to choose the apple if it had an Elmo sticker on it-pretty neat, ey?
So why don't we use this psychology, this understanding of perception and how we make decisions for good? Well, obviously, there's not a lot of money in apples. Obviously, you know these food companies don't have any vested interest in produce. It's all about the cookies and the packaged goods, but what would be really amazing is if you walked through the produce aisle with your kids, and on the bananas or the oranges or the apples had stickers of Elmo or Bugs Bunny or Big Bird. That would be pretty cool.
Healthy Kids Food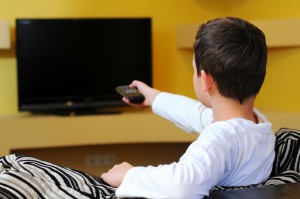 The reason the researchers have found that this phenomenon is worrisome, since as you probably guessed most foods advertised on TV are unhealthy, and obviously it's going to affect how much kids eat, and it's going to predict in some level their future health and weight. Personally, my rule of thumb is that if it's advertised on TV, don't eat it, cause you're never gonna see an add for a real food, okay? It's really simple.
One of the simple things to do is really not…is cut down on the amount of TV that your kids watch and this is really….there's a lot of different ramifications for this, but I think even a lot of parents (myself included), we use the TV as a sort of virtual babysitter. You want to get stuff done; you throw the kids in front of the TV and that's it.
However, if you're going to do that…let's say you want to do that, just throw in a movie or put on Netflix, where at least there's no commercials cause at least your kid, your child will get entranced in hopefully some kind of educational program of some kind whether they learn from these movies or not is up for debate and watching something that kind of engrosses them in some kind of adventure or mystery or something, and they're not subjected to TV ads that are just bombarding them with ridiculous nonsense.
We rarely…I mean Oscar has his favourite movies. He likes watching toys and cars and all that stuff or Toy Story. Sometimes it gets a little excessive when he's watching a couple of hours of TV a day. It's too much, but at least he's watching one of those movies.
We don't…he's rarely if ever, watching TV that has commercials. If you have a PVR, it's really simply, just fast forward through the commercials if you're taping kids shows. The thing is you don't want these kids, you don't want these companies to consume your kids at a young age, because it becomes a very, very tough lifelong habit to break as they get older.
I'm just going to see if I can see anything else to bring up from this interesting study. I think that in a nutshell that says it all, right? If we're looking at childhood obesity, childhood diabetes-it's a growing epidemic, not only in the U.S., in Canada, in the U.K., pretty much every western country; and all the western countries that are adopting more of a western lifestyle-China, all those up-and-coming countries that are becoming more westernized.
We're going to see more and more problems with kids as we get more and more commercialization into those countries with respect to those different food chains and the commercials that follow suit. So something to think about…and again, my rule of thumb: if it's on TV, do not eat it. Reduce the amount of TV your kids watch, and if they are watching TV, have them watch something on Netflix on PVR or throw in a DVD, so at least they're not exposed to these kinds of commercials.
Let me know your thoughts. Join me on the blog SuperNutritionAcademy.com/blog. Find this episode on there, and let me know what you think. Do you have kids? Are they watching TV? Have you noticed some kinds of trends or things or patterns of desires of things they want as a result of watching certain commercials? If so, let me know.
I'd be happy to get a nice little discussion going. Do that. Also, on the blog, if you have not yet downloaded the "Big Fat Food Lies" report, which is a free report that I've put together which contains 7 big nutrition myths that are keeping you sick, fat, and frustrated, I highly recommend that you download it. Again, it's completely free.
You can go to the blog to get that as soon as this is done here, and I guarantee it's really going to shed some light on some really interesting topics. We're going to talk about protein, we're going to talk about fat, we're going to talk about soy, we're going to talk about some really interesting stuff and give you the nitty gritty evidence behind it all. That's all for this episode, I'm Yuri Elkaim tuning out. Thanks for joining me again, and we'll see you soon.
Related Posts:
---
Tags: celebrity endorsements kids food, healthy foods for kids, healthy kids food

About Super Nutrition Academy

Super Nutrition Academy is the ONLY nutrition course that makes it easy for everyday people to understand the complex relationship between nutrition and health. If you're tired of all the conflicting health information out there and want a clear-cut, evidence-based understanding of the nutrition and health topics that matter you, then get started today.

---