Categories super nutrition academy health class

Episode #23
Find out if Cereal Makes You Fat
Click here to subscribe in iTunes (and download)
Does Eating Cereal Make You Fat?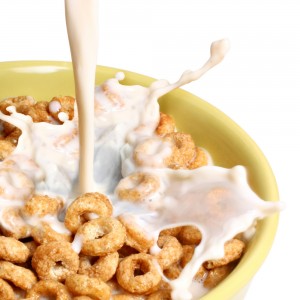 Does eating breakfast cereal make you fat? Well, that's what we're gonna be discussing in this episode of the Super Nutrition Academy Health Class. This episode is gonna be filled with passion because I've got some very cool stuff, some very ludicrous studies to show to you, and I think you'll appreciate this.
The reason we're talking about this is that I came across a news article that was entitled "Breakfast Cereal Tied to Lower BMI for Kids." BMI is body mass index, and it's a measure of how fat you are, pretty much. The higher your BMI, the worse offs you are. Anyways, just right at the beginning, I'm just gonna read you the first couple paragraphs here. I think it's pretty hilarious.
"Regularly eating cereal for breakfast is tied to healthy weight for kids according to a new study that endorses making breakfast cereal accessible to low-income kids to help fight childhood obesity. One in every four American children lives in a food-insecure household where breakfast isn't a sure thing, lead author, Dr. Lana Frantzen told Reuters Health."
I quote here: "Cereal is an excellent breakfast choice. It's simple and gets those essential nutrients that children need, especially low-income, minority children, who tend to be hit hardest by childhood obesity and related health problems, said Frantzen, who is employed by Dairy MAX, a regional dairy council in Prairie, Texas.
As soon as I saw that, the alarms went off in my head. I was like, what is this Dairy MAX thing all about? Dairy MAX is an affiliate of the National Dairy Council, which is a huge lobby group for the promotion of consuming more dairy.
I don't know if we've really talked about this specifically, but dairy is very problematic for human health. You can argue with me all you want on this. People say raw milk is good, all this stuff. Okay, raw milk is better than pasteurized milk; that's fine. If you wanna do that, that's up to you. But when you look at the composition of cows' milk, it's very difficult for the human body to digest and assimilate. It's also correlated with the development of type 1 diabetes, autoimmune disorders, and so forth.
As far as I'm concerned, we really should not be consuming dairy, let alone every single day. The occasional whatever is fine, but on a daily basis to depend on it is very, very, I think, problematic.
When I saw that I was like, this is interesting. I need to read on, because they're basically saying, first of all, that cereal is a good thing for kids, and then milk, obviously, which goes with cereal, is tied in with that. I thought it was very clever that Dairy MAX positioned it in the way that, "Let's encourage people to eat more grains, and let's tie that in with milk as well," because, obviously, the two go hand in hand.
Cereal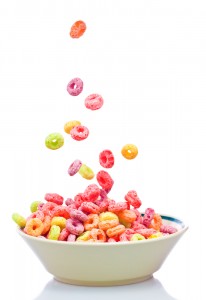 Let's look at some stats here. Actually, the stats don't even matter. The funny thing is that…I'm just going through some of the stuff here in the study, and statistics don't really matter because they're pretty insignificant here, but what stood out for me was that the cereals that were most common breakfast items included in order of significance—so, the highest ranked and kind of descending from there—is, I quote: "Frosted Flakes"—which we all know is a terrific cereal for kids—"Cheerios, and then Kix." Those are the most common breakfast items.
And then children who didn't eat cereal but did have breakfast reported having foods ranging from scrambled eggs, white bread, and sausage, to granola bars, tortillas, and breakfast tacos. I understand what they're trying to do here. They're trying to really promote "healthier" food choices for low-income families because they understand that they don't necessarily have the most money to buy the healthiest foods, but I think it's very, very irresponsible that Frosted Flakes is being promoted as a suitable breakfast.
It doesn't matter if you have money or you don't. It's amazing that in spite of kids eating Frosted Flakes and even Cheerios, that they had a lower BMI. The whole argument here is that by eating cereal, you're getting more vitamins and all the fortified stuff that they're putting into these grains; you're getting more of that compared to eating less cereal.
Essentially, the more cereal you ate, the healthier you are, more or less, versus eating less cereal. That was essentially the proposition in this study.
It's problematic because, let's just look at, I really don't understand how this works. If you look at Frosted Flakes, Frosted Flakes is loaded for sugar. I'm just gonna do a quick search for Frosted Flakes' ingredient list. Let's see what we got here. I'm just on my computer here; I'm pulling up Frosted Flakes.
Frosted Flakes—unfortunately, I ate quite a bit of Frosted Flakes growing up too, and that didn't serve me very well, but let's look at the ingredients. Just let me make sure I'm looking at the right one here. Okay, Kellogg's Frosted Flakes, there we go. Just give me a second here.
All right, we have, first ingredient, milled corn; second, sugar; malt flavoring; high-fructose corn syrup. So, now we've got three sugars in the first four ingredients. Amazing. And we also know that corn is probably genetically modified. Salt; sodium ascorbate and ascorbic acid; niacinamide; iron; pyridoxine; and some other fortified nutrients. Total sugar content per three-quarters of a cup is 11 grams of sugar.
Again, Frosted Flakes is not the best. Cheerios is not that much better either. Let's just look at Cheerios as a comparison. Again, I apologize for the haphazardness of this episode. I'm really just keeping things live here and doing things on the fly 'cause this stuff is ridiculous when you learn about it.
Let's not look at Honey Nut Cheerios. Honey Nut Cheerios has…Honey Nut Cheerios is basically the same thing in terms of sugar content as Frosted Flakes, but that's not what I was looking for. Cheerios is touted as this whole grain, it's amazing for your heart, lowers cholesterol, blah, blah, blah. Cheerios is a little bit better; 1 gram of sugar per one-cup serving, so that's obviously a lot better.
Again, the problem is that it's not only the cereal, but it's what you're putting on the cereal, 'cause when I was young, I would eat Cheerios, but I would load it up with sugar. I would put two to three tablespoons of sugar on top of it; plus, who knows what kids are putting on their cereals nowadays. And, most likely, they're putting in cows' milk as an adjunct to the cereal.
Cereal, in this study, was found to promote lower BMI in kids who are eating more of it. That got me thinking, Let's actually have a look at the study and look at who funded the study, 'cause that's always interesting to learn about. Let me just find the study and pull it up for you. It was published in the Journal of the Academy of Nutrition and Dietetics. If you ever wanna go into this kind of research, you can search for these journals, and you can look at specific studies and you can look at Statements of Potential Conflicts of interest or Funding and Support Statements, which are usually at the bottom of the studies.
So, for this study it basically says, "Dr. Frantzen is employed by Dairy MAX, a regional dairy council founded by American Dairy Farmers. This research was completed in partial fulfillment of the requirements for the degree of doctor of philosophy…" blah, blah, blah, blah, blah.
Funding and support: This work was completed with funding form the National Institute of Diabetes"—which is actually pretty ironic, considering that Frosted Flakes and a lot of other whole grain cereals are not necessarily the best for stabilizing blood sugar—"and kidney diseases/National Institutes of Health."
Breakfast Cereal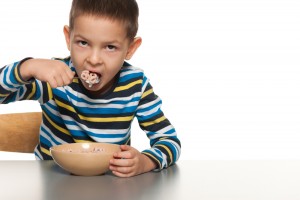 Again, there's a lot of big companies behind these types of studies. Let's look at another study. I decided why don't we look for a review of the literature, which looks at all sorts of studies and compiles it into a distilled overview of what everything else is showing?
I didn't come across one of those, but I did come across something that was interesting. It was published in the journal Obesity in 2005, and it was entitled "The Dietary Intake of Whole- and Refined-Grain Breakfast Cereals and Weight Gain in Men." Now, this was really interesting. I'm just gonna give you the results here very quickly.
"Whole and refined-grain breakfast cereal intake was inversely associated with a body-weight gain over eight years, after adjustment for age, smoking, baseline BMI, alcohol intake, physical activity, hypertension, high cholesterol, and use of multivitamins. Compared with men who rarely or never consumed breakfast cereals, those who consumed more than one serving per day of breakfast cereals were 22 percent and 12 percent less likely to become overweight during follow-up periods of 8 or 13 years, respectively."
So, irrespective of the types of cereals they're eating—they could be eating Frosted Flakes, they could be eating Mini Wheats, they could be eating Cheerios—it didn't matter. This study was basically saying, as long as you had more than one serving per day of cereal, you would have a lower body mass index. I find this very trivial because this study was actually pretty large, looking at over almost 18,000 U.S. male physicians between the ages of 40 and 84. It's very problematic because when you see this kind of research, the first thing you think about is, Okay, eating cereals is probably a really good thing for me.
But as we've talked about in the celiac episode, these cereals are all glutinous grains. It doesn't matter if we're talking about Cheerios, Mini Wheats, Frosted Flakes; they all contain levels of wheat, gluten, genetically modified foods like corn, soy. These are very problematic foods. I still find it very, very amazing that starting your day with breakfast cereal is going to stabilize your blood sugar somehow, which doesn't make sense to me, and potentially, obviously lead to lower weight gain over several years.
So, it got me thinking, Who funded this study? This study specifically, guess who was funding this one? Let me read the acknowledgments. "This work was supported by National Institutes of Health Grants…," blah, blah, blah, blah, the numbers of the grants, and a grant from the General Mills Corporation." Well, there we go.
General Mills, as we know, produces or is the manufacturer or Cheerios and a number of other cereals. They're a huge, huge corrupt food company. I don't want this to come across as some kind of conspiracy theory of what's happening 'cause it's the reality. When you look at—it's so funny that we put so much weight into scientific evidence nowadays, it's like, "Where's the research that shows this? Where's the research that shows this?"
In a lot of cases, I'm starting to learn that's it's almost becoming less and less influential, I should say, in terms of the scientific data, because everything is funded, supported, influenced by some type of corporation. Well then, playing devil's advocate, you might say, "Where do these researchers get their money from, then, to conduct these studies?" Well, that's a great question. In some cases they have to look at other places.
However, a lot of university will give grants for research. Some of those universities might be tied into different corporations and so forth, so I don't know, but when you see studies that are specifically funded by the National Dairy Council or General Mills, you really have to take it with a grain of salt because you don't necessarily know what's happening on the backend, and it's not to say that the results are being confounded or influenced necessarily by where the money's coming from, but there is a sneaking suspicion that those who want to put health claims on their food products are the ones supporting the health studies.
If I wanted to conduct or if I wanted some research to prove that my specific diet was the best, if I had the money, I would fund a study, and, ideally, that study would be set up in a way to product favorable results for my diet. And if it didn't, then maybe I would slip a couple bills under the table and hopefully conjure up some different results.
Now, I'm not saying that that's necessarily true, but there're a lot of cases in which it is. For instance, with aspartame and the research on that and its effect on human health.
So, what I want you to get out of this episode is that even though this research comes out showing breakfast cereals are tied to lower BMI in kids, we talked about this with Abel a couple episodes ago with respect to carbohydrates and good and bad. It's funny that we're moving toward a thinking health-conscious wise that carbohydrates are bad.
We talked about how not all carbs are bad, but then studies like this come out to influence people, especially those without a better understanding of how this stuff works—again, that would be typically the lower-income families, as we talked about in a previous episode, where lower-educated parents have unhealthier kids.
If you're not a very well-educated person, you have kids, and you see something like this on the news that says "Breakfast Cereal Tied to Lower BMI for Kids," well then, you're thinking, "Great. You know what, little Johnny? Let's go to the store and grab some Frosted Flakes or Cheerios, and let's have that on a daily basis." Now you're getting your cereal, now you're getting your milk, and now these big corporations are laughing.
The bottom line, the problem with these cereals is that, first of all, in most cases, especially the sugary ones, they're gonna spike your blood sugar, which is gonna lead to hypoglycemic issues over time. Second of all, they contain wheat and gluten, which are very problematic in terms of what they do inside the human body. And, third, they're tied in with consumption of cows' milk in most cases, because most low-income families—and most families eating cereal, for that matter—are not consuming almond milk or alternatives like that.
That's my take on this. I don't believe cereal is a great way to start the day. It's actually not very good at all. If you want a better breakfast cereal, I'm gonna give you my personal breakfast cereal right here. It's called Blueberry Morning. You take about a cup of blueberries, shredded coconut, half a handful of walnuts—just kinda crumple them up in your hands—you can add in hempseeds, a little bit of ground flaxseed, and then throw on some rice milk or almond milk, and there's your cereal.
Terrific. It's all raw, which is amazing. It contains the healthy fats from all those nuts and hempseeds and all that good stuff and it's got some really, really good nutrition from the blueberries. You're getting a very balanced approach of carbs—lower amounts of carbs, obviously, through the blueberries—but good, healthy protein and fats from those nuts and seeds.
A much better way to start the day, and you're not getting into the whole sugary cereals and stuff. Believe me, I grew up eating cereal three, four, five times a day. Sure, I'm not fat but I wouldn't consider myself…I would consider those foods as being at the root cause of a lot of the health issues I later developed.
If you've got kids, I really hope you're not feeding them cereals, even if they're supposedly healthy cereals. Believe me, there are much better alternatives out there.
I hope this episode sheds some light on this issue. If you've got any comments or whatever you wanna talk about with respect to this, find it on the blog over at SuperNutrionAcademy.com/blog. Leave a comment, let me know your thoughts.
Don't forget to sign up for our Big Fat Food Lies report; it's absolutely free. You can get it on the blog. You'll discover seven nutrition lies that are keeping you sick, fat, and frustrated. Do that now if you haven't done so already.
Until then, I'm Yuri Elkaim. Thanks for joining me. We'll see you in the next episode.
Related Posts:
---
Tags: breakfast cereal, cereal, does cereal make you fat

About Super Nutrition Academy

Super Nutrition Academy is the ONLY nutrition course that makes it easy for everyday people to understand the complex relationship between nutrition and health. If you're tired of all the conflicting health information out there and want a clear-cut, evidence-based understanding of the nutrition and health topics that matter you, then get started today.

---