Categories super nutrition academy health class
Episode #15
Does eating fruit make you fat? A lot of people tend to think so, let's take a look
Click here to subscribe in iTunes (and download)

Welcome to Super Nutrition Academy's health class with your host and registered holistic nutritionist Yuri Elkaim. Tune in each week for up to date insights on breaking health news and best practices on how to eat for awesome health! It's time to get smarter, healthier, and regain your sanity in a world of information overload. And don't forget to join Yuri at SuperNutritionAcademy.com so you, too, can master your nutrition and health.
Alright, so we're gonna have some fun today. Welcome to episode 15 of the Super Nutrition Academy Health Class. And by fun, I mean we're going to finally answer the question, "Does eating fruit make you fat?" because I can't tell you how many times I've been asked that question, and if you have ever wondered the same thing then I'm hoping to put that at rest for you once and for all today in this episode.
Fruit Sugar
Now we touched upon this briefly in a couple or one or two of the earlier episodes about fructose or fruit sugars and stuff, but today I really want to get down to the nitty gritty and dig a little bit deeper into this.
Now, there's no real recent news with respect to this topic, but I thought I'd bring it up, because I've just been bombarded by questions on Facebook regarding this, so I thought: you know what, let's just get right to it and answer this. I've spoken about his many time before, because here's the thing-if we think about how we've gotten so far out of hand in the last 50 years in terms of human health and obesity, it's not that people are eating more fruit.
That's not the problem. It's…the problem is all the garbage in the processed food that is coming to our food supply, but's funny that we make such a big deal about fruit. It's like: oh my God, if you really want to lose weight, you have to cut down your fruit because fruit contains sugar and sugar makes you fat. Well let's really understand how this all works.
We talked about how fruit contains mainly 2 different types of sugar-glucose and fructose. It has small amounts of other ones as well, which are pretty insignificant. Glucose, as we know, is the ideal form of sugar, it's what our cells need to produce energy, also known as ATP, so when we eat fruit, the sugar, the glucose component of the sugar molecule, or the glucose component of the fruit literally goes right in the bloodstream from the digestive tract.
It doesn't have to go through the liver for processing or anything. We're able to use that very quickly. Fructose, on the other hand, needs to be converted to glucose to be used in the liver. The problem with that is that it's a little bit of a rate-sensitive process so if there's too much fructose coming in at once, the liver can't convert everything to glucose efficiently, and it starts spilling over into the production of triglycerides or fat.
This ends up increasing hyperinsulinemia, so we get high levels of insulin in the blood. It cuts off communication between leptin and the brain, so your brain no longer knows when it's full so you end up overeating, and that's just a couple examples of too much fructose consumption.
Based on that, and based on people…I don't know if they necessarily understand that, but I think where a lot of the trouble has come out of is this understanding that fruit contains sugar, and sugar means you're going to get fat. While that's true to some degree, we have to understand that fructose does not elicit a spike in insulin-directly. Okay?
Let me repeat that. When you eat fruit, the fructose portion of that fruit does not elicit a spike in insulin. It's the glucose that will always spike insulin. That's just the way it works. If you have something that's 100% glucose what's going to happen is you're going to have a spike in insulin, and one of the reasons we recommend not eating refined carbohydrates is because those refined carbohydrates, like white bread, white pasta are predominately glucose, and they're very easily digested and metabolized, which means they increase blood sugar very quickly, which means there's a release of insulin very quickly as well and very high.
Insulin is the hormone that is secreted by the pancreas, which is responsible for taking blood glucose, which is the sugar in the blood out of the blood and into the muscles and liver for storage and utilization. If we spike our blood sugar, we're essentially saying we're spiking our blood glucose.
Now fructose doesn't have that effect-initially. If you have something that's very, very high in glucose, and it elicits a high response, it would be known as a high glycemic index food, and it elicits a high or a very demanding response from insulin. There's a big inrush of insulin. Well, insulin…it's main goal…it's one of the only hormones that's main goal is storage.
If you have insulin high chronically because of all this glucose coming in, then you are essentially always in a fed state, which means that insulin levels are pretty much raised all the time, and it's storing all that in your muscles, liver, and fat cells.
With that said, let's understand how fruit is broken down. We talked about how fruit is glucose and fructose predominantly. When you eat an apple or a banana or a pear or any other fruit for that matter, some of them contain more fructose and glucose, but it's not like 95/5%. It's usually around 50/50, 60/40, somewhere in that area.
When you eat that fruit, the glucose portion of it is absorbed into the blood and distributed as it needs to be. Now, if you are very, very sedentary, and you don't exercise at all, and you eat 30 lbs. of fruit a day, yes, the likelihood of you gaining some weight and fat is going to be a little bit greater-simply because you're taking in a lot of sugars; and when I say "sugars" I mean the combination of fructose and glucose. But again, who's eating 30 lbs. of fruit a day, without…by sitting on the couch.
First of all, if you're sitting on the couch, the likelihood of you eating a healthy diet, is probably not the greatest. Those who are eating the healthiest are generally the most active. In general, you're not going to get a huge surge of glucose into the blood. The reason for that is first of all, you've got fibre-quite a bit of fibre in most fruit so that is going to delay the amount of sugar leaving or glucose leaving the intestinal track.
At the same time, the fructose portion is going to be sent to the liver to be metabolized, and even then the fibre in the fruit is going to slow down the rate at which the fructose reaches the liver, which means your liver has time to metabolize fructose and convert it over to glucose. It's not a big issue. So if you have an apple, you have a banana, you have a pear it's not going to make you fat.
Does Eating Fruit Make You Fat?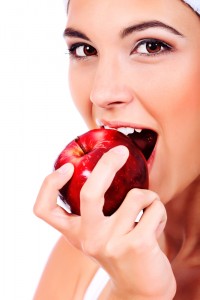 What's going to make you fat is drinking sodas, diet sodas, baked goods, packaged garbage-that's the stuff that's going to make you fat. It's not the fruit. I actually want to pull up a study here, which I think will shed some light on this, and this one was done in…this was actually reported in the International Journal of Obesity in 2004, and it came as a result of a very famous study that we eluded to earlier, which was the Women's Health Study or the big nurse study.
Here they had 74,000 female nurse aged 38-63, who were healthy more or less to begin with. They followed these women for 12 years. Generally with aging, the women tended to gain weight. That was just the way it was, but those with the largest increase in fruit and vegetable intake had a 24% lower risk of becoming obese, compared with those who had the largest decrease in intake of fruits and vegetables after adjusting for age, physical activity, smoking, total energy intake and other lifestyle variables.
For major weight gain (we're talking about more than 25kg over a 12-yr period), women with the largest increase in intake of fruits and vegetables had a 28% lower risk compared with those in the other extreme group. Both from the extreme weight gain perspective and general weight gain, those who ate the most fruits and vegetables had a 24 and 28% reduced risk of becoming obese respectively. That is pretty significant.
The conclusions, and I quote here, "Our findings suggest that increasing intake of fruits and vegetables may reduce long-term risk of obesity and weight gain among middle-aged women. So, 74,000 women…do you need any more evidence? Here's the other thing. Women tend to gain weight a little bit easier than men, so even if they did the study with men, we'd see very similar results, plus men tend to be a little bit more active. That's not….I'm not saying that as a rule of thumb, but things are looking good for fruits and vegetables.
Here's the other thing to consider-is that fruits and vegetables are very important for your health. They contain vital vitamins and minerals, phytonutrients, fibre, water, that you need for preventing disease and staying healthy. For anyone to say…and I think it's very, very irresponsible for somebody to say, "Fruits are bad, because they make you fat." You know what makes you fat? It's the stuff we just talked about. It's sitting on your butt. It's not eating well in the first place, and that's really the big issue.
Fruit, in and of itself is amazing! It's just…when we consider, if fruit was really making us fat then why…the average, the recommended daily food intake of fruit and vegetables is about 5-10 servings per day. In North America, the average is 1.5 servings. If let's say fruits alone were causing us to get fat, don't you think that the servings would be a little bit more than 1.5 per day.
Obviously we're not enough of them to cause a problem. What we're doing is we're replacing fruits and vegetables with fast food, sodas, Big Gulps, and all that stuff. Just take a moment to mull over that one while I grab a sip of water.
Speaking of fruit, I just polished off an entire bowl of avocado, of guacamole which contained 2 avocados, which technically could be considered fruit because they have a seed in them, a core. But again, avocados are not going to make you get fat. Sure they're 300 calories per; again, in moderation, they're fine. If you sit down and have 20 avocados, you're going to be taking in quite a few calories, but an avocado or 2 a day is not going to kill you.
What is going to kill you is the stuff you're going to find on the shelves of your grocery stores. Now, for a little bit of contrast…I think, I hope we've established that fruit and vegetable intake…well, obviously vegetables are not going to cause an issue, but fruit in and of themselves is not the problem-very, very high in minerals, vitamins, phytonutrients; and because they have the fibre in their whole state, they're great.
Fruit Juice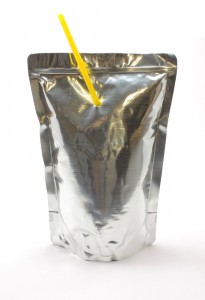 Don't get that confused by any means with fruit juice. Fruit juice is very different. Now I'm going to classify fruit juice into two branches. We have fresh pressed fruit juice at home with a juicer, so you're pumping through 4 apples, pears, oranges, melon, and you're making this super fruit juice. For me, the only benefit to that is that those fruits are raw. If you're drinking those kinds of juices, you are ingesting liquid sugar.
Again, half of it's fructose, half of it's glucose more or less, but the problem is that there is no fibre to slow down the release of those sugars from your intestinal tract into the blood and respectively into the liver. First of all, we're going to see a slight increase in blood sugar, because there's going to be a high amount of glucose coming in at once, and we'll probably also see an increase in triglyceride formation, because there's no buffering of fructose going to the liver, so the liver's now overloaded with too much fructose. It doesn't know what to do with it.
So, fresh-pressed juices-even if they're made with fresh fruit, the only benefit to that is that there are some minerals and vitamins and the phytonutrients you would get in the whole food, but the problem is that because we've stripped away the fibre now we're starting to get into a bit of a dangerous zone. If you're making smoothies with fruit that's a different story, because you're essentially not changing anything, you're just making it more digestible if you will.
You still retain the fibre. You still retain everything else you would in the whole food, but you just blended it. A smoothie is okay, juicing a little bit different with the fruit. I don't personally recommend you juice fruit. If you're making fresh-pressed juices, go with the green juice. Add one apple in for a bit of sweetness. That's it.
The second branch of this fruit juice category are the fruit juices that you find in your stores-juice boxes, Tropicana, all those bottled juices-and this is especially important for kids. Kids will obviously prefer fruit juice in a juice box over water. Why? Because it contains sugar.
If you look at the amount of sugar in a juice box, it's quite a bit of sugar; and depending on the size of it, it can be up to 20-40g of sugar, which is…that's a lot. I want to bring you up-to-date on another study that was done with respect to fruit juice intake, and it's prediction of weight gain in children as they age.
What they did here is they looked at 2800 or they surveyed 2800 parents about their kids and their dietary intakes so they wanted to know about how much fruit juice they were eating, whether they were breastfed initially, their overall fruit intake and vegetable intake in the whole form, and so forth. What they found is that controlling for gender and ethnicity, the relationship between juice intake and weight gain; and I'm talking specifically about fat gain, so they determined adiposity.
Adipocytes are the fat cells, so they're looking at fat gain, and what they found was that the relationship between juice intake and fat gain depended on children's initial overweight status; however, children who were initially either at risk for overweight or overweight, increased fruit juice intake was associated with excess fat gain, whereas parental offerings of whole fruits were associated with reduced fat gain.
They looked at the greatest increase in fat gain was amongst kids who had, who were already slightly overweight or who were already at a risk for being overweight, but nonetheless, they still found that there was fat gain in normal kids who just drank more fruit juice, and as I just mentioned, when they…what they noticed was that the kids were eating more fruits and vegetables, had reduced fat gain. Again, there's nothing wrong with fruit, but there's a big issue with fruit juice. Make sense? Liquid sugar is not the same as fruit.
Now, we can have some fun here, and I can actually…I'm just looking at the cited articles, and let's just go through these one by one very quickly. I'm just going to…the first one here, "The Consumption of Purple-Blue Produce Is Associated With Increased Nutrient Intake And Risk For Metabolic Syndrome." Let's have a quick look at that one. Let's see what this one's all about.
I'm just going to go right down to the conclusion, because you probably don't want to know everything about this, but this was in the American Journal of Lifestyle Medicine. Conclusion: "Consumption of purple and blue produce was associated with increased fruit and nutrient intakes and reduced risk for metabolic syndrome." Pretty cool, right? So purple and blue produce…what do you think? Blackberries, blueberries, stuff like that…. No issues there.
Let's go to the next one. "Dietary Inactivity Correlates of Sugar-Sweetened Beverage Consumption Among Adolescents." Let's just have a quick look at that cause really this stuff is crazy amongst adolescents. When you look at the sodas, like Coke that they're drinking…. I see kids walking down the street all the time, and they're either drinking Coke, coffee or those energy drinks, like Monster and Red Bull which are like ½L each.
Let's have a look here at what we got. Ok this one is a little bit…not really along the lines of what we're talking about here, but let's see what else we got. All right, here's an interesting one. "Beverage Intake of Girls At Age 5 Predicts Adiposity [that damn word!] of Fat Gain and Weight Status in Childhood and Adolescence." Let's have a quick look at that one, and then there's going to be one more study I want to show you.
So, again, just I'm going to go right down to the conclusion here and quote, "These findings provide new longitudinal evidence that early intake of sweetened beverages predicts fat gain and weight status across childhood and adolescence." Again, sweetened beverages, whatever you want that to be…. It can be anything-fruit juice, soda, all that nonsense.
One more study…I think you're getting the point here. I'm going to show…I just saw one pop up here. "Plant Foods And Plant-Based Diets Protective Against Childhood Obesity?" What do you think? Just answer it yourself or maybe write it down, yes or no. Let's have a look.
This one was done in the American Journal of Clinical Nutrition, published in 2009, and let's see what we got. Ok, so it's not really…it's more of a review here, so they're not really showing results or conclusions. However, what I will pull from this is rather interesting. Ok, so I'm just going to continue…
I'll just read at this point. "Plant foods are highlighted in the dietary guidelines for Americans, and children do not meet the current recommendations for most plant foods, although the advice to consume a plant-based, low energy dense [so high nutrient, low energy/low calorie dense] is sound, ethical question arises relatively high prices of these diets in the United States."
Whatever, they're using price as an excuse, and we know generally that families come from low-income families are generally at a greater risk of fat gain just because they're generally eating foods that are less healthy for them. So we're not eating enough plant foods. We know that plant foods are high nutrient, low calorie. They're very, very good for us. They prevent future weight gain, current weight gain-very, very important stuff.
There we go. I've probably just round off 5 studies that show you that fruit and vegetable intake decreases the risk of becoming obese; however the intake of fruit juice increases your risk of fat gain and obesity, not to mention diabetes and other stuff. What do you think? Does this make sense? Does this really…I hope you really understand what I'm trying to say here.
One thing I will say is that if you are not active, so I… I mean I'm a big proponent of eating more plant foods, eating more raw foods, but I'm not a crazy fruitarian. There are some people out there that are really adamant that all human beings should be eating fruit all day long and that's it.
I don't necessarily agree with that, and the other problem with that is that a lot of these individuals are very, very active, so they're ultra, ultra athletes types of people, so they're biking all day, they're running all day, and if you're eating 30 bananas a day or an entire watermelon in one sitting, that is a huge amount of sugar, fructose, coming in.
It's one thing, though, if you're sitting on a couch doing that, but in most cases, these people are not. They are very active, and they are using that sugar as fuel for their activity-very important distinction to make. If you're sitting on the couch and consuming copious amounts of fruits and vegetables…I should say fruits, sorry, which again most people are not, (I'm going to say 99.99% of the population is not in this boat, probably you included), then there is no issue with fruit.
If you're going to sit on the couch and eat an entire watermelon in one sitting, followed by 30 bananas, there is going to be an issue at that point-unless you're extremely active and you're using those sugars as fuel. As a general rule of thumb, I don't recommend eating a lot of fruit later on in the day.
This is just in terms of caloric timing and nutrient timing. If you're active during the earlier part of the day, have most of your fruit during the day. Here's the thing, if you have dinner and then sit on the couch and watch TV for a couple of hours like most people do, and then you munch down on fruit…well, there's two ways of looking at this.
First of all, if you're going to have an apple a night, who cares? Not the end of the world; it's like 80 calories a couple sugars; no big deal. If you're going to sit down at night and have an entire watermelon, different story, because again, you're not active enough. When you go to bed that's literally going to get shuttled into your fat cells. Understand that distinction.
One apple versus a copious amount of fruit is a different story; and at night, here are the options: you have an apple or you have one fruit, you have some berries or whatever it is; or you have nothing, so you don't have any dessert; or you fall back on sweets.
If it's between a cookie or a piece of cake and an apple, well don't blame the fruit for making you fat, because it's the chocolate cake that's the problem. Make that distinction, and again, there are differences between certain fruit. I would stick with the low sugar fruit, the low sweet fruit like berries, apples, pears that tend to be a less lower of a glycemic response or insulin response.
And again, what I want you to get out of this is that fruit is vital. It's so important for your health. It's so important for all levels of your health, and the other great thing is that the more fruit you eat, the more other favourable other kind of choices you'll make. If you're eating cake and chocolate and soda, you're not going to feel too good about yourself, and as a result, you're going to make poorer food choices.
However, if you're eating more fruit, you'll probably also eat more vegetables, and if you're doing that together you're probably going to work out a little bit more, so it becomes a gateway drug, which is very good in this case. Eating an apple, a pear, or some berries actually gives you a bit of momentum to kind of continue doing so.
Conclusion
With that said, the conclusion is that fruit does not make you fat, it actually prevents fat gain and obesity based on the research that we've seen now some very, very overwhelming or very…well, it's not overwhelming but the evidence is overwhelming in favour of eating more fruit. The problem is with sugar, sweets, and beverages-high fructose corn syrup type stuff and fruit juices. Those are the issues when it comes to fruit and fruit sugar.
If you've got any questions about this, again join me on the blog at SuperNutritionAcademy.com/blog.
While you're there, if you have not already, be sure to download my free report, it's called "The Big Fat Food Lies: 7 Nutrition Myths That Are Keeping You Sick, Fat and Frustrated." You'll learn a ton in that free report, so be sure to grab that while you're over at the blog, and if you have any suggestions for future episodes or if you come across some kind of news, by all means just drop me a line on the blog. I'd be happy to feature it in an upcoming episode. Thanks again for joining me. I hope you learned a ton from this lesson, this episode, and I'll see you in the next one.
Related Posts:
---
Tags: does fruit make you fat, fructose, fruit sugar, fruit weight gain

About Super Nutrition Academy

Super Nutrition Academy is the ONLY nutrition course that makes it easy for everyday people to understand the complex relationship between nutrition and health. If you're tired of all the conflicting health information out there and want a clear-cut, evidence-based understanding of the nutrition and health topics that matter you, then get started today.

---