Posted: March 17th, 2014 @ 8:00 am | By:

Yuri Elkaim
Categories super nutrition academy health class

Episode #90
Learn how gratitude, happiness, and overcoming addiction work together in this great interview with UJ Ramdas, co-creator of the Five Minute Journal.
Click here to subscribe in iTunes (and download)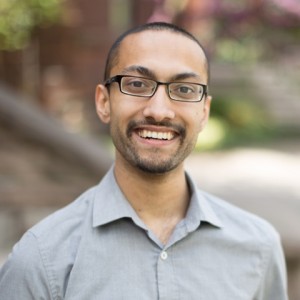 Yuri: Hey, guys, how's it going? Yuri here with another episode of The Super Nutrition Academy Health Class. I hope you guys are doing awesome. We're back, up and running, in the thick of things, cranking out some amazing interviews, and I've got some more amazing ones to come in the coming weeks, so do not miss a single episode.
Today I am joined by my good friend Mr. UJ Ramdas.  We met each other probably a year and a half, two years ago; it seems like time just flies. He's one of the most incredible human beings you could have the pleasure of meeting.
Before I introduce him and bring him on, I'll give you his official bio. He has a background in behavioral science, marketing, and hypnosis. He's consulted with several hundred clients, bringing them from confusion to clarity.
He's currently based out of Toronto, which is my hometown. He's a big fan of wilderness, Eastern meditative practices, and a good cup of tea, as well as hot chocolate from SOMA, which is an awesome chocolatier in Toronto. We'll save that discussion for another day.
I think most notably, if you guys have not yet picked this up, if you guys have not heard about this, something called The Five-Minute Journal; it's an awesome, awesome gratitude-like journal. He and our mutual friend Alex Ikonn were the developers, the creators of this, and it's just kind of taken off. You guys have been featured on almost every media platform now; it seems that way, anyways.
UJ: Yeah, we're good on there.
Yuri: Welcome to the call, UJ.
UJ: Thank you so much,
Yuri. I'm excited to be here.
Yuri: Yeah, I think we're going to have a good time discussing—just for everyone listening, we're not going to go down the traditional nutrition path today; we're going to talk a little bit about gratitude, positive psychology, habits, overcoming addiction, because that's really UJ's area of expertise. I think how you heal anything is how you heal everything, as I often say. Even if you have the food stuff dialed in, there's still a lot of stuff behaviorally and psychologically that still needs to be kind of tuned in, so we'll talk about some of that over the next 30 minutes or so. So, what's new, buddy? What's new and exciting?
UJ: Well, things are great. We're actually, right now, focusing on  versions of The Five-Minute Journal. Just so people understand what we do, Alex Ikonn and I created a company called Intelligent Change, and here we produce cool products that make people happier.
I've had an interest in positive psychology for a while, and if you think of it, I'm sure you've read tons of book on happiness—The Happiness Advantage, Stumbling on Happiness, etc.  There are tons of TED Talks on happiness and on the paradox of choice by Barry Schwartz, etc. And yet, the one thing that I felt was lacking was, although we had all of this information and knowledge, it wasn't put together in a way that was easy to use and that measurably changed someone's life.
For me, I'm always about brass tacks—I'm a little impatient, as we talked about, we were chatting a little before the interview started. I'm interested in introducing these principles that work in a seamless fashion in people's lives. We're actually iterating another version of the journal as we speak and lots of fun things to come this year, Yuri.
Yuri: Yeah, it's awesome. I've been using The Five-Minute Journal now for probably close to a year and it's great. For me, it takes less than five minutes, but it's such a great practice for anybody to adopt. I think the more that I've learned about this whole notion of happiness, which is so elusive, for whatever reason, to so many North Americans is that it really boils down to gratitude.
When you appreciate what you have…I remember this quote by Wayne Dyer, where he says, "Change the way you look at things, and the things you look at change." I'm like, that quote is never going to leave my mind. It's so true because we can be in a position where we're just completely complacent and ungrateful for whatever it is in our life or whoever it is in our life, and we can shift that simply by looking at them with eyes of gratitude. It's just shifting perspective. Anyways, I'd like to get your take on happiness and gratitude and what you've discovered over this journey of yours.
UJ: Well, Yuri, I'm a huge fan of evolutionary psychology because, to me, from a psychological perspective, it's the most predictive model of human behavior. When you strip away a lot of the gloss, you figure out that human beings typically operate on three levels.
If you cleave the brain from front to back—so, that's like from the forehead to the back of your head—in three parts, you'll see that the very front, the area right behind your forehead is the cerebral cortex, and that's the newest part of the brain; that's the part of the brain that comes in to being when you practice gratitude.  It's the most conscious part of the human being, and it's the most recent part of the brain.
The very back of the brain is, the most ancient part of the brain, the part of the brain that keeps breathing and bodily functions going. Things that we don't even pay attention to naturally get taken care of in the body. And the midbrain, or the limbic brain, is responsible for a lot of the fight-or-flight. If you think of a human being as a biological organism, from back to front, the complexity increases.
From back to front, there are increasing layers of complexity, and when people have ideas and notions of happiness, what it is and what it means, it typically comes from the actions and movements that come from the midbrain.
A lot of what we found recently is: When you make a lot of our unconscious conscious, happiness happens. To condense this in a quote, there's a really good book I read recently. A very specific line stood out to me. It said: "If you want to be happy, pay attention to what feels good."
Yuri: Makes sense, right?
UJ: Yeah, and it's a simple insight and it can make a massive difference. The more you pay attention to that, cultivating the ability to pay attention to what feels good, the happier you'll be.
Yuri: How do you distinguish, then? Let's say eating doughnuts and junk food make me feel good for a couple minutes. How do you, where do you draw the line between, okay, I can sort cocaine all day long and it feels good—although, I wouldn't recommend anybody do that, but I'm just using that as an example. How do you distinguish between that feeling good and being aware that what you're doing is actually good for you and obviously being aware that it's part of that whole happiness model? I don't know if that's well-explained but…
UJ: No, it makes sense. Here's the difference. When you do something and it feels wholesome—and when I mean "wholesome," I mean long-term wholesome, most people have a general sense that when they're engaging in addictive behavior, whether it be eating doughnuts or gambling, there is this internal craving; there is this internal, this set that pulls them toward this behavior. It's unconscious. After, they typically will feel a diminishing of happiness.
There's guilt or shame or a self-reproach for having done the behavior. Usually, that's characteristic vindictive behavior, whereas when you do something that feels good in the long-term, there's no such dip in emotion; it continues to move up and up. And there's no craving for the action. Right before you do the action, you ask yourself, Do I have craving in my body? Is there almost an addictive craving to do this? It's typically a really good heuristic to figure out, whether this is something that is overall going to move me forward or not. Here's another heuristic that I use personally, Yuri. I haven't talked about this much, so this is going to be interesting.
Yuri: The first time on air. Here we go.
UJ: For folks who aren't familiar with Maslow's hierarchy of needs, Abraham Maslow was a pretty prominent psychologist in the '50s and '60s, where he came out with a lot of his best work. In his mind…the model is that of a pyramid. It's a pyramid of needs, a hierarchy of needs, and at the very bottom are the physiological needs—eating, sleeping, shelter, procreation, that kind of thing. The next layer above that is that of safety needs—so, shelter, warmth.
The layer above that is social needs—being cared for, being loved, being connected. The layer above that is self-esteem needs—feeling worthy, feeling competent, feeling good. The very highest echelon is that of self-actualization. They're just levels of consciousness based on what you're paying attention to. All his writing, all his research, at the very end he produced a paper that talked about the practical implications of what's the difference between someone who is self-actualized and someone who is not. What does it actually mean, and how can we actually make this work?
The only difference between someone who is moving forward exponentially in terms of growth and someone who is not is, as we go through life, as we go through our days, we have a choice, we have several choices during the day, and it's usually a choice between a growth decision, a choice to consciously grow or to not. The only difference between the people who are self-actualized is, they choose to make more of those decisions.
I said, "How do I systemize this? How do I create a system for this," because this is what I do, this is what I love. On my phone I have a counter, I have an app. On one side I have a conscious decision to grow, and on the other side, I have a conscious decision to not grow. Every time that I make a decision, I know I'm at one of those crossroads. I can make either decision, but I have to log it in. If I make a conscious decision to grow, it makes me feel good. Even if I make a conscious decision to not grow, I have to log it in because I have to make that conscious. The more we make those decisions conscious, the happier we'll be.
Yuri: That's pretty powerful.
UJ: If you go back to that doughnut example, most people who know when they're reaching for that doughnut, they know what they're doing. A part of them knows that it's probably not good for them; their body is going to react not in the best way. If they have the ability to consciously say, "Okay, this is a choice that I have for growth or not and I know this is going to pay off in the long-term," it'll make a difference.
Yuri: That's pretty cool. I never thought of it that way because as soon as you bring it to the conscious level, it's almost like you're having an intellectual conversation with yourself about recognizing what you're about to do or want to do. A lot of times that can help overcome the initial impulse, which is almost reptilian in some cases to eat that stuff or to do that type of behavior.
UJ: Yeah.
Yuri: That's really cool. Is there a specific app that you use for that that people can use, or is this just something you use on your phone?
UJ: I'll just pull it up right now. I don't even know what it's called. It's called MyCountR. I think it's a free app, I believe. I just looked it up on the app store. It's a really simple app; it's not complex. The act of making those actions conscious, we're still evolving every day, Yuri.
We're a fair distance away from monkeys, but if you look at some human beings, I think that the mark of monkey behavior is restless action and imitation. When you "say monkey see, monkey do," those are more neurons at work, but they're also the remnants of almost a prior level of consciousness. I'm sure, Yuri, you and I know several people, including ourselves, where we've been more restless than we need to be. We're always in this conscious, making conscious choices to move past that conditioning. The more we're conscious of our limitations, I think the better off we are.
Yuri: Totally, that's great. What do you say for, I think there's a lot of guilt and shame in all areas of our life. Actually, a really good book I'm halfway through right now is called Daring Greatly by Brené Brown. I don't know if you've heard of it.
UJ: Mm-hmm.
Yuri: It's awesome. Everyone listening, I highly recommend you read it.
UJ: Yeah. Yuri: She talks a lot about guilt and shame and vulnerability. I think there's a lot of that attached to food choices a lot of times and health choices, where we know that we're not making the best decision food wise, and then we just say, "Whatever. I feel like crap; I'm going to have this food." And then afterward there's this overriding feeling of guilt, like, "Here I go again. I meant to stay on this plan and I failed again." They associate themselves as opposed to the behavior with the fact that they as a person are a failure.
UJ: Right, yes.
Yuri: As opposed to the act of not doing something or just kind of falling off the wagon. I've seen this a lot. For instance, with our Total Wellness Cleanse, we have a very vibrant community within our Facebook group, and we see a lot of this, where, it's a 14-day cleanse phase and most people do very well with it.
And then sometimes everyone has, "Oh my God, I had a cup of coffee. What should I do? Should I start all the way back at the beginning?" It's just very, very self-defeating, and I feel that there's a lot of guilt and shame. What advice do you have for somebody who's in that position, where they have the best intentions, they fall off the wagon for a meal or a day, and then they're just like, "Whatever. I'm just going to throw in the towel, because there's no point"?
UJ: That's a great question; that's a long question. There's a lot to be said there. For the audience, just so we're clear, the difference between guilt and shame is this: Guilt goes something like "I did that action. That action was bad. That was not good. That was a mistake." Shame goes something like this: "I am a mistake." Those are two very different ways of looking at things.
When someone falls off the wagon, let's say has a coffee, has something they're not supposed to have, I think a really important mechanism for renewal and recovery is not just recognizing consciously, mentally that you made a mistake, but emotionally moving through the grief of what that mistake meant. Some people are better at this than others, but, typically, what this means is emotionally coming to terms with this.
Now, for almost anyone going through any period of transformation, a really critical factor is having a trusted friend, ideally who is well-versed with the issue of transformation, be it cleansing, be it physical fitness, whatever goal you're planning to achieve, having a really good friend to trust and respect that can take them through the process. We're social beings and we process emotion—some of us—through talking and through sharing. Shame can only exist when it isn't shared.
Shame is darkness. As soon as you turn the light on, as soon as you share it, as soon as you make it public, as soon as it sees the light of day, as soon as people start taking pictures of their food, as soon as they start to reveal their mistakes, however serious they might think it is, the shame and guilt start to move away. It is the sharing that is really critical, and the social support, because shame exists because people think they will be shunned. People think they will be outcasts; people think they would be rejected; that's why they've never shared it.
Yuri: Yeah, that's really awesome. One of the things you just mentioned there in terms of taking pictures of food, your meals, I just wrote that down, because I think that's a really powerful process. Even if it's on Instagram or Facebook or something where you have a community of people that can keep you accountable. Or you don't even know these people; you're just putting it out there because the fact that you're conscious enough to take a picture of the food, upload it to Instagram or Facebook, it kind of forces you to make a better decision, because you're like, "Well, I'm not going to really put up a picture of chicken wings and French fries."
UJ: Exactly.
Yuri: Now my creative wheels are turning with that. I'm going to think of some stuff with that to further support people in their way of sticking with their healthy intentions.
UJ: Absolutely.
Yuri: That's a great explanation of guilt versus shame and how to deal with some of that. I think it's a very important distinction. Even with kids, for instance; it's not like, this is actually something I've been very conscious of with my children. I don't even remember where I heard this from, but it was about praising the behavior, not the person necessarily. I don't say, "Good boy, Oscar." I'll say, "Hey, buddy, you did a great job," with that specific thing. Where his self-worth is not attached to, not like it's bad boy or good boy. He's a good boy just because he's a human being, he's worthy of love and all that stuff. I think it's a really important distinction.
I've been very conscious of this, listening to other parents and even grandparents talk with their kids and grandkids and say "Good boy" or "Bad boy" and stuff like that. It's like, let's encourage the behavior as opposed to the actual person themselves, because we don't want them to really… I'm kind of going off on a tangent but…
UJ: No, actually, it's relevant. There's something I'd like to share here if you don't mind, Yuri. One of the foremost scientists in the field of behavioral science is Professor BJ Fogg at Stanford. He's done an incredible ton of good research when it comes to building habits. And building, almost working in the industry where some of the students have gone—I think one of his students was a cofounder of Instagram—really changed fundamentally human behavior on a very large scale.
One of his favorite books—and one of my favorite books—for parenting is Don't Shoot the Dog! It's a dog-training book by Karen Pryor. I don't want people to take offense to this, but, really, a lot of what it is about is about positive-negative reinforcement. At about the very exact time a behavior happens is to reward it. Josh Waitzkin—I've always found this interesting—Josh Waitzkin is, I think, a ten-time national chess champion since he was six, a child prodigy. Went on to become a tai chi international champion in six years, having never picked up a sport in his life before that. He's a learning animal. I found it very interesting. He wrote a book called The Art of Learning, which is one of my favorite books of all time.
His mother was a horse trainer. And unequivocally, almost everyone I meet who has been an animal trainer has incredible kids, and I don't think that's an accident. It's because they understand what works and what doesn't work in building behaviors.
Yuri: That's very true.
UJ: Character is all but a bundle of behaviors.
Yuri: Yeah, I would say having two dogs before I had kids was a good stepping stone because there was a lot of responsibility in terms of reinforcement. It's funny because it's all just applied psychology. I remember first year of university, learning about classical conditioning and Pavlov. Honestly, having two little kids now and one more on the way, I don't want to compare them to dogs but it's very similar. If kids react or do things, if they're crying their face off and trying to get your attention and you reward them with some attention or something, they learn that, "Huh, when I do this, I get this. I will continue doing this." That's why I'm a big fan of extinction, which is just kind of ignoring bad behavior.
UJ: It's a great concept.
Yuri: It's worked well for our kids. There's a certain age, I think, whereby you have to be very nurturing to your babies and stuff, but after, from my experience, after about six months they start to kind of clue in to the system. They're like, "Huh, so if I scream my face off, I'm going to get Mommy, and this is what's going to happen, so I'm going to continue doing that." And that's why I think coming back to this whole discussion of having a good understanding of how humans behave, how we can learn, how we are reinforced. Don't Shoot the Dog! and The Art of Learning?
UJ: Yes.
Yuri: I'm going to grab those because I'm on a mission to read a book a week.
UJ: Oh, fantastic.
Yuri: Yeah, those are really cool.
UJ: I started with The Art of Learning. It's just an incredible insight into a world-class performer and really what goes behind the psychological makeup of someone who does things like that.
Yuri: Yeah, and I think that would be valuable for pretty much anybody. Let's say you watch the Olympics and you see these unbelievable athletes. It's not that you go to the gym to train to become an Olympic athlete in most cases, but you can learn about from what they're doing, their little nuances that can help you in your life, in your training. And then the same thing with that is that you can learn from people like these amazing prodigies or whiz kids who are able to learn and acquire things really quickly and just learn what are the pneumonics, what are the little things that they're doing that we don't know about? It's almost like little cheats, little hacks. That's awesome.
UJ: Absolutely.
Yuri: Let's talk about habits before we wrap up, because habits are really important with pretty much any area of life. There's a lot of, I'm not going to say a lot of debate because I'm not really in those circles to know if there's a lot of debate about it, but there are people who talk about it takes 21 days to develop a habit; other people have said 66 days. What are your thoughts on habit development, and what do you think is probably the most important components to developing a good habit or overcoming a bad one?
UJ: First things first. I choose to implement one habit at a time; not two, not four, not six, not eight. One habit, one theme at a time. Actually, there is a lot of research and debate around how long it takes to develop a habit and, to me, it depends on the level of complexity. For a logging behavior, which is the behavior we talked about earlier, logging growth behaviors versus conscious choices not to grow, that's a logging behavior; that's a very simple behavior. It can take under five entries to make that a consistent habit. Mental rehearsal can speed that up.
Yuri: When you say "mental rehearsal," is this like visualization ahead of time or…?
UJ: Yeah, you can call it visualization ahead of time, you could call it imagery, what works for you. But mentally doing that is actually a shortcut to building a lot of behaviors because, frankly, I think learning how to use our imagination is one of the most critical things that we're not taught in school. I think I read a quote a couple days ago that said "Logic will take you from A to B. imagination will take you everywhere."
Yuri: That's good.
UJ: Learning to do that can substantially speed up the process. It's the exact same with more complex behaviors. Now, with more complex behaviors, it really depends. If it's learning to go to the gym, that's a series of smaller behaviors, and the more you're able to chunk that down into bite-size habit chains, the more you'll be likely to actually go execute the process. Shame prevents a lot of this, by the way. Let's say someone chooses to go, says, "I'm going to start going to the gym three times a week," and he goes for two weeks and then misses a Monday. Now, when that happens the person might go, "I'm a bad person; I didn't go to the gym. Maybe I can never do this." That's the thinking process.
However, if the person starts to look at all the smaller chunks that go in to that behavior and just works on perfecting those small chunks, keeping your shoes and your gym bag in your car. There's a really good book called Nudge that talks about how you can make habits seamless and effective just by placing the right things at the right place. Triggers. In other words, can really help how to build and become seamless.
This one thing can accelerate or amplify how building behavior easily through three to four times is a real-world consequence to not achieving that. Yuri, you know I'm a fan of this because I think we met a couple months ago, and I think someone said they wanted to achieve a certain goal. I said, "What's a real, hard-world consequence that you're going to attach to that to make sure it gets done?" They picked something that was meaningful for them and, as you know, it got done. Real-world consequences help you propel yourself. We're propelled through pleasure and pain. Guess what: Human beings respond more to pain than pleasure; that's how we're hardwired. Let's make use of that.
Yuri: That's very cool; great insight. Dude, you're such a bottle of wisdom; it's so great to talk to you about this stuff. We could talk about this all day.
UJ: My pleasure, man. This is fun.
Yuri: For everyone listening, again, I want to give you guys the Web site to check out The Five-Minute Journal; it's FiveMinuteJournal.com. Currently on backorder because it's probably just so popular that you guys can't even produce enough.
UJ: We're in stock in two days.
Yuri: Yeah, it's such a great little tool. As I mentioned to you, I use it while I'm on the toilet. It just sits on the back of my toilet. When I do my business, I just do my stuff in the morning, do it at night; it's awesome. It's all about appreciating the little things throughout the day, setting yourself up to win, acknowledging those little successes. As we've discussed, it's a really important step in increasing our happiness.
I recommend everyone listening to go to the Web site, order it for yourself. It's actually a great gift, as well, for Christmas or birthdays or just anyone you care about; really, really cool and they'll probably appreciate it. I want to thank you so much for taking the time, UJ; it's been a pleasure. Anything you want to finish with?
UJ: Yes, Yuri. As of today, we're launching an app, so for those listening, you can go to the app store, search for Five-Minute Journal, and you'll be able to use the app version of it, which is the exact same format; it's just digital. It's going to be easier for you if you're on the move, you're listening to this on the go. You can just check out what it's about right now.
Yuri: Awesome, yeah. I'm going to get the app as well. Yeah, why not have the app and the journal? That's awesome, really cool. Thank you so much for taking the time, buddy. Personally, I've learned a ton out of this interview, and I'm sure everyone listening has as well. That's all from me today, guys. Thank you, once again, to our guest UJ Ramdas, from FiveMinuteJournal.com. I look forward to seeing you guys in the next episode.
UJ: Thank you, Yuri. Thanks for having me.
Yuri: Absolutely.
Related Posts:
---
Tags: five minute journal, gratitude, happiness, overcoming addiction, UJ Ramdas

About Super Nutrition Academy

Super Nutrition Academy is the ONLY nutrition course that makes it easy for everyday people to understand the complex relationship between nutrition and health. If you're tired of all the conflicting health information out there and want a clear-cut, evidence-based understanding of the nutrition and health topics that matter you, then get started today.

---