Categories super nutrition academy health class

Episode #51
Discover the healing powers of plant pigments
Click here to subscribe in iTunes (and download)
Hey, guys, how's it going? Yuri here with you. In today's lesson we are going to investigate something really awesome that plants contain, called pigments. You probably know what these are but maybe not in the scientific sense that we're going to look at today. This is really some incredible stuff. I'm really happy to be sharing this with you.
Plant Pigments
The reason I'm bringing it up today is because there was a little news piece on TV that was talking about the power of purple vegetables. They were investigating does purple cauliflower or purple broccoli, purple carrots, purple potatoes—you've probably seen this in different farmers markets—do they have different properties than the traditional-colored vegetables that we attribute to those different categories of vegetables.
It's a really, really neat area to consider because, essentially, what pigments do is photosynthesis. I should actually kind of specify that a little bit more. Chlorophyll, which is the pigment that gives or reflects green color—when we see a plant as green, that's mainly the chlorophyll pigment, which is doing that thing with our eyes so we only see green—that is mainly the one responsible for photosynthesis.
When I talk about photosynthesis, I'm talking about how plants produce energy, or carbohydrates, really, for us to consume and for animals to consume. They have amazing capabilities of taking CO2, carbon dioxide, and sunlight and turning it into carbohydrates and oxygen. It's really, really awesome.
That's a very kind of superficial overview of photosynthesis. I'm not going to go too technical with you about it, but just understand that plants, as we know, produce carbohydrates. That's the main source of carbohydrates on the planet, and it's a result of sunlight and carbon dioxide that allows them to create that.
That's very important because they form somewhat of the base of the food chain, and whether animals eat the plants, then we eat animals or whether we eat the plants directly, we're able to enjoy the benefits of a lot of these pigments, one of them being chlorophyll. We'll come back to chlorophyll in a second.
Chlorophyll
I'm going to give you a description of four different types of pigments that are commonly found in plants. Again, they're base don color. Chlorophyll is the primary pigment in plants. That's why if you go to outer space and you look back on the Earth, you mostly see green and blue; blue being the water, green being the land, for the most part.
Here's something interesting that I talk about in Eating for Energy briefly. Isn't it interesting—and this is a theory that I've created—isn't it interesting that if you look at the Planet Earth from space, you see about 70 percent water, 30 percent greens? Majority is blue and green, so water and greens. Isn't it interesting that the human body operates best when it is well-hydrated through water and consumes a diet that is high in greens? Some food for thought there. Interesting, isn't it?
Anyways, let's move on. Chlorophyll is the primary pigment in plants. It gives off that, it absorbs yellow and blue wavelengths so that it reflects green. We see green and that's why plants seem to be green. If you think about anything that's green, whether it's a tree outside or the cucumbers that are sitting on your countertop, anything that's green has chlorophyll in it, and that's why we see such abundance of chlorophyll in the plant kingdom.
Carotene
Carotenoids, for instance, like beta-carotene, which you've probably heard of, are red, orange, and yellow pigments. They're primarily accessory pigments in plants, and they help to fuel photosynthesis. What they do is, we saw that chlorophyll absorbs yellow and blue wavelengths; carotenoids absorb different wavelengths that are not absorbed by chlorophyll to really maximize what the plant is able to create in terms of energy.
Typical carotenoids would include beta-carotene, which I just mentioned; lutein, which is a yellow pigment found in fruits and vegetables, very, very helpful with eyesight; lycopene, which you probably heard of, is the red pigment in tomatoes; and there're lots of others.
Anthocyanins
Next category are called anthocyanins. These have a bluish, kind of a red-blue type of thing; that's the color they kind of give off. If you think about berries or different flowers that have this reddish-blue color, those pigments are the anthocyanins.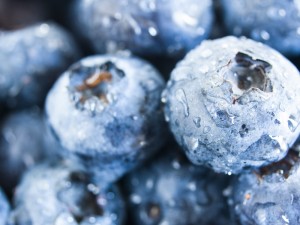 There is a ton of research; I'm not just making this stuff up, guys. There's a ton of research looking at each of these individual pigments and identifying how helpful they are in terms of preventing cancer and all disease. That's why it's not about—I'm not a fanatical radical about being vegan or you have to be plant-based, but that's why I continue to say if you can add more plant foods into your life, that's the single biggest thing you can do to be healthy. It's not even about the vitamins and minerals. Those are really important but it's about all of these phytonutrients, these pigments that have been well-studied to prevent cancer, to do all sorts of amazing things in the body that we simply don't get when we're taking a multivitamin, for instance, or when we're eating a lot of animal foods or, obviously, processed foods.
In Eating for Energy I talk about this notion of rainbow colors. I have something called the Eating for Energy food spectrum, and at the top of that are greens; anything green is really what we should be eating the most of. Underneath that are the rainbow-colored vegetables or fruits for that matter as well. Any of these colors—the reds, the oranges, the purples, the blues—they all contain these pigments that are absolutely just unbelievable for your health. Anthocyanins—again, blueberries, raspberries, blackberries, strawberries—all of those berries are very high in anthocyanins, and that's one of the reasons why berries are so helpful for preventing cancer, preventing angiogenesis, which is a proliferation of blood cells that enables cancer to spread. Really, really beneficial stuff.
Betalains
And the final main category of pigments are called betalains, and these are red or yellow pigments. These would be…again, they give off that deep-red color, so you'd probably find these more in beets, hence the name betalains. These are commonly used as food-coloring agents in a lot of commercially prepared foods. However, just a little quick tip here: Instead of using food coloring, you can use beet juice as an amazing food color for whatever you want to do.
A lot of these kind of crossbreeding of different vegetables now—we're seeing purple carrots, purple potatoes—part of what they're doing is they are kind of crossbreeding. Some of them might be natural or indigenous to different areas of the world, but what they're doing now, especially in areas of advanced agriculture, is they are not kind splitting or crossing different, like a beet and a potato gene. So, is it a GMO? Maybe; you can argue that. But there are indigenous carrots that just grow purple.
I've had some incredible potatoes that are purple. You're getting all these amazing benefits from these different-colored fruits and vegetables. Especially as we approach the summer here, with the warmer weather comes farmers markets, so if you're at the farmers market, try some of these awesome different colors: purple potatoes, purple cauliflower, beets.
It doesn't even have to be these kinds of crisscross, weird color potatoes, but instead of continually eating the same colors, it's really important to look at your plate and say, "Hey, do I have a really cool combination of colors? Does my plate look like a rainbow? Do I have some green in there? Do I have some red or some purple or some yellow?" All of those colors have healing powers.
Anyways, I wanted to bring that to you today because I thought it's such an amazing…I'm a huge, I'm in awe of nature. When I look at what nature does, it just blows my mind, and when I see these plants and the healing powers that they have, when you think about a lot of the antioxidants that plants have, antioxidants protect the plant from oxidation, right? That's what an antioxidant does. It's a survival mechanism of the plant, and when we consume those, we ingest those benefits as well. It's just incredible.
I could go on and on about this forever, but the catch of the day is basically to eat more rainbow-colored fruits and vegetables and that's the key. Just think about that the next time you go to your grocery. I really encourage you to check out some local farmers market if you can. The quality of the food will be a thousand times better. As I said before, if you can plant your own little garden, get that process started of just starting to grow your own food. You'll be amazed at how tasty and amazing that food is.
So, we will stop it there. Again, join me over at the blog, SuperNutritionAcademy.com/blog. I'd love to hear your feedback on this one. Do you grow these types of veggies? Have you tried them in the past? What is your favorite one? Personally, my favorite is the purple carrots. I just find they're awesome.
What do you like? Just join me over at the blog, find this post on the healing powers of pigments, and I look forward to seeing you in the next episode. And don't forget to tell your friends about the podcast. More people need to know about this, and I really appreciate you listening in every single episode, and together, we can really spread this message of better and better nutrition. One day at a time, we will make this planet and everyone on it healthier and healthier.
Thank you so much for joining me, and I look forward to seeing you in the next episode.
Related Posts:
---
Tags: anthocyanins, carotene, chlorophyll, plant pigments

About Super Nutrition Academy

Super Nutrition Academy is the ONLY nutrition course that makes it easy for everyday people to understand the complex relationship between nutrition and health. If you're tired of all the conflicting health information out there and want a clear-cut, evidence-based understanding of the nutrition and health topics that matter you, then get started today.

---