Categories super nutrition academy health class

Episode #21
Let's Take a Look At the Healthiest Diets Found in A Particular Group of Children
Click here to subscribe in iTunes (and download)

Welcome to another edition of the SNA health class, I'm Yuri Elkaim with you as usual, and today we're going to be talking about the effect that parents have on their kids in respect to education and specifically the education of the parents and how that impacts the health of the kids.
Healthy Eating Habits for Children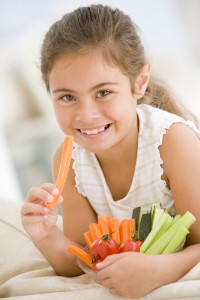 This is actually a really interesting topic to discuss, so we are going to jump right into this. We can talk about some real-life application, and the reason I'm bringing this up is because there was some recent research done that was presented at the end of March, and essentially what they looked at here…
This was a European study that looked at 15,000 children aged 2 to 9 in a number of European countries, and essentially the results of the study boiled down to this… Children of parents with low and medium levels of education eight fewer fruits and vegetables and ate more processed food and sweet drinks, and we all know what comes in those. On the flipside, parents with higher levels of education were more likely to feed their children foods with more nutritional value including vegetables and fruits, and in this case rice and whole grain bread.
Obviously we know that those aren't necessarily the best foods, but this is very interesting because this was published in the Journal of Public Health and Nutrition in the March issue, and this is a really important thing to consider, and I'm very adamant about this because I've got two young kids, and this is one of the reasons that we've developed Super Nutrition Academy is because I firmly believe with every fibre in my being that the school system we've been raised in a broken, and we spend so much time learning stuff that is absolutely useless in terms of what we are able to use in our own lives, forever, in terms of learning about the war of 1812, or some ridiculous stuff historically that's kind of interesting to know about, but in terms of crushing kids' confidence's because they can't remember certain dates, it's just absolutely ludicrous.
Meanwhile if we had… Just think about this is! When I was in high school and junior high, the only health class I had was sex ed or public health. I don't know if it was public health sex ed or whatever it was. There was no mention of nutrition, no mention of anything else other than contraception. That was the only discussion around health that there was. All my other classes had to do with geography, which I loved, math, science, history, which was interesting, but again a complete waste of time, as far as I'm concerned, and then the languages.
It boggles my mind that we are not taught from a very young age the fundamentals and the basics of nutrition and health, and this is why I developed Super Nutrition Academy, because as adults 99% of the population is clueless, and we live in a world now where we have more information at our fingertips than ever, but we're still confused, and we are overloaded with information.
This study was really pertinent because as I was sifting through this information, I said, "This is really interesting to discuss," because if you are a parent, you always… to your kids… Your obligation to inform yourself about what it means to eat and be healthy, because if you don't you are setting your kids up for a lifetime of health issues. I guarantee that.
Healthy Children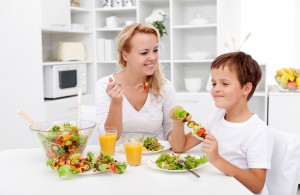 Don't even do this for yourself anymore. Do it for your kids. As you can tell, I'm really passionate about this, because I grew up… My parents are great and I love them, but I grew up with them knowing full well that certain foods were obviously not as healthy as others, but due to their busy schedule and whatever, I was brought up on fast foods and processed foods, and I had a lot of health issues even to this day that come as a result of that. I don't want that, and I will not let that happen to my kids.
When you know, for instance, just as an example, the negative effects that gluten has on your body and on your kids' bodies, for me it becomes almost to the level of child abuse your kids these foods. If you know that gluten is directly attacking the intestines of your body and obviously the body of all humans, but you are for whatever reason feeding your kids breads and pastas and cereals and you know better, then in my mind, that's the same thing as sitting in your car smoking a cigarette with your kids in the back seat. By the way, I was also exposed to that when I was young.
Again, this is… It's a very, very important topic to consider, and that's again why I developed the Super Nutrition Academy, to give every day people, parents and non parents included a level of education where they can make better or have a better understanding of how their body works and how food and nutrition plays a role in their health.
It's not about… And the thing is most of these studies that look at parental education look at levels of post-education, so they look at, in general, parents who have more than a high school diploma tend to be healthier; their kids tend to be healthier and so forth. Whereas if you don't go to high school or if you drop out of high school and you've got kids when you're 17, like the Jerry Springer crowd, obviously you don't have the money; you don't have the know-how; you don't have the wherewithal to necessarily bring up your kids in the best of environments.
And that makes sense, and that's fine; however, what some of these studies don't take into consideration, and I think would be interesting to look at is, okay sure you've got a PhD in whatever it is, but do you have any idea about what it means to be healthy? I have a lot of friends who are PhD, master's, students in doctorate; but, they are not necessarily in the fields of health and nutrition, so they are cramming in studying. They are lifetime students almost.
These guys and girls are in their early 30s and they are still in school, and they're cranking up hours and hours of study in the library, and they're feeding their bodies pizza and beer and garbage and they are not really considering the health ramifications, because they don't know any better –even considering they've got 10 years of post secondary education.
What I think we need to look at is not only the number of years of additional education in and above high school, but I also think we really need to consider the type of education. If you… I keep saying this. With the Academy, if you spend the time with us over 12 modules, even if you don't make it all the way through 12 modules, if you don't want to for whatever reason, by spending an hour per week – one hour per week to learning this stuff, you will be blown away by the information you learn.
And as a result I guarantee that you are going to change the way you look at food, and you're going to change the way you look at stuff in your cupboard, and you're going to make some very, very, very small but dramatic changes to your life – and for the better, and if you have kids, it's so important to implement these kind of changes from the get-go, and also get them involved in the health process; get them involved in preparing healthy food; get them involved in preparing stuff with you in the kitchen, so that they associate, they become conditioned to understanding this is the way it is.
It's not "Well, we aren't going to order Kentucky fried chicken and pizza every night. I'm going to help mommy and daddy makes salad or this or that." And that's very important habit that kids develop at such an early age stick with them for life. It's really, really important.
Healthiest Diets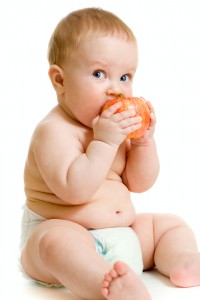 Parents out there, educate yourself, continue to listen to this podcast, because the stuff you will learn just alone in this podcast, I guarantee will help you make better decisions for you and your family. If you've not already done so, join Super Nutrition Academy. Again, this is not my plea to you to join.
I really don't care if you join or not, because we are going to be helping millions of people anyways; but for your own sake, and for your family's sake, you really owe it to yourself and your kids to know this information, to understand how to read food labels better, to understand the difference between how different types of sugar are metabolized in your body and in your kids' bodies and what to look for. What are the different types of sugar and different foods? The truth about fats – is fat bad? Well, the reality is it's not all bad, but unless you know this stuff, it's pretty unfortunate.
Anyways, that's my thinking… Those are my thoughts on this. Another great quote that… I don't even know who said this, but it goes something along the lines of, "Don't let school get in the way of your education." And this is going off-topic a little, but my thoughts on school are… As much as I love school, and I love studying, I'm really happy that I'm no longer in school. I'm a huge proponent of lifelong learning, but not so much in an archaically structured fashion of academia that we know of. I've probably learned more about how to be healthy, run a successful business, be a better person, all that stuff, outside of school.
The only thing that I think I really learned during school in the content was how to develop better study habits. I'm not saying that school is not important, but I'm saying don't rely on school to educate you or your kids with respect to important areas of your life – your health, your finances, anything. Finances is another unbelievable example.
I'm going to dedicate an entire separate podcast to this, because finances… Most people are in shambles, but again, if we were taught the basics of how to manage money when we were very young, obviously coming from the parents first of all; but even from school, instead of learning about macro and micro economics lets understand how to manage our money first of all. Anyways, it was a bit of a rant; obviously, you can tell that.
You're getting… I just really want is to sink into you. You are the example of your family. You become… Your kids are looking up to you for setting the example. You need to do what best for you and for them, and I think one of the best ways you can do that is informing yourself about nutrition, about health, and everyone else is going to benefit around you.
If you need additional help with this stuff, again, remember you can always join us at Super Nutrition Academy. At the very minimum, come back to the blog; sign up for the "Big Fat Food Lies" report, which is on the blog; and just consume some of the information, understand some of the nutritional lies that have been spread for decades and start to be better informed.
That's what it's all about. It's about being better informed, about being properly informed. It's not about acquiring more information; it's about the right information. I'm not going to sit here and say that I have all the answers for everything, because I don't. I'm continually learning new things all the time, but I can tell you that I've spent a lot of time, and I've worked with a lot of people to bring together some very, very fundamental understanding that's going to help you really make sense of this complex world of nutrition and health.
That's all for me. I hope this episode has touched you at some level and that you're motivated and pumped up to make some better choices for you and your family, and I look forward to seeing you in the next episode.
Related Posts:
---
Tags: healthiest diets, healthy children, healthy eating habits for children

About Super Nutrition Academy

Super Nutrition Academy is the ONLY nutrition course that makes it easy for everyday people to understand the complex relationship between nutrition and health. If you're tired of all the conflicting health information out there and want a clear-cut, evidence-based understanding of the nutrition and health topics that matter you, then get started today.

---