Posted: April 8th, 2014 @ 2:02 pm | By:

Yuri Elkaim
Categories super nutrition academy health class

Episode #96
Healthy eating for families doesn't have to be a burden. Chris Lopez has 5 kids and he can show you what he does for his family.


Click here to subscribe in iTunes (and download)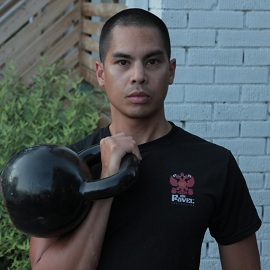 Yuri:                Hey, guys, how's it going? Yuri Elkaim here. Welcome to another episode of The Super Nutrition Academy Health Class. I hope you're having an awesome day. Today I've got my good buddy, another Torontonian, Mr. Chris Lopez, with me on the phone.
Like with a lot of these podcasts, we really have no direction. I don't know if you guys have been able to pick up on this; I don't really follow a script. I've known Chris for several years. He's a close friend.
I think what we're going to do today is talk about us being dads. Actually, Chris is pretty amazing because he has—I'll give you my rendition of his bio—he's got five kids. Pretty amazing. He has really grown an amazing presence online especially showing other dads how to live a healthy, active, and professional lifestyle as well.
He's a trainer, he specializes in kettlebells. He's awesome. Check out one of his sites: KettlebellWorkouts.com. You can check out his dad-blogging stuff over at FitAndBusyDad.com. Really awesome insights and inspiration for fathers. Even moms. If you have kids, his stuff is really cool.
What else can I say? He loves coffee. There we go. Welcome to the call, buddy.
Chris:             Thanks, man, thanks. I guess with five kids, you have to love coffee, don't you?
Yuri:                Yeah, I guess you do. I tend to enjoy the decaf but that's okay; I'm not judging. It's all good. Coffee is coffee. We live in Toronto, which is just a Mecca for amazing coffee shops, which is always nice.
Chris:             Yeah, it is. I guess before we go any further, though, I want to publicly wish you a congratulations, because I know that you and Amy just experienced the birth of your third son.
Yuri:                Yes, thank you.
Chris:             Between the two of us, as you said before, we've got how many kids now?
Yuri:                Eight, eight kids.
Chris:             Eight kids, yeah.
Yuri:                Not that we're together as a couple, but between our families combined.
Chris:             Not that there's anything wrong with that.
Yuri:                No, not at all, especially if you live in Toronto. It's all good.
Chris:             Exactly.
Yuri:                Absolutely. Let's talk about being, you obviously have five kids. Amazing. And you're not 50 years old either. You're pretty young. How do you maintain a healthy, active lifestyle with five kids? How have you and Roseanne done it?
Chris:             We've incorporated health and activity and sport and eating well into the culture of our family, if that makes any sense. I was just speaking at a conference, and a lot of the discussion that we had amongst other dads—it was a dad-blogger conference—a lot of the discussion that we had was about "How do I lose weight when I'm eating this one thing and I've got to make this separate thing for my child?"
A lot of people experience aha moments when it was like you can eat healthy without depriving yourself or without having to make a separate meal between you and the rest of your family. If you've got the weight-loss goal and your wife has the same weight-loss goal, there's no reason why you can't eat healthy and your kids can eat healthy too. We had to really dispel a lot of the misconceptions.
I talked a lot about that, which was incorporating health and activity into your lifestyle, into the family culture. For example, Roseanne right now, because we homeschool our five kids, is out on a nature hike with the four of them that are in town. My oldest, AJ, is doing missionary work in the Philippines right now, so we can talk about that afterward.
They go on weekly hikes, and I'll join them and sometimes we'll go on hikes for four hours, because that's part of what we do as a family as far as being able to connect with nature and being able to just go out and be active. We ride our bikes everywhere in the summer in the city. There are seven people in our house, we've got one car, so throughout the summer, we're riding our bikes for transportation, going here and there. That's just part of what we do.
Roseanne—and I most of the time, especially during the summer—we train while the kids are around. We're swinging kettlebells and stuff like that; obviously there's a danger concern there, so we've got to kind of fence off and say, "This is our area," but the kids are there, witnessing us being physically fit. It becomes part of what they're used to.
A lot of it is just incorporating and really pushing, not really pushing but making sure that physical activity and strength and eating healthy and the connection to nature is part of your family culture.
Yuri:                That's awesome. I don't know if you read the book Daring Greatly by Brené Brown.
Chris:             No, but I'm writing that down right now.
Yuri:                It's awesome. There's a whole section of the book which is devoted to parenting. She has a quote—I don't know if it's a quote or line—essentially, she says the best thing we can do as parents is become the people we want our kids to become as opposed to becoming know-how parents, if that makes any sense.
Chris:             Oh, that's a great quote.
Yuri:                It's not so much about being a good parent in terms of reading all these books and stuff, but it's about becoming the person you want your kids to become. I think in terms of you guys emulating those types of behaviors, it naturally is going to rub off on your kids, and, obviously, it already has. I think that's awesome.
Chris:             Thanks, man. That's one of the things that we really try to become conscious of. You really have to be present and you have to be aware of what comes out of your mouth, you have to be aware of your actions, because, I'm sure as you know as a parent, it's like monkey see, monkey do.
The kids will emulate or copy what you do more so than they will do exactly as you say. Again, it's like living that authentic life as opposed to telling them what to do and being that know-it-all parent.
Yuri:                Yeah, totally. I know you're an early-morning riser. What does your day look like health-wise and nutrition-wise?
Chris:             Health- and nutrition-wise. I am an early-morning riser; mainly because with five kids, I value that silence and the quiet of the house. I get up at 4:45 every day, and I start my day off with this potion that a mutual friend of ours kind of advised me on drinking. Actually, I got the idea from you initially, and then he just added some stuff to it.
I start my day off with 500 mL of water; within the water, I've got a pinch of sea salt, I've got the juice of half a lemon, a quarter-teaspoon of bicarbonate, so all-natural baking soda, and a half-teaspoon of apple cider vinegar. I mix that all up, and I drink that while I am reading my daily affirmations and some quotes and some goal-setting stuff that I normally do. That's part of my main routine.
After that, from a nutrition standpoint, I really won't touch anything until, I'll have a cup of coffee maybe one or two hours later. I use coffee as my reward. I brew a really good French press. We've got to make sure we get really great beans from our local espresso shop. I will have a cup of coffee about two hours after.
It's the reward for me being able to sit down at my desk without any distractions and write at least a thousand words. I try to write a thousand words every day just because, you know the value of writing for what you and I do in our online businesses and for our ability to be able to communicate.
That's my habit. I write a thousand words; it usually takes me about an hour, sometimes an hour and 15 minutes depending on how everything's flowing, and then I reward myself with a cup of coffee. And in my coffee I'll have two tablespoons of heavy raw cream, because we drink raw milk because we have access to that through a cow share. We have a farmer.
Believe it or not, that's pretty much all I will have up until after my workout. I probably train at about 11 o'clock, and then after that, depending on what my workout was or what my training program is for that day, then I'll really start eating. Do you want me to go a little bit into what I'm eating after the workout and what I eat for the entire day?
Yuri:                No, not at all. I don't think that'd be valuable. We'll just stop it there. Yeah, please continue.
Chris:             All right, so, the way I train—like you said in the beginning, I'm a hard-style kettlebell trainer. I'm one of the guys who's certified under StrongFirst. I'm a StrongFirst Level II kettlebell trainer. We talk a lot about strength being the foundational quality.
A lot of what I do is strength-based. I'll have two days a week of strength training, and I'll have two days a week of ballistic training. On my strength-training days, immediately after my workout I will have some type of high-glycemic carbohydrate. That would be any type of starch; usually it's in the form of sweet potato.
For example, today, before we got on this call, I made some really great spaghetti last night with some grass-fed beef in the sauce, a tomato sauce, and I had that with rice pasta. I had the leftovers, so it was rice pasta spaghetti with grass-fed beef in the tomato sauce—it was like a Bolognese sauce. I had that as my postworkout meal. That was my first meal of the day.
I had that postworkout and then immediately after that, I had that with a glass of raw milk and about four fish-oil caps. In about a couple of hours, Tuesdays are sushi night. My father-in-law comes over and he likes to bring sushi for us and it's really good sushi out here on the Danforth, so we don't go out; he actually brings it in. we'll have some sushi.
Outside of the workout window, I'll combine proteins and vegetables, but when I'm within a workout window—anywhere from one to two hours after my workout—I can do protein and carbs. For most of the time, my meals contain protein and vegetables, so I'll have that. And then maybe a little bit of dessert.
That'll be a typical day for me. I don't necessarily subscribe to the eat-three-meals-a-day, but I can guarantee you that my caloric consumption throughout the day would equal three meals; I just eat it in two meals, pretty much.
Yuri:                That's cool because everyone has their own plan. Everyone has whatever works for them. Some people might be five meals, six meals, one meal, whatever. It's all about kind of honoring your body and how you operate, which is really cool.
When you guys sit down as a family to have dinner, is everyone eating the same thing? Have you gone through periods of time where the kids were like, "Oh, I don't want to have this. I want something else." How do you deal with that?
Chris:             I'm the cook, so I make everything. Yeah, we've got some picky eaters there, but what we've found with the kids—especially with vegetables, because for some reason, my kids don't like vegetables—there's one or two that'll eat them, but the rest of them don't like them. The more you put it out there and just not pressure them into eating it, they'll try it, especially if they're hungry.
Lately, we haven't really run into any issues as far as, "Dad, I don't want to eat that," or, "I'm not down with that," but by no means will we ever really compromise and say, "Okay, I'll just make you something different." There's seven of them, right? If we set that precedent—especially for the kids—then it's like one kid can get away with it. Before you know it, we end up cooking different meals every night for everybody.
I make a big trough of stuff. We make sure that we've got leftovers for the next day, and, for the most part, everyone eats it. If somebody doesn't want to eat their vegetables one night, then we don't sweat it; it's not that big of a deal.
Part of the whole eating equation, eating your vegetables and making sure that you eat healthy is really having a good relationship with food, so I don't want my kids to associate getting in trouble for not eating their vegetables, because then they'll probably carry that with them, and later on in life, that's what they're going to associate vegetables with and they may not eat them or it'll affect their health in a negative way. We don't pressure them into eating anything that they don't want to eat, but we try to encourage it.
Eventually, the more we put it out there, the more likely they are to eat it, we've found. Some people have their favorite vegetables; other people don't. It's not that big of a deal.
Yuri:                Nice, that's cool. Otherwise, you become a short-order cook. You might as well just open up a restaurant at that point.
Chris:             Yeah, that's exactly what it is. We plan our meals a week ahead. We've got this really cool planner with the days of the week, so the kids know what to expect, and they have a say in what it is that we eat. I'll ask them, "For next week, what is it that you guys want that I haven't made in a long time?" That's how spaghetti last night came about. We haven't had spaghetti in a long time, so I made it and it was great and everybody loved it.
With AJ coming home on Saturday—like I said, she's away on missionary work—she asked, "Can we do this, this, and this for dinner because I miss that? It's been a long time since I've had it." They always have a say in what it is we're going to eat. I find that planning it and making sure that they're involved and that they're aware of everything really helps with that. We haven't really encountered any issues as far as, "I don't want to eat anything."
Yuri:                That's cool. And do you get them involved in the actual prep and cooking process?
Chris:             Oh yeah, absolutely. They love it, especially my little two, Mikey and Q, my youngest daughter and my son. They love getting there. I'll have Mikey, she'll chop up the garlic for us. We did the spaghetti last night, so she did the prep as far as chopping up the celery and the little bits that were going in there. Yeah, they're very involved, especially with the prep. They're involved as much with the prep as they are with the cleanup as well.
Yuri:                That's good. There's a reason for having five kids, right?
Chris:             Yeah, exactly. It just makes sense. Roseanne and I, after we're finished, we'll take our water or whatever it is that we're drinking and we'll hang out on the couch and everybody's got their job as far as being able to clean up the table, wash dishes, and wash pans. They wash the pans too, so it works out quite well. You'll see; when the boys get older, you and Amy will be able to lounge out a little bit and just watch the magic unfold.
Yuri:                Oh yeah, we're definitely cognizant of that. That's why we're training Oscar right now to become our juice man. We actually have to turn him away from helping us juice sometimes because that's all he wants to do; he just wants to make the green juices with us. It's great. If he enjoys doing that, hopefully that'll continue up into his teens, and we'll just get to enjoy the fruits of his labor.
Chris:             Yeah, that's a good point. We've got the kids helping us, so they're coming up with their own juice recipes now as well. I got that juicer on your advice.
Yuri:                Nice. The Omega?
Chris:             Yeah, yeah. We love it, yeah.
Yuri:                That's a very cool juicer. So easy to use.
Chris:             I know. And it's easy to clean. It's like we were just saying: It's easy for the kids to use as well. I just have to set up a proportion of vegetables that I want and whatever juice and they go to town, take care of it. It's great.
Yuri:                That's awesome. "Here you go, sir. Your juice is ready."
Chris:             Yeah, exactly. It's beautiful. Five kids; that's the way to go.
Yuri:                Totally, totally. Shifting gears for a second, what do you think is a very common mistake people—obviously without judgment but in your eyes—when it comes to health and nutrition, what do you think is a mistake you see people make?
Chris:             I think the biggest mistake I guess I see is, from a training perspective, not understanding the value of strength. By strength, I don't mean you should be able to dead lift 400 pounds; I mean your ability to control your body in space.
I've learned over the past few years that strength really is that master quality; it's the foundational quality. I think everything gets better, be it your ability to lose fat, your ability to run a marathon, your ability to put on muscle. Everything gets better the stronger you are.
The biggest mistake I see people make is that they think they're strength-training because they're lifting weights, but that isn't necessarily the case. I think strength, more often than not, is a skill. It's your ability to understand how to contract your muscles harder to be able to generate a lot of tension so that you can do certain physical things.
A push-up, for example. A lot of people don't understand that if you're doing a push-up on the floor, you can turn that into a pure strength exercise and actually make yourself a lot stronger the more tense you make your muscles and the more muscles that you recruit.
That, in turn, will not allow you to do as many push-ups, which is totally fine, but just that knowledge of being able to understand how to tense the muscles in the right way to be able to make yourself feel lighter is a skill in and of itself. I think the biggest mistake a lot of people make is not being able to understand or learn the skill of strength, because I think, again, with strength being that foundational quality, everything else has a tendency to get better.
The analogy I like to use is: Say you've got two twins, same genetic makeup; one twin is stronger than the other. If they're lifting, say, I like to use the kettlebell. If one twin only has the strength to be able to swing a 16 kg kettlebell, and the other twin, who's got the exact same makeup genetically but is just that much stronger because he's been practicing the skill of strength, can swing a 24 kg kettlebell.
If they were put on the same program with the same breath scheme, the same density, the same volume and everything, obviously, the twin that is able to swing the heavier kettlebell will get that much more results because of the amount of load he's put on his body, because he's stronger.
Hopefully that makes sense but that's one of the biggest mistakes that I see these days. Especially trainers really understanding the value of strength and how that comes into play with overall fitness.
Yuri:                Is there a way that people can understand or learn how to do that? Obviously there's more in-depth training and stuff but kind of intuitively or a quick tip that you can share here that can help people make sense of that in terms of their own body?
Chris:             Yeah, absolutely. If you take something as simple as a plank exercise. Now, everybody's standard plank exercise is just to get down on the floor. Most people will hold their abs tight or suck their gut in and just hold that plank, so they'll be on their elbows and their toes.
But if you want to take that plank and turn it up to the next level, then there's a whole series of queues that you can follow to really take that plank and turn it in to a metabolic exercise. What you would do with that is get down into your plank position, and then you would take your kneecaps and pull them right up into your hips, so you're contracting your quads as tight as you can.
In addition to that, you're squeezing your glutes as tight as you can. You build your brace by contracting your abs as tight as you can. And then, finally, you're going to take your shoulders and bring them down and back. Try to drag your elbows toward your toes, and you're now igniting your lats, you're firing your lats.
What you're doing is creating this stiff board on the ground where you're absolutely not moving. Just by doing that and practicing that, that will, in turn, kind of create connections in your mind and in your body on how to use or create tension to be able to be stronger in other activities.
Strength is tension and tension is strength. Your ability to create tension in that plank causes you, metabolically, to use more muscle. Even though if you could hold a regular plank for two minutes, doing a plank that way, because you're recruiting so many more muscles, you'll probably only be able to hold it for 20 seconds.
The value in that is that you're becoming more efficient metabolically because now, with the contraction of more muscles, you're burning more calories, you're using a little bit more energy, and you're teaching your body how to contract muscles simultaneously to be able to become stronger.
Yuri:                Very cool. It's so funny. When I was working with the men's soccer program at U of T and we would do our core work, it was amazing how many high-level athletes had so poor control over this basic stuff. We'd see planks where guys, you could literally pour a bowl of cereal in their lower back; that's how much of an arch there was. I was just trying to teach them the basics of how to activate their muscles properly; it was so huge for so many of them.
Chris:             Well, it's amazing. I teach that plank exercise as the foundational stuff or any of the kettlebell stuff or any of the strength-training stuff that I teach my clients or the people that come to my courses or my lectures and stuff like that, because that plank is the foundation. If you want to, say, press a heavy kettlebell or something, that plank is the foundation from which the rest of your body is situated upon.
Your press is built on your ability to generate tension in that plank position. The only difference is that you're vertical, standing up, doing the exact same thing as opposed to being horizontal on the ground. It's a really important skill I think a lot of people need to learn, because you'll notice your results will get a lot better or they'll come a lot faster the better that you are at being able to contract the right muscles.
Yuri:                Totally. That's really cool. Again, shifting gears, what's your definition of health?
Chris:             My definition of health is to be able to do whatever I want for as long as I can without breaking apart. I've been lucky enough to not have any major injuries in my life. I have a bum shoulder and a little bit of degeneration in my knees just because of all the sports that I've played, but for the most part, at 37 years old and a father of five, I can still jump up and grab a basketball rim; I can still run a sub-13 hundred-meter.
That's my definition of health. Not being inhibited or not having to worry so much about limitations within my body because of my age. Yeah, I guess that'd be it. Just being able to get up and go anytime that I want. I think that's great.
It's part of the reason why I get asked all the time, "Why don't you take up golfing? Let's go out and play golf." I'm like, "You know what, man? As long as I've got my knees and my shoulders and I can still run and I can jump, I'm not going to golf. I'm good."
I still want to play basketball, I want to play touch football, I want to play beach volleyball with my kids out in the summer. That's my definition of health: to really be able to still do what I want and to feel young for as long as I possibly can.
Yuri:                Awesome. And just to clarify, that's a sub-13 second hundred-meter, right? Not to be confused with minutes.
Chris:             Exactly.
Yuri:                That would not be as impressive.
Chris:             Exactly, yeah. Sub-13.
Yuri:                Awesome. Once again, guys, if you want to learn more about Chris's stuff, check out FitAndBusyDad.com and KettlebellWorkouts.com.
Final question for you, Chris: If you were to just walk down the street and somebody came up to and said, "Hey, Chris, I follow some of your stuff online. I have a question about improving my health," what would be the number one tip you would give them.
Chris:             Can I give you two?
Yuri:                Sure.
Chris:             Drink enough water; get enough sleep.
Yuri:                Awesome.
Chris:             I think it'd be as simple as that.
Yuri:                Very cool, very cool. Thank you so much for the time, buddy. I look forward to seeing you soon. For everyone else listening, thank you so much for joining us today. I hope you've enjoyed this. If you've got kids, believe me, Chris and Roseanne and what they're doing is pretty inspiring, so check out his stuff at FitAndBusyDad.com.
And if you're interested in the workouts, check out KettlebellWorkouts.com. He's my go-to guy for kettlebell stuff, so it's awesome. Thanks again for joining us, and I look forward to seeing you guys in the next episode.
Related Posts:
---
Tags: chris lopez, healthy eating for families, healthy foods for kids

About Super Nutrition Academy

Super Nutrition Academy is the ONLY nutrition course that makes it easy for everyday people to understand the complex relationship between nutrition and health. If you're tired of all the conflicting health information out there and want a clear-cut, evidence-based understanding of the nutrition and health topics that matter you, then get started today.

---