Posted: April 28th, 2014 @ 8:56 am | By:

Yuri Elkaim
Categories super nutrition academy health class

Episode #99
See how nutritionist Ameer Rosic transformed his mind and life by cleaning up his diet. From jail to inspiring health expert, you'll love his passion.
Click here to subscribe in iTunes (and download)
Yur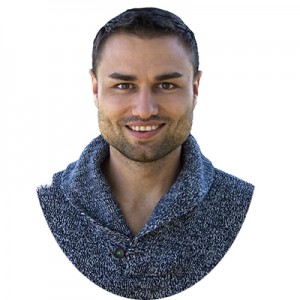 i:                Hey, guys, welcome. Yuri Elkaim here and this is another Super Nutrition Academy Health Class podcast. Today I've got my good buddy Ameer Rosic with me. He's calling in from beautiful Kelowna, British Columbia, which is a beautiful area in Canada if you've never been, but we'll save that conversation for another day.
The reason I've got him on is because this man is a wealth of knowledge when it comes to health and nutrition. He's very passionate about this topic as well. I'll give you a brief rundown of who he is, what he does. He's got qualifications as a functional diagnostic nutritionist. He went to the same nutrition school I did, the Canadian School of Natural Nutrition, as a registered holistic nutritionist he is now. He's done joint mobility certifications with Steve Maxell, and he considers himself a badass SOB, which I'm sure you guys can fill in the blanks there.
Nonetheless, what I love about Ameer is that he's very, very knowledgeable, he loves going into research, he loves getting into the details, and he's very passionate about getting people healthy as much as possible. Ameer, welcome to The SNA Health Class, buddy.
Ameer:           Thank you, Yuri, for having me on the show today.
Yuri:                Absolutely. One thing I didn't mention is that you're actually, I don't even know what the right term would be, but you're a kettlebell champion. That's not the right term. What's…?
Ameer:           Yeah, I was a 2012 Canadian biathlon champion in kettlebells. It's the national sport of Russia. It's an interesting sport, something we can save for a later-on discussion.
Yuri:                For anyone listening, essentially, it's a ridiculously intense 20 minutes of nonstop kettlebell lifting. It's crazy but I'm not even doing it justice.
We're going to have some fun today. Before we get into this whole discussion, why don't we talk about your journey, where you came from? You have a very interesting background. Why don't you share some of that and how you got in to doing what you do now with respect to nutrition and health?
Ameer:           That's a fantastic question. It's a question that I answered in my true self. About a couple of weeks ago, I decided to tell my true story of where I come from. Now, traditionally, most people will tell you a story of, "I was sick in my past," or, "I had a disease or an ailment, and I had no choice. I had to find my own health."
I don't have a similar story like that; my story's kind of different. It kind of originates from my high school times. Here I am, I'm 14, 15, going to high school. I never fit in to society, even from elementary school. I was like, "Eh, I don't know what's going on, really." I barely passed that.
I went into high school, and right away nothing made sense to me. Teachers were talking to me, and I'm like, "I have no idea what you're telling me." I'm looking outside the window. I'm like, I don't want to be here.
Everything around me, I keep on hearing, "Ameer, you've got to go to high school, then you've got to go to university or college to get a degree, and then that's going to make you money. Then you're going to get a house and a car, and then you're happy for the rest of your life." I'm scratching my head. I'm like, "I don't want that life. See you later."
At the age of 15, I literally got kicked out of two high schools; first high school for a bunch of weird activities I was doing and the second high school for pretty much fighting. I loved fighting as kind of my high back in the day. And my life started going in the wrong direction, meaning I got involved in criminal activities, more or less, and that's kind of how my whole life kept on going until my late teens, 19 and early 20s, when I hit a roadblock. I was constantly partying every single weekend, drinking Thursday, Friday, Saturday, doing copious amounts of drugs, obviously, when it comes with drinking, and abusing my body to the max. Always getting into trouble; one thing after the next.
It came to a point where I had this super-dark depression around me. I can really remember it. For two to three years of my life, this dark, black cloud was following me. You just have to picture this, this tar over your head dripping all over you, and anything you touched turned to grayness, or anything you touched turned to blackness. I was trying to fill this void in my heart for two to three years, and the only way that I knew back then to fill this void was partying, substance abuse, doing stupid stuff.
Eventually, all this stupid stuff caught up to me, and I remember it really vividly. I was at a bar one night, completely inebriated off my butt, when something happened outside, some commotion. Obviously this is very normal. I go outside and there's this random person on top of my friend. I'm like, well, this isn't going to settle very well with me. I grab this person and do my thing—bang, bang, bang—and he's on the ground.
A couple of days pass by, and I hear knocking on my door. I open the door and it's a bunch of cops. This isn't the first time, I'd been arrested before, but for some reason, I just knew this was a bit different.
Fast-forward about a year; I'm going through the Supreme Court of Canada. They're trying to give me two years in provincial jail, and eventually, we settle for a half-year. I ended up going to jail for a half-year for the assault charge for this person.
I'm in jail, sitting around. You've got to picture jail, this concrete jungle where you see no daylight. Everyone's wearing these goofy orange or yellow jumpers that hurt your eyes. They're blasting one TV channel on this small TV on the wall—it's probably MuchMusic, for anyone in Canada; they know what I'm talking about—and it just hurts your head.
You see this on a day-to-day basis, and you're just thinking to yourself, Why on Earth am I here? This is just insane. And you're playing the blame game, fingers, fingers, fingers.
I kind of had an epiphany moment. It was like, "Oh my God." After a month of just complaining about everybody around me in my life that I shouldn't be here, nothing's my fault, I had this epiphany moment where I realized everything that happened to me in my life was my fault.
Fast-forward. I got out of jail. I was very lucky at that time, because before I went in there, I met my current girlfriend, which we've been together for many years now. She's kind of my guiding light.
I decided to transform my life. I'm like enough's enough. Let me give back to society. Let me start now actually evolving physically, spiritually, and helping the world. That's when I decided to enroll back in school.
I went to the Canadian School of Natural Nutrition. I did functional diagnostics stuff, I did a bunch of joint-mobility stuff, kettlebell stuff, functional medicine. Ever since then, I've just been educating people, helping people, and spreading the message.
My life transformed when I started eating a healthy diet out of jail, when I started surrounding myself with awesome people, when I started reading amazing books. My life exponentially—and when I mean "exponentially," I mean exponentially—transformed. I went from, literally, this dark place in my life, where nothing was going well, to finding my purpose in my life and fulfilling my soul and spirit.
I wake up every day fulfilled. I'm like, "My God, I have the ability to help people worldwide," and, hopefully, through my message I can help people globally. So, that's kind of my story in a nutshell.
Yuri:                That's awesome. I know you've talked about this before. You talk about the power of the foods changing your brain, the way you think about things. Specifically, what are the things that you've noticed that nutrition and your dietary change—and maybe you can describe what that was—how all of that impacted your mind-set after you got out of jail?
Ameer:           Oh, it was tremendous. Like I mentioned before, before I even went to jail, I had depression, severe depression. Nothing was going well in my life. If I look back now, in hindsight, I saw I had a lot of neurological issues. I wasn't really sound in the head, to be frank with you.
How nutrition plays a role is it actually transformed my neurology, my outlook in life. I'll give you an example. It wasn't super strict, but I adopted a Paleo-esque type of diet. The major things that I dropped right away—and, for me, it made sense.
In fact, one of the reasons why I started eating a whole-foods diet is, I read Art De Vany's book called [The New Evolution Diet], and it just summarizes this is how we ate, et cetera, et cetera. I'm like, okay, makes common sense to me; let's go do it. The next day, I'm like no more bread and no more dairy.
That started on day one, and I kid you not, Yuri, literally 30 days afterward, I noticed my thinking was clear; I didn't have brain fog. I used to have all these horrible brain fogs where I couldn't even think for five minutes. I had some acne on my face; that disappeared completely. My memory improved. Everything drastically improved just from eliminating two food groups from my diet.
Yuri:                Pretty simple, pretty powerful. It's funny because so many people—actually, including myself sometimes—have grown up on bread. It's such a staple in their diet, and it's like, "Well, what am I going to have if I can't have bread? What do I have instead of sandwiches?" What was the motivation for you to make that shift and just say, "I don't even need this anymore"?
Ameer:           Motivation can only take you so far. Afterward, it's your environment that dictates your behaviors and outcomes, right? I'll give you a quick story. This is a famous story they study in psychology in university.
We have this prisoner in jail; he's been in jail for five years. He used to be a former heroin addict. He got out on good behavior in two years. Everything, it was actually very good he went to jail. He was clean, he got a college diploma; things are looking up for this person.
He gets early parole; he's on the bus going home when the bus passes by the same alleyway where he used to shoot up and do drugs. Well, that image, that exact picture of the alleyway was enough of an external trigger to stimulate a response. He could not control his cravings. He had to get off that bus in search of his drug, his dose.
Fast-forward the story, he actually overdosed in that same alleyway. So, your environment is super important. Motivation will take you so far. One of my key things I did in my kitchen was out of sight, out of mind. I cleaned everything out of my kitchen, the cupboards, the fridge. You name it, I had to get it out of my house, or else I knew, personally, if I saw it in my house, I would just eat it.
Yuri:                It's a great rule of thumb. Essentially, you're the gatekeeper to your house and to your health, so if you don't bring it in the house, you can't eat it, unless you decide to go way out of your way to get something that you crave. Even the fact that you're craving something and then needing to work in terms of getting in your car or walking to the store is enough of a deterrent to prevent a lot of people from doing that, which is obviously a good thing.
Ameer:           That's right. Yeah, exactly.
Yuri:                You got rid of gluten, you got rid of dairy. What were you focusing on then? You talked about this Paleo-esque type of diet. What did that look like? How does your diet now look? Is it any different, has it evolved?
Ameer:           I'll answer both of those. The first thing, I didn't really jump into the whole grass-fed thing right away; I really didn't even know about it to tell you the truth. My first thing was literally no gluten, no grains, no bread, and no dairy. I still had rice at the time, et cetera.
Basically, what I was eating was still chicken, beef, but it was all the commercial side of things and just regular commercial vegetables. I ate that for quite some time. The more I studied, the more I realized it really matters, the quality of my meats; it really matters, the quality of my vegetables and fruits.
Slowly, over time, I found out places I could get grass-fed meat. Instead of me going to grocery stores and maybe paying a very premium for meat, I located a farm and purchased a half-cow or quarter-cow; I purchased pasture-raised chicken. I started really educating myself and getting connected within the community of organic farmers; that was a big step for me.
Now, that diet took a while. It probably took me a whole year to establish that type of routine and to establish the connections in my community. The difference in my diet today between the diet I was doing before is, my diet today is more geared toward optimal performance as an athlete.
Currently, I'm training for a power-lifting meet in Toronto in September and hopefully the Canadian championships in 2015 at the current moment, so my diet is more geared toward how strong I can be. What that looks like is a mixture of a cyclic ketogenic diet with carb backloading involved. Having certain types of carbs every two days or every three days, depending on how my workout routine is.
Yuri:                Pretty cool. You talked about getting—I fond this fascinating—you talked about having a share in a grass-fed cow. How do people even think about, how do you even do that? Obviously we've got listeners from around the world. Is there a basic Google search that you can…?
Ameer:           Actually, there's one Web site that's absolutely amazing. It's different for each country, but if you Google search Eat Wild—I believe the Canadian Web site may be EatWild.ca; don't quote me on that but Google it. The United States one is .com.
What they do is a great organization. They have no affiliations to really anybody; it's just different organic organizations put together. They actually find out the best farmers around your area. What I did is, I simply went on that Web site; I went Ontario, and I went through the list to see what was the closest location. At the time I was living in Toronto; I found a guy in Midland.
I literally drove up to Midland and I was talking—the farmer's name is Chris; it's Still Hope Farms—I talked to him, I saw his practices, I saw his cows, I saw everything, and I really go to know him as a friend. That's how I really got into the co-ops and getting to purchase full cows.
Yuri:                That's awesome. I can't remember if you said it was less expensive than buying at a butcher or grocery store or about the same. There's a lot of conversation about how health food costs a lot of money. In your experience, has it been a reasonable investment compared to what you could buy at a butcher shop?
Ameer:           Let me put it this way: When you buy half a cow—and that comes butchered up in butchered paper. You pick what kind of cuts you want, you want ribs, you want this, you want that—it actually comes to be much cheaper than any commercial meat you can buy in the grocery store. I won't name the actual price per pound—it all depends on which province or state you are—that varies a lot; it varies throughout the seasons as well.
On average, you are actually saving—and I calculated this before—you're saving more than 60 percent of your finances when it comes toward animal products…if you buy in bulk.
Yuri:                That's huge. That's basically the Costco model for your home.
Ameer:           Yeah, plus, on an economic scale, it does wonders. You're benefiting your local economy, you're benefiting your farm. It's hard work. People don't understand that.
I worked one month at an organic farm in Guelph. My friend was a farmer there, Rob, and he showed me the ropes. I saw how hard these farmers work on a day-to-day basis for us to have food on the table. I'm more than happy and willing to pay the price. People think it's super expensive but it's not. When you pay in bulk and you buy a lot and you actually get to know the farmer, you'll be surprised that in the long run, you actually save yourself a lot of money.
Yuri:                I bet. Then the key is just having a deep freezer to put that meat in?
Ameer:           Yeah. A lot of people live in condos, obviously, and they try and make the excuses that we can't get that. That's no excuse. You can literally go to Costco or Walmart or wherever you'd like to purchase it. They actually have stand-up deep freezers that you can buy for condos that open up like a fridge, so there's no excuse.
You don't have to buy half a cow; you can buy a quarter-cow. In fact, some families, when they buy quarter-cows, they sell family packs around $200. They can feed a lot of family. For myself, I eat a lot. I'm a foodie; I just like to eat. Others may not eat so much. For me, I eat a lot of fatty meats compared to other people; that's my biochemistry. But other people may eat double less than I can, so it all depends on what works for you.
At the end of the day, no matter what, you're saving money, you're getting healthy food, and you're also helping your local economy.
Yuri:                That's cool, very cool. Let's shift gears to nourishment for your mind. You talk about mind-set being very important for your health. Can you elaborate on that?
Ameer:           It's everything. Your outlook is everything in your life. Viktor E. Frankl—a mutual acquaintance of ours, UJ Ramdas, he suggested this book, and I read it a long time ago—Man's Search for Meaning.
Yuri:                Awesome.
Ameer:           Crazy book, right? He's like, "The only thing I can control my outlook inside the concentration camp is how I view life. If the guards did this to me, how I reacted, I can control that." Tour stimuli in your life is very different. You have stimuli that's positive, you have stimuli that's negative, but how you perceive reality is how you respond to that stimuli.
My mind-set shifted dramatically when I started reading certain books; when I first got exposed to Napoleon Hill. When I got exposed to Anthony Robbins; the Little Giant, he has an amazing book, Get Off Your "But"; all these inspirational leaders. It really started making me think.
Here I am at the age of—I'm 28 right now, so I think that was 22—here I am, 22, 23. I'm like, I'm a grown adult and I really haven't done anything in my life. I'm seeing all these other people doing amazing things in my life—and young people too, at the age of 14, 15.
I decided to surround myself with positive people. This doesn't mean it has to be real people—obviously, that's a benefit—but positive images or positive codes or positive books or positive people. The more you surround yourself with positive vibrational energies, the more your body is attuned to that frequency and you actually look out for that.
You'll notice that if you walk in a room or if you're talking to an individual and this person or this organization has a low-frequency vibration, you can feel it. You ever walked in a room and someone just had a fight? You can feel that fight in a room.
That was a pivotal game-changer for me, really realizing that you are the sum of your friends. You are the average of your five closest friends or the five closes people that you spend the most time with. I learned that from Napoleon Hill, and that was a complete game-changer for me.
Yuri:                I think you mentioned something really valuable, which is they don't have to be physical people all the time. For me, my big transformation occurred when I was 23, I think. I'd just started getting in to Tony Robbins at that time. From that time, I've considered Tony Robbins as one of my personal mentors even though I've never personally met him. It's just because you read their stuff, you listen to their audios constantly.
Obviously, if they're there in person, it's a little more valuable, but, still, having that inspiration and that encouragement and that guidance is so valuable. It's very different from reading People magazine or listening to trashy radio. Everyone has a choice. We make decisions every single day, and it's hopefully the best ones that we make for ourselves.
Ameer:           Yeah, that's right. I think it's one of the most pivotal things that anyone can do on a day-to-day basis, fulfilling their mind and spirit with positive visions or positive words or positive phrases. A simple thing, for example, doing journaling every day. That can drastically transform your life in many ways you can fathom.
Simple things like writing down things you're grateful for. I personally use a journal called The Five-Minute Journal, which in the last six months, has drastically changed how I view the world in a spiritual fashion. Simple things.
You're right, Yuri; it doesn't have to be a real person, but the key is consistency. Doing this on a day-to-day basis. It can't be I'll do this here and I'll do this. No, it literally has to be on a day-to-day basis.
Yuri:                You talked about becoming an optimal health warrior. What does that mean and what does that look like for you?
Ameer:           Optimal health warrior. People think health is just food, but that's not the case; health is everything. I have a saying: Live, breathe, grow, warrior unleashed. The first one is living your life truly to the abilities you have, not going from a day-to-day basis in this matrix state.
Everyone's very familiar with the movie The Matrix and people are plugged in and they're really brainwashed. This is a reality; it's happening today. People are working jobs that they hate, but they're not doing anything to change it. People are in relationships they hate, but they're not doing anything to change it, right? It's time to live your life; it's time to break out of that bubble and become the warrior. That's the first thing.
Breathe. That has to do with your lungs, inhaling and exhaling. Breathing is about being in that moment. Now you're living your life, you're outside of the bubble; now you have to live in that moment. Really pause for a second each day and have some gratitude in your life. Thank the universe or thank God, whatever you pray to or believe in, and really just pause and be like, "My God!"
I always tell this to people, and sometimes I have to remind myself about this. Any day that you're above ground and living, that's a good day. That's a really good day. You're still here; enjoy the time you have on this planet.
And, finally, grow. You've escaped the matrix, you're breathing in the moment, now you have to grow. Growing entails nutrition; optimizing your life with nutrition; mind-set; reading amazing books; surrounding yourself with amazing people. And then experiences, doing amazing experiences in your life.
When you combine these three—live, breathe, grow—when these three triads come together, then your true optimal-health warrior in you is unleashed. You can't have one or the other; you have to have all three in place to truly get that trinity in line to evolve yourself. That is my whole definition of an optimal-health warrior.
Yuri:                Awesome, very cool. I know this is a little bit off topic or a little bit of a tangent, but I know you're a huge advocate of proper sleep. Can you talk to our listeners about some of the strategies you recommend using for improving our sleep and why it's so important?
Ameer:           Yes. First, why is it important? It controls everything. Today a lot of people re looking for antiaging; a lot of people are looking to optimize their hormones; a lot of people are looking to increase their hormones, same thing; a lot of people are looking for clarity, memory upgrade, biohacking and all this stuff. They're always looking for this, either a pill or a supplement or technology.
Wrong. Sleep controls your hormones; it controls your immune system; it controls your neurotransmitters. It's pretty much the gatekeeper, the caretaker, the mother, the father, the Holy Trinity, God, universe all combined into one, and it dictates everything of who you are. That's how important it is.
Now, quickly stepping over. The second part is: How do you actually optimize your sleep? This is a simple checklist anyone can do right away. Number one, there are no ifs or buts about this: Get to bed for ten o'clock. Unless you have a newborn baby—I know, Yuri, congratulations—unless you have a newborn baby, there are no excuses, so get to bed at ten o'clock.
Number two: An hour before bed, no lights. That means no computer, no cell phone, no overhead lights, nothing. The more lights you have yourself exposed to at nighttime, the more your stress hormone cortisol is stimulated. The reason why we're active throughout the day is because of the sun. We're quantum creatures; the sun has quantum packs; it energizes our hormones. So, please, no lights at nighttime.
Number three: Try to distance your dinner. Don't eat too close to bed. Don't eat half an hour, then go to bed. I always like to say at least two hours; that's a really good buffer zone. And make sure you're not eating any sugary garbage, pastas or something like that unless it's a social event; sometimes you don't have a choice. Try to have a good-quality dinner, and that will work well.
Number four—this is a great tip—if you have a bath at your house or the condo, pour some nice hot water in there and add about three to four cups of Epsom salts, with one cup of baking soda—[Bob's Red Mill] organic one, not the Arm & Hammer one; that has aluminum in it.
Those are four simple steps that literally cost you nothing that you can implement today. I guarantee that your sleep will improve tenfold.
Yuri:                Very cool. As you mentioned, I think sleep is so underrated. I think we tend to lose sight of the fact that, historically, if we were Paleolithic man, we would wake up with the sun and go to bed with the sunset. Obviously, we'd stay up a little later sometimes, but our bodies are set based on how the universe and the world works.
We've so disconnected from that. Whether it's doing things like grounding, which is a great practice to help us connect more to the Earth and all that or simply just obeying or honoring the normal light-dark cycle that our body is built on, it makes such a huge difference.
I love the fact you talk about not using computers or cell phones or TVs before going to bed, because just that alone… Even if you had to stay up until midnight, but you did nothing but take that light out—I've noticed personally for myself, when I don't have TV and computers in front of me for the last hour or two before I go to bed, it's a day-and-night difference in terms of my sleep quality. It's amazing.
Ameer:           Yeah, go to PubMed or go to Google and type in blue light and circadian rhythms or blue light and cortisol. They've don't many, many studies showing that blue wavelengths actually disrupt all your hormones.
They did a famous study in the '90s where they had participants in a room, it's pitch-black, the only thing exposed was their knee. Scientists took a laser beam, bang, pointed the laser beam at the knee. They drew the blood right away; that one laser beam was enough to stimulate cortisol.
Imagine, if one laser beam is enough, what is an overhead light doing to you? What is your cell phone doing to you? What is your computer doing to you? In fact, WHO, World Health Organization, has deemed some lights a carcinogenic. If the WHO, even the WHO, which is a major figure in the world, is considering some lights to be poison, there's huge validity in that.
Yuri:                That's crazy. Well, buddy, thank you very much for sharing all that wisdom. It's awesome. For everyone listening, if you want to check out Ameer's stuff, which I highly recommend you do, you can go to AmeerRosic.com.
Any final words of wisdom that we haven't shared yet?
Ameer:           I just want to leave off with this, and it's a great quote, one of my mentors, the late, great Bruce Lee: "Simplicity is a key to brilliance." The more simple you can make your life, the more sustainable it will be, and the less headaches you have. Make life simple; don't make things complicated, and you'll be a happy person.
Yuri:                Awesome, great words of wisdom, buddy. Thank you so much for taking the time. For everyone lese who's joined us today, thank you so much for listening in.
I hope you guys have taken some great nuggets of knowledge and applicable wisdom that you can apply to your life right away, because there is a lot of stuff that Ameer's talked about that you can go back over and implement into your life.
Thanks again for joining us, and I look forward to seeing you guys in the next epsiode.
Related Posts:
---
Tags: Ameer Rosic, healthy food, healthy mind

About Super Nutrition Academy

Super Nutrition Academy is the ONLY nutrition course that makes it easy for everyday people to understand the complex relationship between nutrition and health. If you're tired of all the conflicting health information out there and want a clear-cut, evidence-based understanding of the nutrition and health topics that matter you, then get started today.

---