Categories super nutrition academy health class

Episode #27
Want healthy portion sizes to help you lose weight?
Click here to subscribe in iTunes (and download)
Welcome to another episode of the SNA Health Class. Yuri here and I've got some groundbreaking news to share with you today. Are you ready? Recent research found that kids using bigger plates tend to eat more food.
Healthy Portion Sizes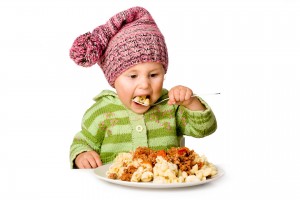 Welcome. Today we're gonna be talking about the importance of portion sizes in helping you lose weight, not only with kids but also adults. Actually, the research shows that plate sizes, cup sizes have more of an impact with adults than it does with kids.
Anyways, research was done specifically on kids. This was presented in The Journal of Pediatrics on April 8, and they looked at 41 first-graders in Philadelphia. They wanted to see whether the size of the plates and whether their ability to choose their own food—so, kind of loading up their own plate as opposed to having their parents load it up for them—would make a difference on how many calories they ate.
Essentially, what they found was that the children who served themselves served themselves about 90 percent more calories when they used a large plate compared to a small plate. When these kids—again, first-graders, so we're thinking about six or seven years old—when they filled up their own plate, if the plate was bigger, they tended to add more food on.
Again, we don't need to go into much detail here because I think it's pretty straightforward. There's actually a really good book on this topic called Mindless Eating. It basically goes into this entire discussion about if we wanna lose weight, if we wanna be healthier—well, actually two things.
Portion Sizes for Weight Loss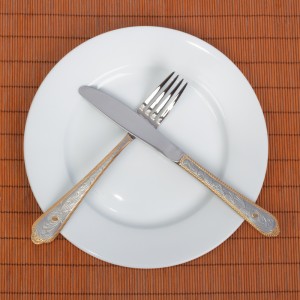 First of all, you don't see very many overweight, very old people, and there's a reason for that. Secondly, if you wanna live longer, if you want to be healthier, and if you wanna lose weight, eating frugally, eating less is very helpful. One of the easiest ways to do that—and this is discussed in numerous examples in Mindless Eating—is by choosing smaller portion sizes.
Now, how do you choose a smaller portion size? Well, you can do Weight Watchers, on which you count every single food you eat and drive yourself completely insane after a couple months. Or here's another idea: Instead of taking a big plate, choose a smaller plate because unless you stack up your food vertically, there's only so much space on the plate for your food. It's a really simple way to limit the amount of calories coming in.
Honestly, for the most part, most of us are not even conscious of how much we're eating. If you think about your typical meal, unless you're eating at a table and you're conscious of the food as it comes into your mouth—a lot of people eat in front of the TV or in front of the computer, and it's this unconscious hand-to-mouth motion, and before you know it, you haven't even realized that you finished your meal.
A great example of this is you go to the movies and you grab a bag of popcorn and you just eat nonstop. You're not even looking at the popcorn. You're watching the movie and your hand is moving automatically from the bag to your mouth, from the bag to your mouth.
I'm not too sure if I brought this study up earlier on in one of the episodes, but I was reading in this new book that I've been reading called Subliminal, they looked at a study with popcorn bag sizes—again, this is not rocket science, groundbreaking news—but, essentially, they had people go to the movie and they gave them a bag. They had two sizes of bags; one was a normal, medium size, and one was a large size. In either case they could have stale popcorn or fresh popcorn. They didn't really tell them; they just gave them the bag.
In a large number of cases, those who had the biggest bag of popcorn ate the most popcorn, even when it was stale. Even though the stale popcorn didn't taste as good, because it was a bigger bag, people felt more compelled to eat more popcorn. Again, it just goes to show you that the size of the container, the plate, the bag, the bowl, the cup is really important in our ability to eat less.
I think part of this could be humans, our need for completion. Maybe not everyone but for me, sometimes I can be a little bit OCD, so if something isn't fully finished, you just wanna finish it. If I sit down and watch a season of Dexter or Weeds on Netflix or if we have the DVD, I wanna watch all episodes all at once 'cause I don't even wanna wait a couple days to find out what's happening on the next episode. It's like this need for completion.
I think the same thing happens with our food with respect to if there's something on our plate that's not finished, we have this compulsion to wanna finish it. One really cool tip to help you reduce that is have a rule for yourself where you leave, let's say 5 percent or 10 percent of the food on your plate and that's it, you're done. Your plate, when you're done, is not completely empty. You leave a little bite or two of specific foods on the plate and you're done.
In Okinawa in Japan they have the longest lifespan. They have a saying in Japanese which is basically like 80 percent full. When they're 80 percent full, they're done. It's not like, "Oh my God, my stomach is gonna explode, so now I'm done." You get to that point where you're 80 percent satisfied and that's it.
I'm gonna give you some really cool applications to this. We talked about choosing a smaller plate size; very simple to do. We talked about leaving a little bit of food on your plate when you're done. I think for a lot of us who have grandparents or parents who were brought up in The Depression, that thinking is completely opposite to what they were brought up on because they were brought up in a time of scarcity where it's like you can't leave that little piece of meat on your plate. You don't know when the next piece of food's coming in, so you have to eat everything.
I remember my grandfather would tell me, "You're not leaving the table until you're finished." Well, that doesn't really encourage healthy eating behaviors because it gets us thinking we have to eat everything even though we don't want to, even though we don't have to. Yes, it's a little bit more of a waste, but, again, who's gonna eat that anyways? It's not like we're gonna be sending it off to kids in Africa. People who say there are kids starving in Africa, that's a ridiculous argument because what are you gonna do? You're gonna send the leftovers to somebody in Africa? Probably not.
Leave a little bit on your plate. Don't lick your plate off; it doesn't need to be completely clean. Choose a smaller plate. If you are—here's another thing. If you're eating packaged stuff like cookies, chips, which you shouldn't in the first place, let's say you have a little cheat day and you decide to have your favorite bag of chips, pour the chips into a small bowl; do not eat out of the bag.
If you eat out of the bag, studies have shown you'll pretty much eat the whole bag. You're unconscious of how much you're eating, so be aware of how much you're eating by putting the chips in a small bowl. When you see the bowl is empty, call it a day.
Even with, for instance chicken wings or spareribs. Having the ribs or the bones on the plate gives you feedback to show your brain that you've eaten this much already and that you can kind of call it quits.
These are some really helpful, really quick things that you can put into play. Again, I don't think that we need to hit this point home anymore, but it's all about choosing smaller portion sizes. It's very simple to do. I think based on the stuff I've just given you, you can start putting some of that stuff into play.
Just remember: If it's your kids or yourself, you don't need to eat as much as you think you do. Use a slightly smaller plate; you can always go for seconds if you need to for whatever reason, but I guarantee, you and your kids will probably be full by the time you finish that smaller portion size.
That's all for me today. It's a shorter episode obviously. Join me back at SuperNutritionAcademy.com. Be sure to sign up for the "Big Fat Foot Lies" report so you can discover seven nutrition lies that are keeping you sick, fat, and frustrated if you haven't already.
Thanks for joining me once again. And if you're an iTunes listener, I would really appreciate if you can leave me a review or comment in the review/ratings section. We're getting more and more reviews, more and more comments. I wanna really bust this podcast up and really get it up on the top of iTunes because I think we've had so much amazing feedback and all the reviews and the ratings, I'm really appreciative and grateful for and we just wanna get more of them in.
So, leave a review or comment on iTunes and that would be great. It's gonna help us get to more people and really help them make better decisions with their health and nutrition.
That's all for me today. Have a great one and we'll see you in the next episode.
Related Posts:
---
Tags: healthy portion sizes, portion sizes for weight loss

About Super Nutrition Academy

Super Nutrition Academy is the ONLY nutrition course that makes it easy for everyday people to understand the complex relationship between nutrition and health. If you're tired of all the conflicting health information out there and want a clear-cut, evidence-based understanding of the nutrition and health topics that matter you, then get started today.

---