Categories super nutrition academy health class

Episode #31
Answering the Question….How Much Should I Weigh?
Click here to subscribe in iTunes (and download)
All right, welcome to Episode 31, SNA Health Class, Yuri with you once again. We're gonna change gears a little bit today. I was just kinda surfing the Web the other day, and I came across a Web site that displayed the top questions from the past year.
I was obviously interested in the health area, so I was looking at the number one question that was asked online last year, and it was the following: How much should I weigh? Can you believe that? That's the most heavily searched question online as of 2012. Now, considering that, I said to myself, Well, if so many people are asking about this, why don't we create a podcast to answer it? So, here we are.
If you're listening to this on iTunes, I'm gonna direct your attention over to the blog at SuperNutritionAcademy.com/blog because I've included some important pictures there or charts, if you wanna think of 'em that way, which will give you a much better understanding of what I'm about to talk about. You really need to see the charts to make sense of this because I'm not gonna give you every single possible weight for every single possible height, so that's why I've included the charts on the blog.
How Much Should I Weigh For My Age and Height?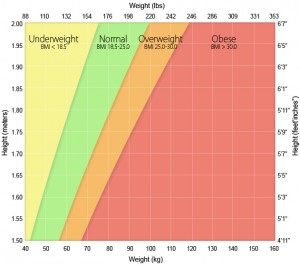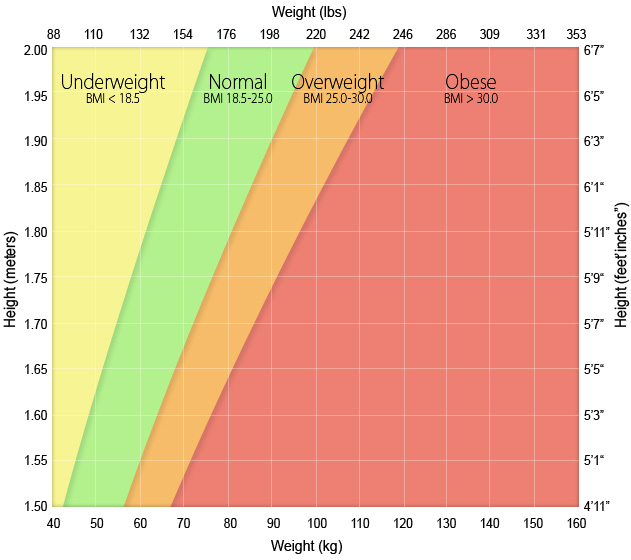 We're gonna talk about height and weight, and we're also gonna talk about body-fat percentage because there's a big difference between BMI, which we'll talk about, and body-fat percentage. Essentially, if you're wondering how much you should weigh, then let me start off by…I'm gonna bring up the height and weight chart.
This would be something similar to what you might be used to when you were younger, going to your family doctor and they would weigh you and measure you and they would look on the chart and kinda put an X to see if you were underweight, normal, overweight, obese. What they're doing, it's essentially looking at your body mass index. Your body mass index is essentially a way of using your height and weight to determine if you are within a healthy range according to most of the literature.
Body mass index, or BMI, is your mass, your weight, in kilograms, divided by your height in meters squared. Or it's also your weight in pounds divided by your height in inches squared times 703. Let's just stick with the first one for a second.
I'll give the example of myself. I weigh 165 pounds, so I'm gonna divide that by 2.2, and that gives me 75 kilograms. I'm 6'1″, so in meters that's about 183 centimeters, so let's say that's 1.83 meters. I do 1.832 and that gives me 3.35. So, what I'm gonna do now is I'm gonna divide 75 divided by 3.35, and that gives me a BMI of 22.3.
If I go back to the height-and-weight chart and I look at the different areas—we have an underweight area, a normal weight, overweight, and obese—22.3 for me in terms of my BMI, I fall into the normal range. The normal range for BMI is 18.5 to 25. You can do this same calculation for yourself and see where you fall.
Another way of doing it is, you can just look at the chart and say: How much do I weigh? I weigh 165 pounds, so there I am on the X axis. Then I'm 183 centimeters and I make that cross-reference point and, boom, I'm right there in the normal range. You can do it both ways; you can use BMI or you can use charting method on the chart itself.
BMI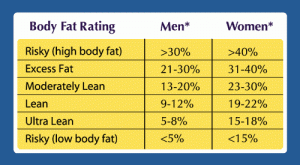 BMI is useful for most people. It's really…it's fine for the majority of the population. The only times it becomes a bit of an issue in terms of not being very reliable is when we're dealing with athletes, because you might—this is actually very common with rugby players and football players—you might get a guy who's, let's say, 5'10", 220 pounds, and if we're to look at that according to this chart here—5'10", 220 pounds—he would be considered just outside of overweight and just on the brink of obese.
What happens if that individual is, like, 9 percent body fat? BMI doesn't account for that, so that's a limitation of BMI because if we have a very muscular person who's very lean—let's say a body builder, even—then BMI often would show them up as being overweight or obese when, in fact, they're not in the slightest overweight or obese. In those cases we also wanna cross-reference by looking at our body-fat percentage.
Again, I've included a chart on the blog which gives you ideal percentages for body fat for men and women. For instance, I am about 9 percent body fat, so for men that's considered lean. Anything between 5 and 8 percent is considered ultra lean. For women, lean is considered 19 to 22 percent. Ultra lean is considered 15 to 18 percent.
How Much Should I Weigh?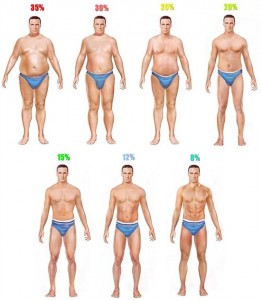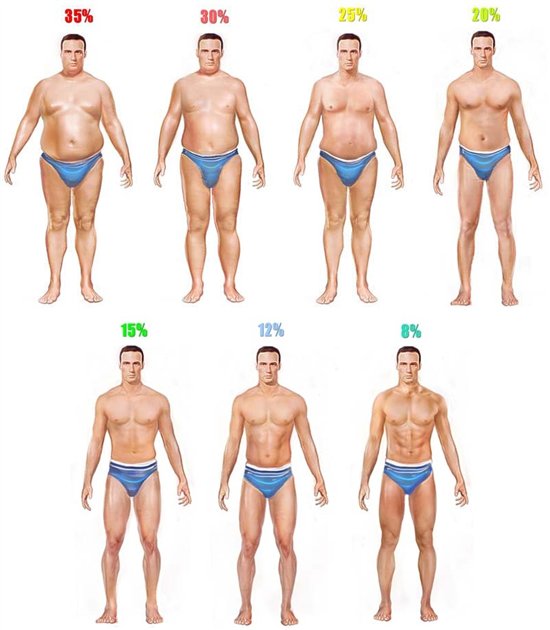 So, what does that even look like? Well, I've included another picture on the blog which shows you the difference of these—for men, what it would look like if you're 35 percent body fat all the way down to 8 percent body fat and kind of 5 percent increments in between. It's an individual in their underwear, and it shows you physically what you would look like at 8 percent body fat.
Anything under 10 percent is where you're gonna start to see a lot more definition; 35 percent, obviously, is a lot more rounded, and you'll see the difference on the blog. It's a really helpful visual to make sense of what body fat looks like or what a percent body fat looks like on an individual.
Now, women, as you'll see, have generally about an 8 to 10 percent greater normal amount of fat, and that's simply because they need to; it supports the reproductive organs, the mammary glands, and is important for child bearing. Women run into problems—for instance, like the female athlete triad, which is very common in, for instance, gymnast or extreme sports like marathoners, triathletes; they often run into this female athlete triad, where they basically get amenorrhea, where they lose their period because their body fat is so low that their menstrual cycle stops. That ensues a whole bunch of other stuff.
There's a really a minimum amount of body fat that women wanna maintain, and that generally is about 15 percent. Anything less than 15 percent is considered pretty risky for women; anything less than 5 percent is pretty risky for men. You might be asking, "Okay, Yuri, well, how do I measure my body fat?" That's a great question.
There are a number of ways you can do it. The gold standard is underwater weighing, which is something you would do if you are, for instance, a kinesiology student at a university and you would do that as one of your practicums. I did that when I was in school. The reality is that 99.9 percent of the population is never gonna have access to doing that.
All it does is you basically are lowered down—imagine French fries in a deep fryer and they're lowered down into the oil. That's kind of what happens. You're kind of in this basin and you're lowered down into the water and, basically, based on the displacement of the water, there're all these calculations that give you a representation of your body fat because if you're heavier, if you have more muscle, muscle's denser than body fat is, so you'll sink versus floating if you're fatter. So, based on that you can look at the displacement of water and blah, blah, blah. Obviously, most likely, you're not gonna have access to that.
The next available option is skin calipers, which were more popular probably about 10 to 20 years ago, even before that. And here we're basically looking at a number of different pinch points on your body; for instance, the back of the triceps, the middle of your quad, just above your belly button. The problem with that is, it's very invasive and it's not replicatable. There're a lot of different possibilities for error when you retest.
If you just get calipers today and then you retest it six weeks from now, are you 100 percent sure that you're pinching the exact same spot? In a lot of cases, you might be off by a millimeter or two, and that's gonna skew the results. Obviously, it's evasive as well. Not many people like to be pinched; they don't want have this kind of thick fat being pinched. Nonetheless, it's relatively accurate if it's done properly, but, again, most people are not gonna have access to that, and it's a little bit more time-intensive.
The easiest way, really for the everyday person, is to do what's called a bioelectrical impedance scan. You can do this, a lot of weight scales now have this, where you basically just step on the scale, and it sends a current through your body. Don't worry, you don't get electrocuted or anything. What it does is, it actually conducts through the water tissue in your body, and because muscle contains more water than fat, it is able to differentiate the two. You get a reading of where your body-fat percentage is within a couple seconds.
So, it's very convenient; it's accurate in the sense that when you retest, you maintain the same level of hydration. If you're doing it fully hydrated and then dehydrated the second time, you'll have very different results, so you just wanna keep that in mind. It's best to do it in the morning, maybe after a big glass of water. Just make sure your hydration status is more or less the same when you retest.
It's pretty accurate, plus or minus 2, 3 percent, so if you go into it thinking there's gonna be a little bit of room for error here, but as long as you consistently, if you measure consistently—let's say you measure at seven in the morning today or tomorrow and then you measure at seven in the morning four weeks from now, after having a glass of water, after having 500 milliliters of water in both cases, then you know, more or less, that if today was 10 percent and the next time was, let's say, 11 percent, you know, more or less, that it's consistent.
Whether it's a true 10 percent or if that 10 percent really indicates 12 or 8 percent is not that big a deal. What is that big a deal is how consistent you are with the measurements on retesting. Even if you're off a couple percent, you'll be off a couple percent when you retest, so it's all relative.
Then you've got things like DEXA scans, again, which are more complicated; you have to go to a special lab for that. You can do BOD PODs. Then you're getting into more scientific, expensive things. Again, for the everyday person, a biological impedance scan is very simple.
You can do it on most scales, or you can even buy a handheld device—I think they're about 50 bucks, or most personal-training studios will have one, most gyms should have one. You just hold the handles, and it's the same idea. The handles conduct a current through your body, and same idea as with the weight scales. It's very convenient; it takes a couple seconds to give a reading. Again, it's just a simple way to get a general ballpark figure of where you're at, and then you can always retest down the road.
So, how much should I weigh? It's a great question; it's important to understand because you just wanna know where you're at in terms of the healthy range medically, but also, if you look at yourself fin the mirror, you kind of know, are you, do you see skin, rolls hanging over your pant line? You kind of know that you kinda lose a bit of weight at that point. But nonetheless, if you're someone thinner like me and wanna know you're not too light or too slim, having an idea of this is also really helpful. Hopefully that's answered the question.
Again, go back to the blog, SuperNutritionAcademy.com/blog. Go to the post for this episode, where we're talking about how much should I weigh, and check out the charts, check out the pictures. They'll be very, very helpful for you to make sense of this all. If you've got any questions, by all means, just let me know in the comments section.
Until the next episode, I'm Yuri Elkaim and we'll see you then.
Related Posts:
---
Tags: how much should i weigh, how much should i weigh for my age and height, how much should you weigh

About Super Nutrition Academy

Super Nutrition Academy is the ONLY nutrition course that makes it easy for everyday people to understand the complex relationship between nutrition and health. If you're tired of all the conflicting health information out there and want a clear-cut, evidence-based understanding of the nutrition and health topics that matter you, then get started today.

---