Posted: April 30th, 2014 @ 1:51 pm | By:

Yuri Elkaim
Categories super nutrition academy health class
Episode #101
Women, want to transform your body? Dan Go will show you how in this episode of the SNA Health Class.
Click here to subscribe in iTunes (and download)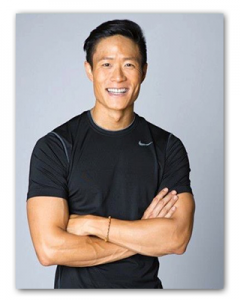 Yuri:                Welcome, everyone. Yuri Elkaim here and welcome to another edition of The Super Nutrition Academy Health Class. I hope you guys are having an awesome day.
I've got a very special guest with me today. He's my very, very good friend, another Torontonian—we are representing here—my good friend Dan Go. I'm not going to give you the professional bio of Dan; I'll let him talk about that a little bit. I want to give you guys a little rundown as to how we know each other.
We met probably two or three years ago at the first Fitness Business Summit in California. It was actually funny that we weren't even in the same city and we met in a different country. We were part of the same mastermind coaching group and developed a really great friendship from there. Since then, we've been able to hang out a lot and do a lot of things together. Dan is definitely one of my closest friends in this community of fitness and health. It's always great to be able to connect with likeminded people in your own city.
He's been helping women transform their bodies for a number of years now. He's got an awesome offline, in-person gym in northern Toronto. He's also done some amazing things online. His blog is TheFatLossNinja.com, which is a pretty cool URL. Without any further ado, welcome, buddy.
Dan:               Hello and, Yuri, thank you very much for having me on here. I really appreciate it.
Yuri:                Absolutely, buddy. It's a pleasure to have you here. As you know, I never have any direction or agenda with these interviews; that's just kind of the way I roll in life, I think. Why don't we start off by talking just briefly as to why people, what your journey is? How did you get to where you are now? I know your story but I'll let you explain it from start to now.
Dan:               I always think that when people get into passionate careers, it always derives from a certain pain that they go through early on in life. That kind of rings true for myself because there was a point in time between high school and the first two years of college where I had really, really, really let myself go, gone to my most unhealthy state. I was about 42 pounds overweight than where I'm currently right now.
Along with all that stuff just came a lack of self-esteem, a lot of insecurity and just being unsure of myself. I think you touched upon it before: We always want to hang around the people that live up to the ideals that we want, and at the time I wasn't really hanging around the best crowd either. The funny thing is that I always feel that fire is one of those things that can burn you or one of those things you can use as fuel, so I was actually at this pool hall and I was with a bunch of my friends and playing this game called gitoni—and it's foosball for everyone that's not in the know.
Yuri:                The Italian word for it.
Dan:               Yes, the official word. Essentially, what happened was, I was playing, this ex-girlfriend came up to me—this was pretty much when I was at my highest weight and almost my lowest point—she came up to me and, almost on purpose, she asked me a very facetious question. She asked me, "Hey, Dan, it looks like you're getting bigger right now. You're getting bigger in the chest. Have you been working out? Have you been doing anything?"
For me, I couldn't say anything. I was stammering and just said no; I didn't know what to say because I was already embarrassed about my current state. One of my friends—he's not really my friend anymore—he just blurted out in front of all my friends, he's like, "He's not working out; he's just getting man boobs!" That was probably one of the worst and most horrible moments in my life.
I went back home, tore off my shirt, and I essentially looked in the mirror and was like, "Never again. This is never going to happen again, and I'm going to do whatever it takes to get myself out of this and back into the shape that I deserve."
Ever since that, I got myself into shape, and I started wanting to do something that I was hugely passionate about that would be a benefit to other people's lives. I got into personal training and, as you can see, the rest is history right now. It was kind of a great journey, and it's kind of cool to go back and look at it all from a 30,000-foot view.
Yuri:                Yeah, totally. That's awesome. What are you most passionate about? You specialize in helping women transform their bodies. What really juices you up when you're helping people and why?
Dan:               What juices me up is actually the transformation process itself and the end result, because when you can transform a person's body aesthetically, essentially, you're transforming them internally as well because they're getting all of the great health benefits that come along with it, but when a person loses 30, 40, 50 pounds of weight off of their bodies, there's just a significant change that happens in their own consciousness, and they just become almost like a more actualized version of themselves. Suffice it to say, I know the weight is a bit of an issue with a lot of people, but once they see that one little bit of weight come off or if they see an incredible transformation, it's almost like their whole world opens up for them.
Actually, one of the people I get up for most is women. One, because I love training women, and I love the fact that they actually listen to me and don't really talk back to all the things I get them to do.
The second thing is that my mom had an incredibly big influence on my life, as most people have. She was actually the person that almost inspired me to change my body, to get myself around a group of friends that had the ideals that I wanted to strive for and just become a better person. She is essentially the reason why I love to focus on women, because I realize that they have so much of an influence on every single person in their life, whether it be their family, their spouses, especially their children.
I kind of want to give that same inspiration to women, because I know that they influence so many people across the board.
Yuri:                That's awesome; that's great. You have an awesome gym, and you do some really cool things with a lot of the women who are members. In your experience, what are some of the things that anyone listening can apply into their own life, be it nutrition or fitness based on the stuff that you've done with building a community or other things that you've done for accountability with your clients?
Dan:               Actually, one of the things that I say when it comes to transformations, and especially women because I've been working with women the past six years, is that you need two things: one is community and the other is accountability. I believe that everyone is the average of the five people they hang around the most, and part of the reason because of that is because people will always strive to live up to the ideals of the people they choose to surround themselves with. That's the very first thing.
Community is a very big thing when it comes to transforming. Get the people around you that you need to look up to in order to make these transformations. The second thing would be accountability. We do a horrible job of keeping ourselves accountable. I'm pretty sure you and I experience the same things.
Yuri:                No, never.
Dan:               Never! Actually, I have this thing with my girlfriend, which I learned from you. Whenever I have to get something done in my life, I always sign a contract with my girlfriend to keep myself accountable. I always have this disproportionate, almost negative thing that will happen if I don't get this done. I need accountability to get this important task done; that's why I always recruit my girlfriend into the whole process.
We're not trying to do that with these women, but we are keeping them accountable by always tracking their measurements, always keeping them weighed, making sure that they have mandatory weigh-ins with us. If anything, it always comes down to that.
When you start tracking the process of transforming your body, then you actually get into the whole journey. A lot of people will stop themselves from weighing themselves, from measuring, from taking pictures, but that's the first part of any weight-loss journey, to actually track the initial results. I think it was Peter Drucker who said whatever gets measured gets improved upon.
We keep our girls accountable just by monitoring their own measurements with us. Of course, there's a bunch of other really cool stuff that we do in terms of nutritionally and workouts, but if it were down to two principles, it would be those two principles for sure.
Yuri:                Nice. And within the community, do you find that it's better for basing your own experience, is it teaming up with somebody else they resonate with, or is it getting into a group of as many people as possible? Is there a sweet spot that you found works really well?
Dan:               I find it works from all angles, actually. I find that, first of all, we give them an accountability partner. They already get, I guess you could say preselected with this accountability partner, and also they stay accountable within the entire group. We have this group on Facebook. It's almost like a support group, where girls can actually talk to each other every single day. I think you have something similar with the Total Wellness Cleanse.
Yuri:                Yep.
Dan:               What we do is essentially keep these girls within the community and also participating with each other as much as possible through these kinds of group status chats. What you'll notice—I'm not sure, maybe you can tell me your experience from this as well—is that the girls who actually participate the most in these groups, these are actually the girls that get the most results. It's the ones who actually put themselves forward, monitor their own changes, monitor their own journey, and also share with everyone. Also, they're the ones who contribute the most to the posts that the other girls put up. Would you say you agree with that?
Yuri:                Yeah, totally. I think that's probably true for anything in life. You get out what you put in. We have people in our cleanse group that are just incredible. I feel like hiring them on as employees because they're so actively involved in supporting other people and posting their process and then helping newcomers out.
It's actually nice sometimes, as well, to have the experts be that person, where they can relate to other people going through it as well. It's almost like a buddy type of accountability system, which is great.
Dan:               Yeah, I think it's one thing for us to say it, because we essentially are the teachers, and whatever instructions we put forth, they're going to be like, "Okay, I kind of understand it." When it comes from someone who has actually experienced what you have done or experienced putting into action everything you've asked them to put into action and they know exactly what happens and they know how to set expectations from week one to week six. I think these people are invaluable.
I know you want to turn them into employees, and I actually do turn them into employees, especially when it comes to building a mission. For me, it's all about vision. I have a way bigger vision in terms of this local business, in terms of contributing to a lot more lives.
I think you can agree that when we actually get people who are dedicated to what we're doing and they understand the process and they understand our systems and they understand our logic and our philosophy, for me, that's like the perfect employee, because they're going to be 100 percent passionate about everything that they're doing and every single person who has a question or every single person who participates in the group, they'll have almost the perfect answer coming from the perfect place.
Yuri:                That's awesome. What about common challenges and obstacles that you come up against with some of your clients? Maybe those who don't get the results that maybe some of the others do. What are some of the things hat differentiate the ultra successful from the not-so-successful when it comes to achieving weight loss?
Dan:               I think it comes down to, one, who they have around them. What is their support system? A lot of the girls that do succeed in our programs, their spouses and their significant others are the ones actually doing it along with them or pushing them along in their journey, fully supporting it.
And then you'll have some other clients who will have to push through some significant challenges because their partner will not be on board or they'll have a best friend or they'll have some sort of family member who'll just poo-poo on the things that they're doing. For that, that's kind of a challenge because you can only go through so much of that at once. If you have ten other friends around you drinking excessively and you're trying to stick to this diet and you're hanging around them four or five days a week, it's definitely going to be hard to see that every single in front of your face and not do something like that, because it's always kind of like a monkey-see, monkey-do aspect of it.
The other thing I find is that when you're given instructions and when you're given this program, we give these girls very, very specific instructions. We tell them what to do from point A to point B. we tell them exactly how to eat. We control the way they work out as well. I find that the people who try to modify things as much as possible—what we do is give them a schedule and just ask them to almost create their own schedule of eating out of the ones we give them, but we find that the girls who add a little something here, take away a little something here are the ones who don't see the most consistent results.
It's always about following the program as outlined. I always find that the girls who succeed are the ones who go to the extreme of actually following all the instructions, and then afterward they're able to find exactly what their balance is after following those instructions. They don't have to follow them forever, but they have to do it to a T to understand how this program actually works with their body. I think that's probably the second biggest factor to the challenges that they face.
Yuri:                That's a good point, because—I guess it depends on personality types too, but I think sometimes it's a lot easier just to follow the plan instead of reinventing the wheel. I'm as guilty of this as anyone. Sometimes I'll go in and be like, "I can do this a little bit differently," or whatever.
I've learned over the course of the years, and probably people listening as well, you have to learn the fundamentals before you can start innovating and doing your own stuff. Obviously, you have a system that work and you just kind of plug people into that and they'll succeed as long as they follow it. Yeah, that's really cool.
What about for you? Since I've known you, you've experimented with a ton of different cool workouts and nutrition protocols. I know you have a great dietary program called Fat Loss Forever, which is kind of based on the power of intermittent fasting. Can you talk a little bit about that and your personal philosophies with nutrition?
Dan:               Well, I really believe in what we just talked about. When you're doing a program, you've got to do it in its entirety. I've done so many diets from a full month of doing just protein shakes—it was called the Velocity Diet. It was quite possibly the hardest and the worst thing I've ever done to my body. It was pretty bad.
Yuri:                What did you notice when you did that?
Dan:               Obviously, I noticed just an incredible amount of weight loss, but the fact is, whenever we're doing a diet, we have to find something that we can actually sustain past doing said diet. With the Velocity Diet, I found that just as easily as it is to get the weight off, because, obviously, you're just taking in a very, very, very low amount of calories and you're in this caloric deficit and it's already kind of set for you, I find that when you do something like this, the weight is just as easily to come back on. That is usually the case when you go back to your old habits.
I've done everything from that to intermittent fasting to doing five meals a day. That was the beginning of my journey. I've done pretty much almost every single diet that you can think of, only to come back and find exactly what my balance is. My philosophy is a little bit different when it comes to nutrition. I do believe in intermittent fasting, but I believe in intermittent fasting only in certain cases, because when it comes down to, say, going low-carb, going low-fat, or even doing intermittent fasting or whatever diet trick you can think of out there, it really comes down to these are just tools in your toolbox to get yourself into the best possible body that you would want to get into.
With intermittent fasting, I look at in two ways. First of all, you have your 24-hour fasting; that's like one way of doing intermittent fasting. That is a tool and I find that's a tool for maintenance, and I find that's a tool for if you may have drank or ate a little too much the day before, to kind of take a break and get your digestive system working again, reduce the inflammation and also make up for those calories that you ate.
I find the other way, which is skipping breakfast—we call it 16/8 in intermittent-fasting terms—for me, that's a schedule that I find works best for myself. When I apply something like this to my own clients, what I try to do is try to just not even bring up the fact of intermittent fasting at all.
I find that I work best when my clients can make their own schedules, can determine when they want to eat, and as long as they keep that schedule for themselves, their hunger patterns will just modify themselves to that particular schedule. We have shift workers, we have girls who have kids, and everyone has a different schedule.
Say, a regular IF schedule would be eating at 12, 4, and 8. We essentially tell these girls eat three meals a day. You can eat them whichever times you want; just make sure that they are as much the same as possible. When it comes down to it, this whole fat loss game, this whole transformation game, it really comes down to the amount of calories you put into your body, the hormonal effect these foods have, and however which way you want to eat these throughout the day, then it should really be up to your own personal preference. That's kind of one of my favorite types of ways to get people into a nutritional program, because it gives them choice and also, it just essentially gives them that power to decide what they can put into their body or when to do it.
Yuri:                If you had a client come to you and say, "Okay, Dan, this sounds awesome, but I want to know what's the number one thing I should be doing with respect to my food, my nutrition, my diet that'll make a significant difference on my health," what would you say to them?
Dan:               Well, the very first thing would be making them eat real food. I think when people come into my gym and come into our transformation center, what we can do is with 99 percent of these girls to transform their bodies, all we have to do is just put them on a real-food diet. If it hasn't been grown, if it doesn't come in a bag or a box, these are rules that we go by, because when we eat real foods, first of all, you get the best nutrient benefits out of eating them. Eating a stick of broccoli or eating a steak, you get the best benefits when it comes to nutrient value.
The other thing is that when you eat real food, they're denser in calories as well, as compared to a bag of potato chips. If you eat a stalk of broccoli, it's ten times less than the amount you eat with a bag of potato chips. The very first thing and, actually, one of our main ways of getting these girls to transform is just going on a real-food diet.
We find they increase fiber, so they actually become less hungrier throughout the day; they have more energy. That's one of the main things as well; they're not feeling like they have that four o'clock swoon where they feel like they want to go to sleep.
The other thing is the transformation benefits. They're taking in less calories into their body, they're not having to track anything, they're under their own schedule that they choose for themselves, and they just see the weight come off. They are inexplicably surprised when it happens, but in general, it's just basic law of thermodynamics. That would be the very first thing and the most important thing I would get people to do when going into a transformation.
Yuri:                Nice. For you, what is your definition of health?
Dan:               My definition of health is being in the aesthetic shape that you choose to be in but also feeling the same, I guess you could say feeling, for lack of a better term, of being in that body. There's no point of being in a body if you feel like crap every single day.
I do feel like is a trend—it's a great trend—of doing things in a way that supports your own bodily functions. Doing things in a way that give you the most energy, things like eating real food, things like working out, exercising in certain ways. Inevitably, this will bring you to your best body. It's more like eating and training for a performance and inevitably looking your best at the same time.
For me, I come from a background where I used to be fat, so I love seeing a six-pack. It makes me feel good; it's not necessarily a bad thing if someone wants to see their six-pack. We're all tied to the way that we look in one way, shape, or form, but you can't be tied to the way you look if you have poor joint mobility, if you feel a lack of energy every single day. It's always the best of both worlds.
Yuri:                Awesome. Very cool, Dan. Once again, guys, if you want to check out Dan's stuff, you can go to TheFatLossNinja.com; some really good blog posts up there, as well as some videos, which are always entertaining.
Any final words of wisdom before we end today?
Dan:               Yeah. What I'll say is if anyone's listening to this and they ever want to change our bodies, the very first thing I'll say is that if someone has done it, then you can definitely do it. That is the basic truth in humanity: Even though I stand here and I'm talking to one of the smartest guys in know in the fitness industry—that'd be you, Yuri.
Yuri:                Thank you.
Dan:               Even though I'm here and talking about this, there's nothing that separates me from just the average person from doing this for their own lives. If you've seen someone lose 50 pounds and seen someone get into the best shape and you desire the same thing, you have to realize that you have the exact same power as they do. You just have to take action and just believe you can do it.
Yuri:                Awesome. Great words of advice and sage wisdom. That's great, buddy. Thanks so much for taking the time today, Dan. It's always great to connect with you and pick your brain. For everyone else listening, thank you guys for tuning in. Be sure to join us over at the blog at SuperNutritionAcademy.com/blog, and you can find this episode, leave your comments there. That's all from us today. I look forward to seeing you guys in the next episode.
Related Posts:
---
Tags: body transformation, dan go, how to transform your body, weight loss tips

About Super Nutrition Academy

Super Nutrition Academy is the ONLY nutrition course that makes it easy for everyday people to understand the complex relationship between nutrition and health. If you're tired of all the conflicting health information out there and want a clear-cut, evidence-based understanding of the nutrition and health topics that matter you, then get started today.

---