Posted: November 18th, 2014 @ 8:00 am | By:

Yuri Elkaim
Categories super nutrition academy health class

Episode #112
Discover whether kale, broccoli, and other cruciferous are hurting your thyroid.
Click here to subscribe in iTunes (and download)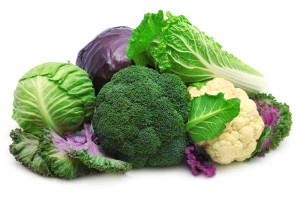 Hey, it's Yuri, and welcome to another episode of The Super Nutrition Academy Health Class. Today we're going to be discussing a very common question that I get asked, and it has to do with whether or not raw cruciferous vegetables hurt your thyroid. If you're somebody who has hypothyroidism or low thyroid function, whether it be autoimmune Hashimoto's or simply not autoimmune low-thyroid symptoms, then what I'm about to talk about is really important.
Even if you don't have any thyroid issues, this is still an important topic because the thyroid is really the master gland for your metabolism. If it's not working properly, if it's sluggish, you're going to feel sluggish too. Some of the symptoms of low thyroid function or Hashimoto's or hypothyroidism include cold hands and feet, difficulty losing weight, low energy, dry skin, hair, and nails. Those are some of the common ones; depression would be up here as well.
The thyroid issue is a real big one because—here's the thing: A lot of people are suffering from low thyroid conditions. Why is that happening? Well, a great majority of the reason is due to environmental toxins. We have a lot of toxins coming into our bodies that are really blocking the, there are a number of different ways that thyroid breakdown occurs in the body, whether it's the thyroid hormone not responding properly at the receptor sites at the cells or if it's the thyroid gland itself. There are a lot of different pathways that can be disrupted.
One of the things we want to remember is that environmental toxicity is a huge one because it blocks, it's going to compromise the conversion of the thyroid hormone that occurs from its inactive form, T4, to its active form, T3, in the liver. If the liver is too toxic, it's not going to be able to do its job properly. Another example would be mercury and lead, which are well-known to disrupt thyroid-hormone receptor sites on your cells.
There are a lot of reasons why we have low thyroid function nowadays, and a lot of people are worried about whether they should be eating things like broccoli or kale or Brussels sprouts or cabbage, all these cruciferous vegetables, in their raw state. Part of the thinking out there is that these foods contain goitrogens, and goitrogens are essentially compounds that suppress the function of the thyroid gland by inhibiting iodine uptake in the thyroid tissue. I say that they do suppress thyroid function, but the reality is that your body requires large doses of those goitrogens to really have a marked impact.
Before we get into the research and assume the science behind this in terms of what we're seeing in human, as well as animal, studies, understand that iodine is really important. If iodine uptake is blocked or inhibited, then that's going to compromise your thyroid because the thyroid requires iodine for thyroid hormone production, and it also requires things like selenium, as an example. It's not just iodine; there are other things that are required as well, but iodine is obviously a building block of thyroid hormone, so that's really important.
Again, the whole idea is that a lot of experts believe or have put out there and said if you have thyroid issues or if you're worried about your thyroid, then you should stay away from these raw cruciferous vegetables. The real thing is that there have been no human studies to date that I'm aware of that have shown any negative impact of raw cruciferous vegetables on thyroid function, and I'll talk about one study, which was actually pretty interesting.
The only case in which possibly there could be some interaction is if you already have an iodine deficiency. Other than that, there's really no compromise from eating raw cruciferous vegetables. The other thing, too, is that even whatever deficiency there might be in iodine, you can actually offset that supplementally. I wouldn't recommend supplementing with iodine by itself; you want to supplement with selenium and iodine combined because you want to get the selenium in there with the iodine. A lot of studies are showing that iodine supplementation alone could possibly make matters even worse, especially for people with Hashimoto's.
I want to just kind of run down a couple examples of science and different studies that have led to this thyroid panic, if you will. The reason this whole thing came about is because of a couple rodent studies—studies on rats—that showed there were hypothetical thyroid issues from eating very large amounts of cruciferous vegetables. This has been seen in a number of different studies on rats, but we don't necessarily know how those dosages relate to humans.
I'll just give off a couple studies here. There was a study published in 2013 in the journal Nutrients that basically concluded that no human study has demonstrated a deficiency in thyroid function from consuming cruciferous vegetables. There was one study that showed a little bit of an impact, but I want to tell you a bit about that.
There was one study that looked at thyroid function in subjects eating 150 grams of cooked Brussels sprouts daily for four weeks, which, by the way, is pretty unrealistic for, I would say, 99 percent of us. As much as we talk about the benefits of these vegetables, we're not eating them daily, let alone 150 grams' worth; that would be about a half-cup, somewhere in that ballpark. In this case, they noticed, again, a very, very slight to nil implication of eating that amount of Brussels sprouts.
The only one case in humans that's been documented was actually published, it's a weird case study that was published in the New England Journal of Medicine in 2010. In this case, there was an 88-year-old woman who developed hypothyroidism after eating one to one and a half kilograms—that's about two to three pounds—of raw bok choy every day for several months.
There's this one lady, 88 years old, and she developed hypothyroidism as a result of eating two to three pounds of bok choy; that's a lot. We're talking about excessive amounts of intake of raw cruciferous vegetables, in which case, as this one case showed, it might actually be an issue. The bottom line is that you'd have to consume a really crazy amount of raw cruciferous vegetables, be it bok choy, broccoli, kale, collard greens, in order for them to really have any kind of negative impact on your thyroid and your health.
I also want to highlight two other studies I think are really important. There was the Adventist health study, which was kind of one of the Blue Zones almost, and they revealed that a vegan Adventist versus omnivore Adventists were less likely to have hypothyroidism. Those who ate a vegan diet actually had fewer accounts of hypothyroidism than did their counterparts, who were eating meat and vegetables. Interesting, right? You'd think if they were only eating plant foods and a lot of cruciferous vegetables, we might actually see the reverse, but that wasn't the case in this study.
And there was a study in the Journal of Clinical Endocrinology and Metabolism in 2011 that showed that vegans had a higher trace amount of what's called a urinary thiocyanate, which is kind of an indicator of cruciferous-vegetable consumption. They had a higher amount of this, and they had a lower iodine intake, but there was no difference in thyroid function. It's interesting.
Here's the bottom line. If you're not eating copious amounts of raw cruciferous vegetables, there's nothing to worry about. If you're still skeptical and unsure about this information, here's a really simple thing you can do: just steam or lightly cook these raw cruciferous vegetables. In doing so, you actually reduce their levels of goitrogens, so they become less problematic, even if there really isn't that much of a problem. If you're still a little bit unsure, just steam them ahead of time. If you're making a smoothie, steam the kale, steam whatever leafy green you want, put it into the blender, and blend way. Just understand that in doing so, you're losing some of the important life properties and vital nutrients from heating it and steaming it down. It's up to you.
Personally, I've never met anybody who has low thyroid symptoms or Hashimoto's who has not improved their markers as a result of eating more greens. I know a number of cases in which I've had discussions about this with them. The other thing to think about is, most cruciferous vegetables are not eaten in their raw state anyways.
I don't know about you, but I don't eat Brussels sprouts in their raw state. I don't think I've ever had a raw Brussels sprout, because it simply cannot be eaten in its raw form; it's too hard, so you steam that. Broccoli, same thing. The only time you'd have broccoli raw is maybe when you have broccoli with some dip at a party, that type of thing. But other than that, everything is steamed, right? Steamed or cooked, so it's softened and it makes those really dense, fibrous vegetables a lot easier to digest.
Now, if you're juicing, then you're using kale, collard greens, and stuff like that. The whole idea is to rotate them, so you're not using kale every single day, but you're using kale one day, spinach the next, Swiss chard, collard greens. Rotate them around so your body doesn't exhaust those enzyme pathways necessary to deal with those foods.
Again, you can always steam those. For me, the only time I'm really having cruciferous vegetables raw—and it's not because I'm scared of the goitrogens; it's just because I enjoy them better when they're steamed—I might have dehydrated kale chips, so it would be in raw form, kale in my smoothie or kale in my green juice, or I'll make a kale salad. Most of the other times, it's steamed; steamed to soften things up. That's kind of how I roll.
Here's something else to remember. It's just so funny in nutrition now, we freak out about stuff. Here's the other thing: Remember, if you don't eat raw cruciferous vegetables or even cruciferous vegetables because you're scared of their thyroid impact, then just remember this. One in two men will get cancer at some point in their lives, and one in three women will get cancer at some point in their lives.
I don't know about you, but I've seen copious amounts of research that has shown that cruciferous vegetables are arguably the most protective of all foods against cancer. And we're not even talking about any other disease; we're just talking about cancer. I want to show you something here, which is amazing.
A study from the Journal of the National Cancer Institute showed that 28 servings of vegetables per week, which is only four per day, which is very, very achievable, decreased prostate cancer by 33 percent. But just three servings of cruciferous vegetables per week, decreased prostate cancer risk by 41 percent. You could have 28 servings of vegetables, or you could have three servings of cruciferous vegetables and have a bigger impact on reducing your risk of prostate cancer. Crazy, right? So, that's in men.
How about this one? Pancreatic cancer, a huge killer; that's what got Steve Jobs. One or more servings per week—that's like a cup; if you have sauerkraut, it's taken care of—decreased the risk of pancreatic cancer by 38 percent. Crazy, right? Another study in the International Journal of Cancer—this is for women now—one serving per day of cruciferous vegetables reduced the risk of breast cancer by over 50 percent.
Even if these cruciferous vegetables somehow negatively impacted your thyroid, which they don't, but even if they did, do you think the benefits they provide in terms of cancer prevention might outweigh the minimal impact they have on your thyroid? Obviously I'm not saying your thyroid isn't important, because it is, but it's not life-or-death in most cases. Remember: Unless you're eating kilograms upon kilograms of cruciferous vegetables every day, they're not going to impact your thyroid in a negative manner. Conversely, if you're having just a few cruciferous vegetables a week, you're dramatically reducing your risk of all cancers, for the most part. It seems like a no-brainer to me.
And the final thing is that the real thief of thyroid function is not cruciferous vegetables; it's the environmental toxins we talked about. And also, when we think about foods, it's gluten. Gluten is a very, very big problem for people with thyroid issues because the protein is very similar to the protein in your thyroid tissue. With repeated exposure, what happens is that you develop something called molecular mimicry whereby the immune system can't tell the difference between gluten protein and your thyroid tissue, and that's how Hashimoto's develops, for instance. Gluten consumption is heavily correlated with Hashimoto's. This is really important to remember.
I hope this brings a bit of clarity and a bit of a sigh of relief to you so you can actually enjoy these vegetables because they provide tremendous amounts of benefits, and I haven't even talked about the benefit for liver detoxification, so that's another one. Cruciferous vegetables are massively important for your health, they're not going to hurt your thyroid, and there it is.
I hope this helps you out; I hope now you can sleep at night without worrying about this stuff. I get it; I understand there's a lot of misinformation out there, and I'm not saying I'm always right, because I'm not, but what I'm doing with Super Nutrition Academy, for instance, is bringing all the complexity and boiling it down into simple, understandable principle-guided formats that you can relate to and understand. With this podcast, obviously, it's kind of the free, light version of it, if you will.
If you want to go deeper, then I strongly encourage you to join the Academy because it's amazing. You can try it out for yourself for just $1 for the first month just so you can see how amazing it is in terms of what you're going to learn in a very simplistic and fundamental-based fashion. Again, it's all research-backed, it's not my opinion, and there we go.
I hope you've enjoyed this episode. If you want to leave a comment or question, pop over to the blog; it's SuperNutritionAcademy.com/blog. Find the episode on thyroid and cruciferous vegetables—I believe it's Episode 112, I think—and I look forward to seeing you in our next episode. We've got some more amazing stuff going on, so be sure to tell your friends, leave a review on iTunes, and have an awesome day. Have a great week. Talk to you soon.
Related Posts:
---
Tags: hypothyroidism symptoms, natural remedies for hypothyroidism, raw cruciferous vegetables, underactive thyroid symptoms

About Super Nutrition Academy

Super Nutrition Academy is the ONLY nutrition course that makes it easy for everyday people to understand the complex relationship between nutrition and health. If you're tired of all the conflicting health information out there and want a clear-cut, evidence-based understanding of the nutrition and health topics that matter you, then get started today.

---