Posted: March 13th, 2014 @ 8:00 am | By:

Yuri Elkaim
Categories super nutrition academy health class

Episode #91
Michael Fishman, curator of the Consumer Health Summit, shares his personal journey into going sugar and gluten-free. Very inspiring stuff.
Click here to subscribe in iTunes (and download)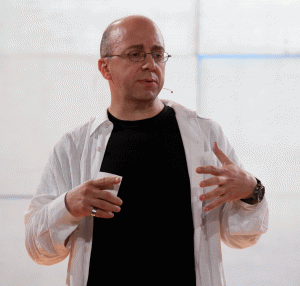 Yuri: Hey, guys, how's it going? Welcome to another episode of The Super Nutrition Academy Health Class. Yuri Elkaim back with you. I'm really excited to bring a very special guest to our podcast this episode.
Kind of a peculiar guest compared to a lot of the other people we've had before, but none the less, Michael Fishman is with us today. He's been one of my dearest friends in the health community over the last couple years. You may not have heard of him because he's kind of the guy behind the scenes who makes a lot of the magic happen. He's an entrepreneur, he's an advisor, he's a speaker. If you hear anyone walking around, it's my little dog behind me, so I apologize for that.
He's a trusted advisor to brands and personalities on marketing positioning and business growth, and he specializes, really, in our health community and field, as well as personal development. He's worked with Rodale, which was the company behind men's health and prevention and whatnot. I can go on and on and on.
He—most notably, I think—puts on the Consumer Health Summit, which is a congregation of the industry's top leading experts in health, nutrition, and fitness. He does that every year in May. It's an amazing event; I've been privileged to attend.
What I'm going to bring to you today with Michael is his own journey with overcoming some of the bad foods that we all try to minimize. Without any further ado, Michael, welcome.
Michael: Hey, Yuri, thank you so much for having me.
Yuri: Absolutely. Why don't we jump right in to this and talk about, kind of putting the business stuff aside, we talked about before we started the fact that you gave up or kind of decided not to eat gluten and sugar about two years ago.
What led to that decision? How did it all come about? And we can go from there.
Michael: As you mentioned, I have the Consumer Health Summit, the invitational event, each May, and I realized—I think March 10 will be two years—just about two years ago that my weight had crept up and I was healthy in the way that most people would consider someone to be healthy, but in terms of a standard of standing in front of 75 or 80 of the leaders of the health-and-wellness industry, I felt that I was not really representing the game and best personal practices as well as I could have.
Sixty days before that event, I drew a line in the sand for myself and said okay, at this point, all sweeteners—honey, maple syrup, everything—sugar, et cetera, gluten, alcohol, and caffeine all stopped in one day, just like that.
Yuri: I love it.
Michael: I did that. I was never a big coffee drinker; that was a bit of an easy win. I had actually started that a number of months prior, after hearing Dr. Daniel Amen talk about caffeine. Caffeine was handled pretty easily for me, not a big problem. Alcohol, I was never much of a drinker, so even now I'll have maybe a glass or two of wine per month, just a taste here and there.
But with gluten and sugar, those—and I'm not Celiac; I'm not specifically symptomatically sensitive to gluten, although, as we know, gluten creates inflammation and a range of other things inside the body that sometimes we just take for granted that that's how we feel or that's just the way things are. I've kept gluten out of my diet for almost two years and same with sugar, for a lot of good reasons. It's been something that I'm proud of.
Yuri: You should be; that's an amazing feat. How do you stay on track? Do you ever have temptations, and if you do, how do you go through that?
Michael: It's a good question. With respect to gluten, I would say there's no temptation at all. I'm not really in to fake cookies, fake breads, fake…there is one brand of cracker, Mary's Gone Crackers, which is an excellent organic, non-GMO, just a really solid gluten-free cracker that a lot of people love, but other than that I don't really do gluten-free fake stuff. I don't really find bread or any of those things appealing anymore.
As you know, gluten and sugar ride together quite a bit, so when you're staying away from one, it goes a long way toward staying from the other. I think at the time, I think you and, for you listening as well, many people have heard that willpower exists within us in limited amounts.
I've framed it for myself not really about willpower but more as just kind of a connect-the-dots, moment-to-moment, day-to-day. The beginning of it was just the goal line of Consume Health Summit and that 60-day process, so it wasn't about moment-to-moment willpower; it was really about a systematic approach to showing up on the finish line 60 days later with a particular commitment to myself.
For anybody that wants to start, I would suggest that a good way to start is to pick a day in the near future—a month, two months out—and just set a goal line, and then commit yourself to reaching that goal. And then when you reach it, like I did, you can continue to proceed, because at that point it's much easier to just keep going.
Number one, your body is craving those substances less; and, plus, you have the personal accomplishment, and you just want to sort of keep that streak going. The other thing is to not frame yourself or characterize yourself as a victim to foods. By that, what I mean is, when I go to restaurants and people offer me dessert or bread or something, I don't say I can't eat that; I say I don't eat that.
It's a very slight shift of words, but if you think about it, Yuri, I think it's quite powerful in terms of making a very conscious, specific choice about what you will and will not eat as opposed to saying you can't eat something because… I just think there's a victimization embedded n the word can't, whereas I don't do something is a very specific, powerful choice where you're controlling your own destiny and managing your own choices.
Yuri: Yeah, and if anyone were to talk about this, it should be you. For everyone listening, just so you guys are up to speed, Michael is very well-known for articulating the power of words in messaging and communication. It's very fascinating how, it's when people talk about how they should do something or they have to do something.
Like you talked about, it's a very small nuance, but it makes a, it's almost a psychological shift in how we approach different things in life, especially with our food choices, for instance, so that's really cool. I don't as opposed to I can't. A couple letter difference but a massive shift in outcome.
Michael: It really kind of rocks every cell of your body because it so puts you in the driver's seat of your own life and your own choices, and it so puts your own hands on your own dashboard, your own control. It's like you become your own mission control as opposed to being at the effect or victimized by any choice or any obligation or any sort of prohibition, forbidden fruit, all that stuff. It's really a game changer.
Yuri: Totally. And do you find that you self-identify or see yourself differently than you did two, two and a half years ago in terms of your self-identity? I know that for a lot of people, pretty much any area of life, the way we identify ourselves ultimately defines a lot of our choices and decisions. Did you notice a shift in that at all since you decided to stop consuming those specific foods?
Michael: It's a gorgeous question. I think when you make a choice to change something in your life and you actually do it and sustain it, you demonstrate to yourself that you actually have the power to manage and control your life.
We can't control everything. Life hurls a whole bunch of stuff at us every day that we can't expect or anticipate, but relatively speaking, we notice ourselves and we acknowledge ourselves for making change, sticking to change, and it actually gives you a power and facility in the balance of your life, your activities, your commitments, your promises, your goals. I think all of those things are greatly, greatly enhanced.
We think about addictions in our world with alcohol, with drugs, other kinds of things that people fall into addiction with, but foods are very addictive substances, and yet they're not really in our conversation in terms of drugs ad things like that. But sugar is more addictive than cocaine is, many of you have heard, so to actually triumph over some of these ingredients, whether they're physically addictive or just things that we eat as habits, to actually break through those binds, it really is a personal triumph and for sure gave me—and I would think would give anybody—a real sense of capability to change other things in their life that they would like to change.
Changing your food choices and sustaining it is—and I don't want to characterize it as really difficult because anybody can do it, but relatively speaking, it's a challenging thing to do.
Yuri: I think a lot of our listeners would agree because everyone has the intention of improving their diet, and then they kind of fall off. There're a lot of reasons for why that might happen, but I would presume, kind of being in your shoes, there's probably an immense sense of freedom as well, where you don't have to think about Do I want this? Do I not want this? You've drawn the line in the sand; it's not even a question anymore.
Michael: Yeah, and freedom is a great word. We did not talk about this, but I love the word freedom with respect to this because I really find that in this respect—many others in life, as well—the commitment to a certain degree of limitation actually is freedom, which is the opposite of what most people would think. Most people would think freedom is just to eat whatever the heck you want, but you'll pay for that at some point in your life in terms of needing to manage your health or deal with some kind of disease.
When you make a commitment, there's freedom from a range of other struggles, a range of other options and choices that are not healthful for your body, which is the only container that you have to live in in this lifetime. There really is a freedom. There's a freedom from the things I'm choosing not to eat; there's a freedom to know that my life will be, in terms of the stuff I'm putting in my body, that my life will be as long and healthy as possible with respect to the food choices I'm making.
It's a great point and there's a lot of freedom in making this happen, both in your self-awareness that you can change and sustain other things in your life and just the fact that you are giving yourself the best chances for just a long, super-strong, super-healthy life.
Yuri: Totally. It's actually quite interesting the more I think about it. There's almost like a paradox between having rules and structure and the degree of freedom that you experience. Sometimes having those rules and having that structure actually gives you more freedom than just kind of doing and eating whatever you want. Thanks for bringing that up; that's great.
Let's kind of shift gears to the consumer Health Summit because, again, for everyone listening, I would say it's not something that most consumers are aware of, but it's really a congregation of kind of the big needle movers in our industry, and you're the person who facilitates this every year. What have you learned from a health-and-wellness perspective from either the people you know from CHS or from running the event yourself or any kind of collateral damage that occurs from it?
Michael: Well, the thing I love—and for you listening, Consumer Health Summit is a bit of a misnomer, because it's not people showing up specifically to talk about health, but it is entrepreneurs and businesspeople and personalities talking about the business of health and wellness. Everybody there is serving consumers with magazines or newsletters or books or supplements or, in some cases, other kinds of health products.
The thing that I love that has become clear, became clear long ago but that I get reminded of every year is just how people in our industry, the ones at the highest level are there for a reason other than money or other than earning a living. Of course they earn good livings and of course they do well, but everybody there believes that to do well, you need to do good.
And that means to do good work in the world; to actually help people, to actually offer solutions that are helpful; to actually see if you have 100,000 people in your customer community, that each one of those is a living, breathing human being that really relies on you to deliver on your promises and what you offer really works. You're a great example of that, Yuri, in terms of your sensitivity to the fact that a large customer community never becomes impersonal.
Yuri: Thank you.
Michael: Everybody there is what I would call purpose-driven; not a phrase I've made up. It really has a purpose, it really believes in the greater good from a business perspective to fine competitors sharing with each other in an open manner is also extremely refreshing. I think everything that happens there, the connections among the people and people really committed over a two-day period to helping everybody else that they can and understanding that if they focus on helping everybody else, they themselves will come away from two days with a lot of value for themselves.
It's just a lot of generosity there and a lot of purpose in terms of having businesses that are helpful to people that I think is different from almost any other kind of business gathering. There's just a very, very strong fabric of being helpful, and earning money comes from first being committed to being valuable and being helpful.
Yuri: Yeah, that's what I love about our community; it really is…everybody who gets in to health at a fundamental level, I really believe is there to help other people and maybe initially was there to kind of help themselves through some issues.
Obviously, the financial stuff is nice and is a reward for helping others, but it is really refreshing when you compare to a lot of other industries, where the focus is really a lot more on numbers and quantities as opposed to the qualitative aspect of touching people's lives. It doesn't matter who it is; they can be the most successful doctor or someone with an amazing supplement line.
You can see it in their eyes and you can hear it in their voice hen they get all emotional. It all comes back to the people that they're touching and making this world a better place. It's great to be surrounded by that energy and those types of people. It's really terrific.
For those of you listening who kind of want a behind-the-doors type of idea of what's going on with some of the brands and companies that you might be doing business with, it really is an amazing place. Hopefully, you guys are in good hands with myself and other people you might be frequenting in terms of your advice and information and stuff. It's terrific.
With the insights that you have and the people you know, where do you think the health-and-wellness movement or industry is headed over the next couple years? Do you see any trends or things that are a lot more prominent than they were a couple years ago?
Michael: Well, I think the answer to that is yes. I think that in terms of supplements having some scientific foundation for ingredients and ingredient amounts is something that you see being touched on by lots of different companies. I think there are leaders in that space, but it's something that the usefulness and the value and positive impact of supplements and what makes a good supplement, people focusing on that in that industry, I think, is very important.
I think that personalities are still, some of the well-known doctors, whether that be Dr. Oz, really, at the top of the heap, with his daily program, or Mark Hyman, Sara Gottfried, people like that. And even those personalities without specific medical credentials but who are extremely well-educated. It doesn't take a medical doctor to be a great advisor these days. Witness yourself, Yuri. Or other people like Tim Ferriss or Kris Carr.
There's a range of personalities who are very well-respected with or without credentials but always with transparency, always with a high degree of purpose, always with their ego taking a backseat to their message. I think personalities are continuing to lead the way in terms of having a high degree of trust in the marketplace. I think people like to know specifically who is giving them the advice they're getting.
I think companies that are not positioned with a personality—like Dr. Oz or Oprah or somebody—companies that just have a name of a company do better when there is a visible person, even a little bit offstage but at least a visible CEO, visible entrepreneur. People like to know who they're getting their advice from, what are the credentials and the track record and reliability of that person. That's another thing that I think is happening and will continue to happen. Human beings always love a connection.
And the other thing I think is that even with the Internet, our business interactions with consumers are more high-touch, more personal, more loving and caring than ever before. And businesses are, I think, not everybody's up to speed, but I think more and more businesses understand that not only do consumers need to understand what that business offers, but consumers also want and desperately need to feel understood by that business so that they feel that the business speaks their language, understands their concerns and challenges and can support them not only with helpful products but in a manner of care and speaking that is supportive.
Those are some of the things I see.
Yuri: That's really cool. Let's shift gears again; I'm going to keep you on your toes here. Going back to diet and nutrition, what is your favorite go-to dinner?
Michael: I'm showing my cards here. My favorite go-to dinner these days is steamed, organic vegetables and either a grass-fed meat or a wild-caught fish.
That tends to be what I look for. People say, if we're going out, "What restaurant do you want? Where can you eat?" I just say I can eat virtually anywhere. When you're in a restaurant it's harder to be specific about organic or grass-fed or wild-caught, although it's always good to ask the questions. The more restaurants get asked for that stuff, the more the demand will build, I believe.
Essentially, organic and grass-fed, wild-caught if I can get it, but, ultimately, I'm looking for some simple, healthy protein and vegetables and always being mindful of hidden ingredients in salad dressings and whether something's cooked in canola oil, which most people now agree is something to move away from. Proteins and vegetables are really where I look.
Yuri: Yeah, that's cool. You mentioned grass-fed, wild-caught. Do you ever have conversations with people like friends or family, colleagues who might be like, "Okay, well, that's great, Michael, but I can't even get access to that stuff. Where do you find that? How do you do it?" How do you have a conversation with somebody who might not have access to those types of pure meats?
Michael: It's a good question. Ideally, even a farmed salmon or a corn-fed hamburger or beef is better than processed food or a TV dinner or macaroni and cheese out of a box or these sorts of things. I'm not a doctor, of course, but from all the people that I trust, whose guidance I do trust, many of whom are doctors, the idea is to have the food be as fresh and as close to its natural form as possible. Most things that come out of a box or a package are things, not 100 percent, but a lot of those things are things that have ingredients that don't belong in the human body and that we shouldn't be ingesting.
Sometimes with salmon, there are salmon that are penned in actual ocean water versus something segregated in an industrial environment. The key here is: Nobody should feel bad about being able to pursue healthy meals in an imperfect way. I think that's really important because to pursue perfection in any of this is definitely a recipe for disappointment.
But to the extent possible, just to have the knowledge of what the best course is, and then if it's farm-raised salmon versus wild-caught, that's still a better choice than fried chicken. If it's corn-fed beef, that's still a better choice than pizza with pepperoni or sausage or processed meat.
The idea is to do the best you can as much as you can and to feel good about that and to know that you're nourishing your body in the very best way that you can to support your health and, as we talked about before, to support a range of other choices in your life just in terms of honoring your body and honoring your mission during this lifetime.
Yuri: Yeah, that's a great point. The perfectionism…I've talked about this a number of times with different guests on this podcast. I feel bad sometimes because I think there are a lot of regular people out there—even myself and other health experts probably—who have this kind of ideal of what they're after.
It's almost like what Dan Sullivan talks about in terms of the gap. We have where we are and we have this ideal of where we think we want to be, and until we're perfectly there, we're never really happy. It's refreshing to hear from someone like yourself that this is kind of the spectrum. You don't have to be perfect but you're just basically doing the best with what you have and what you know.
I think that's a really important message for our listeners to continue hearing because I'm not perfect, Michael's not perfect, it's not about being perfect. I think it's just about making progress in terms of your choices and doing the best you can at those specific moments. That's a great piece of advice.
Daily regiments in terms of what do you do on a daily basis just to kind of feel good, whether it be morning routine, supplementation, activity? What does a typical day look like for you?
Michael: Well, you have a good sense of my food choices. I do take some specific supplements each morning and each evening. The evening handful is smaller than the morning handful. There are some things that I take not to offset any symptoms or any discomfort, but just in terms of prevention and cardiovascular health and antioxidants and brain function and things like that. I drink a lot of water. I have a rule that anytime I'm offered water, I say yes.
Yuri: That's a good rule.
Michael: I drink a lot of it on my own, but if I'm offered it, I definitely take it; just take that extra opportunity to drink more water than I might otherwise in a given day. Those are some of the key things.
Yuri: What about, I know you're an avid tennis player. Are there any activities that you do throughout the week to keep you active and healthy, stuff you enjoy doing?
Michael: To your point a minute or two ago in terms of our imperfection, exercise is… I was walking five and a half miles a day for a very, very long time. That was so big of a commitment, 80 or 90 minutes a day. The busy life that I have, I've actually been off of that for a while, so I need to reinstate that. But walking, even just 15 or 20 minutes a day of good, solid activity is not only great for your heart and your body but is actually fantastic for your brain. Somebody said if you want to exercise for your heart, do it three or four days a week; if you want to exercise for your brain, do it every day.
Yuri: That's good.
Michael: There were business ideas and different areas of creativity and different relationship connections and things that occurred to me to take action on when I was walking every single day, fairly lengthy walks. Those things just would have not occurred to me if my brain had not been in that flow state, in real nice exercise.
Exercise is not only good for your body, but it has you think of things in terms of ideas and things that you would like to do in your life or with the people that you love that just would otherwise not occur to you.
Yuri: That's great; that's awesome. I'm a huge advocate of that as well. It's amazing how many breakthroughs occur when you're away from the computer and actually moving around. Michael, I want to thank you so much for taking the time to join us today.
For everyone listening, you can learn more about Michael, if you're in the business side of things and you want to learn about more of what he does and how he might be able to help your organization, you can go to MichaelFishmanConsulting.com. Any final words to wrap up, Michael?
Michael: I would suggest people maybe even listen to this again. I don't know why that's occurring to me, but just a 30-minute conversation, I think there's actually a lot here.
I think there're some good keys here to not only managing diet, but that diet is really kind of a reflection of how we manage ourselves overall in our lives. I think that's very powerful and the only thing I would repeat is that people do their best and not insist on perfection, but take a lot of baby steps to become huge progress over time. Just thank you for the privilege and pleasure of being with you.
Yuri: Absolutely. It's always a pleasure to connect and share the stage with you to some degree.
Michael: Beautiful. Thank you so much.
Yuri: Thank you, Michael.
Related Posts:
---
Tags: gluten free, michael fishman, sugar cravings, sugar free

About Super Nutrition Academy

Super Nutrition Academy is the ONLY nutrition course that makes it easy for everyday people to understand the complex relationship between nutrition and health. If you're tired of all the conflicting health information out there and want a clear-cut, evidence-based understanding of the nutrition and health topics that matter you, then get started today.

---