Categories super nutrition academy health class

Episode #29
Surprising new research reveals that walking might just be better than running for heart health
Click here to subscribe in iTunes (and download)
Hey, Yuri Elkaim here. Welcome to another edition of the SNA Health Class. If you enjoy walking, then I've got some great news for you today, because walking, yet again, has been shown to be heart-healthy. No big surprise, is it?
Running for Heart Health
I wanna bring you up to speed on a new study that has come out, and it was published in the journal Arteriosclerosis, Thrombosis, and Vascular Biology. Try saying that five times fast. Essentially, what they looked at here was, they wanted to compare a massive study on both runners and walkers respectively.
They were called the National Runners Health Study, which involved 33,000 runners, and the National Walkers Health Study, which involved 15,000 walkers. These were people who ran or walked pretty much every day or several times a week.
What they found was really interesting stuff. They controlled for both groups for the amount of energy that was expending. Basically what they did is they said over a certain amount of distance—if you're walking two kilometers or running two kilometers; I guess that's how they kept things somewhat controllable or the same—and they found that as much benefit as running provides as a cardiovascular activity, walking actually provided some pretty significant benefits even above and beyond what running provided.
Let me give you some stats here. Running significantly reduced the risk for first-time hypertension—so, high blood pressure—by 4.2 percent, and walking reduced it by 7.2 percent. Running reduced first-time high cholesterol by 4.3 percent and walking by 7 percent. Running reduced first-time diabetes by 12.1 percent and compared to 12.3 percent for walking.
Running reduced coronary heart disease by 4.5 percent and 9.3 percent for the walking group. A lot of these stats were almost doubled in terms of the benefits of walking. It makes you wonder how that happens, how that works, because from a performance and overall health perspective, I'm a believer that higher intensity is better but in moderation. You don't wanna go crazy, hard core seven days a week; you're gonna burn yourself out.
Walking Health Benefits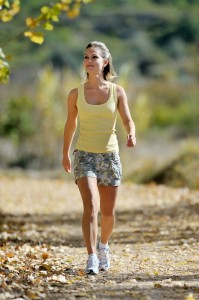 Walking, as far as I'm concerned, is kind of the base of the pyramid; it forms the foundation of what you should be doing on a daily basis. Simply by going on a daily walk 30, 40, 50, 60 minutes or longer, you are greatly helping your heart health. Why is that? When you walk, your muscles require oxygen.
In order for those muscles to get oxygen, your blood has to deliver that oxygen. In order for the heart to deliver that oxygen, it needs to pump harder to keep up with the demands of the muscle so you get an elevated heart rate during the activity.
Now, I should mention that they talked about "brisk" walking. They don't really define what that is, but I would assume based on previous research that, essentially, you should be exercising at a point whereby you're out of breath.
You can very easily use a simple tool called a talk test. I refer to it as the talk-test pace, which basically means if you're walking or running and you can carry a conversation, that's probably a little bit too light. It's better than obviously doing nothing, but it's a little bit too light.
You wanna get to the point where you're slightly out of breath. When you're huffing and puffing a little bit, that's when the benefit starts to kick in. this is just outside of your talk-test zone, and that is really where you start to get some great cardiovascular benefits, fat-loss benefits, and much more.
I've developed a lot of workout programs as well. I actually haven't talked a lot about exercise in this podcast because this whole podcast is based around health and nutrition, but exercise is a vital component to that. But having, really, an extensive background and having helped thousands of individuals, personal clients of mine with respect to fitness, it's probably one of my favorite areas. As much as I love the nutrition stuff, if you really wanna get fit, I can get you there, and I've developed hundreds of workout programs to help you do that.
As an example, we have a whole series of running programs called the Treadmill Trainer series, and you can check those out at MyTreadmillTrainer.com. They were designed to help people who wanna use running or get into running to do things smarter, because a lot of runners go out and they just run for miles upon miles upon miles, and they do this several times a week and they eventually break their body down.
That's why running is probably not the best thing to do; maybe sporadically, maybe twice a week, three times at most, but any more than that and you're really starting to put your body at risk for a lot of problems. That's why walking is so great, because it's low-impact, it doesn't have the same stress on your system that running does.
Having said that, the Treadmill Trainer workouts are all based on interval training, which means kinda like a sprint-jog, sprint-jog type of setup. That allows you to train less and get better results because you're spending more time at a higher intensity and you're not doing as much volume. You actually get double the benefit in about a third of the time, so it's amazing.
We have about 30 workouts over at MyTreadmillTrainer.com, and a number of these workouts we actually developed specific to walking. We have one called the TT Rolling Hills or the TT Hill Tracker. The TT Hill Tracker, it's a treadmill-specific workout, so you go on the treadmill, increase the incline, and follow the protocol in the workout. The workouts are awesome because—I know this is a big pitch-fest here, it sounds like it—but, essentially, the workouts are my voice on your headphones, coaching you through the workouts. It's really amazing.
Anyways, the reason we developed them is because most people don't know how to work out properly, and I wanted to solve that problem for as many people as possible. With these workouts, you can go walking, running, and have your own virtual coach—me—guide you and coach you and motivate you each step of the way. The reason we developed them is because, as I said, a lot of people don't know how to work out effectively, so by showing you how to do that, you don't have to think about it for yourself.
Walking for Heart Health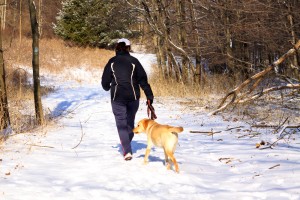 Walking is incredible and walking, as we've seen, it can have as good if not better results cardiovascularly than running. With our TT Hill Tracker—believe me, I've done this workout a number of times, and it is harder than a lot of the running workouts that I've done because it's basically an incline walking workout, so you're always varying the incline.
Here's the thing: If you're walking on a flat surface all the time, you need to increase the incline. You need to start walking some hills. You need to start challenging your body in a different way than what you're used to.
If you're just used to walking on a flat surface and you can do that no problem, you need to start walking uphill, or you need to start throwing on a knapsack with some weight in it or some books to start adding some resistance. If you use a combination of the two, you could get an unbelievable workout in, and that's part of what we do in the Hill Tracker.
Walking is so powerful that—I was actually forced to do nothing but walking a little while ago because I had a rib injury. What I did was I actually bought a weighted vest, about 40 pounds in this vest, and I would just go on the treadmill and throw this 40-pound vest on and I would just walk. I would walk on an incline, flat surface, back up and down, varying the speeds, again, following kind of the Hill Tracker workout. It's unbelievable the sweat that would be pouring down my body.
It's a great indication of how beneficial walking can be without the pounding stress of running. Running subjects you to impact stresses of about three times your body weight, so that's quite a bit. If you weight 150 pounds, multiply that by three times; that's 450 pounds going through all of your joints.
Walking is only about a one-and-a-half-fold increase, so if you weight 150 pounds, you're looking at maybe 225 pounds of force going through your body. It's a lot nicer on your joints, and in terms of the longevity, it's a more sustainable activity. That's why you don't see people running all the time to the store and back home and so forth.
What's the take-home from this? The take-home message is: You need to be walking every single day. Sometimes I'm guilty of not doing this enough. I've got two dogs, so there's really no excuse. My only excuse is that I live in Canada, where it's absolutely freezing and snowing for about four or five months of the year. Not that that's a valid excuse for not getting outside, but I use it sometimes. I'm more of a warm-climate kind of guy.
Walking should be the base minimum, every single day at least 30 minutes. You wanna get into kind of a little bit of a huff and puff. If you've got dogs, take 'em for a walk; if you've got kids, go for a walk with your kids.
You wanna get outdoors. The treadmill's great but you also wanna get outside to get some vitamin D from the sun, get some fresh air. It'll really do a lot of good stuff for the mental side, as well as the physical side.
Again, this study just shows how beneficial walking can be for reducing blood pressure, cholesterol, and the risk of diabetes. Awesome stuff. Get walking today. If you want more help with respect to running if you're into it or if you wanna get into it in a safe and effective manner, then, by all means, check out our Treadmill Trainer workouts at MyTreadmillTrainer.com.
And if you've got any comments or suggestions or things that you'd like to talk about with respect to running and cardiovascular health, come over to the blog, SuperNutritionAcademy.com/blog, and I look forward to seeing you in the next episode.
Related Posts:
---
Tags: running for heart health, walking for heart health, walking health benefits

About Super Nutrition Academy

Super Nutrition Academy is the ONLY nutrition course that makes it easy for everyday people to understand the complex relationship between nutrition and health. If you're tired of all the conflicting health information out there and want a clear-cut, evidence-based understanding of the nutrition and health topics that matter you, then get started today.

---