Categories super nutrition academy health class

Episode #3
Weight Watchers Food Products – Healthy or Not?
Click here to subscribe in iTunes (and download)
Welcome to Super Nutrition Academy's Health Class, with your host and registered holistic nutritionist, Yuri Elkaim. Tune in each week for up-to-date insights on breaking health news and best practices on how to eat for awesome health. It's time to get smarter, healthier and regain your sanity in a world of information overload. And don't forget to join Yuri at www.supernutritionacademy.com so you too can master your nutrition and health.
Welcome to episode 3 in Super Nutrition Academy's Health Class. I am Yuri Elkaim. It's Sunday morning, so I am sounding a little bit deeper and raspier than usual that's because I have just woken up but I needed to share some really cool information with you today. Therefore, I am jumping out of bed and I am giving this to you.
Weight Watchers Food Products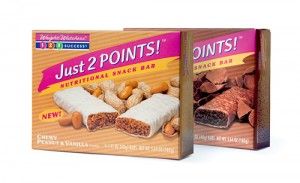 So, yesterday I was speaking with my significant other, Amy, and she has actually been on Weight Watchers for a little while and she has done this in the past and this has helped her kind of lose some of the baby weight and get her back to where she wants to be and she is also a holistic nutritionist.
So, it was actually interesting to see her perspectives on Weight Watchers as she goes through the program. So, what we were talking about yesterday was she actually pulled out a Weight Watchers food product that's called – you can hear it right here, I have the packaging right here – it's called the Caramel Cinnamon Bun.
So, she showed this to me and I was like "You know, this deserves an episode in and of itself." So, that's why I woke up this morning, I jumped out of bed and I said "Let's get this going." So, this is actually a comeback to what we talked about in episode 1 which is really about natural versus synthetics and when we go a little bit deeper today and talk about the difference between a low-calorie food and a healthy food because we have been led to believe that calories are bad.
So, if there is too much fat, too much sugar, then we want to be opting for something that is lower in sugar, lower in fat, lower in calories. That's essentially the thinking that has been propagated by big food companies, media advertising and all that kind of stuff. Obviously, there is a select number of people, a segment of the population that's in the know and if that's you, that's great; if not, I want to help you decipher and make some important distinctions as for what we should be looking for with specific food products.
Now, we were talking about Weight Watchers specifically in this podcast but really this can apply to Jenny Craig, it can apply to anything really, any food company out there that is trying to deceive – I don't know if they are intentionally deceiving people but obviously Weight Watchers, part of their philosophy is to allow women and men to be able to say yes to the food they love.
So, if you enjoy eating chocolate cake, they want you to be able to enjoy chocolate cake. However, they are going to do their best to make it lower calories so that it has fewer points so that it you're not eating as many calories and that's fine. I mean, that's their philosophy and that's great. That has worked for millions of people and I hope they continue to do what they are doing.
What I did want to point out – and I am not bashing Weight Watchers in this episode by any means but I do want to use them as an example of some stuff you want to just kind of keep an eye out for and this will help you become a smarter consumer as you sift through the aisles of your grocery store or even if you can sit or do something like Weight Watchers because you can go on Weight Watchers and you don't need their food products, you don't need to buy their bars and their recipes or their meals because for the most part they are in boxes and packages which we talked about in the first episode is one of the first rules in terms of living healthy is to avoid that kind of stuff.
Weight Watchers Snacks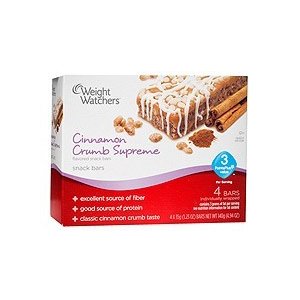 So, anyways, without any further ado, I want to read you the ingredient list on this Caramel Cinnamon Bun. On the front of it it says there are two points. So, if you are on Weight Watchers, you have certain number of points per day and if you stay within those points, it will help you lose weight; if you go above those points, you will not lose weight as easily. Okay, so let's look at the nutrition facts first of all before we get to the ingredients as I pull this apart here.
Okay, so nutrition facts – per one bar we are looking at 80 calories. So, right off that bat, that's pretty nice, only 80 calories – 2 grams of fat, 1.5 of those is saturated fat, no cholesterol, a little bit of sodium, some carbohydrates, 1 gram of protein, 9 grams of sugar – so, typical kind of stuff. The two things that I want to point out here is really I mean for 80 calories we are looking at 9 grams of sugar. 9 grams x 4 calories per gram – that's how much yield comes out of carbohydrate or sugar. So, we are looking at 9 x 4 which is 36 calories from sugar. So, right away that's almost half your calories in this bar from sugar. So, that's a little bit of a red flag. So, let's go to what I consider more important which is the actual ingredient list because even if the nutrition facts tell you that it's only 80 calories, let's look at where those 80 calories are coming from. We have seen now that sugar is almost half of it.
Let's have a look at the ingredient list and I quote here. So, I am reading the ingredient list here. Cinnamon flavored coating (sugar modified palm kernel oil, skimmed milk, milk, cinnamon soy, Lecithin and natural flavored salt). That's all part of that first ingredient, the cinnamon flavored coating.
Next – brown sugar, rice flour, sugar, fructose (so, already we have got four sources of sugar in the first five ingredients), rolled oats, cream, glucose syrup (yet another form of sugar), whole wheat, flour (invert sugar), molasses, fructose, water, soy protein isolate, dried egg white, milk, protein isolate, glycerin and rich wheat flour, skimmed milk, canola oil, calcium caseinates, natural not artificial flavors, butter salt, barley malt extract, coco butter, and there is a bunch of other stuff.
So, there is probably on this one wrapper 40 ingredients. So, I want to contrast that to something that you may have heard of called Larabar and Larabar is one of my favorite companies although they were recently purchased by – I can't even remember who were they purchased by now. Anyway, it's a big food conglomerate. So, hopefully the quality of their stuff stays the same but I want to give you an example of the difference. So, the whole thing with Larabar is that it's for the most part organic and raw.
So, I am going to give you an example from the apple pie of Larabar. So, the ingredients are dates, almonds, unsweetened apples, walnuts, raisins and cinnamon – 6 ingredients from whole foods, most of them are in the raw and organic state. So, when you are looking at two bars like this, the difference is quite substantial. Now, in the Larabar's case, the calories are 190 calories and that's simply because we are eating more of whole food. So, you are getting in the fats and stuff from the nuts, you are getting the sugars from the fruit but this is why it's really important to distinguish between low fat or low calories and healthy food. So, yes, the Larabar has double the calories or a little bit more than double the calories as the Weight Watcher's caramel cinnamon bun bar but if you were to choose between the two of them, you are always going to be better off going with a whole food version of something.
It's so funny because, yes, losing weight comes down to having fewer calories come in versus when you are expanding but at the end of the day if you can eat better foods, you are better off because what's going to happen is as you are eating more whole foods, more natural foods, you are not going to become ravenous in terms of you are not going to feel that same addiction you will to the kinds of processed foods that we have been so accustomed to.
Weight Watchers Recipes
Part of the problem with a lot of processed foods is that they contain ingredients, for instance, like soy protein isolate which is a form of MSG and we know that MSG is an excitotoxin, so it excites the neurons in our brain and that's one of the reasons why we become addicted to foods. Food companies have developed or food chemists have developed ways of finding the perfect combination between sweet, salty and fatty and that combination is really what drives our neurotransmitters insane in our brains to really want something and depend on it; we develop this addiction and there has been numerous books written on this subject. So, it's really interesting stuff.
So, yes, the Weight Watchers bar has fewer calories. I would definitely always 100% of the time choose a Larabar over and above the Weight Watchers bar. Now, for me, I am not on Weight Watchers and obviously I don't need to lose weight. If you are not on Weight Watchers, it doesn't matter. If you want to lose weight, here is what I would recommend.
Go with foods if they are coming in a box or package – again, first rule of thumb is we want to really avoid those as much as possible – but if you are choosing between two packaged foods, choose the one with the fewest ingredients and secondly choose the one that actually has naturally looking ingredients. So, when you look at ingredients and you look at the first couple of things like cinnamon flavored coating, brown sugar, rice flour, sugar, fructose, rolled oats, cream, glucose syrup, whole wheat flour and you compare that to dates, raisins, apples, cinnamon, walnuts, almonds, which one seems to have the more natural foods in it? – The latter. So, you want to always be choosing the naturally occurring foods as much as possible. Yes, they might have higher calories but just eat a little bit less of those foods and you will be fine.
It's something that really aggravates me sometimes because we have been deceived by and propagated these messages and you see it on commercials all the time. I mean, it's always these women in the offices and they are thinking about what they are going to have for dinner after their workout or after lunch, they are craving this piece of chocolate cake and I just find that it propagates that whole weird message that women are the only ones that kind of indulge and only have these cravings whereas they only show men with their big hungry man meals and all other TV dinners and stuff. We see these messages over and over again and you kind of tend to believe them over time. That's one of the reasons why I don't watch the news or commercials for that matter as much as I can.
Again, it comes back to the fact that we just have to be a little bit more conscious of what we are putting in our body and being a little bit more conscious of what we are choosing in the grocery store. So, when you start off by looking at these different food products, if you are on Weight Watchers, you can completely do Weight Watchers without using any of their food products, and Amy, again, she understands this topic a lot more than most people in her group, for instance.
So, she is not relying on the food bars, the caramel cinnamon bun food bars or the microwave dinners that they have prepared for you. We know we are preparing healthy-ish meals for the most part at home and then occasionally we will have like a health crepe Saturday, so we make a version of crepes with buckwheat flour, with almond milk. So, there is no dairy, there is no wheat in there and we try to use really healthy ingredients.
So, that's kind of our little cheat day. We will make healthy pancakes every now and then. So, we are not indulging in a lot of these components like wheat or dairy or lots of sugar that are problematic. There are really, really, really tasty alternatives out there and you can just search online. I mean, there are lot of great resources out there for gluten-free stuff, for really low-sugar type stuff that doesn't compromise the quality of the ingredients and that's a big thing for me. I have a good friend of mine, Helen, who has a great program called The Dessert Angel and I promote it quite a bit to my clients because it's just such a great resource.
Sugar is my downfall. I have got a sweet tooth like nobody's business and a lot of people are on the same boat. If you are going to have sweet, if you are going to have sugar, you want to make sure that you are having the highest quality ingredients and what I love about Dessert Angel is that it's amazing like cookies, muffins, cupcakes types of little snacks and stuff that are great desserts but they are all based on naturally found whole ingredients.
So, using things like chia seeds and flax seeds and stevia as opposed to copious amounts of sugar; it's a great program. So, if you want to learn more about that, I believe that the website is www.TheDessertAngel.com but it's a great, great resource for healthy desserts, yes, that are higher in calories but, again, that's just great because you just eat fewer of them. Why are they higher in calories? – Because they contain whole nuts, whole foods, nothing has been extracted from them; they are actually the whole ingredients.
Recap
So, that's what I wanted to discuss in this episode of the Super Nutrition Academy health class. This is recap. Again, the basic premise here is that low calorie doesn't necessarily mean that it's healthy. So, yes, you can lose weights but do not compromise your health in the process. Always choose naturally occurring whole foods as much as possible even if they are higher in calories; just eat slightly fewer of them and you will be much better off.
So, that is all for today's episode of the Super Nutrition Academy Health Class. It's obviously a lot shorter but I just had to jump out of bed this morning and share this with you. I know you are going to find this perhaps eye opening. As an action step today here is what I would like you to do.
Go into your pantry or your fridge, just start picking out some of the packages, some of the bottles, some of the different things you have in packages with an ingredient list and I would like you to go through the ingredient list and look at "Okay, what are the ingredients in this? What am I looking at?" and what I would like you to do is actually, if you are listening to this on iTunes, I would like you to join me over the blog at www.SuperNutritionAcademy.com/blog and I would like you to share your insights in the comments section; just let me know what you looked at, "here are some of the things I found in the ingredient list for this specific food" and I think it would be really cool kind of discussion to get going with people sharing what they are finding in their pantry and kitchen. So, that's my action step for you today. I hope you take action on that. Again, it's going really open your eyes to some scary stuff perhaps.
Anyways, that's all for today. I am Yuri Elkaim. Thanks for joining me once again and we will speak to you in the next episode.
Related Posts:
---
Tags: weight watchers food products, weight watchers recipes, weight watchers snacks

About Super Nutrition Academy

Super Nutrition Academy is the ONLY nutrition course that makes it easy for everyday people to understand the complex relationship between nutrition and health. If you're tired of all the conflicting health information out there and want a clear-cut, evidence-based understanding of the nutrition and health topics that matter you, then get started today.

---