Categories super nutrition academy health class

Episode #32
What is considered normal blood pressure?
Click here to subscribe in iTunes (and download)
What is normal blood pressure? Do you know the answer to that? You might be surprised to find out what some of the recent research is showing about what we previously thought was normal blood pressure might turn out to be not so anymore.
I'm Yuri Elkaim; welcome to Episode 32 of the Super Nutrition Academy Health Class. Again, the reason I'm bringing this one up, like I did in the previous episode on how much should I weigh is because a lot of people are searching online for what is normal blood pressure. That's a very commonly searched term, so I figured a lot of people need to know this, so let's discuss this.
Blood Pressure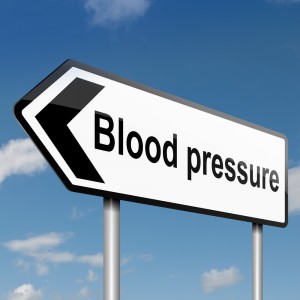 Let's look at what blood pressure is, first of all, and then we can define some numbers to make sense of it all. Blood pressure is the pressure that is exerted on the blood vessels during the heart's contraction and relaxation. Your heart beats, right—obviously we all know that we have a beating heart. When it beats what it does is, it's essentially ejecting blood from the heart into the aorta, or the biggest artery in your body, and then it disperses from there and travels through all the capillaries and then to the cells.
That ejection of blood from the heart into the main artery is the first kind of exit of blood from the heart to the rest of the body. Systolic pressure, which is the top number—I'll make sense of this in a second; there's systolic and diastolic. Systolic pressure is the pressure which is exerted on the blood vessels; it's the maximum pressure in an artery when the heart contracts, when it's pumping that blood out. The diastolic pressure is the minimum pressure in an artery, and it occurs just before the heart contracts, so kind of when the heart is relaxing between beats.
Another simple way to think about this is, let's say you have a garden hose and you're outside doing some gardening. You know how sometimes you get that kink in the hose and nothing comes out all of a sudden? If you go to the point where the kink is in that hose, just before that kink, there is a huge difference in pressure. There's a huge amount of pressure coming toward the kink, so on the side of the hose, where there's a lot of water, if you think about the volume of water in that space of a hose and then it's got this kind of blocked exit, there's a huge amount of pressure that's built up there.
On the other side of the kink, where there's no water, there's very limited pressure because there's no water filling up that space. The same thing happens in the body. I'll talk to you about why certain recommendations are made, for instance, with salt. We'll just talk about salt specifically in a moment with respect to blood pressure and this whole kind of hose analogy.
Normal Blood Pressure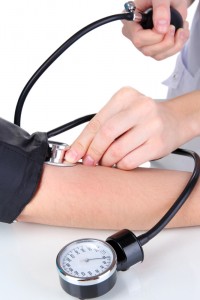 First of all, systolic blood pressure, when you go to your doctor or if you go to the pharmacy and you get your blood pressure taken, you'll have two numbers; one's on the top, one's on the bottom. The top number's the systolic pressure; the bottom number's the diastolic pressure.
What we're looking for, historically, what was considered normal was 120/80; 120 mm of mercury, pretty much, is what was considered normal, so 122/80. What is now being shown is that 122/80 is actually considered pretty hypertension. Hypertension is known as high blood pressure, and historically, high blood pressure has been kind of in the 140/90 range. However, more recent research is now showing that if you got 120/80, which used to be considered normal is now considered prehypertension.
I don't know, I haven't actually done a lot of research into this to see if it's something to do with cholesterol in terms of lowering the minimum acceptable amount of cholesterol just so they can get more people on to blood pressure medication. This may have happened—I should probably look into this a little bit more. I wouldn't be surprised if something like this happened. What was considered normal is now prehypertension, which seems a little bit ridiculous.
Nonetheless, the reason for this is because there's been some research that has shown that individuals with prehypertension—again, anywhere from starting at 120/80 up to 139/89—have increased risk of developing cardiovascular disease. This is especially pronounced for blacks. Black women and men tend to have a higher propensity to developing high blood pressure and heart disease, diabetes as well. This is also more prevalent among those with diabetes or those who have a higher BMI.
The general recommendation now is slightly below 120/80; that seems to be the normal range and the ideal range for normal blood pressure. The problem arises when we start getting above that range. Now, if you've got low blood pressure, what's gonna happen is—for instance, Amy has low blood pressure, and when that happens you might have, let's say, 100/60.
If you have low blood pressure, you'll know it because if you go from a lying-down position to standing, you might feel very faint or lightheaded, and the reason for that is because your heart is not able to pump or exert enough pressure to get the blood that is now pooled at the bottom of your feet, at the bottom of your body, as you've gone from lying down to standing up, up to your head. That's why if you have low blood pressure, you can run into those types of issues.
High Blood Pressure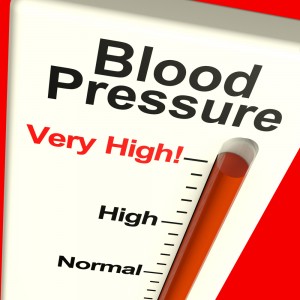 Someone with higher blood pressure or normal blood pressure doesn't really run into that because as they stand up, the exertion or the force of the heart contraction is able to bring that blood up toward the upper part of the body and the head.
Now, what's the problem with high blood pressure, and why is that a concern with respect to cardiovascular disease? Okay, think about this: You're filling up water balloon. You're filling up a balloon with water and what happens if you just let it go a little bit too much, you just fill it up with a little bit too much water? What do you think might happen? It might explode, right?
I'm not saying your arteries re going to explode, but what happens is that inside your body, when there are excessive amounts of pressure exerted on your arteries, that forces a lot more pressure on your heart. Your heart now has to do a little bit more work, and it becomes problematic over time with this type of constant exertion and pressure on the arteries and the heart.
That's why we don't wanna have a huge amount of blood pressure exerted on our arteries and our heart. That's one of the reasons why reducing salt intake, or sodium, is very important. That's the most common recommendations if you go to any doctor or the Heart Health Society of whatever. They'll all say: First thing is reduce your salt consumption and that's true.
Our average sodium consumption should be about 14 to 1500 mg per day. We, on average, if you have a Big Mac combo at McDonald's, you're probably at three to four times that amount. The problem with salt is that salt attracts water, and I'm sure you've experienced this if you have any kind of salty food.
What happens is that you end up attracting water; you actually get really thirsty because of stuff that happens in your kidneys where you absorb more water, you hold on to more water to balance out your interstitial fluid. I don't wanna get too specific here. I go into a lot more detail in the Academy; it makes a lot more sense when you can see diagrams and stuff.
Nonetheless, when you eat more salt, you tend to absorb more water. If you absorb more water, what's happening now is that water needs to go somewhere, and your blood is primarily made up of water. It's about, I can't remember, about 70 to 80 percent water, so that's the plasma within your blood. If you have more water retention, you are now increasing your blood volume. And if you increase the amount of blood volume in the same amount of blood vessels, what do you think's gonna happen? We get more pressure exerted on those blood vessels; it's like the hose.
If you have a certain amount of, if you turn the nozzle to get some water flowing through and you're spraying your garden, let's say you turn it halfway. You don't get as much spray as you'd like, so what do you do? You turn up the water; you increase the amount of pressure that's coming through the hose. You increase the amount of water that is coming through the hose, which naturally exerts more pressure on the hose, which allows you to eject the water further, and that's basically by increasing the amount of water volume through the hose, which increases the pressure. Same thing happens in our body.
When we have more water that we're holding on to, we have higher amounts of pressure in our bloodstream and our arteries, and that, over time, can be problematic. So, what do you do? Well, you don't rely on blood pressure medication because, in most cases, you can simply, through diet and lifestyle alone, lower blood pressure.
Obviously, you reduce salt, sodium intake, eat more natural foods, very simple stuff. You can start to increase your intake of magnesium and potassium. Again, you don't need to supplement with this stuff; simply eat more fruits and vegetables, and, literally, it will take care of itself. If you get active, it's all good.
The other thing is: You really need to manage your stress because when you get stressed, internally, we do this kind of valsalva maneuver, which is where we don't even breathe; we just kind of clench. It's like if you're on the toilet and you can't go and you're really trying to force it out; that's the valsalva maneuver.
When you do that there's a huge increase in pressure in the arteries. Same thing when get stressed out; that exact same mechanism occurs at the artery level, and if you don't manage your stress and you're constantly fuming, then that can build up to high blood pressure over time.
So, just as a point of reference and definition, high blood pressure, or hypertension, is known as 140/90. Really, it's the diastolic pressure. Even if you got 120/80. Let's say your systolic is 120 but your diastolic is, like, 95, that's a problem because it's indicating that the pressure exerted on your arteries is not able to lessen during the "resting periods" between heartbeats, so that's a little bit more of an issue. Your heart is essentially never resting, and it's a constant go, go, go. I don't know how much else we can discuss on this.
I think we've covered what is normal blood pressure, what is high blood pressure, the physiology of how blood pressure works, the dangers of it, and some very simple strategies that you can use to decrease your blood pressure today. Eat more fruits and vegetables, manage your stress, and get some activity.
It's very simple. You don't need to rely on these blood thinners, blood pressure medications. Honestly, for the most part, obviously I'm not gonna dissuade you from what your doctor's saying, but I would seriously question why you need to be on blood pressure medication and, at the very minimum, attempt through lifestyle first.
Once again, don't forget to join me over at the blog. Today I'd like to encourage you to take our Super Nutrition Academy quiz if you have not done so already. You can take that at SuperNutritionAcademy.com/SNA-quiz. I know that's a little bit of a mouthful. So, SuperNutritionAcademy.com/SNA-quiz or you can go to the blog and click on one of the banners for taking the test. It's 12 questions; you'll really get an idea of where you are at with your nutrition and health. It's really cool to kinda give yourself a little self-assessment like that. That's all for today. Thanks for joining me. I'll see you in the next episode. Have a great day.
Related Posts:
---
Tags: blood pressure, high blood pressure, normal blood pressure

About Super Nutrition Academy

Super Nutrition Academy is the ONLY nutrition course that makes it easy for everyday people to understand the complex relationship between nutrition and health. If you're tired of all the conflicting health information out there and want a clear-cut, evidence-based understanding of the nutrition and health topics that matter you, then get started today.

---