Categories super nutrition academy health class

Episode #1
Butter vs. Margarine – the Age-Old Debate and the Truth About Natural vs. Synthetic Foods
Click here to subscribe in iTunes (and download)
Welcome to the first episode of the Super Nutrition Academy Health Class. I am Yuri Elkaim. I am really excited to be with you today to get this podcast started. We are going to start off with a foundation lesson today and we will be looking at some really cool stuff and what we are going to do every week and sometimes I will be doing more than a weekly podcast, there is more information that I want to share with you but essentially what we are looking to get out is a weekly podcast that will give you some really cool insights and opinions about some really recent and 'in the news' type of health related stuff.
So, this week and in every podcast we will be covering three different areas of discussion in relation to a central theme. This first episode we will be talking about the difference between natural and synthetic and that's kind of the overriding theme that we will be discussing today and it's going to be really cool because I am going to pull up some really interesting studies about butter vs. margarine, sugar vs. artificial sweeteners. We will even look at fructose vs. fruits and we will discuss those three areas in relation to the concept of natural versus synthetic and what our bodies really need to thrive.
Butter vs. Margarine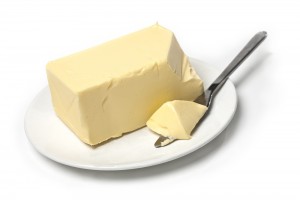 Now, before we get into that, I am going to share some current news with you about my life and some cool little things in relation to the topic for the current week and we will also go into some very basic fundamentals so you understand the underlying concepts and the science behind why this stuff makes sense. Hopefully, that will make some sense to you.
So, that's kind of the format that will be approaching with these different episodes over the Health Class podcast and I am really excited because this is really off the cuff, I am not scripting anything. I have some general outline of what I want to go with things but if I stutter and stumble and throw out a couple of 'likes' and 'ahs', then you will know why. It's really just kind of fresh and off the cuff; that's the way I like to do things and I am really excited that you are here with me.
So, let me just share something with you that I think is very pertinent to today's discussion about natural versus synthetic. So, I was at a coffee shop this morning doing some work by my house and the owner of the coffee shop was asking me "Yuri, I understand you are a holistic nutritionist. So, I was wondering what your thoughts are on microwaves." So, my answer to her was "Well, basically to give you a very quick answer, we don't have a microwave in our house." So, when we bought our house a couple of years ago, we redid the kitchen and there was this big honking microwave over the stovetop like a lot of people have in their kitchen and we redid our kitchen and we said "You know what, we don't even want a shelf for microwave because we are not even going to use it." So, if you came to my kitchen, you would not even see a microwave in it.
That's just because we don't use a microwave. So, that was my answer to her and I thought it was very time appropriate considering that this lesson is all about natural versus synthetic. So, I don't know if you have ever noticed this but when you microwave things, they consistency and the texture is very different. It comes out a lot mushier. If you ever had kind of reheating based goods, for instance, they don't come out crunchy. The topping of the bake is kind of golden and crunchy from the oven; you don't get that with a microwave. The microwave just kind of nukes it and it changes the molecular structure of the food that you are putting into the microwave and, in addition, look at all these microwave ready-to-go dinners, just disgusting. I grew up on this stuff, so I am pretty well versed in this.
Anyways, you take one of these plastic containers and you put it in a microwave and you have your dinner and it's tethered off in three different portions to give your meat and your sugar and <> sauce on top of it and whatever else. I think you got this cellophane or this plastic coatings wrapped on top of that. Well, if you know anything about heating plastics, you know that's not a good thing to do and especially if you put it into a microwave.
So, just a quick little discussion here – heating plastics gives off xenoestrogens which are fake estrogens, if you will, and they tend to be leached out of plastics when we heat them. So, that's why you have a water bottle sitting in the sun, one of those kind of very easy to squish water bottles, like a Nestle water bottle for instance that you buy at your grocery store, those plastics leach chemicals and xenoestrogens into the water supply into the water and that's a very, very big problem now a days because we are seeing more and more estrogen dominance as a result of things like that in men and women. So, that's just one reason why I don't recommend microwave. So, that's just kind of what's new with me this week that I thought is really kind of funny that happened this morning before recording this for you.
So, let's get into the fundamentals for this week. The fundamentals we have been talking about really boils down to this. The human body recognizes natural, not synthetic. I think in this first episode we really need to establish that foundation because when you consider where we have come over the last hundred years in terms of human health.
Now, I am going to separate this for a second because we have made tremendous advances in medical science with all sorts of pharmaceuticals and vaccinations and all that stuff that's helped us live longer and prevent a lot of airborne and communicable diseases. So, that's one area, that's fine but when you look at lifestyle diseases – heart disease, cancer, diabetes, obesity – the big four, we have made absolutely not headway. In fact, things have gotten worse over the past hundred years. So, in the early 20th century, in the early 1900s, you didn't see the levels of obesity and cancer or heart disease that you see nowadays. So, why is that? Well, there is a lot of different reasons. Obviously, there is a very different food supply that we access to now. A lot of it is processed garbage that was not available a hundred years ago, right? People always say "If you grandparents never ate this, then you shouldn't either."
It's a very simple way to think about things. When you go to your grocery store nowadays, anyone in the right mind who is actually health conscious would stick to the outside of the grocery store; the produce aisle mainly. Those aisles in between there, everything in there is packaged, it's boxed, or it comes in a can and when that happens, it's loaded with synthetic ingredients that are manmade as a way to increase shelf life, as a way to increase the flavor and taste of foods and when you consume those types of additives and synthetic ingredients that don't naturally occur in nature, and even if they do – I mean, cocaine is natural but it doesn't mean it's good for us – but when you look at things like BHA and BHT, MSG, Sulphites and stuff like that that are so common in packaged foods and the detriment that they cause to human health, it really upsetting, okay? So, we need to start thinking about "Is this food that I am eating as close to nature as possible? Is it as close to its natural form as possible? And if it's not, how was it created?"
So, let's look at the example of organic frozen pizza. So, you go to your grocery store, you go to the frozen aisle, you see "Oh, it's organic. It must be good for us." You got the box, you put it in the shopping cart and you go off. Well, a lot of people are misled and they are misinformed and they are led to believe that by choosing organic pizza or organic cookies or organic whatever that it's good for you. Well, the reality is that that's not necessarily true. If you look at the ingredient list and there is a ton of stuff in there that really doesn't need to be in there, then you probably want to bypass that food and look at something else. Actually, here is a great example of this.
Probably about two years ago Oprah on her show did this Vegan Challenge for a week and there was the expert – I am not going to name her name – who was on the show who was this vegan expert and a nutritionist. So, she was on the show helping Oprah and her staff go through this whole thing and I will never forget this. They showed a clip of Oprah and this nutritionist going to Whole Foods and obviously Whole Foods is terrific because of all the great produce and stuff they have there but what they showed shocked me because I will never forget this image and I still have it in my head and it is that they were going down the aisles and they had this shopping cart.
So, her and Oprah had this shopping cart and it was just chockfull of stuff in boxes and packages. If you saw the episode you will know exactly what I am talking about. If you don't, you can just search online. Go to YouTube and search in "Oprah's Vegan Challenge" or something, you will find it. It made me cringe because millions and millions of people are watching this episode and they are thinking "Well, if I am going to go vegan, I have to be eating tofurky, processed fake sausages, stuff that comes in a package and she was going to these different aisles and showing Oprah "Well, if you don't want to have real beef sausages, you can have these fake tofu sausages or if you don't want turkey, have tofurky."
It was ridiculous and looking at the shopping cart, there was not one single item that was considered a fruit or vegetable in there. It was all soy-based, heavily processed, vegetarian vegan foods. Sure, it wasn't real cheese, it was fake cheese. Does that mean that just because it's vegan it's good for you? Absolutely not. I know a lot of people who are vegetarians and vegans who are disgustingly unhealthy because the basis of their diet is around this garbage, packaged processed foods that are derived from heavily genetically modified and nonorganic soy in addition to lots of grains and cereals and pastas and stuff like that. So, you can be a vegan but not in the right ways.
So, the goal is to eat more plan-based foods if you are going to be vegan obviously in their natural state, eating more fruits and vegetables, choosing things from the produce aisle so that when you go to check out, the cashier is complementing you saying "Wow! That's a really healthy grocery bill there", not piling up packages of foods. So, it really comes down to the human body. We are put here on this planet to recognize foods that are also natural to this planet. When we start relying on foods that are coming out of laboratories, synthetic processing plants, it really becomes problematic. So, that's the foundation and I hope you understand that to begin with.
Obviously, I am not going to beat a dead horse here but I think it's very intuitive that natural in general is better for us. Again, I am not going to say that doing cocaine and marijuana is necessarily good even though those are natural substances but in general anything that is coming from the earth is generally better for human consumptions than anything that is coming from processing plants.
You can look at supplements. The supplement industry, study after study shows that the efficacy and the health benefits coming from whole foods – not the store but actually eating fruits and vegetables – in terms of their antioxidant properties and all their health benefits is greater than from supplements and that's because supplements don't contain all those synergistic compounds that we find in natural whole foods. There are these little brother and sister molecules that help us absorb more vitamin C or calcium or whatever it might be, we don't get that necessarily at least at this point in time through supplements. So, we always need to look at how do we get more natural foods into our diet. You can think about just a very simple acronym that is LOW – Local, Organic and Wild. So, there is a very, very simple way of thinking about things – "Is this food local? Is it organic? Is it wild? Is it coming from nature".
So, with that said, let's get into this week's news topics. I am kind of bouncing back and forth between my two computers, going from screen to screen to get all this information to you. So, what I want to start with is I was going online doing – I don't even know what I was searching for online but I came across a really interesting study that was just published, really in the middle of February it came online but this is something that's been in discussion for a long time and that's the notion of butter vs. margarine, okay? So, here is the headline – Butter Versus Margarine – A New Research Reveals Which is Healthier. So, that's pretty fast, right? And right off the bat the first sentence says "Margarine isn't better for your health than butter; it's worse according to a new analysis of a 40-year-old study." So, here is the gist of the study.
This study looked at individuals; they collected data between 1966 and 1973 and essentially these are people who have replaced butter with vegetable oils. We will probably talk more about this topic of healthy fats a little bit more in the future because it's very, very important; it's one of the most important topics to really understand with respect to human health. So, they replaced saturated fats like butter with vegetable oils and if you go to your dietician now, they will tell you to have canola oil and start using butter for frying purposes which is ridiculous.
Anyways, they looked at 458 men who already had cardiovascular disease and again these are people who had replaced butter with these vegetable oils. So, when I am talking about vegetable oils, I am talking about sunflower oil, canola oil, things that you see in the supermarket that are not olive oil, that are not Omega 3 fish oils, that are not coconut oil; so really everything else outside of those actual good oils. I am just kind of sifting through here and again the notion for this is because there were some really sketchy science that was very, very influential in and around that time which basically showed that if we had more saturated fat, we would have more heart disease but we now know that that's not necessarily true.
So, there was some pretty faulty science back then that led to the American Heart Association as well as pretty much any kind of heart-related association around the world adopted the same view that saturated fats are bad because they were saturated fats and there are cholesterols associated with that and these vegetable oils are better but the reality is that this study is just one of many to refute that and show quite the difference.
So, the problem with margarine – I am just kind of given the synopsis here; the synopsis of the study was that it basically found that those who had already had cardiovascular disease and took out better and replaced it with vegetable oil had a greater likelihood of repeat cardiovascular incidents and high blood pressure and all sorts of other stuff. So, butter was essentially better than margarine in this case and the problem with margarine is that it's based on using these vegetable oils. So, the initial technology for margarine was to take an oil – and how do you get an oil to make it more solid? Well, you have to take it through a process called hydrogenation and if you are familiar with that, hydrogenation produces trans-fats.
So, for many years and even to this day some margarines still contain trans-fats, others do not as much anymore but essentially margarine was just loaded with trans-fats because of the technology of hydrogenation like taking these canola oil which is liquid at room temperature and turning it solid. Again, simply because people thought or were led to believe that butter is bad. So therefore if you were going to spread butter on toast, let's spread margarine this time.
So, how do we get margarine? We take a vegetable oil, we hydrogenate it and we turn it into a spread. At that time they didn't understand how bad trans-fats were for the heart. Now, we know that trans-fats are one of the worst, probably the worst type of fat that we know of in existence and the reason for that is because it is very, very damaging to the cell membranes around your cells which inevitably impact the integrity of the cell walls of your blood vessels and create more free radical damage and all sorts of other stuff. So, it's not a good thing. They also raise LDL cholesterol or the bad cholesterol in your blood which inevitably increases your risk for heart disease. So, we know that that stuff is bad.
And the other thing with these oils is that they are not very stable for cooking purposes. So, even if it's liquid, if you are in a room temperature and it's liquid, it's generally a unsaturated fat; that's kind of essentially what that means is that it has one – I am not going to get into the chemical structure here but I will try to make it as easier for you to understand. If it's liquid at room temperature, it means that it's an unsaturated fat. So, vegetable oils are types of unsaturated fats which means that they have several double bonds in their chemical structure. They are very unstable. They are very sensitive to light, heat and oxygen. So, when you leave oil sitting out in a bowl, that's not a good thing to do because light, heat and oxygen are going to turn it rancid and when you consume that oil, rancid oils are, I would argue, the most damaging of all foods that you can put in your body. That's why French fries, potato chips, all those baked goods where they are using fried oils or just really poor quality oils are very bad for you.
Anyways, so that's what this study showed and I want to bring up another study that was even more enlightening. There was one of the biggest studies along these lines of kind of saturated fats was the Framingham study which was done a long time ago. There was a recent study – not so recent actually, 1997 – and they followed participants from the Framingham study which was one of the most influential studies done in relation to fats and heart disease. This study they tracked for 20 years between 1969 and 1980 and they compared butter and margarine in this specific study.
So, the thinking at that time was that people who are consuming margarine were generally more health conscious because the messaging and the marketing is all about "Margarine is this healthier alternative to butter" because now you have been led to believe that butter is bad for us. Well, then health conscious consumers are probably going to be choosing margarine because that's what they do. If people believe that cow's milk is not as healthy, then they turn to soy milk and if they understand that soy milk is not as good for them, they turn to almond milk or hempseed milk or nut milk. So, that's just kind of the way things go.
Anyways, this study, really interesting stuff, it looked at what's the correlation between butter consumption and heart disease and what's the correlation between margarine and heart disease. So, what they found was that basically if you didn't have butter or margarine, your risk of heart disease was what it was. As soon as you went from one to four teaspoons per day which again is very achievable for most, just like one tablespoon pretty much, very achievable for most people, one to four teaspoons of butter or margarine roughly led to about the same amount of coronary heart disease. Margarine tends to increase slightly the heart risk but it wasn't statistically significant.
However, as soon as we went from 5 teaspoons and more – and, again, that's not a lot, that's very, very achievable; if you were to spread margarine on your toast, you are looking at about 5 teaspoons right there, more or less – so, as soon as we went to 5 or more teaspoons per day, the margarine group doubled their risk of coronary heart disease versus the butter group. Let me repeat that. Five teaspoons or more of butter per day versus five teaspoons or more of margarine per day – those who are eating 5 teaspoons or more of margarine per day had double the incidents, not the risk but the actual incidents, of coronary heart disease. That's significant.
So, then what they did was they took these results and they kind of cross tabulated with lifestyle factors – "Maybe these margarine people are smoking a lot and they are drinking a lot of alcohol, maybe they have really poor blood sugar tolerance. So, let's control all this." So, what they did is they took these groups and then they controlled different variables. So, here is where things get even more interesting.
So, remember how it was tied to how people who are consuming margarine are generally more health conscious? So, here is what they found. Those people who had the greatest amount of margarine per day also had the best glucose tolerance, they smoked the least, they drank the least and they consumed the least amount of butter per day. So, all of these variables you would think were protective against heart disease. So, these people are doing this already. However, they were consuming huge amounts of margarine and that fact alone was a huge, huge impetus in doubling the risk of coronary heart disease.
So, what does this come back to? Again, it comes back our discussion about this first episode is all about natural versus synthetic.
There is this whole Jurassic Park syndrome – as soon as we start playing God with these different compounds, our bodies don't necessarily know how to react with that stuff. In nature trans-fats don't exist. The molecular structure of trans-fats don't actually exist in nature. I am not going to get into the configurations of bonds and trans-fat bonds and stuff like that. I go into a lot more detail of this stuff in Super Nutrition Academy if that's something you want to look into but just understand that trans-fats don't naturally occur in nature. They only occur as soon as we start hydrogenating things like vegetable oils. So, it's very, very problematic and obviously the human body does not respond very well to that.
So, that's the butter versus margarine and if you were to take one thing away from that discussion it is that butter is better than margarine. So, if you got margarine in your fridge, I would highly encourage you just as soon as you finish listening to this podcast to go throw it out and if you are choosing butter, make sure that's organic so that you are not ingesting antibodies or hormones and all that garbage that are being fed in some cows and just make sure that's a good quality organic butter and then you are fine but don't go crazy with the stuff. Again, butter is not the problem. It actually contains very short-chain fatty acids which are, in most cases, metabolized as fuel. The actual length of the chain of butter is not long enough to be stored as fat. So, it's really, really fascinating stuff. Again, don't go crazy on it; everything in moderation but butter again is natural, it comes from a real thing. So, that's your best bet.
Sugar vs. Artificial Sweeteners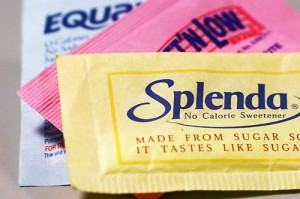 So, that's the first health news for this week. Now, the second one we are going to move into is again just another fascinating area of discussion and this one is all about sugar versus artificial sweeteners and you could replace the word 'artificial' with 'non-calorie' or 'zero-calorie' sweeteners like aspartame or saccharine or whatever it is you want. So, I am just going to pull up some interesting stuff here for you. I am just trying to find where we had this last bit of information.
Okay, well, I can't seem to find the information for whatever reason. I think I have misplaced that little news piece but I am going to kind of paraphrase it here. I think this was on CBC News in Canada here. They had an article on artificial sweeteners linked to greater levels of type II diabetes as well as obesity which is very shocking. I was like "What? How does that even make sense? A sweetener that has zero calories increases my risk of type II diabetes and obesity? How does that even work?" Well, here is some really interesting stuff to pay attention to. Here is the interesting thing.
I am trying to really remember the most recent study that was done. This was done with 16,000 women in France and the study was done or it was conducted or published in the American Journal of Clinical Nutrition and they found that women drinking, I believe, it was 500 milliliters of diet soda per week versus 1.5. Okay, so they found that there are two groups. They had one group of women who they found were drinking about 500 milliliters of diet soda per week had a 15% increase in type II diabetes and those drinking 1.5 liters of diet soda per week had a 59% increase in type II diabetes. Crazy stuff. So, this was done in France and it was again published in the American Journal of Clinical Nutrition. How does that even make sense? Well, let me help you understand his a little bit.
So, in 2008 there was actually a study done at Purdue University and they compared rats. So, they had one group of rats eat yogurt which was sweetened with glucose which is the natural sugar that our cells need in order to produce energy. They had the other group of rats eat yogurt that was sweetened with a 0-calorie substitute which is called saccharine which is no longer available in most countries as far as I understand.
So, here is the cool thing. The study showed that that the rats consuming the 0-calorie sweetener gained more body fat than the group eating the glucose with yogurt. Again, this is really weird, right? How does that make sense? Why are we gaining more weight if we are eating these 0-calorie sweeteners?
Well, here is the answer and it really comes down to the wiring our brain requires with respect to food. Normally, sweet foods provide what's called a salient oral sensory stimulus that essentially predicts how many calories we are about to intake. So, if you have something sweet, your brain knows more or less that you are going to have a certain number of calories coming in with that. However, with these zero calorie sweeteners, the sweetness isn't followed by calories. So, there is kind of an incongruence there. So, what they found is that the break in this connection between the sweet sensation and high-calorie food, it changes our bodies' ability to regulate intake. Therefore, we have this problem with self regulation which might explain why we eat more if we use artificial sweeteners or drink more if we are drinking diet sodas. It's a really, really fascinating area of research.
So, now there are studies that are showing that we are increasing our risk of type II diabetes, we are increasing our risk of obesity and we are literally changing the metabolic response within our body by consuming these synthetically made sweeteners. That's again going back to sugar versus artificial. So, if you were on a stranded island and if you had Coke versus Diet Coke, what would you choose, you had no other options? Well, again, if you had to choose your poison, I would probably just go with the Coke because again sure it contains however many tablespoons of sugar but at least sugar in and of itself is a really problematic compound but if you were to choose sugar versus aspartame, for instance, I would probably choose sugar; again, just natural versus synthetic. Natural generally is the way to go. Again, if you only had Coke to choose from, you would be in big trouble either way. I am not saying you should drink soda in general; you want to replace that stuff with water with smoothies, with fresh pressed vegetable juices, with herbal teas. That's the way to go.
Just very quickly – aspartame is a very, very problematic artificial sweetener. It's found in Coke Zero. I believe most diet sodas still incorporate it and it's big business. Understand this that aspartame is huge business. There are lobbyists in Washington that will prevent aspartame from leaving the market. So, there is a huge amount of money and backing behind aspartame and there is so much influence that there has been about 166 studies done on aspartame out of those studies, 74 of them have been funded by aspartame interested parties and out of those 74 studies, 100% of them found no problem for human use; 100%, no problems. Of the other studies, 90 some odd studies that are left, looking at aspartame and its safety for humans, those studies were not funded by aspartame interested parties, 92% of them found that they were not safe, aspartame was not safe for human consumption. So, this is something to understand.
Again, science is important but science has become very, very skewed and biased; it's no longer objective. So, if you have an opinion about something and if you want to find backing for that, you can find some literature to support that. That's literally the point right now with the scientific literally – it's very, very misleading and it's just so funny that people put so much weight behind science and research-backed studies but the reality is that unless you really know who is behind these studies, the results are really invalid at best. So, we look at things like aspartame, very problematic. It's a neurological toxin. It's excitotoxin. It excites the neurons in your brain and nervous system leading to all sorts of different issues – anxiety, depression, mood disorders – anything you can think of. It's just crazy. 75% of all complaints to the FDA are related to aspartame consumption. So, it's not good at all.
So, what are some good alternatives to artificial sweeteners? Well, you want to be looking at things like Xylitol which in the last couple of years has become more popular. It's naturally derived from the fiber within plants and surprisingly it actually helps to fight cavities. So, it's zero calories, very healthy for us and our teeth. So, it's a really great alternative. You also have Stevia which you probably know about – the plant-based sweetener from the sunflower family, 300 times sweeter than sugar. There is almost no calories in it. It has a bit of a lingering taste to it but it's great for baking purposes if you don't want to use sugar and brown sugar and maple syrup and honey and stuff. We use it quite often for a lot of the stuff we do. Then if you want to get into the more natural stuff that has some degree of calories, you got raw honey. Honey has a lot of health benefits to it. There are a lot of B vitamins in there, a lot of really good properties. And you have got pure maple syrup.
If you are having good healthy pancakes and you want some sweeteners on top, you are not going to throw a package of Stevia; you are probably going to want some kind of syrup. Don't use because it's high-fructose corn syrup, it's garbage; go with raw honey or with pure maple syrup. So, again, going back to the natural versus synthetic. And with that said, high-fructose corn syrup is a big problem.
Fructose vs. Fruit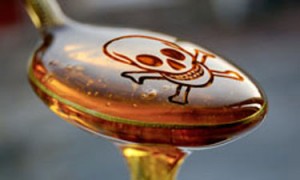 I want to just finish off with our third bit of health news. This is not so much a piece of health news that's in the news right now but it's a question that has come up quite a bit and a lot of people even don't want to talk about this concept of sugars and the difference between glucose and fructose because the reality is that glucose and fructose are metabolized differently inside the body.
So, fructose is a five-carbon sugar and glucose is a six-carbon sugar and because of that fructose has to go through the liver to be converted into glucose and through that pathway as a byproduct, triglycerides, the types of fat in our body are formed and we now know that fructose is a big contributor to weight gain. So, when you look at things like sodas, bottled juices, high-fructose corn syrup in our foods, table sugar, all of those at the base have fructose. If the package says sugar on it, that essentially means sucrose because that's what sugar is, it's sucrose. Sucrose is half glucose and half fructose.
So, your body can assimilate the glucose part but it has to still metabolize the fructose through the liver. Glucose doesn't have to go through the liver; it can go directly out of the digestive system and literally go from the blood stream right into your cells. It doesn't need to be processed by your liver and your cells ultimately need glucose to produce ATP which is our basic unit of energy. Fructose is very, very problematic, especially in its processed form.
A lot of people have asked me "Okay, Yuri, if fructose isn't good for us, then what about fruit? Is fruit going to make me fat?" and there is a lot of diet books out there, there is a lot of people who talk about "Don't eat fruit because it's going to make you fat and bla, bla, bla and it's going to spike your blood sugar" but then there is also the complete opposite end of the spectrum of people who are like fanatical raw foodist who say that you should only be eating fruits – 30 bananas a day, a watermelon is totally fine, that's what we are all meant to eat – that's not true either.
Anyways, so here is the thing with fruits. Fruit is not problematic in its whole form. When you eat fruit, what does fruit contain? It contains fructose but it also contains glucose. The sugar in fruit is not 100% fructose. If you have a banana, part of that's going to be glucose and part of that's going to be fructose. It's not 100% fructose. It's very important to understand that certain fruits have more fructose than others but fruits also always contain fiber. So, the benefit of fiber is that it delays the gastric emptying of sugar. So, it delays how quickly stuff leaves your stomach.
Let's say you have in one sitting you have 10 fruits, you just had a huge fruit salad. Is that going to make you fat? Well, probably not. It will kind of make you a little bit bloaty initially just based on the fact that a lot of fructose at the same time is tough to process and you may get some bloatiness but the thing is that because it has the fiber, it's going to delay the amount of fructose that's leaving the GI system and going into the liver. So, that's okay and it's very different than if you are drinking a fruit juice whether it's fresh pressed fruits or bottled juice; you are getting that sugar directly and because it's in liquid form it doesn't contain the fibers and this is like literally injecting fructose into your liver.
So, even if you have a juicer at home and you are making fresh pressed juices which I highly recommend, do not juice fruits. So, if you are making green juice, that's terrific. It's amazing; do it every single day, add an apple if you want for a little bit of sweetness but if you are juicing like 10 apples and pears and oranges and all that stuff every single day, you are consuming a huge amount of fruit juice which does not contain the fiber and therefore you are not going to have that delayed emptying of your stomach. That's a huge influx of fructose into your liver and that can be problematic over time.
The other thing about fructose is that it actually severs the connection, the communication between leptin and your brain. Leptin is a hormone that tells your brain you are full so you stop eating or that you had enough. Fructose cuts that off because fructose also leads to higher levels of insulin in the blood and high insulin also leads to higher leptin levels and if you have too much leptin always communicating with your brain, eventually your brain stops responding to it and that's known as leptin resistance. So, fructose can be very bad. Again, it's not very problematic in its natural form.
So, going back to natural versus synthetic form, if you are eating fruit, not problem; if you are making smoothies, no problem because they contain the fiber. If you are having 8 to 10 fruits a day, it's not an issue but if you are having 30 bananas in one sitting, if you are juicing fruit, if you are drinking soda pop all day, if you are drinking Tropicana orange juice or any of those juices that are readily available on the store, that's when you start running into problems. You also start running into problems when you are consuming a lot of packaged foods because packages foods including sauces and anything else contain sugars as one of their first ingredients and that's because we love the taste of sugar but, again, if you see sugar, half of that is fructose right off the top and that's going to become a big problem.
So, with that said, we got some action stuff for this week. Very simple – go through your fridge, go through your pantry, start removing some stuff that's in a package or box. It's very simple. If you go to your pantry and you see a bunch of boxes, you can probably just throw all of that out. I know it's not going to be nice, you are wasting a lot of money or whatever but I am telling you if you want to start moving towards better health and I am sure you are very health conscious already, otherwise you wouldn't be listening to me right now, you need to start making those kind of decisions. Get rid of the crackers, get rid of the chips, just get rid of it all. Go to your fridge, you will see a lot of packaged stuff, lot of sauces, lot of that kind of stuff. You want to remove it. You want to have a very simple fridge, a very simple kitchen.
It should just be fresh produce and some staples, some beans, cans of beans if you want, very, very simple stuff, nuts and seeds and different animal products, some good free range eggs, some good organic grass-fed beef or types of fish or chicken, whatever it is that you eat and that's the way we want to consume our food. That's really the base of good health. I mean, it's not very complicated in theory; application is obviously a little bit different when you watch your treats and all that other stuff. So, you just the best you can.
Again, rule of thumb – butter better than margarine, sugar is better than artificial sweeteners. So, if you are having coffee at Starbucks, you might as well put in a little bit of brown sugar. Then, if you are having fruit, just keep it in its whole form. Don't go crazy with fruit juicing and obviously remove or heavily reduce your consumption of packaged foods that contain sugar or just packaged foods in general and you will be a lot better off.
So, we have covered a ton of ground today. It's been really exciting. I am really happy you stuck with me for Episode No. 1. Don't forget to tune in every single week. I am going to be pumping out incredible content for you. I am going to be giving you my opinions and insights on the latest breaking news in health because a lot of it out there is absolute garbage and I am here to cut through the crap and give you the goods.
So, until next week, I am Yuri Elkaim signing off and, again, don't forget to join me at www.SuperNutritionAcademy.com so you too can learn how to master your health and nutrition. Until next week, have a great day and I will talk to you then.
Related Posts:
---
Tags: butter, butter vs. margarine, difference between butter and margarine, margarine

About Super Nutrition Academy

Super Nutrition Academy is the ONLY nutrition course that makes it easy for everyday people to understand the complex relationship between nutrition and health. If you're tired of all the conflicting health information out there and want a clear-cut, evidence-based understanding of the nutrition and health topics that matter you, then get started today.

---