Categories super nutrition academy health class
Episode #8
The Shocking Cover Up and The Dangers of Sugar
Click here to subscribe in iTunes (and download)
1:30 – My funny pina colada story
4:20 – Shocking similarities between the sugar and tobacco industry
7:20 – How to "BIG Sugar" used PR to mislead consumers
12:05 – Why sugar addiction is tough to overcome and the ONLY way to do so
14:45 – Sugar's scary health effects
19:00 – The 2 best ways to reset your body to longer depend on sugar
Welcome to Super Nutrition Academy's health class with your host and registered holistic nutritionist Yuri Elkaim. Tune in each week for up to date insights on breaking health news and best practices on how to eat for awesome health! It's time to get smarter, healthier, and regain your sanity in a world of information overload. And don't forget to join Yuri at SuperNutritionAcademy.com so you, too, can master your nutrition and health.
Alright! Welcome to episode 8 of the Super Nutrition Academy health class. Yuri back with you today, and we've got a great episode lined up for you today, because we're going to talk about sugar, and we all know the negative consequences about eating too much sugar, but I've got some frightening news to share with you today. It's about a 30-year cover up which has just recently been exposed about what the sugar industry is up and why you need to know about it. So sit tight, grab some water, grab a tea, grab a green juice and get ready to be blown away here.
Dangers of Sugar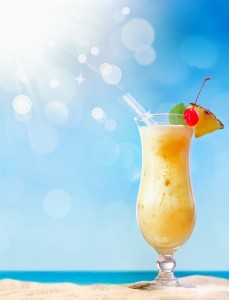 First of all, just kind of some new stuff that's going on with me. A little while ago I was in the Dominican Republic for a good friend, Dave Roehl who is also an online fitness entrepreneur like myself. It was his wedding. I was down there for a couple days celebrating and we had a good time, and while I was down there-the reason that I'm bringing this up is that it all kind of ties in with our topic today which has to do with sugar.
I got off the plane, and I was really jonesing for a pina colada. I don't know what it is about going to the tropics, but it just makes me want to have a Pina colada when I arrive. So, got there, mistakenly went to the wrong resort, got there a couple hours later, eventually found the right resort, and ended up with some friends for dinner.
At dinner, I ordered a pina colada, and to my dismay it was like loaded with rum-which I don't really want the alcohol. I just enjoy the taste of the pina colada-and then I also realized it was one of those premade, kind of slushie versions, you know like one of those slushie machines, so it's not freshly made, and it just really turned me off, so after a couple of sips, I decided, you know what? I'm not even going to drink the rest of this.
It got me thinking, because I was like, okay. A lot of people come down here for drinking, because they get free drinks, and it's all inclusive. And for me it's like I'm just stepping back and observing this whole process of how so many people, they're looking to get away for a week or two at these all-inclusive resorts, and then just pound back-not only the alcohol, but also the sugary drinks, like pina colada, strawberry daiquiris, and they're all sitting there, in these premade slushy, sugar-filled versions of the drinks and if you're going to have one of those drinks, just, it's better to have them freshly made obviously. It tastes better, and it's not filled with all that crap.
So it kind of just turned me off from those tropical drinks. And, also when you consider what sugar does inside of the body, you're better off drinking a glass of red wine. I was trying to think, Okay, if you're going to have to drink some kind of alcohol well what would it be? I would probably say straight up hard liquor or a glass of red wine.
Now, again, do not use that as your free pass to do that. I'm just saying if you're in one of those situations, you're better off with red wine, because at least it does have some benefits. So we're talking about a kind of sugar monster that can arise from consuming that much sugar, and what I want to share with you today is some really, really interesting stuff that's recently come out in the news, and this was really, really shocking stuff.
Shocking Sugar Cover Up
I just came across it about a week ago, and it talks about the sugar industry's secret documents that have literally been tucked away in the archives for 30+ years, and these documents are showing us that the sugar industry is using very similar tactics to suppress information and mislead consumers as has the tobacco industry done over the last however many years.
This was all brought to the surface by a dentist, of all people, and her name was Dr. Cristen Couzens. She was at a dental conference in Seattle in 2007. This was several years ago now, and she was obviously there as an attendee, and one of the speakers was speaking on stage about foods to avoid in terms of preventing diabetes and gum disease, and the funny thing is that not one of the foods mentioned had to do with sugar, so there was no sugar in the mentioning there at all.
So she started to think about this, and she asked the individual who was speaking about why didn't you mention sugar and that expert said "there's no evidence that links sugar to chronic disease" and then he bolted out the door. Cristen Couzens was very, very shocked by this, and it led her to do some research on this topic literally I guess just tucked herself away, and while she was at Colorado State University, she went into the library, went to the archives and found some stuff that really just floored her, and I want to share that with you over the next couple minutes.
Basically what she found was the sugar association, which is basically, just this big conglomerate (you know, sugar dudes) that had power to get sugar out to the masses. Let me give you some quotes directly here. I'm sifting through my notes here. Yes. She was one of the first documents she came across was this sugar association letter head which talked about one of the main goals of the sugar association was their PR strategies of the 1970's and very similar tactics to deflect the growing concern of a increasingly health-conscious population.
As more and more consumers start to understand how sugar has detrimental effects on human health, the sugar association, which obviously has tons of money to advertise and propagate whatever they want was looking to suppress all that negative stuff. She also uncovered a picture with several executives from the sugar industry and they were all taken together, and they were holding what is called the Silver Anvil, which is kind of the Oscars for P.R. – the advertising and P.R. world, and they were given this prize for their successful campaign; and this is the name of it: "Forging Public Opinion in the Face of Mounting Consumer and Government Concern over the Health Risks of Sugar."
So in spite of consumer concern and governmental concern of sugar, these execs had the wherewithal and the money and the power to get this propaganda trying to mislead people to believe that there's nothing wrong with sugar-that sugar was good for us, that it was cool, trying to really forge public opinion in terms of the benefits of it, so pretty crazy stuff. Again, going through, just looking at the notes here to bring some really interesting stuff to you-really, really interesting.
So the sugar association, the early into the late 70's, they updated their board of directors. They had 17 different scientists from the world's most prestigious universities-including MIT, Harvard, Yale-and these were all receiving sugar industry money. These individuals, these researchers, were now heavily involved in the scientific literature. So they were actually doing research in peer reviewed journals, and they were receiving money from the sugar industry to obviously buy us the results, to some degree.
Some of this money was supplied by the sugar industry itself, but also Hershey, Coca-Cola, General Foods, General Mills and Nabisco, so all these big conglomerate that really are the devil as far as I'm concerned with respect to the food industry, as far as I'm concerned. Again, I can't count how many times I'm going to say this. They have no intention to improve your health. They don't care. All this and the messaging and all the nonsense they have is really about propagating their message and propagating their product.
They really do not care about your health. Just as an example. Coca Cola has this polar bear campaign that they're doing now, so they're gloat that they're donating 5 million dollars over the next 5 years to help polar bears right? So 5 millions over 5 years, so that's a million dollars a year. For Coca Cola that's like they can blow their nose with that money.
So again, it's this P.R. campaign they're trying to message the world that Coca Cola is doing great in the world, but the reality is that it's such a miniscule thing that they're doing. I mean, they're probably spending more on the ads themselves than on the polar bears. I mean it's just a contrived way; we've so been misled by these companies.
Anyways, let's further on into the investigation, here. So some other stuff they found that there's different press releases and different documents in there which-essentially said that the sugar industry was committed to sucrose consumption. In spite of everything that coming up against in terms of people becoming more conscious sugar and maybe it's not so good for us. Well, the sugar industry like other kinds of associations like this had the sole goal of getting people to increase their sucrose consumption. Sucrose is sugar-table sugar, which is found in coke, which is found in fruit juice, which is found in pretty much all packaged products, that was their main intention.
As a conglomerate of very powerful executives their goal was to get this into the masses, and I'm going to quote from the sugar association e-newsletter from August 2003, which says, "The sugar association is committed to the protection of sucrose consumption. Any disparagement of sugar will be met with forceful, strategic public comments and the supporting science. This is crazy, crazy stuff.
With that said, you can imagine how it's so tough for so many people, including myself, probably including you to kick the sugar habit, unless you're eating a 100% whole foods diet and eradicating all sources of sugar. Again, you're fighting an uphill battle. And again, it's no fault of your own. You've just been brought up on foods that have been sneakily inserted or injected with these sugar molecules that make foods more appealing, more tasty, more compelling, and more addictive.
Sugar Addiction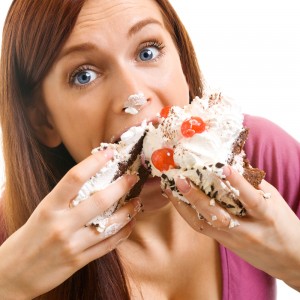 It's a very very tough thing to overcome-sugar addiction is, because sugar is a drug. It is very similar in structure to cocaine, and it's very, very addictive. It just sets off this whole dopamine pathway in your brain, and it's very, very tough to get over. Really the only way to get over sugar addiction, as far as I'm concerned, is complete avoidance. It's like if you're' an alcoholic.
You can't just say, "Well, I'll only have sugar occasionally, once a week." With alcohol, you can't just tell yourself, "Okay. I'm going to have alcohol once a week" because really, one drink, and it opens the floodgates to everything else. So with sugar-obviously you can't avoid all sugar. It's almost impossible. In terms of sweets and additional sugar added into your drinks and stuff like that, you really want to do the best you can by removing that, because otherwise it's too hard. You crave what's in your blood.
If you have a diet that is high in sugar, very sweet foods, you're going to crave those foods because that's what your body is used to consuming. The only way to change that is by avoiding the sugar in the first place, and the second thing that I found very, very powerful is something that created the foundation of the Total Wellness Cleanse, is to purify your blood by getting more greens into your body.
More green juices, more green smoothies, more green vegetables in general, because they are highly alkaline, and they will buffer out a lot of the junk in your blood, and we're going to talk a little bit more about juicing it up in another episode because there's a lot of out ridiculous things out there, too.
For now just understand that two of the easiest ways to get rid of sugar cravings is to get rid of sugar altogether for as long as you can and to start alkalinizing your body by getting more greens into your diet.
Along those lines, let me give you a really good resource. If you have problems with sugar, there's a really good book called "Lick The Sugar Habit" by Nancy Appleton, and it's a book I read a couple years ago, but she's got a number of really-I think she's compiled 141 different reasons that sugar ruins your health. I'm just going to run off a couple here. Again, don't want to ask for scientific studies to back this stuff up, because it'll take forever for me to find this stuff but essentially it's out there.
You can do the research yourself. Just go to Google Scholar or PubMed, and you'll find some stuff. Hopefully you'll find some stuff that is unbiased, but nonetheless, we know physiologically, we know that this stuff is happening. So first of all, we've seen that sugar can suppress your immune system. We've see that one tablespoon of sugar can suppress your immune system for 6 hours, which is crazy.
Sugar upsets the mineral relationships in the body, and this is very, very, important in terms of being able to absorb nutrients from your food. It also compromises the enzyme, the quality of the enzymes in your body. It renders yours enzymes less efficient, so they are not able to digest food properly, reduces your body's ability to fight against bacterial infection. Obviously that relates to the immune system. It reduces HDL cholesterol, which is the good cholesterol.
It actually increases triglycerides and LDL cholesterol, which is obviously not the good ones. It increases the reactive oxygen species which can damage tissues, so these are kind of like free radicals, if you will. It can cause hyperactivity, anxiety, inability to concentrate and crankiness in children. So children nowadays are so commonly diagnosed with ADHD and all these different acronyms. If you just remove sugar out of their diet, I bet you at least 50% of those kids would not need to be on the drugs they're on.
Anyways, moving on, Sugar can lead to an increased risk of ovarian cancer. Obviously it increases the fasting levels of glucose, which can lead to hypoglycaemia and eventually type II diabetes, causes copper deficiency, interferes with the body's absorption of calcium and magnesium, which is obviously not good for your bones or muscles, makes the eyes more vulnerable to age-related macular degeneration, so if you want a very, very quick way to just literally shoot your eyes in terms of the quality of your vision, eat more sugar.
It raises the levels of neurotransmitters dopamine, serotonin and norepinephrine, which is why you crave more of it as well. It can cause a rapid rise of adrenaline levels, not only in kids but also adults, and this is very important because it's a stimulant. Sugar is a stimulant, which means that it's going to cause your adrenal glands to pump out more stress hormones-epinephrine, cortisol, and eventually over time it's going to lead to adrenal fatigue, and that's not a good thing.
It can cause premature aging, it's terrible for your skin, obviously, it can lead to Candidiasis which is the overgrowth of Candida, it can cause tooth decay, obesity more than anything else, arthritis, learning disorders, gallstones, appendicitis, hemorrhoids, you name it. There are so many things that it's doing at a fundamental level to your body. So bottom line is this. Do your best. I know it is very tough for we're all inundated with sugar. Do your best to avoid sugar.
Now, that's going to bring up the question that we briefly alluded to in, I believe, episode 1 we were talking about, when we talking about natural versus artificial sweeteners. If you had-one of the things we doing healthy baking, because Amy really enjoys baking, and she really whips up some good stuff is to reduce the amount of sugar.
We don't really use sugar in anything that we do. We use honey or maple syrup, which are still forms of sugar, in and of themselves, but there are some really good ways that you can replace even those-even the sweet natural sweeteners like honey, maple syrup which do contain calories, and obviously a heavy amount of sweetness. You can replace them with things like xylitol or stevia, which are much better or artificial like aspartame, splenda or sucralose and stuff.
And they're very-to this point time, with respect to what we know, there's really no detriment to human health with respect to stevia or xylitol. Xylitol is actually good for your teeth; it actually helps prevent tooth decay, which is pretty cool.
So move away brown sugar, move away from white sugar. Move towards the use of Stevia, xylitol if you possibly can. They are a little bit sweeter than sugar so you won't need as much of it; and at the end of the day if can just simply remove or reduce your consumption of sweet foods in general-even if you're baking healthy foods. If you're baking a healthy cake or a healthy cookie or a healthy muffin, it's still going to contain some sweetness, and that sweetness is going to trigger a desire for more sweetness.
So if you're using maple syrup or stevia or whatever it might be there's still that urge to have something sweet, the more you consume these foods. So once again, reduce-minimize your consumption of sugary foods, desserts, sweets, and so forth. If you're going to enjoy them, opt for healthy versions. So using stevia or xylitol as an alternative to sugar, maple syrup and honey if you need to, but again minimize your consumption of those.
And probably the most important thing you could do is alkanize your body with green foods-green juices, green smoothies, green vegetables in general, because they contain some very, very powerful blood-cleansing properties, as well as the minerals calcium, magnesium, potassium which are the main alkaline minerals that really give your blood the restorative values or properties that it needs to re-establish body proper pH.
In terms resetting your palate, if you're not used to eating vegetables, not going to enjoy them that much, and probably the reason for that is because your palate is adjusted for enjoying sweet foods. You remove sweet foods for a while. You increase your intake of vegetables; I guarantee they're going to taste a lot better within a couple days. So those are two very simple strategies-theoretically. Application is obviously very different, but I think you really need to be honest with yourself, and say, hey. You know what?
If I want to kick this sugar habit, (because really the food industry is not going to help out, they are only going to make this worse, and we've seen this with this 30-year cover-up, which is atrocious). And if you want a better health, you really need to cut your consumption of sugar. You know, I don't even know the stats right now in terms of how much sugar we're consuming, but it's really, it's crazy; it's probably more than 100lbs per person per year, so we really need to cut that back, and in and above everything we just talked about in terms of the health problems that it can lead to, remember this.
Why is it that so many people are overweight nowadays? Sugar is the big culprit. If you look at the amount of refined carbohydrates we're eating, like bagels and breads and pastas, as a base, they all contain sugar, and not the good type of sugar necessarily. They're very easily assimilated, very easily broken down, very easily digested, it can lead to spikes in insulin, obviously, and when we have too much insulin in the body, insulin is a storage hormone which basically says, "Okay, store all this stuff away." If we're not going to be using that as energy, we store it as fat, so if you're eating a lot of sugar, if you're eating a lot of these refined carbohydrates, we're getting increases in sugar, we're getting increases in insulin, we're getting increases in storage as opposed to expenditure. Okay?
So, there we go. If you've enjoyed this episode, I'd love to hear about it, so leave me a review or a rating on iTunes, and don't forget to subscribe, so you don't miss an episode. We're going to be cranking this stuff out several times a week. There's lots of great stuff you need to know about, and in the meantime don't forget to join me on the blog at SuperNutritionAcademy.com/blog. All of these podcasts will be played there as well, and you can have the transcripts to read if you prefer to do so., and until the next episode, it's been a pleasure to bring this information to you. I'm Yuri Elkaim, and I'll see you soon.
Related Posts:
---
Tags: dangers of sugar, sugar, sugar addiction

About Super Nutrition Academy

Super Nutrition Academy is the ONLY nutrition course that makes it easy for everyday people to understand the complex relationship between nutrition and health. If you're tired of all the conflicting health information out there and want a clear-cut, evidence-based understanding of the nutrition and health topics that matter you, then get started today.

---