Posted: November 5th, 2013 @ 5:19 pm | By:

Yuri Elkaim
Categories super nutrition academy health class
Episode #83
Find out  how you can better your digestion and overall health with Steven and Jordan from SCD Lifestyle…..
Click here to subscribe in iTunes (and download)
Specific Carbohydrate Diet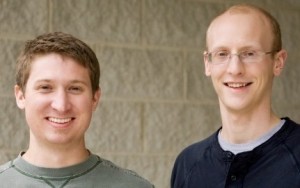 Yuri: Hey, guys, Yuri Elkaim here. Welcome to another edition, another episode of the Super Nutrition Academy Health Class. Today I am joined by two friends who help you poop better. They are none other than Steven Wright and Jordan Reasoner.
In case you guys haven't heard of them, they are doing some amazing work with what they consider to be Paleo's little brother, as they call it, and we'll discuss that a little bit more in this interview. Nonetheless, they specialize in helping you poop better, especially people with celiac disease, ulcerative colitis, Crohn's disease, and IBS, which are, unfortunately, very, very common conditions nowadays. Their mission is to help others get rid of their stomach pains using real food, supplements, and lifestyle changes, the same ones that they needed to make to overcome their own digestive problems that were unresponsive to traditional medicine.
If you're listening to this and you have any kind of digestive distress, Jordan and Steven have probably experienced it either personally or with their clients. The work they're doing is awesome. You can learn more about it at SCDLifestyle.com, which stands for the specific-carbohydrate diet, but they can explain that. We'll bring them in. welcome, guys.
Jordan: Thank you, Yuri. Thanks so much for having us on.
Yuri: Yeah, I'm looking forward to this. Steven, why don't we start off by telling our listeners what the specific-carbohydrate diet is?
Steven: Sure. Like you mentioned, it's kind of best to think about SCD as Paleo's little brother because they're very alike and yet they're definitely different. The big difference is that SCD is grain-free but it's also starch-free.
It goes way back in the literature, but, basically, a lot of forward-thinking doctors back in the twenties and thirties were starting to notice that their patients didn't do very well when they had various types of carbohydrates in their diet. A line of thinking was started that maybe they only did very well when they ate monosaccharides.
There are basically three different types of carbohydrates; there're monosaccharides, disaccharides, and polysaccharides—one molecule, two molecules, and many. What happens is that if you have digestive problems where the brush border—that's basically like the villi in the small intestine—if they're damaged or blunted or inflamed in any way, they might not be releasing the enzymes that are needed to actually break down carbohydrates into monosaccharides, at which point the body can actually absorb them.
The specific-carbohydrate diet removes grains, it removes all of these di- and polysaccharides. Basically, it's all about making your food from home, so it removes gums and lots of other manmade additives that people with digestive problems really just don't do very well with.
There are certain advanced forms of SCD, we like to call them, that allow certain types of soaked beans and legumes. We don't traditionally talk about them very much because, for most people, even the super healthy, a lot of them have trouble with digesting those types of foods.
The other big change about SCD that maybe your listeners don't know about is that it allows lactose-free dairy. A big staple on SCD, maybe around 40 to 50 percent of people who do SCD use is a 24-hour fermented yogurt. You can ferment yogurt to the point in which lactose is basically nonexistent, and then you still get a highly nutritious product that has a bunch of probiotics in it.
Kind of our mission at SCD Lifestyle is to sort of take the specific-carbohydrate diet and use all the new research that's come out in the last 10 to 15 years and sort of update it, which means acknowledging that there's a lot of people that can't handle dairy, there's a lot of people that can't handle eggs, nuts, and various other types of foods, so I'm sure we'll talk about that at some other point.
Yuri: Yeah, that's really cool. Jordan, just to bring you in to this. You guys mentioned basically trying to keep it to monosaccharides, again, very basic building blocks for easiest absorption. Are you basically, for individuals thinking, what about tubers or starchy root vegetables like beets, sweet potatoes? Would those pretty much be off the list for at least a temporary perspective here?
Jordan: Good question, Yuri, and thanks for having us here, man. It's fun to be on the show with you. It's a good question, like I said.
In general, our goal with using the specific-carbohydrate diet approach is really to heal the gut and get you to the point where your digestion is doing well enough that you can graduate up to a Paleo-type diet. That's why we call it the little brother of Paleo, because we like to have people graduate up, and that's what Steve and I both did after we healed our gut.
In the beginning, like you said, we generally have people avoid those "safe" starches from the Paleo community because, as you know, they do contain disaccharides that need to be broken down, especially if people have small intestinal bacterial overgrowth. That's something that's really going to be problematic for people with SIBO; it's going to feed bacteria in the small intestine. They'll probably gobble up that type of stuff before you can properly break it down and absorb it on your own.
We intend to have people avoid that in the beginning, especially if they have a test result indicating they have SIBO. And as they heal their gut and improve their digestion, if they have test results showing they no longer have small intestinal bacterial overgrowth, the research really suggests that for long-term gut health—so, for you to have a good microbiome long-term—safe starches are probably a good idea.
Eating things like sweet potatoes or yams are going to be beneficial in feeding the colon bacteria. Those are types of things that we tweak based on the individual, but for the most part, we have people avoid them initially until they've done some healing, and they've got some evidence that the SIBO is gone or has been handled, and you can move in to introducing those types of things.
Yuri: Nice. Just to follow up on SIBO, again, this is a bacterial overgrowth in the small intestine. For those people listening who are wondering how does this happen, how do I know if I have it, what are some signs and symptoms of that occurring, Steven?
Steven: Yeah, small intestinal bacterial overgrowth is actually an overgrowth of good bacteria. Traditionally, the small intestine should have a very minimal amount of bacteria compared to the large intestine.
What happens in an occurrence like a SIBO or even a yeast or Candida overgrowth is that you're getting these normal species up into an area of the body in a population size that's too big, so they produce by-products. Not only their metabolites can cause problems such as they might produce more gas as they digest your food before you can, but they steal your nutrients, they can cause metabolic by-products, but also, when they die their bodies can be toxic to us.
Indications that you might have a SIBO infection would be things like lots of gas and bloating; a carbohydrate sort of intolerance would be a way to put it. You're not sure why, but eating carbohydrate-rich meals definitely makes you feel worse. SIBO is actually very correlated to things like fibromyalgia, as well as acid reflux, with, I think about 50 percent of people potentially having SIBO who have acid reflux. And somewhere around 70 percent or higher of those with fibromyalgia, the studies show, have small intestinal bacteria overgrowth.
It's very interlinked with a lot of chronic health issues, and we have definitely found through our private consulting practice that a lot of people who are sort of unresponsive to dietary changes alone are probably in a bucket of people who'd want to get tested for it to make sure they don't have it.
Yuri: Okay, so let's assume that somebody does have SIBO. What are the courses of action? I'm assuming it's a little bit more detailed than just taking some probiotics. It does seem like it's a little bit more of a specific issue. Jordan, do you want to jump in on that one?
Jordan: Yeah, definitely. One of our great friends, Dr. Siebecker, is one of the best experts for SIBO that we're aware of. We've had her on for quite a few podcasts, discussing the topic of SIBO.
In general, working with her and what we've also both experienced with SIBO, the action steps with SIBO, definitely, first of all, change your diet. Cut out disaccharides, get on a low-carb, real-food diet whether it's Paleo, SCD. We recommend SCD only because of the more focused monosaccharide intake of carbohydrates.
That's the first step: Primarily, stop feeding the bacteria. Once you stop feeding them, in theory, you could starve them out with diet alone, and that can take years in some cases. In general, some therapeutic intervention can help.
A couple of things that can help, first of all, if you have an overgrowth of d-lactate-producing bacteria, which would be like the lactobacillus family, one of the most common families that people take in probiotic form. You take a probiotic that is a d-lactate-producing bacteria, that can really aggravate your symptoms.
In a lot of cases, taking something like a soil-based probiotic like Prescript-Assist can help in terms of making sure that you're taking a probiotic that doesn't aggravate your symptoms and actually helps support you. Also, avoiding things like fermented foods because, again, most fermented foods, like sauerkraut, for example, are going to have the lactobacillus family, so, again, that can be a d-lactate-producing issue. In terms of treatment, there're a lot of different antibiotic protocols, and if you go to SIBOInfo.com—that's Dr. Siebecker's site—she shares a lot of antibiotic protocols that can work that you can talk to your primary-care physician about.
However, antibiotic protocols have their drawbacks, right? It's like a nuclear bomb to the gut, and it can be pretty gnarly. There are also herbal protocols that work. I obviously recommend working with a skilled practitioner who maybe specializes in functional medicine that can help you work through a SIBO treatment protocol that's herbal-based.
But a good herbal-based protocol should probably include some biofilm busters, so something like Klaire Labs' InterFase, and then also some antimicrobials, so any herbs that are going to be antimicrobial, as well as maybe something like monolaurin. A good herbal protocol will have a biofilm buster and then come in and kill with some good-quality herbs. From that place you can really do a lot of work in terms of getting rid of SIBO.
Most importantly—I don't want to forget—retesting is really important. Not only looking are your symptoms improving as you treat this thing, but also making sure that you follow up 30 or 60 days after a protocol and make sure it's gone. Use good, functional data to make decisions about whether or not it's gone. And if it is gone, you can start to try to introduce some of those safe starches like we talked about earlier.
Yuri: That's cool. Where can people get tested? Are there at-home kits that they can take and send in, or are there specific Web sites or clinics that do this stuff?
Steve: Yeah, so there are two main tests that people should be thinking about. The first is a breath test; it's sort of the golden standard for small intestinal bacterial overgrowth. You typically have to have a primary-care physician order this for you; you can do it at home, though. It's typically not too expensive.
The issue, really, right now is that it's sort of protected, so you can't order it yourself. That would be the golden-standard test. The other test that's much easier to get that you can actually find online right now is Metametrix 0091; it's Organix Comprehensive Profile.
Yuri: Sorry, that was Metametrix 0091?
Steve: Yeah, Metametrix.
Yuri: That's just an interesting name. Anyways, I'll let you go on there.
Steve: You don't like that test or…?
Yuri: It just sounds like R2-D2, a really interesting type of testing name. Don't worry about me; I'm just going off here.
Steve: Okay, yeah. It's an Organix Acid Panel, so I think that might be the name, but the actual test number, so you don't get confused, is 0091. That's going to give you by-products, basically, of the body.
These different strains of bacteria, as they eat your food, they're going to give off by-products, metabolites, and this test will screen for high levels of SIBO overgrowth of these by-products. The nice thing about the 0091 is that if you are having the symptoms—the GI distress, those types of symptoms—it's also going to screen for Candida overgrowth or yeast overgrowth, it might not be Candida. In general, it's the test that we like best right now for taking a snapshot of both.
Yuri: Cool, that's helpful. In the work that you guys do with your clients and just in your own experience, why is it that a lot of people end up developing digestive problems?
Is it starting with low stomach acid? Is it starting with not chewing their food? Is it a combination? What are some of the big things that people need to be conscious of? Jordan, I'll just put this out to you.
Jordan: Man, that's a million-dollar question. There're so many things that can cause digestive issues with people. Low stomach acid is one really obvious thing that you just mentioned that we've written extensively about. Most of our clients have low stomach, I have low stomach acid, Steve's had low stomach acid.
Yuri: I have low stomach acid.
Jordan: Yeah, exactly. Honestly, it's an epidemic. What's fascinating is that it's really counterintuitive to what we've been taught by conventional medicine over the last 20, 30 years.
For the most part, if we're dealing with acid reflux or GERD or indigestion-type symptoms, heartburn or whatever you want to call it, we're going to be given an acid-suppressing drug. The interesting thing is that it's counterintuitive to think that if you're having acid reflux or heartburn, that it's actually an indication that you have low stomach acid; it just doesn't compute for most of us.
What's interesting is that the research finds that hyperchlorhydria, or too much stomach acid, is extremely rare in the population. What's more prevalent is hypochlorhydria, which is low stomach acid. That's what we're talking about here.
And if you have low stomach acid, you're not going to break down your food very well. You need stomach acid secretion to break down especially meat; you need it to digest meat. If you're not properly breaking down the food in the stomach, that's kind of step one in the digestive process. Your food will tend to ferment; it will ship to the small intestine pretty late.
And at that point the pH will be off, so your small intestine will not properly release bile salts, pancreatic enzyme, brush border enzyme; all that functionality will be diminished. Again, you've got fermented, half-digested food. You're not going to absorb nutrients properly from it. You're also going to allow bacteria to feed on it in your small intestine, again, promoting small intestinal bacterial overgrowth, like we just talked about.
Again, there're a lot of different things that can cause digestive problems, and I just dove in to one rabbit hole because it's an epidemic that we're seeing and I think you're probably experiencing, Yuri. That's a great place to start and one of the most common things that we see.
If you're somebody who has symptoms like that or maybe has some digestive issues, low stomach acid is a great place to first take a look and also to research a little bit about supplementation with betaine HCl with pepsin; that can really, I mean, it saved my life honestly. I was just not digesting food whatsoever. Many of our clients end up taking betaine HCl and testing it out very slowly. Again, that can really help with somebody who has low stomach acid.
Yuri: Yeah, that's something that's, for me, has been a huge addition as well. I think, maybe, Steve, you can talk a little bit about this as well. A lot of people think about, I don't know if a lot of people distinguish between HCl and digestive enzymes. They help to digest food, but they're not the same thing.
For people who suffer from low stomach acid, do you recommend supplementing with the betaine HCl with pepsin in addition to a digestive enzyme, or would you recommend people starting off just by getting their stomach acid in check and kind of building that up over time first?
Steve: Yeah, that's such a great question, Yuri, and I love that you probably know the distinction here, because a lot of people are glossing over this. You mentioned chewing. There're several physical actions of the GI system that have to happen properly in order for us to even begin to absorb this food that we probably spent a lot of money buying and then a lot of time preparing.
The first step is chewing, making sure you're taking time and chewing your food. The second physical action, as Jordan and you have just talked about, is that you need to have the right amount of stomach acid to be able to being the process of breaking it down and getting to the point of being able to absorb it once it dumps into the small intestine.
The other thing that Jordan mentioned is that after the stomach, the transit time, and basically everything that happens after that is all based on pH. If you set the wrong pH at the beginning of the process, your odds of having good success at the end go way down.
One of those things is that digestive enzymes—typically, pancreatic enzymes—only work in certain pH ranges, and the timing also depends on the pH, as well as when the body senses food moving through the system. What we find is that, basically, anyone who has low stomach acid is typically going to benefit from having a separate supplement that is very pancreatic-digestive enzyme-oriented because, already, you're kind of starting off in a hole when you have the wrong pH level and the wrong acid level, so we like to make sure that you have the right amount of enzymes for you to digest your food and the right amount of HCl.
What we found, what's been our experience for a lot of people out there, you can get the right amount of HCl pills—it might be two, it might be six—and that's going to really make everything feel a lot better. And then if you throw in a really high-quality digestive enzyme—it could be one per meal or even up to three or four if you're someone who has really bad digestive problems right now. There's going to be a combination there as you sort of ramp up the dosages that can almost be like a light switch.
There aren't a lot of supplements out there that can really make snap improvements in people's health, but these two products, when you kind of play with them and you are suffering from these problems can really turn off digestive problems very fast.
Yuri: Yeah. The supplementation guidelines for HCl or even digestive enzymes, are these things that, over time, the body will naturally start ramping up more HCl production, or is this a protocol that people need to stay on pretty much indefinitely, Jordan?
Jordan: That's a good question. It really depends; it depends on the root cause. These things we're talking about right now with betaine HCl, with pepsin supplementation alongside a good-quality digestive enzyme, we're talking about supplementing with things that are going to immediately relieve you of some symptoms, which are going to improve your life.
Again, underlining this is a root cause. We talked about earlier hypochlorhydria, so low stomach acid. What's the root cause there? If you're somebody who wants to take betaine HCl with pepsin and you find that it really improves your digestion and you're taking enzymes and you find that that helps you even more.
So, the combination of the two really relieves a lot of your symptoms. The question still remains: What's causing you to have low stomach acid? What's causing you to have low enzyme production?
There's a multitude of things that can cause low stomach acid. Some of the common things that we find with our clients, first of all, stress. People who are in adrenal fatigue dealing with chronic stress, whether it be emotional stress from work or physical stress, training for a marathon, being a triathlete, that type of thing; abusive relationships; the loss of a family member; moving. Whatever it might be, those stressful types of things can be enough to suppress stomach acid to a level where you just stop digesting meat very well.
Also, a common thing that we see with our clients is an H. pylori infection; those are notorious for suppressing stomach acid. If you have a bacterial infection of H. pylori that's going untreated, that can be something that suppresses stomach acid until you go in and treat it. There're also people who have epigenetic methylation issues that just cause chronic low stomach acid secretion.
Getting those types of things looked at and supplementing and treating those types of things can help. It really depends on what the root cause is on whether or not you need to supplement with these things for life or whether you can back off of them.
Some people, if they get their betaine HCl or pepsin dosage really dialed in, that will provide a good environment for normal enzyme function in the small intestine, and they don't need enzymes long-term. But like in my case, I'm still taking betaine HCl; I've been on it for five years. I don't know, when I try to back off it, right now I still have issues.
I think I haven't totally got to the root cause of my low stomach acid yet, and that's really the question: Are you getting at the root cause of what you're supplementing for at this point?
Yuri: I think a lot of people almost beat their stomachs to death over years of poor food choices and stress. It's almost like abusing another human being; they're not going to become very empowered in the long-term if you continue to do that. Let's talk about poop. Steven, why is poop important?
Steven: Well, it's fun. Poop's fun; that's why it's important. We're not all doctors; we don't all have a ton of money; we don't all like getting pricked and doing tests all the time.
I think why poop is really so awesome is that there're only a few outputs that we can take stock of on a daily basis as a human that are indicating how our health is. I think if the basis of your health is what you intake to be able to provide your body with the ability to do its things, then paying attention to the output—your poop—is going to give you a good indication if you're actually assimilating, getting the nutrients you need to live and be healthy and avoid disease.
If you're not digesting properly, if you're having bad poops, then you can be pretty confident that something's going on with you. You have some underlying disregulation that, until you get it fixed, you're going to continue to show this bad-poop thing. You definitely want to track them on a daily basis.
If you're someone who's super healthy and you're just kind of getting aware of your body, you'll start to notice that maybe going on a cross-country flight or something, just the stress of that will change your poops, your bowel habits. That's where kind of just becoming body aware and starting to learn about what normal is and what optimal is I think are really good ways to stay healthy in the long run.
Yuri: Nice, nice. Yeah, poop is awesome and I think a lot of people don't understand what constipation in the first place. I remember having a client several years ago, and I was talking to them about this. They were saying, "Yeah, I'm pretty regular. I go to the bathroom once or twice a week." I was like, "Sorry? Once or twice a week?"
I think this kind of education you guys are providing with respect to digestive health, as well as, obviously, poop, is massively important because more people need to know about it. If you do your number two, look back in the toilet, Jordan, what are one or two things you want to be looking for that would be an indicator of good stuff? And maybe what are one or two things that you may want to look at that would identify something as being a problem digestively?
Jordan: The elusive perfect poop. We have three criteria that we share with people that you can use kind of as a framework to understand what a perfect poop is and understand if you're outside of that range.
The first criterion is: How well-formed is it? If you've never seen the Bristol stool chart, I highly recommend that you Google Bristol stool chart, and you'll see a beautiful poster of seven different types of bowel movements. There are pictures and descriptions of what they are.
It's a scale of one through seven. It's been published in scientific research; it's a great way to understand where you're at. A one is a very constipated, hard, pellet-like stool. A seven is a very watery diarrhea.
So, right in the middle, a four or five, is a nice, elongated, smooth snake. That's going to be, a number four or five on the Bristol stool chart is going to be a very well-formed stool. That's kind of the first criterion of how well-formed it is. Look up the Bristol stool chart, and get a picture of where you're stacking up in terms of one through seven.
The second thing is: How easy is it to pass? There's a continuum there too. On one end of the spectrum, you have somebody who's sitting on the toilet pushing and pushing and pushing.
I think that's a common thing in our culture, if you look at Western culture. I was growing up, we had a stack of Reader's Digests in the toilet, in the bathroom. We had magazines and if you'd go to my grandma and grandpa's house, they had stacks of magazines in there.
It's funny; now we have iPhones and we can sit there for as long as we need to and work on our iPhones. It's funny; it's kind of a joke in the movies for a guy to throw a newspaper under his arm and go into the bathroom for a half hour or so. And that's one end of the spectrum.
The other end of the spectrum is what I experienced in my life with my chronic diarrhea, which was extreme urgency, like I don't know if I can make it; I don't know if I can hold it, and you barely make it to the toilet. That's another end of the spectrum.
In terms of how easy is it to pass, you want to be able to have good control of the urgency, and you also don't want to be pushing. You want to just be able to stroll in there, sit down, have it come out nice and easy, and get right back up. Pretty simple; not a lot to think about; gets done pretty quick. That's another criterion to look at where you're stacking up in terms of how easy is it to pass.
And then the third criterion is really frequency. How much are you using the toilet? How many bowel movements a day are you having? In general, there are a lot of different opinions about this. I think everybody's a little bit different.
Everybody's digestive system is going to be a little bit different depending on what's going on in your life, what you're eating, how much you're eating, that type of thing, but, in general, one to three bowel movements a day is considered pretty normal.
Some people need to have a bowel movement every time they eat, so food comes in, food comes out. Three times a day typically is pretty normal for them. Some people, once a day in the morning is normal for them, and it's kind of a continuum as well. One to three a day is pretty good.
Generally, if you're going every couple days, like you said, Yuri, if you're going a couple times a week, that's a problem. If you're going 10 to 15 times a day like I did for a long time, that's a problem. In general, those are the three criteria of how we look at a perfect poop. And if you're outside of the norms in any of those three areas, that's an indication that you've got a problem.
Yuri: Yeah, those are really helpful. Just kind of finishing up here, you guys obviously specialize in this area; you've worked with tons of people with digestive disorders. Is your message to people that no matter if you've got IBS, celiac, whatever it is, however damaged your gut is, there is hope that you can repair it? Is that the message you want to send people?
Steve: Yes, of course. I think that when you start to dive into the rabbit holes of all of these various disorders of the gut, you end up at the other side with sort of the same root causes: adrenal dysfunction; hormone dysfunctions; infections; detoxification issues.
We kind of, hopefully, are walking, talking people of hope that we could bounce back from several—myself, I had H. pylori, I had Candida, I had SIBO. I had all these different infections; I had stage three adrenal burnout. Yeah, it took a few years to get back to the robust level of health I know enjoy, and I can't just eat McDonald's every day—that would be ridiculous—but all of these bad problems are, in our opinion, sort of just ending up farther down the chronic health ladder.
It might take you longer to get back up to the top of the ladder, to get back up to the robust level of resilient health that I think most of us want to be able to enjoy, but, yes, think if you're someone, the first step is a lot like what you talk about, Yuri: having a great diet, making sure that you're keeping your stress low, having a prudent exercise program, doing those base-level things.
And then if you're someone who this digestive thing has been a problem, it's a thorn in your side, it's really bad, it's Crohn's or ulcerative colitis, again, dig in. Find a way to work with a practitioner. Obviously, we have a consulting practice you could come join, but I know Yuri, you talk with a lot of people who would be totally competent to work with you to find the root causes of why you're still sick even though you're making good dietary choices, good exercises choices, and reducing your stress.
Yuri: Yeah, that's a great message. I think it's important too, because I think especially in this day and age of misinformation and marketing and all that kind of stuff, it's very easy for people to lose track or lose sight of the fact that you can't really improve your health by eating specifically just five foods, like the five foods that'll burn belly fat or whatever, what we see in those ads all over the Internet. Unfortunately, there's a little bit more complexity to most people's bodies than that.
Nonetheless, I want to thank you guys for taking the time, for sharing your wisdom. Again, this is a topic that I personally love, and I think it's an area that a lot of people need to have a better understanding of. I just wanted to thank Steve and you, as well, Jordan, for taking the time today.
And for everyone listening, you guys can learn more and check out their stuff and follow their awesome wisdom at SCDLifestyle.com. They've got a ton of great information there, which I highly recommend you check out. Any final words from you guys before we finish off?
Jordan: It's been fun, Yuri; thanks for having us on. It's always fun to talk about poop because that's what we like to talk about and that's what we like to help people with.
Yuri: Great, great. Thank you very much, guys. It's been a pleasure and I look forward to connecting with you guys soon. Thanks again; we'll see you guys in the next episode.
Related Posts:
---
Tags: constipation, digestion, paleo, scd, specific carbohydrate diet

About Super Nutrition Academy

Super Nutrition Academy is the ONLY nutrition course that makes it easy for everyday people to understand the complex relationship between nutrition and health. If you're tired of all the conflicting health information out there and want a clear-cut, evidence-based understanding of the nutrition and health topics that matter you, then get started today.

---