Posted: February 1st, 2014 @ 6:30 am | By:

Yuri Elkaim
Categories super nutrition academy health class
Episode #87
JJ Virgin and I discuss how being a "virgin" can be a good thing – at least from a diet perspective……
Click here to subscribe in iTunes (and download)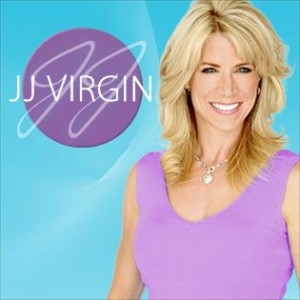 Yuri: Hey, guys, Yuri here. Welcome to another episode of the Super Nutrition Academy Health Class. I'm really excited to be joined today by my dear JJ Virgin.
If you've been to a bookstore recently or in the last couple months, you may have seen her book, called The Virgin Diet, on the best-seller shelf. In fact, it's been on the New York Times best-seller list now for approximately 25 weeks. It's an incredible, incredible work. JJ is definitely one of the leaders in this entire field of nutrition.
Not only that, she's one of the most generous and amazing people that I have the privilege of calling a friend, so I'm really excited to have her with me today in this episode because we're going to share some really cool things with you. Without any further ado, welcome, JJ.
JJ: Thank you for that.
Yuri: Absolutely. Why don't we talk about, The Virgin Diet is really, really interesting because you talk about the whole premise is kind of "drop seven foods, drop seven pounds in just seven days"; that's kind of the premise of it. Why seven foods? In your experience, why are there seven foods that people need to avoid?
JJ: Because it sounded so cool to say "drop seven foods." I always like to say that, because people are like, "What's with the seven?" It actually was one of those situations where I had the beautiful opportunity to have my clients teach me.
I was working with doctors—I had created this course called Overcoming Weight-Loss Resistance, and I was going around the country teaching this and then working in doctors' offices, helping them use a food-sensitivity test to help their patients feel better fast. You know, aches and pains and gas and bloating and brain fog and skin problems.
What was interesting was, people would do the test and we would take the foods out that the test showed up—which, incidentally, were always the same foods—and they would feel better fast, but the other thing that happened over and over again is, they lost weight fast. When I say "drop seven foods, lose seven pounds in just seven days," that's because that was the average of what I've seen over the years. In fact, some people I've seen lose twelve, lose two, but, you know, it's amazing the shifts that happen.
I wish I could say I was a big smarty-pants and I thought, Oh, it should be the foundation of a weight-loss program, but, in reality, it took me about a year or two years to go, "Huh, I'll put this as the foundation of a weight-loss program." I kept thinking I needed to test even though the same foods showed up.
It made me realize, too, that when you look at food intolerance, there're a lot of different ways that we can be intolerant to food. I don't believe there's anyone out there that isn't intolerant to something; it's just how many of these things you are. It can be due to genetics, things like dairy and gluten; there're heavy genetic factors that play there. It can be due to immune issues; that's very classic in food sensitivities, like I was testing in the office. Or it can be due to hormonal issues, especially when you look at sugar.
Yuri: Yeah, no kidding. You mentioned gluten and dairy. I assume, obviously, those are two of the foods that you don't recommend people consume that often.
JJ: Right.
Yuri: I think a lot of people probably understand that, but for people who've probably never heard of the fact that dairy and gluten might be problematic, why are some of the reasons that they're best off avoiding them?
JJ: And could we say first, because I'm sure that there's someone listening right now that's going, "Okay, you had me at the 'drop seven foods, lose seven pounds in just seven days,' but then you're taking away my cheese."
Yuri: Yeah, bread and cheese.
JJ: "We're not going to be friends here." The thing is, first off, it's just three weeks. If you're thinking that at all as you're listening to this, what I want to emphasize is: it's just three weeks and you can do anything for three weeks.
I give people very simple swaps. If you're hooked on pasta, I give you quinoa pasta; you've got simple swaps. What I saw with dairy and gluten and sugar, to me, are the most—there are seven foods but these ones are the ones that pop up the most because they're so addictive and so ubiquitous.
It's so difficult to navigate the processed-food aisles, which is we can just stay out of them and get away from gluten and sugar and dairy. They're just everywhere. And the reason they've done that is, a) they're cheap; and b) they're addictive.
We know that dairy and gluten have an opiate-like effect on the brain and that sugar is a complete drug to the brain. These are just your crack.
Yuri: One of the things you talk about is, you're kind of anti moderation, which is kind of interesting because my position is really about moderation, just because that's what's worked for me, but I also understand that it holds me back a lot of times. Now, with respect to these food intolerances, moderation might not be the best thing. Can you talk about that?
JJ: Right. Can I first say that you're a dude?
Yuri: I'm a dude?
JJ: Obviously. You guys just decide, "I think I'll lose some weight," and you blink. Although I've got a lot of weight-loss-resistant men, too, on the program; you know, that's my area, so there's that.
The deal with moderation is, with food intolerances, the little bit is what's creating the problem. The best example I can say to that is: I love dairy. People are like, "How do you do this?" But I also know what happens when I eat dairy.
I've connected the dots between what I eat and how I feel and what I weigh, and if I eat dairy, I get really bad acne and that's just not worth it for me. I was doing a little bit; I'm talking a little bit of foamy milk every day on an Americano, half an inch. That was enough to keep my skin breaking out and to keep me feeling bloated.
It's the little bit that can have a big impact because it triggers a response in your immune system. It's all due to a phenomenon called leaky gut, where your gut wall becomes more permeable than it should, your body's not digesting food as well as it should either due to stress or aging.
The gut wall's more permeable due to stress, due to gluten, which releases a protein that loosens the tight junctions due to GMOs, due to medications. You've got a leakier gut, you're eating these foods, even a little bit all the time, your body recognizes them as problematic because they get out into general circulation, where they have no business being, and it launches an immune attack.
If this was just every once in a while, it wouldn't matter; your body can get rid of it. But when you have it all the time and your body needs specific little warriors, little antibodies to deal with it, you can't get rid of it; it builds up and then you have a problem. That's why that little bit, that little moderation creates a problem.
You know what's worse about that? It creates these low-grade symptoms that we've all, as a nation, come to accept as normal and that's headaches, gas and bloating, joint pain, skin problems, fatigue, brain fog, moodiness.
These are just, like, go to the store and go into the drug aisle, and this what all medications are for, all the over-the-counter medications. This is just like let's just medicate our way through this instead of connecting the dots between what we're eating and how we feel and recognizing that we can change it all practically overnight by changing what's at the end of our fork.
Yuri: It's kind of almost like the human experience. This is what it's like to be human; you're going to experience this, this, and this. I found that a lot of people don't even know what they don't know. It's like they haven't seen the light until they have seen the light. Until they've removed some of these foods and realized, "Wow, I feel a thousand times better," and, like you mentioned, adding dairy or having cheese or milk and then noticing how you react to that is a really powerful thing, I think, for everyone to go through because that kind of aversion or avoidance of pain that can build up over time, because we don't want to feel like crap all the time, especially if we've felt really good.
I think it's a great experiment for people to go through by, again, the kind of minimizing or limiting these specific foods that you talk about.
JJ: You know what it does that I think is so powerful? If you talk to anyone who's ever been on a diet, they look at the food and the day as it was a good day or a bad day. "I was bad today," right? Food has this control over them—because it does; it is, again, their drugs—and they're powerless.
When you take the time—and it's just three weeks; again, I mean, come on; we can do anything for three weeks—to break free of that to get these foods out 100 percent (the only difference is sugar; that's five grams or less of anything added. We really minimize it). But when you take that time and you get these foods out 100 percent, you let your immune system cool off, your hormones come back into balance, and then you challenge them back to see how they really make you feel, the conversation's totally different.
The decision's totally different because now you go, "Oh, I can eat that pizza, but my fingers are going to be swollen, my knees will hurt, and my face will break out. Do I want it or not?"
Yuri: Yeah, it's an important, at that point you are in control, you have a decision to make either way, and you kind of live with the consequences, good or bad, I guess.
JJ: Right.
Yuri: So, you talk about the importance of writing these downs. This is kind of a nice segue from what we just discussed. Why is it important for people to write down what they've eaten?
JJ: This and, in fact, back when I used to see a lot of people one on one, I would not work with someone unless they promised to journal and I had to see their journals and I'd fire them if they didn't. The reason, not because I'm mean, but because when they hire me, they hire me to be successful, not to fail.
The number one determinant of your success on a program—I'm talking specifically weight loss but, really, with any lifestyle change—is journaling. In fact, a study found that people who journaled lost twice the amount of weight as people who didn't; it's that powerful.
For me on this program, the reason I insist on it is: You all of a sudden one day go, "Gosh, I feel rotten today. W hat the heck happened?" You can look back to the day before and go, "What got in that shouldn't have gotten in?"
Again, for me, it's all about being able to connect those dots, to be able to say, "Okay, what am I eating? How is it making me feel?" That empowers you to make the right choices.
Yuri: Totally, it's huge. Let's say somebody follows The Virgin Diet or they're looking to kind of get rid of some of these intolerant or sensitive foods, what would a typical meal look like according to your plan?
JJ: A typical meal—my actual most favorite thing to do is Mexican. An easy meal for me is basically a tostada salad without the shell. Some romaine lettuce, some peppers and onions, a little bit of black beans, some chicken, some salsa, and some guacamole. That's my most favorite standard go-to that I have a couple of times a week. It can be, last night I had grass-fed tenderloin and quinoa and broccoli, so that's a simple one.
What it includes is always The Virgin Diet plates. You always get some clean, lean protein; that can be wild salmon, wild fish, grass-fed beef, pastured poultry or pork, loads of nonstarchy vegetables, a little bit of a slow, low carb like quinoa or black beans or sweet potato, and healthy fats like the avocado, nuts and seeds—I like to soak them and dehydrate them—wild fish, avocado, coconut, Malaysian palm fruit oil, and it must be Malaysian. That's the simple standard.
My other thing that I have everybody do is start the day with a shake, because I find that the biggest place we boo-boo is breakfast. It's crazy what the standard breakfast is. It's like we're all eating dessert for breakfast. I don't know where this happened that we decided…
You look at lunch and dinner and, obviously, Mom was right; breakfast s the most important meal of the day because it's going to set your metabolic tone. You start off the day with a muffin and a latte—i.e., a cupcake and a milkshake—and all the sudden your blood sugar is going to go on a roller-coaster ride; you're going to tell your body—because food is information—to store fat and to be starving in a couple of hours. Why can't we have what we had for lunch for breakfast?
I have people start the day with a meal-replacement shake, a blend of vegan protein powders, because I've found whey most people react to, and it's got casein in it, so the first three weeks, they have to pull that out; and some coconut, almond, or cashew milk, no sugar added.
I've thrown a little avocado in mine or some chia seeds or freshly ground flaxseed meal, berries, and away we go. That's the simple way to start the day that I know you're getting a lot of great nutrition, and you're getting a nice, balanced response so that your blood sugar will stay stable and you'll be able to use stored fat for fuel and you won't crash and burn.
Yuri: That's good. I think it's unfortunate that we've all been kind of indoctrinated to kind of believe that cereals and bagels and toast—just based on commercials, really—are the way we should be starting our day.
When you talk to people about, thankfully, a lot of our listeners are a little bit further along than a lot of other people, but when people think about, "Oh my God, avocadoes, there's so much fat in those! How can that possibly help me lose weight?" how do you get people to understand that good fats are not the devil and that things like cereals and whole grains, which all these different governing bodies tell us are so good for us are more of a problem, how do you overcome that obstacle with clients?
JJ: It is so frustrating. I've been studying a bunch on sugar lately, reading the history of sugar, and this all started because of this one guy, Ancel Keys, who put it out there that fat's the reason we have heart disease.
It was, like, 50 years ago, and we just can't get over it. Look at the last 20, 30 years, where we really adopted that strategy, pulled the fat out and put sugar in, and took our health down. Now we've got diabetes starting in childhood, morbidly obese and obese kids, where that used to be the rarity is now the norm; it's absolutely crazy.
I eat a lot of fat; it's a premiere part of the diet. Of course, one of the most powerful things you can do is make an oil change. It's one of those things you just have people test.
It's when you explain how these things work and then have someone trust you and test it, because it changes so quickly when you take out the fast carbs—sugars and carbs that quickly turn to sugar—and replace them with healthy fats and get enough protein and eat things that are high in fiber; it's like, boom, stuff happens quickly, you just drop weight so fast. Especially when you're pulling out these reactive foods that create so much inflammation and cravings, like gluten and dairy and, of course, soy and corn and peanuts and, unfortunately, eggs.
When I was testing I found so many people reacted to eggs, and I've always felt eggs are one of nature's most perfect foods. I think those because a lot of us were vaccinated with egg protein in the vaccine; eggs are so ubiquitous; we are eating eggs that are just, you know, you are what you eat. What they're doing to the chickens is just ridiculous, so we're getting that.
Yuri: Yeah. What's great too is that you are living proof of this stuff. You're definitely, you're fit, you're trim, you're healthy, and what's awesome is that you live this stuff.
We've been to dinner several times, and it's always amazing to see how you eat, because you don't mess around. There're a lot of people who talk a big game but don't really back it up, and you definitely back up what you talk about, which is always nice and congruent.
JJ: Thanks.
Yuri: For everyone listening, if you guys want to check out The Virgin Diet, I would highly recommend you do; it's an amazing book. You can go to VirginDiet.com/Yuri, and we'll provide a link under this interview nonetheless so you guys can do that.
Any kind of closing, we can talk about this stuff all day, JJ, but I know that you're pressed for time, and I want to thank you for the time you've taken so far. Any final thoughts, any final recommendations you have for our listeners?
JJ: Yes, there are. Well, I've been working in weight-loss resistance for a couple decades, and I think what's been most frustrating for me is to see people do diet after diet after diet, basically following the wrong set of rules, treating their body like a bank account, which it's not, rather than a chemistry lab and not looking at food as information, looking at it as purely like numbers.
What happens when you do this is, obviously, you're set up to fail because you're going to get hungry, you're going to lower your metabolism, and you're going to overeat. I've seen so many people who've damaged their metabolism by doing these low-calorie diets because they burn up muscle. At some point you get hungry and you overrule yourself because we're hardwired to survive famines and you overeat.
It's a recipe for disaster, but the bigger problem I see with this is not what it does to your metabolism; the thing that really breaks my heart with it is what it does to your psyche. You get this idea that this is just as good as it gets, that you're meant to be overweight or obese; you lose your hope. If you don't believe you can, you're done.
The most important thing that I want people to get from this is the idea that they've been following the wrong set of rules if they've been following that model. Things can be dramatically different dramatically fast. In seven days you can have such a huge shift.
The challenge I have in the program is getting people to rechallenge to see which foods work for them and which foods don't, because, hey, eggs may work, dairy make work. They don't want to because they feel so much better, they don't ever want to go back; they're actually kind of nervous to test.
So, my goal is that people get their hope back and give this a shot, because, again, it's just three weeks, and we can do anything for three weeks. And in three weeks you can be in an entirely different place than you are right now. Hey, three weeks are going to pass anyway, so why not have them pass and reclaim your health? Get your energy back, be able to focus more, and even if you're already healthy.
Because when I finally connected all these dots, it wasn't that no one would've looked at me and said, "Oh my gosh, poor you," but I was ten pounds heavier than I wanted to be, my joints ached, I had gas and bloating, I had skin problems, I was a bit moody. I wasn't as charming as now, Yuri. It can make a massive shift quickly, and I just want that for everybody.
Yuri: Awesome, that's great. That's a great message and I completely support you. Once again, guys, check out TheVirginDiet.com/Yuri; it's an amazing, amazing book. Just really simple things that you can put into play that'll make a big difference. JJ, I want to thank you for taking the time to share some of your wisdom with us, and I look forward to connecting with you very soon.
JJ: My pleasure!
Yuri: All right, guys, talk to you soon.
Related Posts:
---
Tags: jj virgin, virgin diet

About Super Nutrition Academy

Super Nutrition Academy is the ONLY nutrition course that makes it easy for everyday people to understand the complex relationship between nutrition and health. If you're tired of all the conflicting health information out there and want a clear-cut, evidence-based understanding of the nutrition and health topics that matter you, then get started today.

---