Posted: May 22nd, 2014 @ 11:39 am | By:

Yuri Elkaim
Categories super nutrition academy health class
Episode #106
What if the olive oil, grass-fed beef, and stevia in the grocery store wasn't what you thought it was? Discover the truth about these foods with the nutrition nerd, Nick Pineault.


Click here to subscribe in iTunes (and download)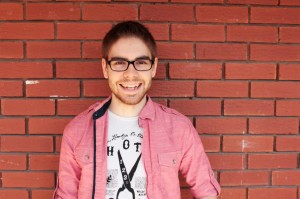 Yuri:                Hey, guys, Yuri Elkaim here. Welcome to another episode of The Super Nutrition Academy Health Class. I'm super excited to be with you once again, as always. I hope you're doing well.
We have a great guest with me today, a good friend of mine, Mr. Nick Pineault. He is someone you may have heard of. He's probably got one of the top-selling Internet nutrition programs called The Truth About Fat-Burning Foods. It's really become an Internet sensation over the last year and a half or so; it's an incredible program.
What I love about Nick is that he calls himself the Nutrition Nerd, which essentially means he's like the detective that goes into foods and expels and exposes a lot of myths and gives you guys real simple solutions to getting healthy and eating well. We also had him as a contributor to the Super Nutrition Academy blog, and his stuff is awesome.
You can learn about his work at NickPineault.com; that's obviously a French spelling because he is from Québec, in our native country of Canada. Nick, welcome.
Nick:               Thanks, Yuri, it's really an honor. I must mention something. Just listening to your voice—I've listened to your voice for I don't know how many hours. You gave me access to Super Nutrition Academy, and I listened to the whole thing. It's really weird at the same time being part of something you do, so it's really an honor for me being here.
Yuri:                That's great. It is kind of trippy. I listen to my voice sometimes if I'm working out and it's weird. I'm excited to get into this because I think what I love about you is that you probably put out some of the best information out of anyone that I know; that's why I invited you to be one of our contributors to our blog.
You don't have a Ph.D. in nutrition and all this stuff. You're just someone who's just really passionate about this topic. What was your motivation for getting into this and doing what you do now?
Nick:               Yeah, sure. On a side note, what I like about the Internet is that you can get on podcasts like this and not have any credentials. In the offline world I think some people are close-minded about it. If you don't have this shiny diploma on the wall, it just discredits you, so I really appreciate that.
For me it started about seven years ago. I was just eating a lot of food, trying to get bigger (I'm a naturally lean and small guy). I ended up eating about 6000 calories a day, believe it or not, and thinking that I would get all bulked up. Part of it was a gallon of orange juice a day and nonsense like that. At the time I thought it was the right thing to do.
I got in not-very-good health, got some fat, believe it or not, by pretty much 24-7 doing nothing, but still, I got fat a little bit. Then I realized, "Hey, maybe I'm not eating the right foods." My education was pretty much the standard that most people have. Obviously not people listening to this but people used to have; for me, it was TV. I believed orange juice and margarine and all of those ingredients were healthy.
I ended up listening to cool documentaries like Food, Inc. and Food Matters, and it just opened my eyes. Then I became obsessed with it because I have a communication background and basically have this journalist mind-set of I'm going to find the real truth about all these foods no matter what. And I came across you and a bunch of people on the Internet and  authors and guess what: People were seeing things really, really different from what I used to be hearing on TV and what I used to be reading in the conventional books and magazines. I found that really bizarre and shocking at the same time.
I thought it was interesting to bring this information to everyone, so that's why I teamed up with my fiancée and partner, Gen, and we wrote that book The Truth About Fat-Burning Foods, which is basically nothing new, but it's a big aggregation of all the information out there that a lot consider to be as close to the truth about food as possible.
Yuri:                Yeah, it's terrific. When I went through it, I thought not only is it just a really nice-looking program the way it's aesthetically laid out, but the information is tremendous.
Nick:               Thanks.
Yuri:                You talk about all that good stuff that we can obviously get into in a couple moments. In your research, in your "detective" work, what do you find are, let's call it the top two biggest…I call it maybe health-washing lies, the biggest misconceptions with respect to food, whether it's free-range chickens or eggs or meat, what do you find are the biggest things that people are misled about?
Nick:               Sure. The number one I think is olive oil. A lot of people are starting to talk about it now; it's coming in the news a little bit. There's a thing when a food product becomes really popular, you can bet that some people are going to ride the wave and try to make the quick buck out of that quick buck. That happened in Italy, Greece, and all those producing countries where, I think it's something like 33 percent of all olive oil producers or companies in Italy were found guilty of some forfeiting. It's not back in the day; it's like two years ago—I've got to verify the research—or something like that. It's really terrible.
There'are a lot of people trying to either sell the extra-virgin, the highest quality, which you can bet is healthier for you, it's fresher, and they mix it with the cheaper oil to basically reduce cost and make a quick buck. That's a big scam to me.
What was really surprising was when I read the book The Olive Oil Deception or something like that (Extra Virginity: The Sublime and Scandalous World of Olive Oil) on Amazon.com. It's by Tom Mueller; he's an investigative journalist from the U.K. The guy spent many years investigating the olive oil scam. From eastward, 70 percent of olive oil sold in the United States are counterfeit in some way.
Yuri:                Wow, that's huge!
Nick:               Yeah, that's a huge number. To me, that scam, the fact that consumers need to be really careful about what kind of olive oil they're picking on the shelves is just so surprising to me.
Yuri:                Let's stop there for a second. You're going through the grocery store; you want to get some olive oil. Let's say the olive oil says "extra-virgin" olive oil. You're saying that in a lot of cases, that's not actually 100 percent true. If it's not, how does a consumer make a better choice?
Nick:               Yeah, there's the olive oil center in California; that's a great resource. They did some testing. A lot of extra-virgin olive oil can truly be called such because they don't need the criteria when it comes to taste and quality and rancidity. This center publishes a report every couple of years with some brands—for example, Kirkland or Leccino. They have a couple of brands that are really 100 percent extra-virgin and proven.
The other thing you want to look at is an expiry date on the bottle, because really cheap brands won't have an expiry date, but real brands will have, let's say, a two-year shelf life, so that's something you want to look at. Also, where the oil comes from. If you have a company that says it's grown in California, that's a good thing—or grown in Italy—but if you find something like it was bottled in the U.S., you don't have any other information, it might be on the shady side a little bit. It's really hard, though.
What I recommend personally, if you can afford it or if you can a local Italian store, specialty store, or even Greek store or anything, you can ask the owner where it comes from. If they have a personal importer that they know, basically it comes down to confidence. For people who live in the U.S.—of course, from California—there's a ton of great olive oil farms over there, so you can probably be sure that everything that comes from the small producers is 100 percent legit. I think it's just a lesson that we need to be more careful about where our food comes from, in the end.
Yuri:                You mentioned Kirkland, which is Costco's brand, right?
Nick:               Yes.
Yuri:                In your research, are they—just because I know a lot of people go to Costco in terms of getting big cuts of meat or larger quantities of food—have you done much research on Kirkland as a company? Are they reputable in terms of their olive oil or even their meats and stuff?
Nick:               What I do know is—for example, I used to work with Cascade, which is, they make, basically, paper towels and toilet paper. I used to work with Cascade, and Costco was one of the buyers of Cascade. These guys are just so hard on the quality and so rigorous. What I do know, Costco is one of the brands that just has very, very high standards when it comes to what products are inside.
Yuri:                That's good stuff.
Nick:               Yeah, yeah, that's definitely good to hear, because at the same time, it's a place that I'd say half the people I know go to, so it's pretty good. But I don't know about the meat. I've always wondered myself. For example, I could find wild-caught salmon that was so cheap, so sometimes you just get really good deals like this. The good thing is, their olive oil is 100 percent legit, and it's very, very cheap. To me, that's probably because they're really careful about where the olive oil comes from, and they just want the high-quality stuff for everything they order from different manufacturers.
Yuri:                That's really good to know because I think a lot of times, you assume a big-box retailer like that and lower prices with lower quality. That's really reassuring. I'm sure a lot of people listening to this are probably brushing their brow, like, "Whew!"
Nick:               Yeah, definitely. At Costco, I could find, for example, one kilo of chia seeds or products like that, that you're like, "Oh my God, this is so cheap!" the fraction of the price at a health-food store, where these guys don't have the volume that Costco has. Yeah, you can find really good deals on all kinds of super foods you might want to buy.
Yuri:                That's awesome. What's another misleading truth about food we should know about?
Nick:               This one made a lot of people jump and me as the first person. It was the stevia brand Stevia in the Raw. Stevia in the Raw are these packets you can find everywhere, and it says zero-calorie, zero sugar. You look at the ingredient list, and you find out that it's 95 percent dextrose, which is a derivative of sugar.
Basically, if you take one packet, because it's under five calories, they can say it's calorie-free, and because it's a small packet, they can say it's sugar-free as well. It doesn't make sense to me, but that's the FDA working like they usually do right there. Basically, it's almost pure sugar, but you think you're getting a packet of stevia. To me, it doesn't make sense.
I recommend, instead, getting some Pure Via or other brands out there that are mixed, for example, with erythritol. I find that's a very good alternative when it comes to health, because pure stevia powder, you just use a pinch and it's already too sugary, so they usually bulk it with erythritol, which is just fine, instead of sugar. It doesn't make sense to me. People are trying to watch their sugar intake, and yet you take 95 percent sugar when they put the Stevia in the Raw in their coffees. What the heck is that? It's so unethical, it feels like.
Yuri:                That's why I think the work that you do is so awesome, because a lot of people don't know, and it's not their fault. They don't know that if you have less than five calories, you can say no calories or if you have less than five grams of sugar, you can say no sugar or low sugar, whatever it is. The FDA, it's funny because they really run a monopoly where it's almost as if a food or a supplement isn't FDA-approved like that's a bad thing. A lot of times it's probably a good thing. I don't find their labeling very apparent and honest. Obviously you're Canadian, so I guess you guys have this in Québec. Do you guys have the health-check symbol, the Heart and Stroke Foundation health check?
Nick:               Yeah, we do, for the Canadian heart Association.
Yuri:                Yeah, that's another big scam. The CBC did a thing on this a couple years ago, and they found that the Heart and Stroke Foundation was being paid millions of dollars by General Mills and Campbell's Soup and stuff to have that health check put on their cans of soup, for instance, which had, let's say 900 milligrams of sodium per serving, but there was, like, two or three servings in the can of soup, and yet it has this health check saying it's heart-healthy. It's just crazy.
Nick:               It doesn't make sense.
Yuri:                Yeah, it's hilarious. You also talk about free-run, pasture-raised, all those kinds of words that are so thrown around now with meat. Can you give our listeners a better understanding of what those mean?
Nick:               Yeah, sure. At the time I did the research, it was one thing; tomorrow it could be another thing, so keep that in mind. It changes really fast when it comes to rules. As of last year, the FDA—when you check out the for example, for beef.
Beef is a big thing these days. People want to go back to eating beef the right way, so obviously grass-fed beef. They try to find that at grocery stores, go to Whole Foods and pay more for their grass-fed beef. That's a good thing; people are trying to invest more money in their health. But then you discover that grass-fed beef doesn't mean anything legally. If it's USDA grass-fed, then you know it's 100 percent grass-fed, but if it only mentions grass-fed, it's not guaranteed you're going to get grass-fed.
What some manufacturers have done, especially the big guys who cut on costs, is feeding their cattle in the last month of fattening is done in, you've guessed it, in the grain-fed mess that is everywhere in the U.S., the feedlots. Basically, you end up having meat that was grass-fed for almost all their life, except the last month. What ends up happening is that the fatty profile turns back to omega-6, polyunsaturated fats and all the consequences we know that happen when you feed grains to cattle. It's pretty misleading. Again, you're buying grass-fed beef and it's not grass-finished.
What I always say is either try to find grass-finished beef, but, again, it doesn't have any legal standing as well, so you want to find either the USDA grass-fed logo symbol or what I recommend even better: You find a local farmer that you trust and you develop a relationship and even visit the farm, because you discover, people are growing my food and they're doing it the right way. This is how we're going to change the future of food, through going back to earth a little bit and rediscovering how our food is made.
Basically, you just look for a family-owned far and you go there and you ask them: Do you feed your cattle with grass or grains? Of course, there are going to be some grains in the winter. I just want to point that out. Some people are looking for 100 percent grass-fed. Oftentimes, it's really hard. For example, in Québec sometimes they're fed grains a little bit during winter because it's -35 Celsius, and it's really hard adding hay around 365 days a year. It's not terrible if they're fed some grains, but you want mostly grass, almost 100 percent.
Yuri:                For the person listening who's not aware of why it's not a good thing to be eating grains as a cow, for instance, can you explain why that would be?
Nick:               Sure. Basically, it's the same idea why people eat, let's say, burgers at McDonald's with a sugary soda and not being really healthy. It's the same thing for cows. Cows that eat grains, this is not the diet they're supposed to eat. On an evolutionary basis, they were eating grass and they're still eating grass. What ends up happening is that their fatty profile, they become fat a lot faster, so that's why. Obviously, grains are really cheap at the same time; they can be fed in feedlots.
What ends up happening is that your meat contains a lot more fat, and fat is not necessarily a bad thing, but in that case we're talking about polyunsaturated fats, basically omega-6's and a lot of people eat too much of those omega-6's already. And on top of that, you've got, of course, they are fed with really cheap grains, GMO grains, so you also have that concern again; again, nothing is proven in the GMO realm, but I prefer avoiding them personally. You have the fact that all these grains are soy, corn, and everything is sprayed with a lot of pesticides, so you have more pesticides, more toxins inside the fat.
In any mammal or any being that I know of, most of the toxins are stored inside the fat. If you have a real, good fatty cut of the grain-fed beef, you end up having more toxins that are concentrated in the fat. For all these reasons, it just makes more sense to go grass-fed.
Yuri:                And I think, also, it's just more natural. If you see cows in the wild, you see them generally eating grass; they're not eating corn and soy and stuff.
Nick:               They would never be doing that, no.
Yuri:                Awesome, that's really cool. You guys were working on a really cool program called The Fast-Food Solution. Can you talk about why you guys are developing this, just a quick benefit to the consumer, of somebody who might use the program?
Nick:               Sure, definitely. My partner Gen and I, we're two regular people, like you mentioned; we don't have any diplomas or anything like that. We realized, though, The Truth About Fat-Burning Foods and giving all this information, the truth about food, we realized people have a really hard time implementing all those changes in their everyday life.
What that means is that they go in their kitchen, and they are desperate for a solution because they don't feel like good cooks. No one that I know of really has cooking classes while they're young and most parents don't know how to cook anymore and they cook with processed foods. Yes, you want to make changes in your diet and cook with all those healthy foods and do the right thing, but yet you can't really cook, you don't have any ideas for recipes or the recipes you cook are really expensive, they're really long to prepare.
All those problems just take a toll on your entire lifestyle, and you end up discouraged. I meet a lot of people that are like, "I would be eating better but I end up at the restaurant seven times a week minimum" because they don't have time and they don't have a solution to cook really fast. What we wanted to create and we're creating is a solution, basically, a six-module program that's really easy, where Gen is going to cook all those recipes under 15 or 10 minutes—we have yet to decide, but it will be really, really fast, including cleaning. The recipes will be not only fast, but they will be really cheap.
We won't go into too many difficult-to-find ingredients, ingredients you can find in any regular grocery store, and we'll go back to basics. We'll show you how to cook really healthy, simple recipes and even faster than fast food so you won't be tempted to go to the local drive-through or anything like that because you'll be able to make a better meal, healthier meal, faster meal for a couple of dollars.
Yuri:                Nice. And it's not the Kraft dinner and Hamburger Helper stuff.
Nick:               Exactly, and it will be inspired by things that people love. There's a way to cook a healthy burger, but, again, how do you cook it, what kind of bread do you use, what kind of toppings, and everything? There are so many questions, and most people end up really discouraged trying to find all the answers, so we'll provide the answers and really show people how to continue cooking almost what they're cooking at the moment or what they wish to eat but just with small, slight changes in the ingredients and really show them that if you just stop buying all these processed foods, you'll end up actually saving money while eating healthier and probably losing weight at the same time, which is a big problem for most people.
Yuri:                Yeah; that's great too because it gives people permission to enjoy great-tasting foods without the guilt of, Oh my God, I'm having a burger or whatever. At least they have the reassurance that at least it's something somewhat healthy, which I think is great. I think a lot of diets, as you know, they're just so "You can't have this, you can't have this, you can't have this," and then the person's like, "Well, what am I supposed to eat?"
Nick:               Exactly. It's definitely a problem. I got an e-mail that really sums it up. A mother of three, she just told me the story of her morning; she sent me this e-mail just before leaving, rushed, going to drive the kids to school. She was like, "You know, Nick, this morning I wanted to have toast, but then I realized they're not gluten-free. Then I wanted to have cereal instead, but then I wasn't sure that the nuts inside were the right nuts or they were roasted; then I thought they might be rancid."
All these questions just stacked. She ended up eating nothing out of desperation. I was like that's a problem because you and I talk about all these foods and all these different food swaps that you might want to do, but people get so confused about it sometimes, and they just tell themselves they're better off eating nothing, which is a little bit dangerous.
Yuri:                Yeah, totally. It's a weird world that we live in, but I'm happy that you guys are coming out with that because I think that's a great program.
Nick:               Thank you.
Yuri:                June 24 you said, right?
Nick:               Yes, exactly.
Yuri:                Everyone listening, if you guys are not on my e-mail list, be sure to go over to SuperNutritionAcademy.com/blog; not only will you get a ton of awesome information, but I'll also let you guys know when Nick's new program is out so you can get your hands on it. It's going to be great.
I just wanted to say thank you so much for taking the time, Nick. Are you at a coffee shop right now or an Internet café?
Nick:               Yeah, it's a coffee shop. I work there every Tuesday, trying to get some quiet time and do a lot of work, but it's really my pleasure, man. I really appreciate it.
Yuri:                Awesome. Well, thank you so much for joining me. Any parting words of wisdom for our listeners?
Nick:               Yes, yes, of course. In The Truth About All Fat-Burning Foods, the one thing that I think was the best lesson that I put in there is: Do one thing at a time. If you're listening to this and you're really confused, you just started eating healthy or wanting to change your entire diet, take it easy and remember that you're doing that to get healthier and not lose your mind and start to be really fearful of your foods because you're choosing, I don't know, you're having one hot dog and you feel guilty about it.
You know what? The small changes will stack up, and you'll end up healthier. That's really the focus you want to keep. It happens to all of us; I think we go into extremes. You won't find, really, any joy into extremes. Ninety percent of the time, make the right choices.
Try to change one thing this week, one thing the other week, and 52 weeks from now, a year from now, you'll really have a completely different diet and a completely different body and you'll be happy about what you did and the fact that you did it step by step. That's really my lesson today.
Yuri:                Awesome, I love it; very pragmatic, useful advice. Everyone listening, if you guys have enjoyed our discussion, you can learn more about Nick's work over at NickPineault.com. Awesome information that he and his fiancée Gen put out; I highly recommend checking it out.
Once again, thank you so much, Nick, for taking the time, and for everyone else, thank you for joining me, and I look forward to seeing you guys in the next episode.
Related Posts:
---
Tags: grass-fed beef, Nick Pineault, olive oil, stevia

About Super Nutrition Academy

Super Nutrition Academy is the ONLY nutrition course that makes it easy for everyday people to understand the complex relationship between nutrition and health. If you're tired of all the conflicting health information out there and want a clear-cut, evidence-based understanding of the nutrition and health topics that matter you, then get started today.

---