Posted: May 20th, 2014 @ 1:39 pm | By:

Yuri Elkaim
Categories super nutrition academy health class
Episode #105
Discover how to rebalance your hormones and get your health back on track with our guest and hormone specialist, Dr. Sara Gottfried.
Click here to subscribe in iTunes (and download)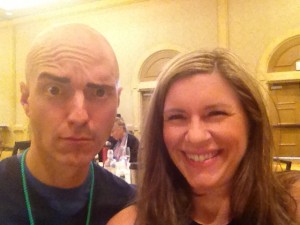 Yuri:                All right, guys, welcome. Yuri Elkaim here and I'm excited to be with you with another episode of The Super Nutrition Academy Health Class. I hope you guys are having an awesome day. It's another beautiful, somewhat sunny day here in Toronto, and the weather is getting warmer, which is always good.
I'm excited because I have another great friend on the podcast with me today. If you guys are wondering why humans don't necessarily function as they should health-wise or sometimes we kind of go through life and can't explain what happens with our health and sometimes we're just like, "What's going on?" I have somebody who might be able to give some of the answers here.
Her name is Dr. Sara Gottfried. You may have heard of her. She's got some amazing books out there, specifically around hormones. She's got one out right now called The Hormone Cure. You can check out more about it at TheHormoneCureBook.com. You can get some amazing free training from Sara—or should I say Dr. Gottfried, which would be much more professional.
She's an amazing person, an amazing human being. She is all about giving and helping you reclaim your health, your vitality. She's come from that position herself, and that led her down this path of really wanting to serve others. Without any further ado, welcome, Sara.
Sara:               Hey, thank you, Yuri. What a lovely introduction.
Yuri:                It's the least I could do. I probably could have done a better job, but I think our listeners will get a good idea of who you are as we go through this next 30 minutes or so together. What's new and exciting in your world?
Sara:               Well, we just released The Hormone Cure in paperback. I'm so excited about this Yuri because I've been asked over the past year—we were so honored to become a New York Times best-seller with this book.
Really, my goal—I think it's similar to yours—it's to change the conversation that we're having about health and hormones, so I was delighted that we were able to reach folks. I got asked a lot of questions when that book came out, so this paperback is answering those top 20 questions I get from folks.
I love how you framed hormones as this is often the reason why there's that gap between intention and behavior or between how you want to rock your mission and what actually is happening in your life. I really love how you framed that.
Yuri:                I find that hormones are these mysterious messengers that the average person really doesn't understand very well. Even health experts. I think there's a lot of, I don't know if misinformation is the right word but just a lack of proper understanding because it's kind of a very complex universe inside the body.
You're the expert in this area. Why don't you illuminate our listeners with maybe one or two of the big issues that people ask you about and how those relate to some of the hormone imbalances that might be going on?
Sara:               Right on. I would be happy to do that. I have to say that from hanging out with you a few times over this past year, I know you like to have fun when it comes to complex biochemistry, so let's have a little fun today, okay?
Yuri:                Let's bring it down.
Sara:               Let's bring it down. A few things. This actually goes back to when I was in my mid-30s—this was now ten years ago—and I was working as an OB/GYN at a health-maintenance organization. Like many women, I was burning the candle at both ends; I was fat and frumpy and frazzled. I went to my doctor and I was offered an antidepressant. I was also offered a birth-control pill.
This is such a common story; I'm sure you've heard it as well from other people, Yuri. The truth is, that's exactly the wrong treatment. It doesn't address the root cause of why I was feeling like a frazzled, fat, frumpster. There's even data now; there's a study from Harvard showing that antidepressants—especially the SSRIs—are linked to a greater risk of breast and ovarian cancer. It messes with your liver, it causes problems with estrogen metabolism.
I don't think that is the answer to the woes that people come up against. Usually, it's hormonal, let's start there. The one that I love to talk about—and you and I have spent a lot of time talking about this one—is cortisol. I feel like cortisol is the elephant in the room that most mainstream doctors aren't thinking about or asking about, and, yet, it's the boss man of all of the hormones in your body, whether you're male or female.
It controls your thyroid, it controls your blood sugar, blood pressure, it gives you a muffin top if it's too high, it also controls your gonads, so your ovaries if you're female, testes if you're male. It is the control system. I think of it as Houston. If you're on a rocket ship working for NASA and you're like, "Houston, we have a problem!" cortisol's like that.
Yuri:                I think as a man, I think any man listening to this may not make the correlation but usually when there's stress, there's a lower sex drive. We tend to think about why that happens. Once you get into the pathways of how all that works, essentially, there are some serious hormonal shunting that takes place, and there's less production of testosterone and sex drive and stuff.
The common things that people come to you with, is it sugar cravings or sex drive or energy? What do you see as a medical doctor and working with individuals? What are the big things that you come against on a day-to-day basis?
Sara:               Great question. I'm also a bioengineer from MIT, so I'm going to totally geek out with you over this particular question, because I've done quantitative surveys of the people who've come to see me over the past 20 years; I see both men and women.
What I see consistently is that 91 percent complain about their energy. They don't have consistent energy throughout the day. They wake up in the morning; they don't know what they're going to get. They're going to hear either the loudspeaker telling them to drink coffee, or maybe they feel full of positive emotion, which is the best-possible situation.
Cortisol really kind of drives you in the morning. You get this awakening response with cortisol. It is the main stress hormone; it's responsible for, as I mentioned, your blood sugar and your blood pressure. It also modulates your immune system, and it's the stress hormone.
If you're a bit of a stress junkie like I was in my 30s, when I was feeling like crap and asking my doctor for help, what you want to do is dance differently with stress. You want to manage your cortisol like you manage your 401(k). You're absolutely right that, I see a lot of guys who come to me—women too—who have low T; they have low testosterone. They want to jump immediately to frosting themselves with the latest bioidentical testosterone or maybe injecting pellets. I have to say, "No data, no data, no data."
When it comes to women, we don't even have data beyond six months with taking supplemental testosterone. What I'd rather do is say, "Let's say a functional-medicine approach. I've got this progressive three-step protocol called the Gottfried Protocol, where you change the way you eat, move, think, and supplement first. The truth is, that's the small hinge that swings big doors when it comes to hormone balance. We can get into some of the details; I'd love to give practical tips on how to get your cortisol so that it's not working against you, how to get it working for you again.
Yuri:                I'm sure our listeners would love to hear that.
Sara:               Right on. With cortisol, some of the common symptoms that I see in my practice, you asked about the main symptoms, 91 percent low energy, but a close second is low sex drive. I see that in 80 percent of the people who work with me. Eighty percent want to lose weight; another 69 percent have mood issues.
With cortisol, it can cause problems with all of those symptoms. Just some of the common ones that I see include feeling wired but tired when cortisol is either too high or too low or a combination of the two. Feeling like you're constantly racing from one task to the next. Or difficulty sleeping; maybe you get a second wind at night, and it end up having this total backlash.
What do you do about it? Chapter 4 of my book is all about cortisol. The first step in this functional-medicine approach that I developed is that you make these targeted lifestyle tweaks. You make the tweaks that have been proven in randomized trials, the best evidence to get that particular hormone back into balance.
When it comes to high cortisol, we know that pushing the pause button really makes a difference. I'm a big fan of having a fun, eclectic top-five list of what it looks like to hit the pause button, because not everybody wants to sit on a cushion and meditate in the morning; I totally get that.
And then there are some supplements I'm sure you're quite familiar with, Yuri, like phosphatidylserine. I love PS; phosphatidylserine is super effective, shown in randomized trials to reduce cortisol levels. We also know that fish oil, omega-3s, are very effective at lowering cortisol and also increasing lean body mass. You are one of the super athletes in my circle, so I know you care about lean body mass too.
Yuri:                I think we all should to some degree, yes.
Sara:               We all should and it's not just vanity or performance. Your lean body mass, you want to raise that as you get older because it's linked to longevity, and it's a lot cheaper than measuring your telomeres every year, those little caps on your chromosomes that are arguably the best marker of longevity. That's step one of the Gottfried Protocol, that you make these targeted life changes. I used to be a runner.
Yuri:                How'd that work out for your cortisol?
Sara:               Well, that's the problem. When you have forms of exercise where you're really pushing your VO2 max, your maximal oxygen capacity. That raises cortisol. It's one of the reasons why—I'm sure you know, Yuri, and probably all of your listeners—if you compare a Tibetan monk to a marathon runner and you look at their cortisol levels and how fast they're aging—
Yuri:                Oh, there'd be no comparison.
Sara:               There's no comparison, right? Because there are so many injuries in the marathon runner; the cortisol's much higher; there's a brittleness you see that you don't see in the Tibetan monk. We want to figure out those lifestyle tweaks.
For me, switching to yoga, switching to adaptive exercise like Pilates was much better for my high cortisol. Even though when I went to that poor, unsuspecting doctor in my mid-30s and he was offering me an antidepressant and also a birth control pill, because that's given to every woman who has a hormone problem, he told me I needed to exercise more and eat less.
That was a defining moment because I knew he was wrong. It was especially provocative for me because I felt like men and women across America were being told the very same thing. That's the conversation that I wanted to change.
Yuri:                It's true, though, because if your doctors says exercise more, what does that mean? Does that mean go run seven days a week, or does that mean do Crossfit five days a week? What does that look like? I think, for everyone, it's different.
I love on the cover of your book, you're holding a yoga mat, which I think is so cool because having gone through some of the book and kind of understanding your approach to mitigating cortisol, I think it's such a huge, you talked about moving toward yoga and Pilates; I think that's such a huge thing. I'm a huge fan of yoga.
I think there's nobody on this planet that could not benefit from it. It's so awesome, especially for the go, go, go types of athletes who want to push themselves and really just get the burn and the sweat on. I think there needs to be a balance because you get to a point where you will break down eventually.
I always use the example of pro athletes. You don't see many pro athletes, other than golf, who are able to perform at the top of the game beyond 35. Thirty-five is considered way over the hill. That's just because, as you mentioned, it's just too much oxidative stress or cortisol due to this constant pushing of the body. I think it's a really important message that you're spreading about pausing, which is probably tough for most people to do.
Sara:               It is, especially folks who are agro, the pushers, the musters; and, believe me, I am a recovering muster, so I can totally relate to this.
Yuri:                Yeah, me too.
Sara:               I appreciate your kind words about the cover with the yoga mat. I have to say, my publisher wanted that with the white doctor jacket; I don't actually wear a white doctor jacket, but whatever.
Yuri:                It's a nice contrast.
Sara:               I also have folks who come to see me and work with me online who say, "Okay, don't even talk about yoga. I just want to get this out at the beginning. I'm not going to go to a yoga class. I sit there and I want to shoot myself because I just can't do it; I can't get into that space."
I want to make sure that we've got a level playing field here, that we've got lots of different options for people, because when you're pushing hard and maybe even need yoga the most, sometimes you're resistant, so I get that. I think it's important to realize that we're talking about the complex biochemical alchemy in the body where if I were to simplify it, I would say you want to create a balance between the two halves of the nervous system.
You've got the sympathetic nervous system that most people know about, fight-or-flight, wear-and-tear hormones like cortisol versus the parasympathetic nervous system, which is the rest-and-digest. We want to have this really fluid balance between the two. For pro athletes, for the musters, the pushers, often they're hanging out a little too much in that wear-and-tear space. We've got to create this counterbalance. As you've described, it's part of mastery.
Yuri:                For people, we have some mutual friends who I won't name on this, who have told me they cannot do yoga because they can't pause and be in that space. What do you recommend for people like that?
Sara:               Yes, okay. Shall we go through an à la carte list here?
Yuri:                Sure, let's do it.
Sara:               We'll go through the menu. I think I know who you're talking about. Number one is: Hang out with a woman. Let me back up here because I've got data for all of these points. The former chair at Stanford University in psychiatry made this point, and I really love it. He said, "If you're a guy and you want to improve your health, be with a woman; marry a woman. If you're a woman and you want to improve your health, hang out with your girlfriends." It turns out that when it comes to health outcomes and cortisol levels, it's better to hang out with a woman than with a man. Present company excepted, Yuri.
Yuri:                Yes, of course. Well, I do have more of a feminine energy too, so I guess that…
Sara:               I guess that's one of the reasons why I adore you.
Yuri:                Thank you.
Sara:               This is an important point. When I am stressed out, when I've got…I had a fight with my 14-year-old a couple days ago. When that happens I've got this à la carte menu. One of the things is, "Okay, I'm going to text a girlfriend right now. I'm going to hop on the phone for ten minutes and just have that sounding board, that conversation that raises oxytocin."
Oxytocin is that love-bonding connection hormone that is really one of the best hormone replacements out there. It's the best hormone therapy because it lowers your cortisol, it lowers your stress hormones, it makes your thyroid more efficient, it makes your estrogen in balance with progesterone. You get this three-for-one.
You get all three of what I call the hormonal Charlie's Angels back into balance. For women, that's your cortisol, your estrogen, and your thyroid. For the guys, I call it your hormonal Three Amigos; your cortisol, your thyroid, your testosterone. Number one: Call a girlfriend.
Number two: Take a hot detox bath. This is not some big revelation, but when you sit in a super-hot tub with Epsom salt and you do it for 10 to 20 minutes, it just creates a buffer against all that oxidative stress you were talking about, the wear-and-tear hormones. It's been shown to help with blood sugar; it raises your magnesium; it helps your DNA get expressed better. It's such a beautiful thing to do.
I'm a fan of heart rate variability testing. I'm going to geek out here for a minute with you, Yuri. Are you game?
Yuri:                I'm game. Bring it on, sister.
Sara:               All right, fantastic. That's what I like to hear. Just as your smartphone can be a source of your stress, it can also be your salvation. I'm a big fan of turning your smartphone into a biofeedback machine.
You can do that with a free app called GPS for the Soul if you have an iPhone; or you can get the Inner Balance app from the folks at Heart Math at HeartMath.org, which is this cool institute just a few miles from my home in the Santa Cruz Mountains. They've done this very interesting work to help people create that balance between the two halves of the nervous system, where you develop something called coherence.
Heart rate variability is just the time between each of your heartbeats. It's not a complicated idea, but it turns out that if you improve your heart rate variability, it improves your stress resilience. It lowers your cortisol by 23 percent. It raises your DHEA, which is one of those happy, anabolic hormones that is the mother of testosterone. That's another thing that I like to do.
You mentioned yoga and for folks who are just like, "Yeah, yeah, I can't make it to a class," I have another app for you, and that is iPromise. It's a beautiful seven-minute practice, yoga the way that it was intended before it got bastardized by the West. It's put out by Mark Whitwell. I don't have any financial association with this. It's a beautiful seven-minute practice that you can fit in to your day, and it really helps you create that coherence, that balance between sympathetic and parasympathetic so that cortisol is not running the show.
Yuri:                I should've interviewed you a little while ago, because I just put out a blog post about my top five health apps. Now I definitely want to check these out. These are awesome; let's keep going.
Sara:               Sure. I grew up with a great-grandmother who was a bit of a radical. She would show up at our house in suburban Maryland, where I grew up, with kale and wheat berries, not gum and candy and Barbies like most great-grandmothers or grandmothers. She practiced yoga way before it was trendy, and she really taught me that you don't find the answer to health in the bottom of a prescription-pill bottle.
Similarly, I don't think you should just rely on a supplement, but that being said, there are a few supplements that make a difference. I mentioned phosphatidylserine. Phosphatidylserine is very helpful with cortisol.
Let me say one quick thing about cortisol, because I promised that we'd have a little fun. You have such good analogies when it comes to hormones. You just rocked the insulin analogy when I saw you last in Florida; maybe you'll share that with us again.
Here's one for cortisol. I think of cortisol as being the bad-boyfriend hormone. It's like the guy you dated for high school or college, and he took you out for fast food every night and drinking and you stayed up late, you didn't get enough sleep. Cortisol's a lot like that when it's out of balance, when it's too high or too low or you can even have both within the same day. We want to get cortisol into that Goldilocks position, where it's not too high; it's just kind of buffering you, and it's like this wave that you ride throughout the day.
Yuri:                That's really cool and I think it's a good thing to mention. Cortisol sometimes gets a bad rap as being, like, you can't have any at all, but, like with all hormones, there needs to be a balance. Too much or too little is not good, but we need to be kind of in that middle ground.
I want to go back to oxytocin for a second and kind of shift focus—again, this is me going off on tangents here.
Sara:               Are you going to make me talk about orgasm?
Yuri:                No, but I want to go down kind of that path. We'll see if it goes there.
You mentioned oxytocin and how sometimes the best thing to do is just connect with a female. Is that because females tend to be, there's just a little bit more connection or substance with those conversations and that raises oxytocin levels? How does that work?
Sara:               I want to be careful about generalizing here. We all know that there are exceptions. All I need to do is sit next to you, and I feel my oxytocin going up, Yuri. Or even Skype; Skype works.
Here's the deal. It's interesting. Women are more vulnerable to chronic stress than men, and I wish it weren't true; I'm a feminist. It turns out that if you look at the data, our control system as females, we don't roll with the punches the way that most men do.
The control system is called the hypothalamic pituitary adrenal thyroid gonadal axis, HPATG, which is such a mouthful. Basically, it's this whole NASA-Houston idea that your brain is kind of serving the environment for threat all the time, and that sends the signal that you're stressed out to your adrenals. That can slow down your thyroid and slow down your ovaries or testes.
With women, even though we're more vulnerable, we also have this super-cool design where we can dig our way out of a rough patch, and that is our estrogen-oxytocin situation. When the original data was done on stress, it was done by this guy Walter Cannon in the 1930s. He studied men; he came up with the whole fight-or-flight hypothesis, and we just assumed that was true for women too.
It wasn't until, really, the 1980s, 1990s that Shelley Taylor at UCLA found that women tend and befriend. We connect when we're under stress; we do much better when we call a girlfriend, when we connect, when we raise our oxytocin to deal with stress. Kind of like our gatherer days, way back in the Paleo era. This serves us a lot better rather than to be in corporate America, for instance, and just to go into fight-or-flight as a female.
Women do this more readily. We boost our oxytocin more readily than men. If you take something like a hug. There are many ways to raise oxytocin; there's breastfeeding, giving birth; another is to hug somebody; of course, there's orgasm, which I could talk about way longer than we probably have today. If you hug a woman, the boost in oxytocin is immediate.
If you hug a man—this may not be true for you, Yuri, because you're so masterful—you have to hug a man three times as long to get the same boost in oxytocin. When you're hugging your men, for our listeners, you've got to hang on a little longer than they're maybe comfortable with.
Paul Zak has a great TED Talk about oxytocin, and he says based on the half-life of oxytocin and how we really want to leverage it in our body, you need to hug people eight times a day. That's another prescription for you, especially if you don't like to go to yoga class; you could just get a hug eight times a day. But have a lingering bear hug, not one of those social, kind of fakey hugs.
Yuri:                Yeah, a little pat on the back.
Sara:               Yeah, that does nothing.
Yuri:                I find this whole area, we touched upon this last week when we were talking with Pedram about the emotional, spiritual side of this. I think this is a huge missing link for a lot of people. We talked about turning to foods as fillers for specific emotional gaps or needs.
It's funny because I've had connections with certain people where it's so fulfilling that I don't even feel hungry when I'm around them. I can be with them all day and I don't have anything to eat and I feel completely satisfied. When I become aware of this, I'm like, wow, this is really interesting.
This whole conversation about the oxytocin and really connecting with women or hugging, I think it's fascinating. What do you think about all that?
Sara:               It's such a juicy conversation. I think for both men and women, we're still just in a pioneering place when it comes to that intersection of emotion, spirituality, biology, psychology. It's such a yummy interface that I love to talk about. But you're right; there's something about satiety—maybe it has to do with leptin, that hormone that says, "Dude, put down the fork."
There's something about when your brain is full of positive emotions, like you're describing, someone who makes you feel more yourself, you feel more understood, you just love being with them, you love their energy. There's a way that it just creates this virtuous cycle in your body; it lowers your cortisol, you are not in fight-or-flight, you're in rest-and-digest, it probably changes your microbiome, the DNA of your gut. It creates this virtuous cycle and that's what we want.
My book The Hormone Cure is this interface; it's about, okay, I'm not just going to tell you the 97 things you should do to fix your hormones based on the top imbalances I've seen in my practice. I'll give you the nuts and bolts, but, really, you've got to integrate this larger view. When you do that, when you look at things like positive emotions and being around the people you most love and social contagion and how being around folks who take care of themselves have more than the minimum effective self-care and manage their cortisol better than their retirement account, those are the folks who really help you step into the grace of hormone balance.
There are many ways that we can go from here, but I'm going to punt it back to you. Do you want to talk a little further about disintegration?
Yuri:                There are so many directions we could go. I don't know, I'm just looking at ethers right now, trying to make sense of it all. It's fascinating.
Sara:               Let me say one quick thing about it, because this is a fun way. I'm a physician; I've been taking care of folks for 20 years. I'm board-certified in everything that can go wrong with the female body, although I take care of guys as well. Here's one thing I've noticed, especially in the past 10 years, after I fixed my own problems with my hormonal Charlie's Angels.
My main issue is that I was a cortisol junkie. Maybe it was sometime in my 20s that I had a set point that I attached to when I was working 120 hours a week as an intern. Many of us have that; we have a set point, maybe it's from trauma in childhood or from pushing yourself really hard as an, I don't know, professional soccer player, whatever it is.
What I found in my practice is that there are two camps of patients, or people I work with online. There's a camp of folks who maybe do their baseline labs and check their cortisol levels. In my book I talk about some of the labs I recommend for testing. They realize they have a problem with their adrenal function. Their adrenals, where you make your sex hormones like your cortisol, your progesterone, your estrogens, testosterone, your DHEA, they have an issue with their adrenals, and they're taxed in some major way.
This first camp will focus on doing the biological reset that I talk about in The Hormone Cure, and they also try to calm down. They feel like they really need to calm down, so they'll try these different ways of calming down; maybe they'll take a meditation class or they'll start going to yoga.
The second camp is very similar to the first. They start out with the baseline labs, so we know the base case, we know the arc we want to take them on to repair their adrenals and get their cortisol back into this Goldilocks position. But they focus on positive emotion.
Maybe they do the Heart Math work; they download Inner Balance and use the little earlobe clip and they work on their coherence, they do it for ten minutes every day and they focus on someone they love. I always visualize my nine-year-old; she hasn't hit puberty yet, so she's really easy for me to visualize. I know it raises my oxytocin and serotonin just to visualize her. Or they focus on forgiveness or they focus on gratitude.
Maybe they do that exercise I love so much from the University of Pennsylvania, by Marty Seligman, where—you may know this study, Yuri—where he had folks spend five minutes for seven days at night, before they went to bed, writing down what went well. Five minutes, that's it. He then looked at them after seven days, and they were significantly happier compared to a control group. And then—here's the stunning part—he looked at them six months later. They hadn't been doing what went well, but six months later they were still happier.
What I find in this second camp, the people who are doing this integration that you touched upon, and they're really leveraging those positive emotions, those are the ones who heal their adrenals. They repair the damage that's been done in their bodies; they recover from injury faster; they have oxytocin flowing through their body. Those are the ones who get better.
Two different camps. It's another way in to kind of look at this integration piece. What do you think?
Yuri:                Yeah, I think I really is powerful. Love really does heal everything, the more I've kind of gone down this rabbit hole. Do you know Danielle LaPorte?
Sara:               Oh, are you kidding me? She's my second favorite Canadian.
Yuri:                Yeah, she's amazing and I've been reading her stuff the last little while. It's so amazing because—for everyone listening who doesn't know Danielle LaPorte, just go get The Desire Map and her other stuff; it's amazing. She's hit the nail right on the head because everyone's focusing on achieving goals and things and whatever, and we all do that, we all strive for those things, whether it be monetary or a house or a car, whatever it is.
We do all of that for a feeling. She's basically like, why don't we just go right to the feeling? Her main question is: How do you want to feel? I think what you're talking about, whether it's, for me, two of my big feelings of the day-to-day of how I want to feel are joy and gratitude.
When you know that you want to feel joyful, you go, "Okay, what do I choose to do that's going to make me feel that way?" And the same thing with gratitude. You talked about five minutes of just writing down what your successes were and what you're thankful for; those are huge.
The research shows that gratitude and happiness, it's almost cause-and-effect. I think that the more and more the messages from doctors like yourself of this kind of stuff is getting out there, the more people, and maybe even the medical community, will hopefully realize that there is more to healing than, "Hey, take this pill." That's why I'm really excited about your message and what you're talking about, because I think it's terrific.
Sara:               Well, thank you. Thank you, Yuri. I have been very blessed to be mentored by Danielle LaPorte since about 2010, and I totally love her message. I'm so glad you brought her up. She and I had great conversation, and I'd be happy to send this link to ay of our listeners who want to hear more about it. If you go to TheHormoneCureBook.com and sign up, we will send it to you.
Danielle LaPorte and I got on the phone and talked about desire and how when you're guided by desire and how you want to feel instead of the old, what I would call immature, masculine goal-oriented way of being in the world, when you're guided by desire, it's almost like a way of reorganizing your neurohormonal dashboard. I feel like I can rock that with you, Yuri, because I think you're right there with me.
If you think about your neurohormonal dashboard, kind of how the way your happy brain chemicals interact with your hormones to create this series of text messages in your body and how connected you are to your core desires, it's just a way of reorganizing the system. That's not some huge project; it's a way of really stepping into the grace of natural hormone balance. I think it's also a way of sidestepping all of that grind and meticulousness that a lot of people tend to do when it comes to getting their hormones into balance.
She and I just riffed and had such a good time coming up with all the ways that being connected to desire gets your hormone back into balance. It resets your cortisol; it helps you get your thyroid more efficient, because high cortisol-low cortisol slows down your thyroid; it helps you metabolize life better; it's almost like an Ayurvedic concept; it helps you extract nutrients better from your food.
When you're really connected to desire, you're less likely to be craving the refined carbohydrates; you're more likely to eat kale and enough fiber each day. It's a beautiful way to kind of deconstitute and reconstitute yourself. In the process, the downstream benefit is that your neurohormonal dashboard is set up again for you.
Yuri:                Yeah, that's great. I think the bigger question is being, living your truth, being true to who you know you should be. You and I are very blessed to be doing what we love. Personally, for me, I'm never going to stop doing this until the day I die.
Unfortunately, not everyone on this planet is in the same boat: they're in jobs they hate or living for Friday. I really just hope that people start to understand that there's more to health and healing than just the foods and the exercise. There's this deeper message we're talking about here, which is so important.
Obviously, we could talk about this all day, but I know you're pressed for time, you're busy. I want to thank you so much for joining us today, Sara; it's been amazing.
Sara:               My pleasure. Can I say one quick thing, Yuri? I can so relate. I mentioned earlier that I was working at a health-maintenance organization. The folks who are trying to escape corporate cubicle or they're working at a job that just doesn't serve them. I just want to give them some buoyancy here.
What I did is started working with Danielle LaPorte. I started reading her stuff, and it allowed me to really craft these desires and be guided by them and to find a more authentic path. Really, all of us have this incredible gift to share. For me, my mess became my message. I think that's true for a lot of folks. What you're coming up against, maybe you're living for Friday, as you described. What was true for me ten years ago was that I needed increasingly more elaborate vacations to try to fill my tank, and it just stopped working.
However that shows up for you—high cortisol, low thyroid function, estrogen dominance, low T—however it shows up for you, I just want to really make sure we leave this message of hope with our listeners, that you can reset your biology. It's not some big project. In fact, it's easier to get your hormones back into balance than to live with the misery of your hormones being out of balance.
Yuri:                That's awesome; very cool. We humans are very resilient. Pretty amazing stuff. Thank you so much, Sara. It's always a pleasure to connect with you, and I'm happy where this interview. I never know where they're going to go but it's always fun. Once again, for everyone who wants to check out The Hormone Cure, I highly recommend you do. Go to TheHormoneCureBook.com, and Sara's giving you some awesome free stuff there, really, really awesome stuff. I just want to say thank you so much; it's always a pleasure to connect with you, Sara.
Sara:               My pleasure, Yuri. Thank you.
Yuri:                Yeah, you're welcome. For everyone else listening, again, check out the Web site TheHormoneCureBoko.com. I hope you've enjoyed this episode and have taken some nuggets of information out of it that you can apply to your life. I look forward to seeing you guys in the next episode.
Related Posts:
---
Tags: cortisol, dr. sara gottfried, how to balance hormones, the hormone cure

About Super Nutrition Academy

Super Nutrition Academy is the ONLY nutrition course that makes it easy for everyday people to understand the complex relationship between nutrition and health. If you're tired of all the conflicting health information out there and want a clear-cut, evidence-based understanding of the nutrition and health topics that matter you, then get started today.

---