Posted: April 24th, 2014 @ 11:13 am | By:

Yuri Elkaim
Categories super nutrition academy health class
Episode #98
Listen in as Men's Health expert Craig Ballantyne drops a ton of success principles to improve your will power, eating habits, and help you achieve unstoppable health.
Click here to subscribe in iTunes (and download)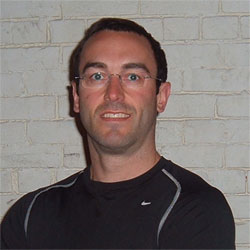 Yuri:                Hey, guys, how's it going? Yuri Elkaim here. Welcome to another episode of The Super Nutrition Academy Health Class. I hope you guys are having an awesomely healthy day. It's only going to get better after this special interview with my good friend and mentor Craig Ballantyne.
If you're unfamiliar with who he is, I'm going to throw a bunch of accolades at you in a moment, which might bring him up to the forefront of your mind, but in the online health community, a lot of people refer to him as the godfather because he's definitely one of the pioneers who has allowed people like myself and a host of other experts in our industry to really flourish and help a lot of people. I want to thank him, first and foremost, for doing the work that he does.
Anyways, he started off as a strength-and-conditioning coach, as a lot of us have. He's obviously based in Toronto, but I think he spends most of his life traveling in airplanes and around the world. He's the author of Turbulence Training, which is a phenomenal online-training program, a series of awesome workouts that he's developed over the past couple years.
He's a contributing author to Men's Health magazine, a member of the training advisory board for Maximum Fitness and Oxygen magazines. TurbulenceTraining.com, as I mentioned, features his best-selling Turbulence Training for Fat Loss program, and he has TTMembers.com for his access to all of Craig's Turbulence Training workouts and video clips.
He has a master's degree in exercise physiology from McMaster University. He is also the publisher or, I don't know if publisher or owner is the right word, but he basically took over Early to Rise, which is one of the most prolific Web sites basically helping us humans become better. Just amazing.
Without any further ado, I want to welcome Craig to the call.
Craig:             Thank you so much, Yuri, that's very kind of you. You've done some amazing things, and it's been really a pleasure watching you help so many people as well.
Yuri:                Thank you so much. It's been a fun ride for everyone involved. Let's jump into this. I want to give our listeners a better idea of who you are, because I think on the surface, the true value of how you lead your life is not really seen to the average person.
Before we jump in to that, can you give us a quick rundown of how you started? What motivated you to get into fitness and health and where you are now, as your journey is continued?
Craig:             I started very selfishly back when I was in high school. I started body building and I realized I really wanted to be a strength-and-conditioning coach—in the NHL, of all places. I realized quickly that was quite difficult for Canadians to do. There's not a lot of, at the time there wasn't a lot of investment by parents into their children's training; it was more south of the border.
I started moving in to more of the average men. I started writing for Men's Health in 2000—when I was 25 years old. That was a real fantastic breakthrough that allowed me to figure out how to help a lot of people and really show them that short-burst workouts were the key.
Then I created Turbulence Training in 2001, my first workout programs for that, and have been promoting that around the world for 12 years now. We also have a new program that's just no-equipment, body-weight workouts called HomeWorkoutRevolution.com. A couple years ago I realized—as the entire world realized—that follow-along videos, metabolic workouts you can do at home were the big thing, so that's what we deliver now, follow-along videos for all of our programs as opposed to just books.
It's been a lot of fun helping the Men's Health readers and the Women's Health readers just because it's great to see somebody who didn't have energy—as I know a lot of people listening to this call, there was a time where you didn't have the energy and things seemed down. When you make a few changes to your training and to your nutrition, it's almost unbelievable the energy you can have.
Definitely following the Eating for Energy advice that you deliver, Yuri, can literally make a miraculous difference in somebody's life. Food really is a drug, and a lot of people listening have found out the positive way through your information. What I deliver is the workouts to go along with it, generally.
Yuri:                Very cool. One of the things that is most impressive about you is how…I don't know if regimented is the right word, but very committed to being healthy and eating well no matter what your schedule is like. Before we get into the dietary stuff, can you give our audience an idea of what a typical month would look like for you in terms of traveling and all the other stuff you have going on?
Craig:             Generally, I spend about two weeks in Canada and two weeks on the road. I try and make my trips longer so that I'm in one place for several days. Like, I've been in Miami for seven days now, I was in Tampa for seven days before that, and then I have to go to LA this weekend for a few days for a seminar.
I don't necessarily mind the flights; it's just the hassle in the airports that I really, really dislike. I don't like the transitions, but I really don't mind traveling otherwise. Once I get settled in, I am very regimented, and it's a very disciplined approach to the day. It's what a lot of people believe is a freedom paradox, but I believe that the more structured you are, the more freedom you will have in your life, meaning that the more structured you are in your day, you'll get more done and have less to take home and gets in the way of you with your family time.
If you're really structured in your day and you're really productive, then you can have freedom at home, and that's what I'm all about: building freedom in my life through structured activity, through structured nutrition, through structured workdays, through structured workouts. A lot of people think, I'd rather just be spontaneous, but if you're structured, then you can be spontaneous when it counts, which is with your family, with your friends, with your free time.
That's the way that I live. Even when I travel around, it's so easy. Just when you go to the airport, you can go to Starbucks; you can get fruit and nuts and water. You never have to eat junk when you travel. A lot of people, when they travel they just make an excuse that they're going to eat some crappy airport or airplane food just because they really aren't even trying, so they give themselves that backdoor way out to eat junk.
But you can plan, you can take great stuff with you, whether it's BioTrust bars or whether it's packaged almonds or beef jerky. It's a little bit tough some things when you're crossing borders, but when you travel food should not be an issue; just make sure you have lots of water as well.
And when you get to your hotel, the first thing you should do is go to a grocery store. You should get a mini fridge in your room. At least you have plenty of healthy snacks, if not replacements for meals.
You can save money that way too, if you want. That's what it's all about: being prepared. It's really not that hard. In fact, it's super easy and you'll get so much benefit out of it, so stay on track. And when you go home, you're not tired from your vacation.
Yuri:                Yeah, that's great. It's funny because we did an episode with Isabel De Los Rios, who's a very close friend of yours as well, and her schedule is very, very similar in terms of what she does when she travels, so it's pretty awesome to hear the similarities.
Craig:             Yeah, she's a coaching client of mine, so I dialed her in pretty hard.
Yuri:                I can see where that's rubbed off. At home, how does a day-to-day look like for you at home?
Craig:             I get up very early. I like to start my day with what I call a big thinking exercise at four in the morning. I just found that, I have always operated better early in the morning, and I just slowly worked my way from seven o'clock in the morning back to six o'clock in a few months and then from six to five.
I really just enjoy getting all my work done before anybody else is up, and I really just believe that there's some extra creativity available to me at that time. I do that brainstorming from four, and then I write and then I do some meditation, I walk my dog, I exercise, I do some more work. Then's the afternoon and then I start doing the e-mail and stuff and then wind down my day quite early compared to most people. That's it there.
In my nutrition, what I do—does that sound like something I should go into next, my nutrition?
Yuri:                Yeah, for sure.
Craig:             Okay, great. I have this rule when I'm trying to stay lean or when I'm helping a client trying to stay lean. There's nothing physiologically magical about this, but I tell them to have a cutoff time for when they don't eat late at night.
For me, growing up, my parents always fed me a lot of junky treats when I was a kid at seven or eight o'clock at night, so I definitely got into a night-eating habit. I built in a 12-hour-fast rule, a 12-hour not-eating rule, so I can't eat the next morning until 12 hours have passed from dinner when I'm trying to lose body fat. Sometimes I'm doing that for video shoots and whatnot. I think it's great for clients.
There's nothing magical if you stop at seven or if you stop at eight or if you stop at ten, but you stop eating if you have this rule knowing that, yeah, if you really want to eat breakfast at eight o'clock the next day before you go to work, it means you can't go back to the fridge at ten o'clock at night.
I do have that 12-hour no eating. I'm generally done with dinner around seven o'clock, go to bed around eight-thirty, get up quite early. I just drink water and green tea until after my meditation or Athletic Greens sometimes. And then I will walk the dog. Sometimes I'll actually exercise without eating. To me, it doesn't really matter either way.
Sometimes I will have a protein shake and cacao nibs. I really love chewing on cacao nibs; I call it the weirdest replacement for cereal ever. It's real crunchy, very healthy; it's a super food, as people will call it. I'm very sensitive to caffeine. I'm not sure if there's caffeine in there or theobromine or whatever it is; a few tablespoons of cacao nibs really does give me great mental alertness for several hours.
The protein shakes that I use—I use two brands—I use BioTrust and I also use something called Paleo Protein Powder, which you can either love that or mock the fact that there's something called Paleo Protein Powder. There's definitely some humor in that. I don't think they actually had protein powder in the Paleolithic era, but what they have is a nondairy protein powder, which is egg-white protein combined with beef protein.
I actually really, really love the flavors they have. They have ancient cacao and they have Aztec vanilla or something, and they're sweetened with stevia. I think they're really great.
I'll have a shake of that before training, and then I train with heavy weights three times per week—squat, bench, dead lift, kettlebell swings, pull-ups, dumbbell rows, I've got cow blocks at my house in the garage, a big, heavy set of those. That's what I train and I really enjoy that.
And then I'll come back in, I'll have another shake. I usually do a Facebook Q-and-A session for my fitness readers; I have a lot of fun doing that. I have that along with some almonds and shredded coconut just as a snack. And then I have a big lunch of protein and vegetables and then an afternoon snack. Generally, one-ingredient food as much as possible.
Dinner, I've always been a big dinner person, so my dinner is usually a piece of meat. I only eat meat maybe once a day. It's a big piece of meat. Actually, I'm trying to cut back on the size of meat, but it's definitely more than a serving size. And vegetables and some form of potato. My favorite is mashed sweet potatoes, so that's the meal there.
If I'm trying to stay lean, what I'll do is to help me with that cutoff, I need some transition food, so I'll have an apple, which is crunchy. That signals to me, okay, this is the end of dinner. Otherwise, I'll be going back in the fridge, sticking my finger in the peanut butter, the almond butter jar. I just grew up that way, so it's something that I try to avoid; otherwise, you go to bed with a big, full stomach.
That's how I operate my day. Sound pretty good?
Yuri:                Yeah, totally. That's awesome. I think one of the coolest things is that you have this—I don't know if willpower is the right word, but you have a commitment to your rules, I guess, as you call them. How do you encourage people to—we all have a limited amount of willpower—how do you encourage people to make a decision, a commitment to a healthy way of living, eating, exercising that doesn't require this constant struggle internally about, Oh my God, can I do this? and that constant pull on our willpower?
Craig:             That's a great question and it's something I've been thinking about a lot recently. I've been writing a series of e-mails called "Sneaky Diet Tricks." A lot of it comes from the Mindless Eating book by Brian Wansink, who is a professor at Cornell University.
There are so many little tricks that you can use, and Brad Pilon talks about these a lot too. If you take the smaller plate at a buffet, you eat less. If you put the candy in a jar that you can see into, then you'll eat more than if you put it into a jar where you can't see it. If you put the candy within arm's length, you'll eat more than if it's halfway across the room.
The answer is: If you don't have the willpower for the candy, well, put it in a jar you can't see into, and put it on a high shelf, where you have to put some effort into it. It's almost like counting to ten when you're mad; you might stop yourself before you actually get there and eat the candy.
And then in addition, the willpower is like your muscles: You can train it. A lot of people, they will binge eat. They'll go and have a big piece of cake, or they'll have a pizza, and they'll eat the entire thing. Here's a way to start fighting back on that. That is to stop and throw a little bit out.
The next time you find yourself binge eating—and I know it's a very emotional thing for people—let's say you bought a Starbucks cookie and you're eating the whole thing. You're like, "I know I shouldn't be eating this. I know I shouldn't be eating this," stop and throw some in the garbage. If you do that, you've already won.
Even though you ate something you shouldn't have, you actually won a moral victory here, because the next time you're at a restaurant and you decide to have dessert, you stop two bites short. You're full from dinner, you order dessert anyway—maybe it's somebody's birthday; you don't want to be rude and not have the cake, so you have the cake, but you stop two bites short. Now you've increased your willpower to two bites. The first time you threw out one bite of the cookie; the next time you're two bites short of the cake.
The way you go, you keep on doing this, you put yourself in the lion's den, in the middle of the fire, and you come out stronger by having just a little more willpower than last time. It's not going cold turkey, but it's being stronger.
It's like going into the gym; you do one more repetition this week than you did last week. You don't go in and do an hour more; you do one more repetition. That's it. You don't do too much, because, otherwise, it doesn't work.
That's a way that people can build up their willpower, which, I agree, the research shows that it's limited but you can build it. That's why you also need to start your day with things that you might otherwise not do. For me, I make sure that—it's kind of weird, but if I go to a restaurant and I'm having eggs for breakfast, I make sure that I get some vegetables in there.
Especially when I'm traveling, because it might be more difficult to get vegetables as the day goes on. If you don't like vegetables, find a way to get them into your breakfast, because if you don't like them and you're going to just try and rely on willpower to have a salad for dinner, that isn't going to work.
Same with exercise. If you have a hard time exercising right now but you're trying to make it into a habit and you get home from work and it's the TV or the nap on the couch and you end up not exercising, you need to move your exercise to earlier in the day.
All of that stuff, you start the day with great willpower, you absolutely do, so you just need to shift your activities or your eating habits so that you do all the things that are hard earlier in the day. Get them done when it doesn't actually take a lot of willpower because it's a habit now. That's where you're able to save some willpower for later on.
A couple things. Research shows that if you make stuff into habits, it doesn't require willpower, so that's big. I think Roy Baumeister is the guy who wrote the book Willpower. If you're really into learning more about willpower, check that out.
Another great guy to get some great resources from is a guy named Eric Barker. He has a blog called Barking Up the Wrong Tree. The guy delivers amazing content every day; it's unbelievable how many books he reads and synthesizes for people like me, who don't have time to read them all. He delivers a lot of great content on this. That's how you can build up willpower and improve your nutrition, improve your habits. Sooner or later you're doing all these things on autopilot and they're not hard.
And then the last thing is, my rules for living, I have a post that I made public. I've got public accountability so when I'm out with people, I have to live this way; otherwise I'm a hypocrite and being a hypocrite is one of the worst things society frowns upon these days. You don't want to say one thing and do something else.
I have 12 rules that I live by. I try and live by them as much as possible; there certainly are exceptions for special occasions. You have these rules and you tell people about them. I have this reputation that I need to maintain as a fitness expert. All these people know my rules now, so if they see me doing something, they call me out on it.
They're also called personal philosophies. What do you believe in? Be clear about what you believe in, write it down, and then just don't waver on it. It doesn't have to be health and fitness stuff; it's clearly what you believe in in terms of religion or eating meat or not eating meat.
I use the analogy in the article about the rules with a vegetarian isn't wishy-washy about whether or not they're going to eat chicken today. They just don't ever eat chicken; that's their rule.
Some of that stuff, if you have it, it requires fewer decisions in your life. If you say, "I'm not eating after 7 p.m.," then you don't actually have to think about it. It's not something that's going to take willpower because it's a rule, it's a habit, it's ingrained. That's a little trick for you to be more effective in your life. All sorts of ways that people can be de-stress their lives and improve their performance with these mind-set tricks.
Yuri:                Yeah, those are awesome. What are your thoughts on the importance of your environment, whether it be your fridge, kitchen, the people you surround yourself with in terms of supporting your goals health-wise, as well as anything in life?
Craig:             That's a great question. I should've covered that as well. I think I even posted something today on one of pages, Facebook or Twitter or something, about how important it is. You go back to that mindless-eating stuff, and those are environmental queues right there.
It's stuff as simple as if you put more fresh fruit out in your house, your kids will eat more of it. Or if you put fresh fruit at the front of the cafeteria line, people will eat more of it. If you put your fruits and vegetables on the eye level when you open your fridge, you will eat more of it and you'll eat less junk if you hide it in the back of the fridge.
It's unbelievable what human behavior has wired us to do. If you have stuff sitting out, if you have a bowl of candy or almonds or pistachios sitting out, you'll just eat them even though you don't need them. You just will. That is the way that we are. If you eliminate as many temptations as possible—and I understand that there're always going to be certain situations where you can't, but if you eliminate the negative situations, you'll stay out of trouble.
When you're trying to put healthy habits together, make sure that you start with the environment in mind. Absolutely, that extends to people as well. If you don't want to drink and do drugs, don't hang around people that drink and do drugs. If you don't want to be obese, research shows that if you hang around people that are obese, if you're friends with people that are obese, you have a higher risk of being obese yourself. That's research from Harvard.
You do have to be careful. Mayor Rob Ford would have much better habits and be a healthier person if he didn't hang around some of the people that he clearly must hang around in Toronto. It's all about birds of a feather flock together. Whatever the group is doing, it's very hard for anyone to resist that on their own.
Yuri:                Totally. If you were to walk down the street and run into somebody and they were asking you, "Hey, Craig, I saw your stuff in Men's Health or on your Web site. I'm looking to get healthier," what's the one thing you could tell me that would improve my health or that I should do to improve my health?
Craig:             It's a very individual question, but I would say start first thing in the morning. The best advice I give to everybody is to get up 15 minutes earlier. If you get up 15 minutes earlier, it solves almost any problem in your life. If you get up 15 minutes before your kids and your wife or your kids and your spouse or partner, whatever, you have 15 minutes to think and plan.
Most people don't spend enough time planning. They don't spend enough thinking; they're always reacting. If you're always reacting and relying on willpower and your habits, most people's habits are poor and their willpower is weak, so they're going to get into trouble. But if you get up 15 minutes earlier—let's say you get up at seven, you get to work on time.
Get up at 6:45 and think about what you can do where you can improve your day, where you can be more efficient, where you can carve out time for exercise. Or now you're up 15 minutes earlier; you can make a better breakfast. Or now you're up 15 minutes earlier, and you can use one of my 12-minute Home Workout Revolution body-weight videos for exercise. Get up 15 minutes earlier, and you'll literally be able to solve almost any problem in your life.
It will give you time to think about stuff clearly before everyone else is up. It's really, to me, getting up a little bit earlier before everyone else and having some times solves so many problems. It may take me a couple seconds to figure out what I needed to say, but that is definitely the answer.
Yuri:                That's awesome. A lot of times it's a very fundamental thing that has such a pervasive impact on so many different aspects of your life, such as giving yourself more time with that.
For people that are kind of up and down, they go through different diets or say they're going to do something but don't and they spend all this time planning and procrastinating instead of taking action, how do you get people to spend time on planning but also get them to take action and stop just talking about it?
Craig:             There are actually five pillars of transformation that I have. Planning and preparation is one. Public accountability and social support are two others, so you should get actually professional accountability. That means, the research that I've seen shows that if you're accountable to a professional, meaning a doctor, nurse, or a trainer—you actually are going to follow through more than if you were just accountable to a friend. You should have professional accountability.
You should have public social support; you should share your goals with positive people who will be supportive of you. Don't share with them with negative people; they'll just bring you down. But share with positive people. There're so many Facebook groups and there're start people. I have PT members. There are all these things. My Facebook page has 70,000 people on it now talking amongst themselves, sharing, and being publicly accountable and helping one another. That's the third thing, social support.
The fourth is having an incentive, whether it's negative or positive. The old carrot or the stick. The carrot being the positive reward, meaning if you reach your goal in four weeks, then you get to take the vacation. The negative being the stick. If you don't reach the goal in four weeks, you don't get to take the vacation. You have to have that set up. Incentive is the fourth thing.
And then finally, fifth is The Deadline, and I capitalize both those words—The Deadline—because The Deadline is so important; The Deadline makes people take action. If you tell somebody, "I am going to get this done by March 31, that's my deadline. Here's what's going to happen if I don't get it done, and here's the specific thing I'm going to get done," then you'll have a lot better chance of actually taking action.
The final thing is, it has to actually be meaningful to you. If you don't really care about losing ten pounds, you just want to be healthy, then making a goal of losing ten pounds is never actually going to be achieved because you don't care. You actually have to really, really care bout meeting your goal.
I've done this too. I used to set five pages' worth of goals at the start of every year. It was pointless because I couldn't achieve all of them. This year I just set four specific goals, and if I achieve those, I'll have achieved so many other goals along the way.
That's the biggest thing for me, making sure that you have those five pillars in place and that you actually care about what you're trying to do. Not just saying that you want to achieve something because somebody else thinks it's important for you, but you think it's important.
Two other quick tips. If you get off track, just get back on track as soon as possible. Just stop, throw the cookie out after you've had a couple bites, get back on track. It's minor damage that can be dealt with. Never give up on what is important to you. Most people do not quit smoking the first time, so if you're trying to lose weight and this is the twelfth time, don't worry about it; just keep on going.
Also, take the positive. Look for the positives and the wins in everything that you do.
Yuri:                Awesome, that's great. For everyone listening, as you can tell, this is beyond nutrition. These are fundamental mind or lifestyle hacks that can improve any aspect of your life, whether it be your relationships, your work, your business, your health, your fitness.
Really, really golden stuff. That's why I wanted to bring Craig on to this podcast, because he's loaded with wisdom like this. Once again, Craig, thanks so much for taking the time. I know you're probably on a plane as we're speaking, but I know you're really busy. I just wanted to thank you.
Craig:             I am in a hotel. I just drove up the Florida coast.
Yuri:                Close enough. Anyways, I'll let you get back to your day-to-day regular awesomeness. I wanted to thank you once again fro taking the time. I really enjoyed it; I'm sure everyone listening has as well. For everyone listening, again, you can check out his stuff over at, what would be the best place for people to go to, Craig?
Craig:             Honestly, TurbulenceTrainingFanPage.com, which is our Facebook page, because there you can ask me questions, and I can direct you to the right workouts, whether it's a home workout combination or Turbulence Training or one of our nutrition programs.
Yuri:                Cool.
Craig:             Thank you. Great question.
Yuri:                Absolutely. Awesome. All right, guys, there you go. Mr. Craig Ballantyne, thank you, and for everyone else, I look forward to seeing you guys in the next episode.
Related Posts:
---
Tags: craig ballantyne, health, success principles, will power

About Super Nutrition Academy

Super Nutrition Academy is the ONLY nutrition course that makes it easy for everyday people to understand the complex relationship between nutrition and health. If you're tired of all the conflicting health information out there and want a clear-cut, evidence-based understanding of the nutrition and health topics that matter you, then get started today.

---