Categories super nutrition academy health class

Episode #33
Let's Take a Look At What foods are good for your skin?
Click here to subscribe in iTunes (and download)
Wanna know what foods are good for your skin? Well, stay tuned as I share some of the best foods for great-looking skin. Hey, I'm Yuri Elkaim. Welcome to Episode 33 of the Super Nutrition Academy Health Class, and, as I just mentioned, today we're gonna be talking about skin health, beauty, all that good stuff.
What Foods Are Good For Your Skin?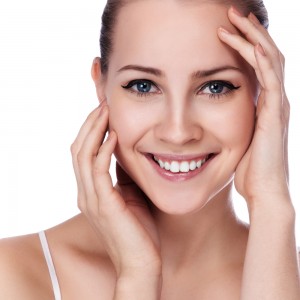 The reason for this is 'cause I'm kind of following suit with our last two episodes, where I'm taking some of the most common questions asked online, and this just happened to be one of them. What are the best foods for good-looking skin? We're gonna answer that in this episode.
Before we get into the specific foods, we need to understand the specific nutrients that nourish your skin. Also, we have to understand that your skin is also a reflection of the health of your body internally. Let's look at a couple things.
First of all, we have to consider the health of your liver. Your liver, the health of your skin is a direct correlation to the health of your liver. If you've got acne and all sorts of other issues, you can guarantee that your liver is probably pretty toxic, so you need to clean your liver up and do so starting today. Every day should be some, in some way, shape, or form, supporting your liver's function. Your liver's important for over five hundred different functions, and detoxification is one of the most important ones.
I'm gonna give you a very simple morning routine to help you cleanse your liver. When you wake up first thing in the morning, grab a shot glass and pour in one tablespoon of olive oil and about a tablespoon of lemon juice.
What that's gonna do is it's gonna stimulate the gallbladder, which is attached to your liver, to secrete bile and toxins that have accumulated overnight, and that's gonna help flush things out. And then follow that up with a big glass of water; you can even add a little bit more lemon juice into the water. That's a great way to just gently detox your liver first thing in the morning. That's step one.
Second thing we wanna look at is removing foods that promote the increase in insulin. Why? Well, insulin, when you have high levels of insulin, you end up having high levels, it promotes the increase of IGF-1, which is insulin-growth factor.
IGF-1 increases sebum production and what that does is, sebum is basically produced in and along the hair follicles, so when the hair is trying to move through the skin and you have this sebum production at the same time, you end up having this, it's like everyone's trying to squeeze through a tight opening, like when two people try to go through the door at the same time; that's kinda what happens with the sebum and hair in this hair follicle. That's where you get these whiteheads and blackheads and pimples, and, literally, acne ends up becoming a result of this.
We wanna get rid of the excessive sebum production, we wanna get rid of the IGF-1, or we wanna limit it, and we wanna obviously limit our insulin. Let's work backward. How do we do that? Well, how does insulin become raised in our bloodstream? Well, it becomes raised as a result of eating sugar or refined carbohydrates.
So, we're looking at reducing things like sugar, and we're looking at reducing things like wheat. It doesn't really matter what type of wheat—whole wheat, white wheat—all types of wheat in general tend to increase our blood sugar. Even the whole grains; even the whole-grain stuff is gonna increase blood sugar and obviously increase insulin.
So, I can tell you first off from my experience, when I eat wheat, which I rarely ever do anymore, I get kind of dry skin on my forehead. That's my way of kind of knowing that I've had bread or wheat. You might be different. You might have an acting up of some other way of your body telling you that this is not responding well.
The other thing is, we wanna look at removing dairy. Dairy has a very strong influence…even though it doesn't have anything to do with blood sugar, for instance, per se, it has a very strong impact on insulin, and it tends to raise insulin levels, which obviously increases IGF-1, therefore leading to skin eruptions. We wanna really limit sugar, wheat, and dairy, and then, obviously, you wanna clean your liver out. If you just did those, you would have beautiful-looking skin irrespective of everything else I'm about to share with you.
Foods That Are Good For Your Skin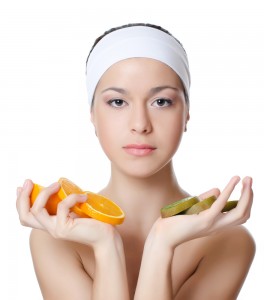 Now, with that said, I'm gonna share, I'm gonna give you three specific nutrients. I'm not gonna overwhelm you with this stuff. I actually talk about this in greater detail in Module 12 of the Academy, so I'll save the juicy details for that. But I'll share a couple snippets here with you.
First of all, we've gotta look at protein. Protein is an essential building block. Everything your body is made up has protein as a building block at some level. Carbohydrates are used for energy, fats are used for storage, insulation, and kind of our cell membranes, and protein is really the brick and mortar of our bodies. We need protein for our skin; there're a lot of vital components to skin that are made up of specific amino acids and proteins, so we need protein.
Does that mean you have to go out and buy protein powder? Not at all. Just by eating more whole foods, hempseeds, pumpkin seeds, grass-fed beef, whatever you wanna use as a protein source is great. Just don't go crazy overboard with the protein; we don't need as much as we think we do.
If you haven't picked up a copy of your "Big, Fat Food Lies" report yet, which is completely free over at SuperNutritionAcademy.com/blog, I'll actually share with you exactly how much protein you need in that report, so you can kind of lay that question to rest forever. But in the meantime, just understand that protein is helpful.
Second thing is vitamin C. Vitamin C is important in the sense that it supports collagen, which is an important component of our connective tissue in and around the skin. Vitamin C's very, very important for that. And the other cool thing with respect to vitamin C for hair is that that vitamin C increases the amount of nitric oxide in our blood vessels. Nitric oxide opens our blood vessels and allows more oxygen to get through—and nutrients, for that matter—to get through to their ultimate destination.
A lot of people who've increased their vitamin C intake—again, through real food, not through supplementation necessarily—have noticed that their hair's gone from gray-white back to some of their natural color. I'm not saying this is gonna happen for everyone, but it's a benefit or result we've seen in a lot of our clients who followed Eating for Energy, which is essentially eating more raw, plant-based foods, and a number of people who've done our cleanse.
So, vitamin C is really important not only for your skin, but also for your hair. And when you think of skin, just think of hair and nails as well, 'cause they all go kind of part and parcel together.
Now, the final component that I'm gonna mention here is very undertalked about. I don't even know if that's a proper word, but let's create a word, very undertalked about. It's sulfur. Sulfur is an incredible mineral—I call it the beauty mineral—and it's so important for healthy skin. What are some great sources of sulfur? Well, anything that smells like rotten eggs, for the most part, is a very high source of sulfur.
First of all, eggs would be a good source of sulfur. If you've ever had durian, which is a Southeast Asian tropical fruit, it looks like a blowfish, actually, and smells like terrible rotten eggs. It's actually not allowed on the subways or in hotels in Malaysia because of how putrid it smells, but it's one of the highest sources of sulfur out of any food on the planet. Because of that, it's also amazing for your skin. It's not as accessible as eggs are, but if you have access to durian, give it a shot. It really tastes like a nice custard; it's pretty awesome.
You also wanna look at radishes. Anything with a bit of a bite is usually a good indication that sulfur's in it. Garlic, radishes, onions, kinda have nice little bites to them; they will have sulfur.
Cruciferous vegetables, they have organosulfur compounds, which are very helpful for the liver, but they're also amazing for the skin. Broccoli, Brussels sprouts, cauliflower, awesome, awesome foods for your skin. What am I forgetting? I think those are the main ones; there are probably a couple others.
Also, you can look at supplementing if you wanted to with MSM, which is methylsulfonylmethane and very helpful for really adding in higher amounts of sulfur into your body. You can't really overdo the sulfur; again, just don't crazy with it. About 1000 mg a day is pretty much what you would need supplementally if you wanted to take it. I try to take MSM every day; it's really, really good for the tissues and skin.
Also, sulfur's a very important mineral for detoxification purposes, and so is vitamin C. So, you see how all this stuff revolves around the same stuff? Vitamin C and sulfur not only support your skin, but they're also vital for detoxification, which mostly happens in the liver, and obviously we talked about the importance of the liver for healthy skin. It all comes back to the same stuff.
What foods are good for healthy skin? We just talked about them. There we go. You've got a number at your disposal now. And remember: Liver detoxification, vitamin C, sulfur, protein. Very, very, very simple things that you can put into play starting today.
Once again, come over to the blog. Let me know if you've got any comments or other beautifying foods that you wanna share. If you've got any questions or comments about this, let me know over at the blog at SuperNutritionAcademy.com/blog. Thanks for joining me and I look forward to seeing you in the next episode.
Related Posts:
---
Tags: foods good for your skin, foods that are good for your skin, What Foods Are Good For Your Skin

About Super Nutrition Academy

Super Nutrition Academy is the ONLY nutrition course that makes it easy for everyday people to understand the complex relationship between nutrition and health. If you're tired of all the conflicting health information out there and want a clear-cut, evidence-based understanding of the nutrition and health topics that matter you, then get started today.

---